This is going to be a review about LED light pods that i got from XKglow.com that i used as Rock lights. Their advertised application is lighting kits for motorcycle engines, but I thought they would work perfectly for rock lights on my 1992 Wrangler, so I got a set to find out how well they would perform, here is what i found:

The Company:
Before I got this kit, I talked to a customer service representative to get their input on how they thought this kit would work for what I wanted to use it as, after all, its meant to light up a motorcycle engine, not light up the ground around a Jeep, so I was skeptical. He was very nice and replied to my email in about 15 minutes. He said he had heard of people who had thought about using them as rock lights, but had never seen anyone actually follow through and put them on a Jeep. After my order was placed, I received the kit 4 days later.


My Initial thoughts:
Once I received the kit the first thing I did was pull the lights out to inspect their build quality. Each pod has a plastic housing and has 6 Light Emitting Diodes ( LEDs ). The entire pod has a water proof coating that also acts as a lens to make them brighter. Next I attached the wires to a Battery that I had laying around to see how bright they were. I touched the wires to the terminals and it lit up and i said out loud " Geez! ". These lights are extremely bright, especially considering their size and cost. After that, I knew these were going to work perfectly.
When i was looking around on the internet looking for an alternative to the other expensive LED rock light kits on the market, and came across XKglow's website, i saw on the product page that they took one of these lights, turned it on and submerged it into a glass of water, so that's what I did next, I left the pod in the cup of water completely submerged over night, woke up the next day to check on it, sure enough, it was still functioning with no problems.
Since they are LEDs ,and dont have any filaments that can burn out or break, the are perfect for off road applications. They are Shock proof, water proof and are about an inch long and half and inch wide so they can fit almost anywhere you want them.
Now that I know they are going to work for what I want I installed them on the Jeep and wired them up.

Mounting and Wiring:
I got a kit with 10 light pods, so I put 5 on each side all mounted to the frame. I put one by the mount for the grill facing down and in front of the front tires, one in the top of the front wheel well facing back and down towards the bottom of the front tire, and one in each of the body mount brackets pointing down and out. The kit includes aluminum mounting brackets that allows you to aim the light where you want it. The kit also comes with 3M double sided tape. This tape is like no other double sided tape Ive ever seen, it simply will not come off of what ever you put it on, so don't worry about them falling off. I used a wire brush, some degreaser, a clean shop rag and a little elbow grease to get the spot perfectly clean and as smooth as possible where I put each aluminum bracket, to give the tape the best surface possible to mount to.
The kit includes some insulated wire connectors to splice wires into each other, but I didn't use them. I solder and heat shrink each connection to keep them from failing in the future. The way I wired them will make sure each one got power and wouldn't fail. I ran one long hot wire and spliced each hot wire from the pod into that, and ran one long ground wire that I spliced each ground wire into from the pod and ran the ground to a bolt in the frame and the hot to the accessory lead on the switch.




Testing and Performance:
Before I got this kit I did a search on the internet and didn't find anyone who had used these lights on a Jeep, so i want to make sure they are going to stand up to the stress and abuse that happens while off roading.
The first thing I did to test them was simply go wheeling. I did everything I needed to do to make it through the trail, including driving fast over flat dirts roads, up steep rocky hills, rocky sections, and stream crossings. I did all this with the lights on. They still work, so I had to do a little bit more testing. Here in Southern California, we got almost 15" of rain in a week, so mud was not a hard thing to find, that's what i did next, put my doors on and went mudding, while having the lights on. When you go mudding a, pressure washer is never far behind, after i got my Jeep nice and muddy I went to the coin Op. car wash and pressure washed my jeep spotless. I did not directly spray the lights, but i made sure to get them clean and they still work.
I did everything I can think of that these lights are going to endure on a Jeep and they still work. I am very impressed by how they can take all this abuse and keep on ticking. For those of you who are skeptical about the double sided tape i mentioned earlier that i used to mount the brackets, its still holding strong, Ive pulled on a couple of the brackets and they aren't about to fall off.
As far as how bright they are, they are amazingly bright and light up the ground around me perfectly and lets me see everything I need to. I cant really explain to you how bright they are, so here are pictures to illustrate my point.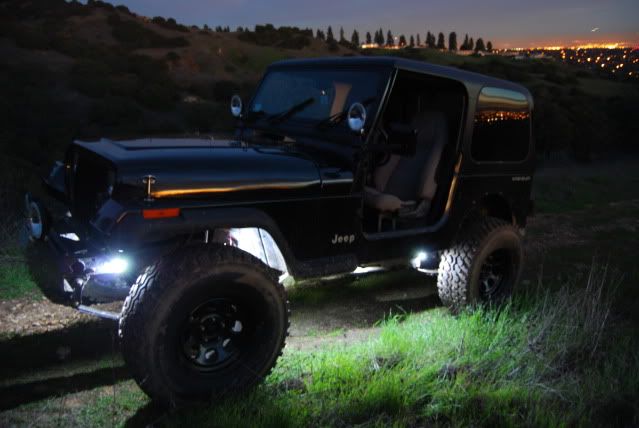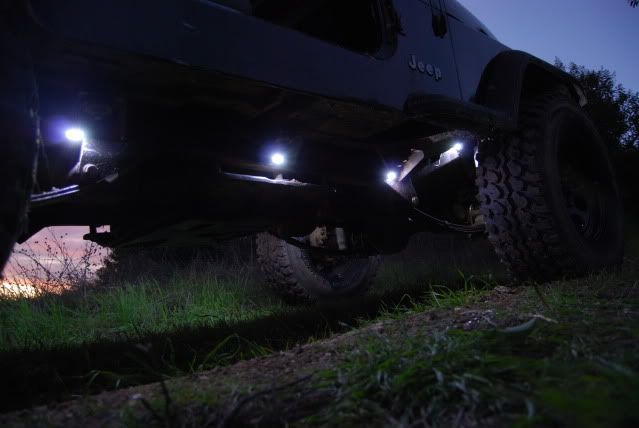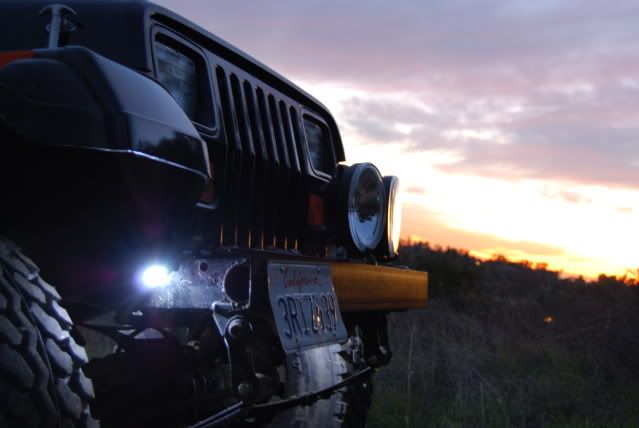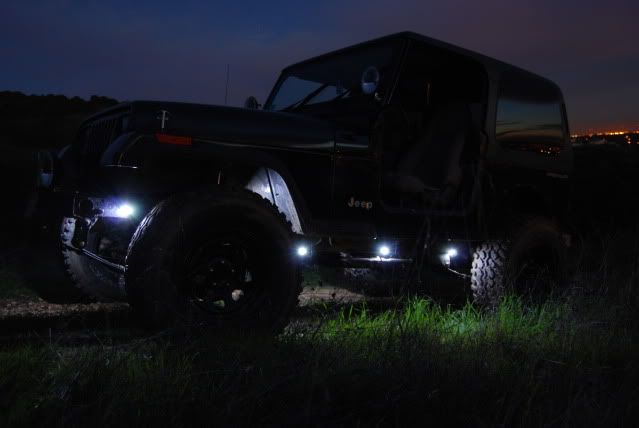 The Bad:
Every product has some bad aspects to it, and these are no different. Not so much the lights them selves, but the accessories that come with the kit. The kit did come with a switch, but it is a push button switch which I wasn't crazy about, it did not come with enough wire, and the biggest grief I had with the kit was that it did not come with an aluminum bracket for each pod. The kit I got had 10 lights and there were only 6 aluminum brackets. However, when you consider what this kit was originally designed for, motorcycles, all of that is excusable. I made more aluminum brackets out of a small strip of aluminum I got from the local hobby store, i bought some 20 gauge red and black wire and a switch that I liked from the auto parts store and made it work.

My final Thoughts:

In the end, you get something because you have a need, i needed these to light up the area around my jeep while im off roading to prevent me from damaging my tires and these filled that need flawlessly. I am very impressed with this kit and I will be getting more of these light pods to use in other applications due to their size and diversity. they can be used for literally hundreds of things.

If you want to get a set of these, use the code " offroad " and you will get 10% off of either of these kits:

http://www.xkglow.com/ProductDetails...tCode=XK034001
http://www.xkglow.com/ProductDetails...tCode=XK034005

Thank you for taking the time to read this review! Have fun and be safe!