Offroad Utopia: TJ front Tube Fenders
| | |
| --- | --- |
| | Rating: |
Product Information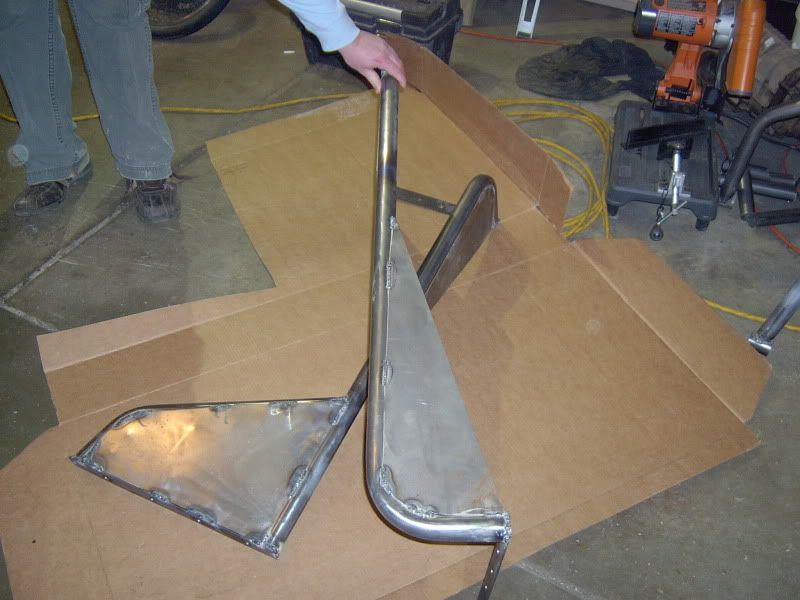 Steel tube fender with no flare. Retains stock inner fender. Shipped bare steel.
RCSD 97 TJ's Reviews

| | |
| --- | --- |
| | 04-24-2010, 01:33 AM |

Price: $200.00
Pros: Cheap, solidly built, good welds. Looks sweet when done. I have seen other TJs with tube fenders and I think mine looks as good or better than all.
Cons: Fit-Front holes did not line up, "expanded" them with a plasma cutter so no biggie. One front tab stuck out 1/2" beyond grill, "trimmed" with a sawzall so no biggie.
Recommended? Yes





Comments: I think you need some mechanical DIY type knowledge to use these. I'm not sure what the higher dollar versions require. I took it to my body man's shop and we finished it in 6 hours working at a relaxed pace with several interruptions (including a joyride in his Boxster). It was a fun day. Solid product!

We used-
Various sockets, clip removers, screwdrivers
Plasma cutter and sawzall to remove old fenders and trim new fenders.
Grinder for welds
D/A sander to clean up grinder work
Air ratchet for hard to reach bolts
Wire feed welder to attach new fenders to stock inners
Primer, seam filler, trim black paint
Drill for hood latches
Oh ya, a few big hammers.



gunner_bear's Reviews

Price: $270.00
Pros: heavy duty
Cons: some of the holes were not drilled correct
Recommended? Yes





Comments: Sturdy built. wish the holes would have been drilled correct. Would recommend they box them for shipping.Mine came wrapped in shrink wrap but were not damaged. For the price seem like a good deal. They provide no instructions only pictures on there web site.



slafferty's Reviews

| | |
| --- | --- |
| | 06-29-2009, 09:52 AM |

Price: $250.00
Pros: Great price. Easy to Install.
Cons: Needed a little work, but with a little grinding and tlc they came out great.
Recommended? Yes





Comments: Welds needed a little grinding, but Tim told me they would need ground down if I wanted a better look. For the price, the little work that I did my self was well worth it.



mateas's Reviews

| | |
| --- | --- |
| | 06-04-2009, 07:43 AM |

Price: $250.00
Pros: Price price price, solid fenders when mounted, ease of installation
Cons: If any, the welding could be just a bit better, but they do clean up with some grinding.
Recommended? Yes





Comments: These fenders utilize the factory inner fender, which means you have to have the guts to cut up your perfectly good fender. Using the "measure twice cut once" philosophy they turned out great. For being a very small operation the fit and finish is just about what I would expect from larger shops. Tim is a great guy to work with too. I'd definitely recommend these. I got the 3" flare version which is why mine were $250 compared to the $150 of willysedition



WillysEdition04's Reviews

| | |
| --- | --- |
| | 05-16-2009, 04:29 AM |

Price: $150.00
Pros: Unbeatable price. Welds clean up great. DIYer's dream!
Cons: Make take some love/persuasion for that perfect fit.
Recommended? Yes





Comments: Installed on my '97 trail rig. I was actually able to highline them and reuse the inner fender. I can run up to 37" tires on my 2" suspension lift!

If you like fun relatively easy projects, these flares are for you.