Comments:
The Tuffy rear drawer is a very nice storage option if you don't use your rear seat. I've had more than one person tell me "that looks factory."
Thieves don't even try to get in this thing.
I had some squeaks & rattles at first, so I put some nylon spacers under the cabinet to raise it just a touch off the carpet. I also had to pull the drawer and tighten all the rail screws that were loose from the factory.
Pricey, but it's cheap to get locks from Tuffy so all your Tuffy stuff can be keyed alike.
My only regret is I wish I got the oversized drawer instead, as I'm nearly out of space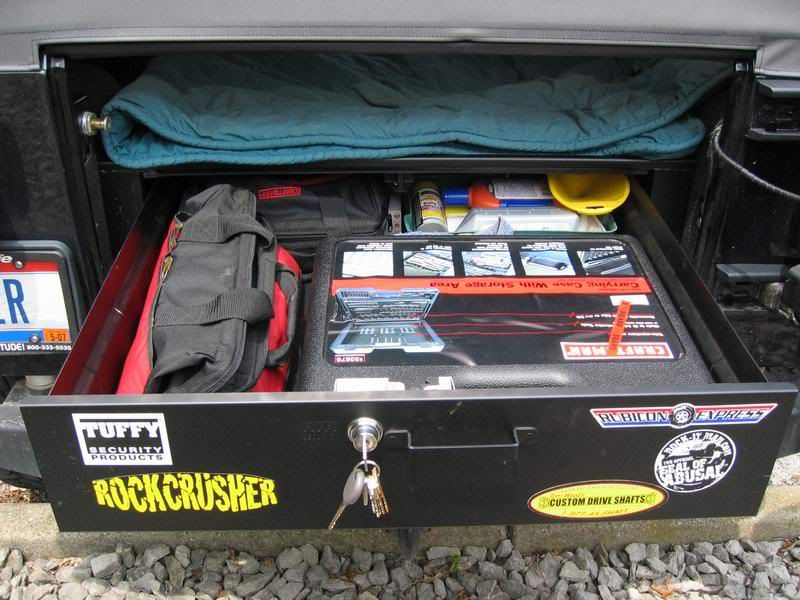 *EDIT*
I just thought I would update this thread with some mods I made to my Tuffy drawer.
I was getting sick of things sliding around on the box all the time as I drive. I got some cheap automotive carpet from Walmart and used all purpose adhesive to glue it down. I also mounted some tie-downs and a Raingler cargo net for extra
holddownability
.
In the future, I plan to mount a power invertor inside the box, and put flush mounted outlets front & rear.
While I had it removed, I also put some dynamat on the inside for just a bit of extra sound deadening.