Melted Wires, 2001 Wrangler, No headlights! Help?!
---
Ok...new to forums...bear with me.
This is regarding my 2001 TJ...
My fog lights were stuck on, so I ordered a new multifunction switch, went to install it, and my wiring plug is melted. I tried plugging it in, put it all back together, now the headlights wont come on, brights dont work...but fogs do work and switch off/on now. Turn signals and everything else works fine.
This all began with my battery. Jeep wouldnt start, battery was dead. Too much snow to get another vehicle in to jump, took out the battery to charge it. The battery had a hole in it (some cheap crap battery) so I bought a new optima yellow top. (upgrade
)
A few days later, the Jeep's battery was dead again...I figured it was the serpentine belt, I changed it out, everything was working great from then on.
Then the passenger-side headlight burn out, replaced them with Sylvania XV (sorta upgrade
)
THEN! fog lights stuck on. and brights were stuck on. (fogs had stuck in the past, figured it was moisture or something). By stuck fogs, I mean they would not shut off for anything, unless i turned on the brights, which was the only option I had.
Had to unplug the fuse to turn the fogs off, or drive with brights...very annoying, til I got the new multifunction switch. (today)
Unplugged the wiring to the switch, found it melted.
What do you think caused the melt? How to I fix it? Is there something deeper I need to check into the wiring? Could it have been because the fogs were on without the headlights? I dont know...
and...for all my stupidity...what is the technical name for the wiring plug? If i can just install a new one...
heres a pic of the situation...
[IMG]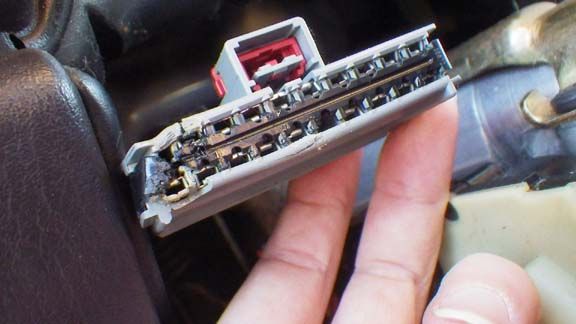 [/IMG]