Registered User
Join Date: Mar 2013
Location: manitowoc
Posts: 5
Melted Wires, 2001 Wrangler, No headlights! Help?!
---
Ok...new to forums...bear with me.
This is regarding my 2001 TJ...
My fog lights were stuck on, so I ordered a new multifunction switch, went to install it, and my wiring plug is melted. I tried plugging it in, put it all back together, now the headlights wont come on, brights dont work...but fogs do work and switch off/on now. Turn signals and everything else works fine.
This all began with my battery. Jeep wouldnt start, battery was dead. Too much snow to get another vehicle in to jump, took out the battery to charge it. The battery had a hole in it (some cheap crap battery) so I bought a new optima yellow top. (upgrade
)
A few days later, the Jeep's battery was dead again...I figured it was the serpentine belt, I changed it out, everything was working great from then on.
Then the passenger-side headlight burn out, replaced them with Sylvania XV (sorta upgrade
)
THEN! fog lights stuck on. and brights were stuck on. (fogs had stuck in the past, figured it was moisture or something). By stuck fogs, I mean they would not shut off for anything, unless i turned on the brights, which was the only option I had.
Had to unplug the fuse to turn the fogs off, or drive with brights...very annoying, til I got the new multifunction switch. (today)
Unplugged the wiring to the switch, found it melted.
What do you think caused the melt? How to I fix it? Is there something deeper I need to check into the wiring? Could it have been because the fogs were on without the headlights? I dont know...
and...for all my stupidity...what is the technical name for the wiring plug? If i can just install a new one...
heres a pic of the situation...
[IMG]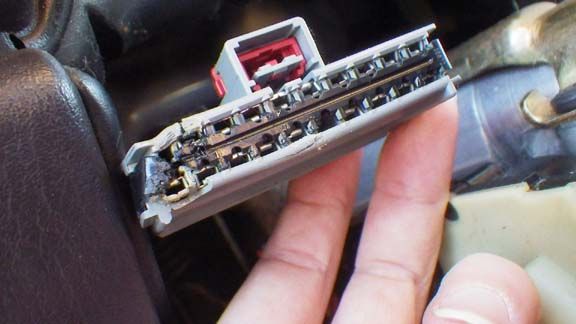 [/IMG]
Found the problem...found the part.
Just in case anyone else has this ridiculous issue....(that apparently happens to several other Chrysler vehicles)
Multi-Function Switch- Gray 20 Way
Mopar Package # 05183442AA
Not 100% sure yet if this is the correct part, called my local Chrysler Dealer, they recommended this part for OEM replacement/repair. Dealer price- $81.90
found a website that offered it for $63.25
http://www.autopartsasap.com/Mopar-0...ay-Wiring.html
problem was not fogs...seemed to be a bad headlight connector, crossed wires, melted, terrible.
so...next week....wiring everything up...will see how it goes.
took about 6 hours online figuring all of this out...after giving my electrical system a full on prostate exam....fortunately...it doesnt seem to be a HUGE problem at all.
finally got the replacement connector, (took forever, thanks FedEx)...its actually quite a nice little package. Came with a new C1 connector, that is nicely numbered for my convenience, 40 replacement wires that are nice and long with terminals (not colored coded, purple is smaller gauge, orange is larger), shrink tubes, and splicing clips, (i will solder mine...)
time to wire this thing up...maybe I'll post some pictures on here to entertain myself...
Registered User
Join Date: Aug 2013
Location: Greenville
Posts: 4
melted connectors
---
Ok so I have also found that my connector in the steering column is melted and I believe it is causing drainage of my battery as well which is constantly dead yet apparently not bad. Also noticed a melted connector under the passenger side that controls the air conditioning unit low to high controls as well. Please tell me where you got the connector as well as what specifically the problem was. Your assistance is greatly appreciated.
I have no idea what caused my plug to melt (it might have been my my crossed head light wires or just a junk plug). This seems to be a big problem in Dodge Neons and a few other Chrysler vehicles. Depending on the year of your jeep, (I think it has to be 2000-2001, not 100% sure but i know it was only about a year) you may not have this EXACT plug. However, this website has all the plugs and connectors you might need to repair various situations in your electrical.
http://connectors.dcctools.com/home.htm
The part I needed for my headlight/multifunction switch was this:
Mopar 05183442AA 20 Way Wiring
or the gray C1 connector, or gray 20 way.
I found my part at this website. Seemed to be the only place that had it other than a Chrysler dealership.
I got my part at this website:
http://www.autopartsasap.com/Mopar-0...ay-Wiring.html
Theyre slow as hell, and not "as soon as possible" as youd like them to be. But they did get me the part 2-3 weeks after I ordered it.
After I got the connector, (which comes with 2 gauges of wires to splice into your bad wires, some shrink tubing, and some clips if you prefer not to solder them.)
I recommend soldering them, and I used this little butane soldering torch, which I highly recommend for tiny little spaces where you need to splice short hard to reach wires.
http://www.lowes.com/pd_246066-13877...ing&facetInfo=
So let me know what else you find wrong. Once again I am not really sure how this happened, but I did get mine fixed...and its not too difficult...
I didnt have an issue with any of my other connector plugs, like you have.
Registered User
Join Date: Aug 2013
Location: Greenville
Posts: 4
Wow! This is very useful information! Thank you very much.
Registered User
Join Date: Sep 2012
Location: Arlington Heights
Posts: 6
I had a similar issue. I'll be picking up one of those kits this week and replacing this plug this coming weekend if all goes well. Thanks!
Hi MiniChiken!

Do you have aftermarket foglights on your jeep now? did it come with them on?

I figured out what really caused the wire meltdown, since this happened to my GMC Sierra as well.

If the aftermarket fogs arent fused, and tied directly into the factory wiring harness/switch it will cause an eventual current overload and melts down the plugs. Especially if the lights arent fused or if the fuse isnt the correct amps. I had a 5 amp fuse running my dash lights, and fog lights, all tied into the wiring harness for the headlights in my truck. Didnt understand why my dash lights never worked until i pulled the dash and started looking at the plugs...which were all melted and nasty.

Also I changed my Jeep's foglights from 100watt to some 55 watt KC lights and havent had a problem since, since everything is properly wired in and the lights are on a separate (fused) switch not tied to the factory multi function switch.

Pretty much this happens from badly installed aftermarket lights, I never realized my Jeep had factory lights that were added later and they didnt belong on my jeep, they came off a 2003 wrangler.

Let me know how it goes, if you have any issues I can probably help you, since I already went through all this mess with my vehicles.
Registered User
Join Date: Sep 2012
Location: Arlington Heights
Posts: 6
I believe that these are the original lights, not entirely sure. One reason for the melting of the plugs, though i'm not very cunning with wiring or how plugs actually melt, is that I had had my fog lights unplugged for some time though my multifunction switch was faulty so it left them on. See image a picture of my fog lights, ironically the jeep next to mine was also involved in a collision in the same manner.
---
Last edited by MiniChiken; 10-19-2015 at

08:53 AM

. Reason: Fixed Picture
Currently Active Users Viewing This Thread: 1

(0 members and 1 guests)
Posting Rules

You may post new threads

You may post replies

You may not post attachments

You may not edit your posts

---

HTML code is Off

---