Registered User
Join Date: Jan 2005
Posts: 359
installing subs and amp in a wrangler
---
i just bought some cheap mtx subs and amp to throw in the wrangler. the amp is a 400 watt mono and the subs are 12s i couldnt tell you much else about them, all brand new. anyways, would i be ok mounting the amp under the back seat? would it get enough airflow under there? also, do you have any ideas on how to secure the stuff so that it wont be stolen. i run a soft top and it is off 97% of the time in the summer. i have thought about just mounting the box to the tub with some brackets and big sheet metal screws, but i dont really want to drill into the tub. it could still be stolen, but it would take some time. any body have any other suggestions? thanks
Registered User
Join Date: Jun 2008
Location: La Porte, TX
Posts: 707
i have my amp mounted under the seat and its never shut down on me, and i built a box for my shallow mount 10. you might be able to do something similair. and yes, i used sheet metal screws to secure it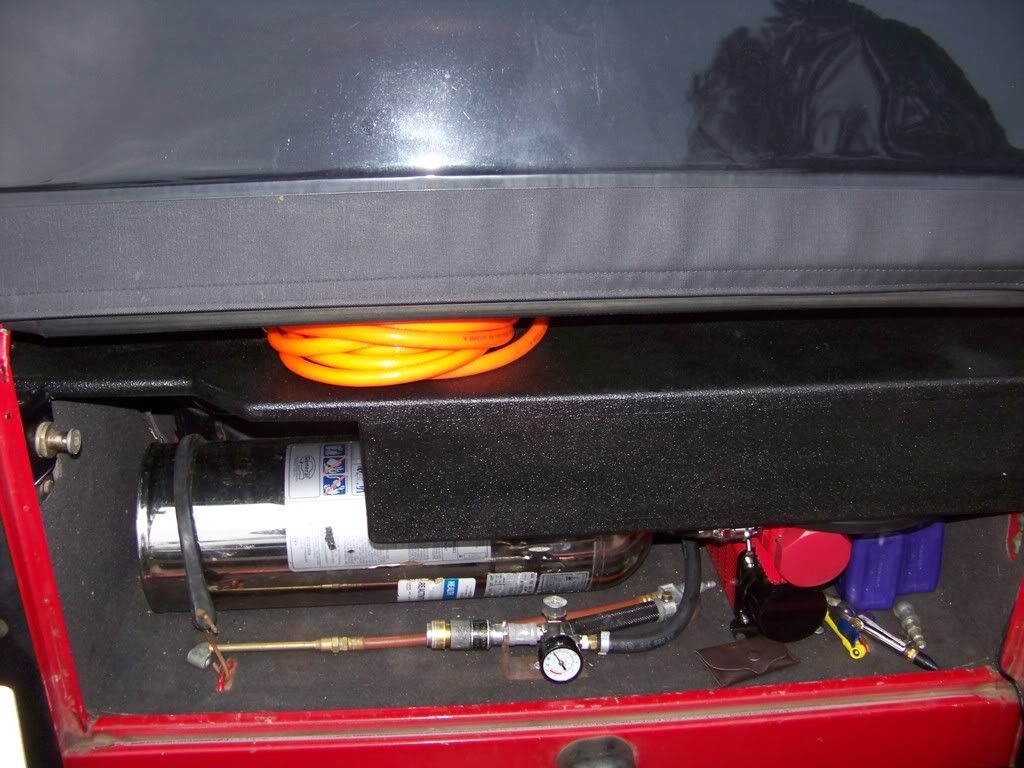 ---
"the guy who decided to use torx bits on jeeps
should be severely beaten"
Registered User
Join Date: Nov 2008
Location: New York
Posts: 1,377
i have my 2 10inch JLS in the back where the box fits perfectly, and won't be able to be removed unless the hatch is open

with the rear seat back all the way and the hatch closed, you cannot lift up the subs which is great, and the only way to flip the seat forward on my 97 is to take out the subs to get to the lever...

and my amp for now is just chilling under my rear seat... will get some heavy duty velcro to secure it soon though
Registered User
Join Date: Mar 2008
Location: CT
Posts: 3,262
well there are a bunch of cargo tie downs already bolted into the floor. I think you figure something out with how to use those current holes. Other option if you don't want to drill is weld some bolts to the floor, drill holes in the box and put the nuts inside the box to hold it down.

It depends on the amp but a 400 watt amp should be fine under there and I can't say I hear of a lot of mtx amps overheating (decent brand)
Registered User
Join Date: Oct 2006
Location: Santa Rosa, CA
Posts: 1,541
Quote:
i run a soft top and it is off 97% of the time in the summer. i have thought about just mounting the box to the tub with some brackets and big sheet metal screws, but i dont really want to drill into the tub. it could still be stolen, but it would take some time.
This is exactly my situation and basically what I ended up doing. I got some cheap "L" brackets from a local home improvement store and secured them with some specialty bit screws, figure most crooks won't be carrying the correct tool
But I've since taken them off, mainly because my top is on most of the winter and sound resonates through the tub BAD when screwed down. I plan on getting a Dynamat trunk kit for the rear section which I hope will eliminate the resonating sound. Just as you said this set-up can still be stolen, but it will take more time and hopefully a crook will pass on to the next unfortunate victim
Sub amp is under my front seat and the location seems to work fine for me. I don't go through deep water/mud and you'd have to remove the seat to get the amp
Remaining amp and a signal processor are well tucked away under the carpet on the front section of my wheel wells. Small equipment rocks
---
92 YJ. Lifted, rubbered, geared, and more
Currently Active Users Viewing This Thread: 1

(0 members and 1 guests)
Similar Threads
Thread
Thread Starter
Jeep Forums
Replies
Last Post
installing 3 subs and amp in liberty

Mike1127

Audio, CB & Ham Radios, GPS, & Electrical

18

06-16-2010

11:55 AM

Subs for a 03 wrangler

Zacb262

Audio, CB & Ham Radios, GPS, & Electrical

33

07-15-2009

11:12 PM

subs for a wrangler

DannyMK2

Audio, CB & Ham Radios, GPS, & Electrical

13

12-04-2005

08:26 PM

Where to put SUBS? Wrangler TJ?

Bryan_16

Audio, CB & Ham Radios, GPS, & Electrical

15

08-09-2002

03:38 PM

Subs in a 98 wrangler?

98sporttj

Audio, CB & Ham Radios, GPS, & Electrical

1

06-04-2002

12:19 PM
Posting Rules

You may post new threads

You may post replies

You may not post attachments

You may not edit your posts

---

HTML code is Off

---