Registered User
Join Date: Apr 2007
Location: Denali
Posts: 68
CB wont work
---
Ok so I have a cobra 75WXST cb radio, was working fine, old antenna broke so I installed a new 4' Wilson FGT with a mount that I drilled into the rear above the tail light. Hooked up the SWR meter and the CB turned on and had no display and then turned off.
I tested the mount to make sure it was grounded and it was, cable and antenna all test fine. I am so confused, please help!
Everyone says never turn it on without antenna hooked up but Cobra says different, so I tried it and it doesn't turn on now. Not sure if it has a built in breaker that makes it not work without an antenna.
---
"Going to the woods is going home..."
1980 CJ-7: For Sale
2000 XJ: RIP
2001 XJ: MIA
Registered User
Join Date: Sep 2007
Location: Columbus OH IO
Posts: 160
Have you checked your inline fuses?
dont broadcast without the antenna, but turning it on wont kill it.

if you reversed the connection, you may have blown protective circutry.
check all fuses first.
---
I dont want to be your friend, request denied

To view links or images in signatures your post count must be 10 or greater. You currently have 0 posts.

8llllll8
Registered User
Join Date: Aug 2008
Location: Alberta
Posts: 1,441
Real stupid question here....is the selector set to WX? If it is it blanks out the entire display on mine and has flipped me out a couple of times too.
---
l We're here for a good time. Not a long time. So have a good time the sun can't shine every day.
l_______
/l ,[_____],
l---L -[]lllllll[]-
()_) ()_)--o-)_)____________VE6-SDG
Registered User
Join Date: Apr 2007
Location: Denali
Posts: 68
haha no. Actually I was messing with it yesterday and showing my friend how it didn't work and wouldn't you know it turned right on! Now I've just gotta get the SWR lower than 2.
---
"Going to the woods is going home..."
1980 CJ-7: For Sale
2000 XJ: RIP
2001 XJ: MIA
Registered User
Join Date: Jun 2005
Location: Nobama, Morris County
Posts: 2,441
Are you are using an inline fuse like the one pictured here along side of the outlet?
These can open circuit very easily when there is tension pulling on the wire.
Use the blade type shown below.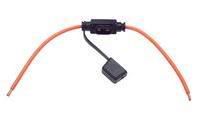 Just a thought.
---
4.0L TJ
Currently Active Users Viewing This Thread: 1

(0 members and 1 guests)
Posting Rules

You may post new threads

You may post replies

You may not post attachments

You may not edit your posts

---

HTML code is Off

---