7 speaker package front speaker replacement
---
Been searching and am not seeing a link on replacing the front speaker "boxes" in my 03 TJ with the 7 speaker option. I am wondering if installing a 5.25 speaker in place of the front speaker boxes is a noticeable upgrade. Currently I have a stock head unit, but will be getting an aftermarket one first then start the speaker conversion if enough of you think that I can get better sound out of the front speakers by replacing with the 5.25 upgrade. FYI from what I read the OEM front boxes contain a 4x6 and a small tweater?
Thanks hopefully.
Registered User
Join Date: Jan 2010
Location: Nashville, TN
Posts: 51
Web Wheeler
Join Date: Jul 2009
Location: Reno
Posts: 4,063
Both of those links just reference changing the standard front 4x6 speaker, not the premium package front speaker boxes that contain two speakers per box. From reading it is a no brainer that a 5.25 speaker will sound better than the stock 4x6, but what about the premium (that's what Jeep calls it at least) front boxes? I have not removed my dash, but read that they are in a speaker box, would in general make them better than the standard exposed 4x6 speakers.
Registered User
Join Date: Jun 2008
Location: chicago
Posts: 216
I upgraded my "premium" speakers to some 4x6" aftermarket speakers. Its a bit better, but had i known i can easily squeeze 5.25s in there i would have. Just from the premium 7 speaker set to aftermarkets of same size there is a noticeable improvement, so 5.25 should be much nicer.
Registered User
Join Date: Jan 2010
Location: Nashville, TN
Posts: 51
Struck out on that one. lol.

A few things:
A 5.25" will not always be better than a 4x6 or a 4" coaxial.
How much power is available, this is good to know when shopping for speakers.
MDF is extremely easy to work with and might be a solution, but I would need to see pictures of these "boxes".
Registered User
Join Date: Mar 2008
Location: CT
Posts: 3,262
It's a 4" component set in a little enclosure. Member jgorm did a swap out this thread has pics you can find them on google too.
http://www.jeepforum.com/forum/f20/j...nstall-935510/
Most members here move to the 5.25 bracket and a 5.25" speaker and consider it a quality upgrade.
Registered User
Join Date: Nov 2013
Location: Champaign
Posts: 20
I just upgraded my front speakers to Boss 4x6's and I had the premium 7 speaker option in my '02. I kept the speaker enclosure and just cut out the plastic to fit in my new speakers perfectly. I used just a multi-tool hand saw, really simple. My new speakers sound way better. If you are worried about taking out 2 speakers and replacing with just 1 4x6, don't. It sounds better. I have no regrets.

Also think about upgrading the Stock subwoofer. I added the Kicker 6.5 compact sub. Big improvement.
Registered User
Join Date: May 2007
Location: Evansville
Posts: 2,047
I also recommend upgrading your dash speakers to 5.25"
Registered User
Join Date: Aug 2012
Posts: 645
I think it depends on the speakers used 4" vs 5.25" and how it's set up... and also how much you want to spend and test and muck around with things to try this!
A friend of mine (who does car audio professionally) and I used some Soundstream SST4.0 speakers in my Jeep. Used the Jeeps front 4" 'boxes' and a ~1/4" or so spacer and sealed it all up tight. Sounds quite nice for the price, but we replaced everything (deck too with a JVC,) and a sub in the console (I still want to try a back seat SirCal type sub box though some day!)
Got a Picasso Nano powering the fronts and the sound bar 5.25" SST5.2's with to 100W+ to each corner, another SS PN2.350D to the sub in the console. The backs are set just for 'fill' and don't overpower the fronts. It can be cranked pretty good I think! Plus the amps hide nicely under the seat on a little homemade platform, so it's all pretty hidden and stealthyish other than the deck in the middle of the dash.
We tried some free air mounted 5.25" speakers (I can't remember which offhand, though they were as decent as the SS) and we think this sounds better. Bass is coming from the sub, not these lil guys even with 5.25"s so we went for the better sound quality with the front/rear speakers...
My .02 worth
---
·Ï¢årµ§·
Web Wheeler
Join Date: Jul 2009
Location: Reno
Posts: 4,063
I put some Alpine 5.25" up front mounted free air a few years ago. Also put in a new Pioneer deck with some Sony 6.5" in the overhead. Never been real pleased with the results. I have to turn my fader (that word doesn't look right) way biased to the front to keep the rears from over powering the jeep. Been thinking about some how reinstalling the factory front boxes with some better speakers. Would love to have boxes around those front 5.25" speakers, but don't think that's going to happen. Also have a bag of poly fill, been wondering how much it would help to pack some of that behind the fronts??
Registered User
Join Date: May 2011
Location: Flat Rock
Posts: 556
you are having that issue because you put 6.5s in the sound bar instead of a 5.25. also you sound bar speakers probable have a lower rms making them better for head unit power.

you can do 2 things in the front. one is to install foam baffles over the rear of the speaker the other is to stuff poly fill behind them.

you could also go with some polks up front they have a high sensitivity making them very loud on just the 10w you are getting from the head
Registered User
Join Date: Apr 2003
Location: Incline Village
Posts: 855
Here is what I did, and recommend, so that the sound projects forward toward the sound stage rather than getting lost in the dash...
Removed the stock speakers from the stock dash pods
Some speakers, like mine, require modification to the pods. I am running Focal CVX 100 speakers (4")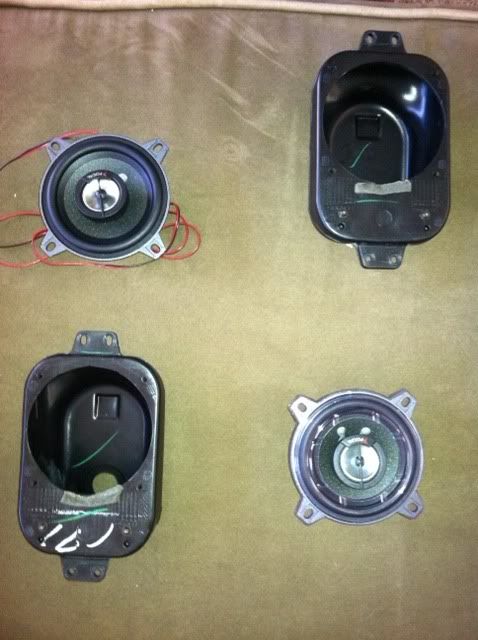 Easy enough and ready for install. I have been running this setup since Summer 2011 and it has performed flawlessly.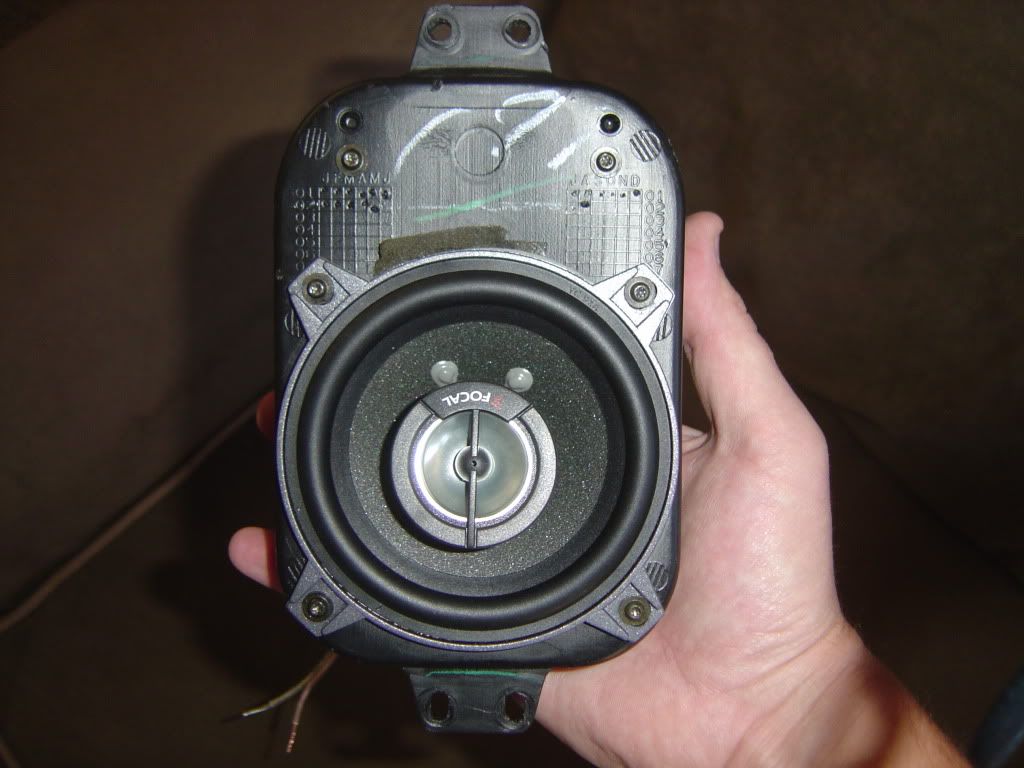 *edit...
Wow I just realized this thread is super old.
Registered User
Join Date: Aug 2012
Posts: 645
Huh, I didn't notice the date either, lol...

I did the same as you though bbusch, but sealed up with a spacer for the speaker so it fit. Ended up sounding great.
---
·Ï¢årµ§·
Currently Active Users Viewing This Thread: 1

(0 members and 1 guests)
Similar Threads
Thread
Thread Starter
Jeep Forums
Replies
Last Post
Front YJ Speaker replacement

bluebellyday

Audio, CB & Ham Radios, GPS, & Electrical

24

12-23-2012

08:14 AM

YJ Front Speaker Replacement - 5.25"???

BrooklynBridger

Audio, CB & Ham Radios, GPS, & Electrical

5

04-28-2008

03:09 PM

Question for seven speaker package?

absentiabanish

Audio, CB & Ham Radios, GPS, & Electrical

1

06-07-2006

01:55 PM

Sound quality difference between 4 speaker and 7 speaker option on new TJ

Mr. Tarmac

Audio, CB & Ham Radios, GPS, & Electrical

2

09-23-2005

08:14 PM

Front speaker replacement

jeepguy2005

Audio, CB & Ham Radios, GPS, & Electrical

9

04-06-2005

07:43 AM
Posting Rules

You may post new threads

You may post replies

You may not post attachments

You may not edit your posts

---

HTML code is Off

---