Anyway...the lift kit is 100% installed, everything should be lined up properly and ready for wheel alignment once I get the new rims n skins!
BUT.....I also ordered new front axles as my old ones have bad CV boots and are getting a bit tired. New axles are spicer U-joint style
Pulled out the axles no problem, had a bit of trouble getting the carrier out of the diff housing, and removed the old oil seals....
ummmm....sigh....this diff has been rebuilt before and as near as we can figure whoever installed the carrier hit the right side bearing race with a hammer and damaged it.
This is what we found: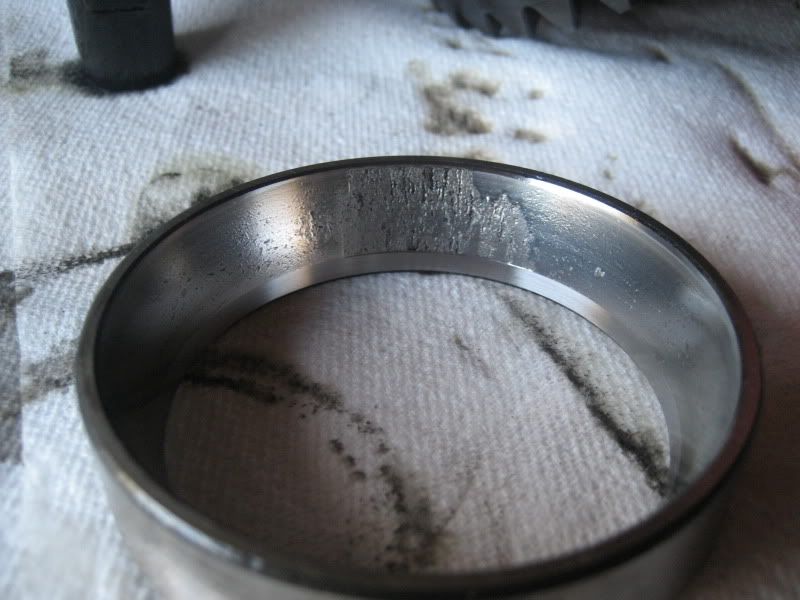 Both sides of the race are the same on opposite sides.
Crap! I really didnt wanna fork out a bunch of cash for new bearings already!! AGGGHH!!!
And finally my very last complaint with the supposedly 100% bolt on lift kit...there is no &%$&** way that the factory drag link will work on my Jeep! We removed it and added a 5 degree bend and it still binds up.
The steering binds on the left side axle housing, the right side sway bar bracket, on the steering stabilizer, and the track bar.....PLUS there is not enough thread left on the adjusters to properly align this setup!
Gonna have to call IRO tomorrow and get an upgraded steering kit...they better give me a really good deal