Rolled her on her side....looking at my options.
---
Well.....2013 has kicked off to be a rather ****ty year already. I'm used to having bad luck..but my poor Dub didn't deserve to be brought into it.
Won't go into too much detail of how it happened. Back in fort worth area visiting my family, Late night driving home, cow in the road. I BARELY hit the cow and over correct, back side swings around and I slowly tip over.
Windshield in tact along with driver side window.. I drove her home after all of it...
Now, THIS IS MY DD. I plan to keep it that way for a little while longer.
Selling her is NOT an option.
I've got a buddy who said he can probably repair the majority of the damage given she drives ok (doesn't "dog leg, indicating her underneath is Effed. The sliders Kept that from happening. still straight). He said he'll know for sure when he sees it up close. Ive got a donor WJ to take pieces from for 500 and he said 1400 for labor (including paint to match). I'm preparing for more just in case but i figure I'll take out painting since I've got more the stuff for that.
The back quarter panel got the worst of the damage but all doors including back hatch still open and close fine. I can even roll the window up and down still on the drivers door.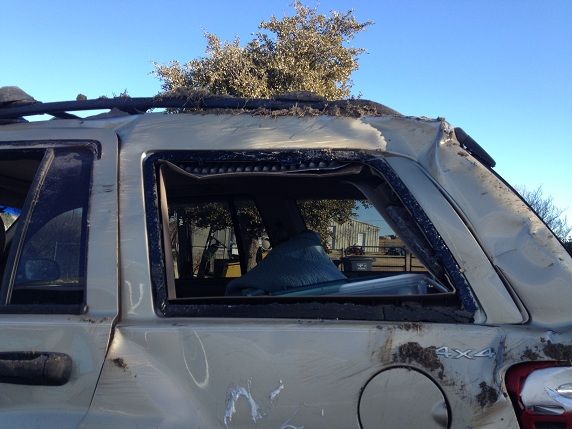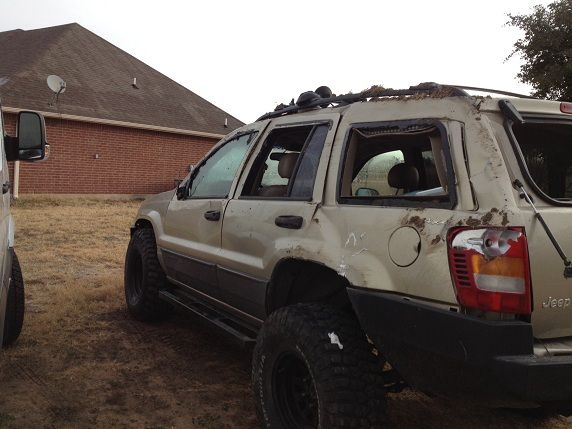 The front looks funny in the picture because the springs had fallen out (my front wasn't connected) I have since put them back in..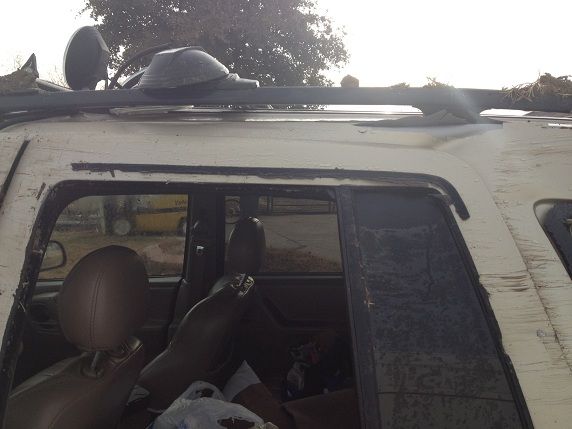 The roof is very very slightly bowed at top because of the mushed in area above the door. Again, He said he'll have to look at it but he said theres a difference between it bowing so much it bends, ripples and so on. That needs to be replaced. But theres also the type of bowing where it will flatten back to its original spot once given the space. Just in case, I am preparing to replace it. That way no letdowns...
This picture doesn't give a good idea of the way it looks from behind... I took the picture standing too much off center causing it to look more slanted in than it is. It's slanted...but not THAT bad.
First choice is of course to Fix her... but if I get the devastating news she is NOT fixable...I'm trying to consider my options..
I've seen quite a few WJ for sale with blown motors... I could swap in my motor and other parts if needed....but then I would have to cut the long arms and sliders off to eventually install on the new body... I'm considering this my absolute LAST option... The hell***** cant be replaced and a different body just wouldnt be the same.
Straighten out what I can and try to fit something that can act as windows (lexan or something) to protect the interior and eventually reinforcing her with a rollcage and chopping her into a truggy/truck. This will happen one day regardless...I dont feel ready for that yet though..I have a lot of fun and learning to do before that.
Maybe I'm getting my hopes up... Especially after seeing this rollover repair:
http://www.jeepkj.com/forum/f196/05-...-o-pics-38788/
The rear quarter panel damage and pillar look very similar to mine.
what do you guys think? Has anyone repaired something similar or worse?
I know its a lot of money and some think she's not worth it, but she is to me.
What sucks even more is I hit the cow enough to knock it over, but not enough to do much. It was able to get up and walk its dumb fat *** away...I can say one thing, that front bumper has proven itself to be SOLID. Would have been worse without the bumpers and sliders on.