Well, this process has been a massive pain. I thought "Well, I'm gonna have the tank down, I might as well do the tank-tuck I've been talking about. So I got the welder, bought a big new jack when my AC Delco piece of crap died on me, and turned the heaters on in the garage the day before.
Got the tank down and went to work on the above pictures. Cutting, grinding, notching, etc... Got the spare tire well back in place; I left some room for storage but even the donut will no longer fit in there even though it might look like it does. I took out a good healthy 4 inches. After tacking it up solid I used GE 3500 seam sealer on both sides and then painted with rustoleum. Gray inside and black outside. No rhyme or reason other than I wanted the inside to be stock color for whatever reason.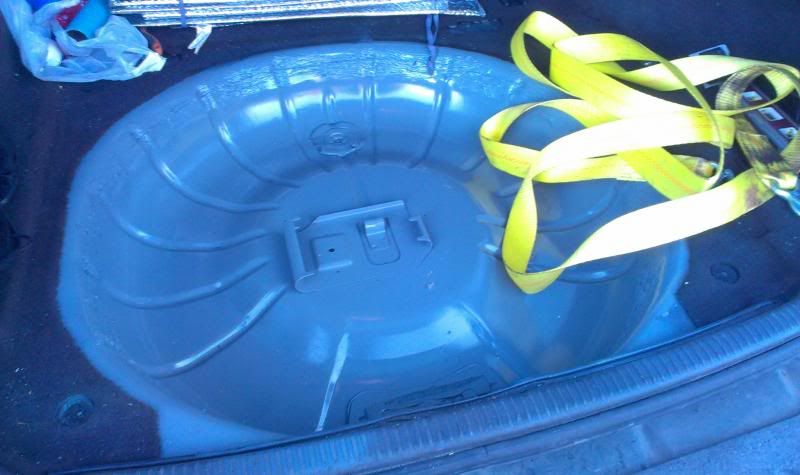 I used a Black and Decker jig saw and an air grinder to do the cutting for the whole project, except for a sawzall at the very end for the frame. It would have been okay except the compressor I'm borrowing only goes for about 15 seconds before it has to take a 4 minute refill session.
After cutting the bracket pieces off the tank I put the rest up in place and marked where I would put it all... I mounted the skid up in place using my jack and welded it in. I did several plug welds in each side, as you can see.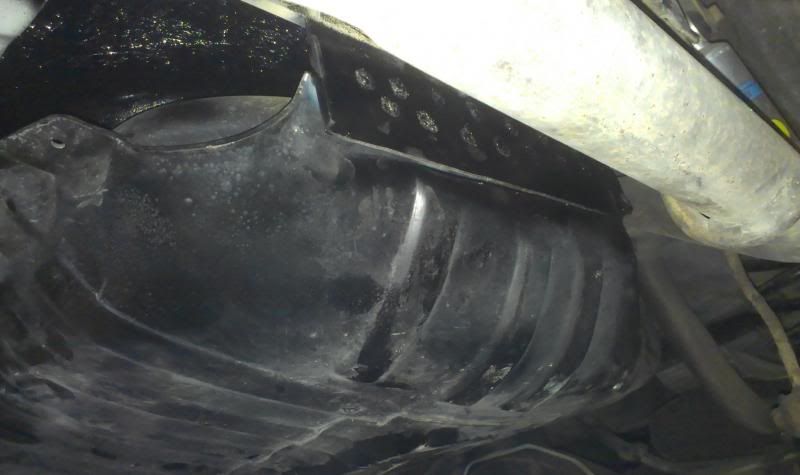 The box I made for the filler pipe was very much a compromise. I should have cut it before the spare well was back in, but...hindsight being what it is.......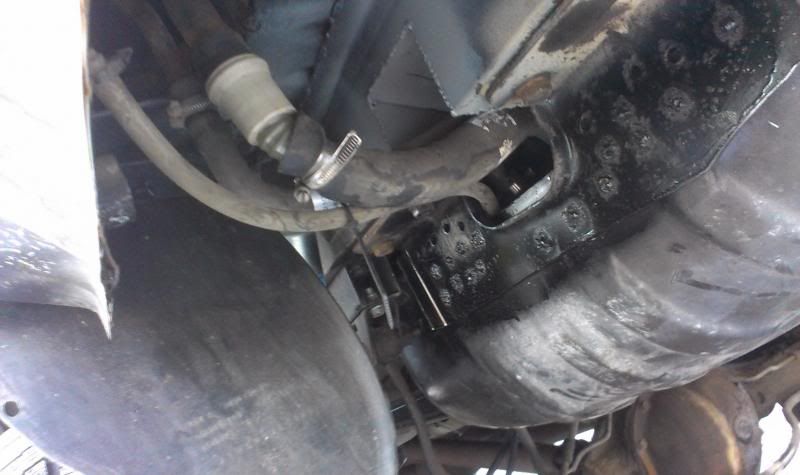 It works. I mean it's not the most amazing but it's ok. Big issue I'm having now is the ****ed up jury rigged **** you see going on the the filler pipe. I thought it'd reach better if I cut a hunk off...WRONG. I'm thinking some new pipe with metal pipe connections between them is going to be the ticket. That way I can do the two 45 degree angles up to the filler neck. As it is right now I can't even put gas in it without it peeing out of that connection. I know it's idiotic but it's all I had and I'm completely 100% broke right now.
I gained a decent piece of clearance. I didn't go "all the way" like some guys do, but I also wanted the spare well storage for my tow rope, water bottles, etc..
The "box of rocks" sound I heard when I finally git it going last night...at first I was all worried my engine was funked up. Turns out the heat shield that goes over my muffler is shaking around ontop of it and needs to be bolted back up.
Next mod (almost) done!
Looking forward to the day this thing gets new meat. I need my axles and 31's.