Registered User
Join Date: Dec 2003
Location: NJ
Posts: 85
Mikedc3's 5.9 build thread.
---
I've had a bunch of 4X4's over the years from a 75 F250, to 73, 78,79,87 Bronco's and a 89 S10 Blazer. I've always wanted a luxury 4 wheeling truck. Leather, heated seats, auto climate control, power everything, with a powerful motor and built to go nearly anywhere. I had a 5.9 Limited before but it had 300K and was worn out, so I never did anything with it. I blew the trans in that this past winter and bought another one that is pretty nice. I decided this was going to be the 4 wheeling truck I've always wanted. I started the build a few weeks ago.
Here's what I've done so far:
The factory seat heaters were broken. I diagnosed them and found the driver side switch was letting too much voltage through and fried the wire heater element. The passenger side worked. I decided to replace the entire system with a aftermarket one. It uses heat pads rather than wires and is much more durable. I put the pads in the seat bottoms and backs, and installed the switches in the console. I wired them in all nice and hidden.
My factory fog lamps were missing so I installed a set of Hella's and ran new wires, switch and relay so they work all the time regardless of weather the high beams are on or not. I also installed the tow hooks off my old 5.9 at the same time.
I put in a 6 switch, switch panel from an old Police car to run my fogs and future stuff.
I didn't want a huge lift and didn't want to regear, so I kept the lift small. I installed 2 1/2 inch Old Man Emu coil springs, Bilstein shocks, an Iron Rock Off Road adjustable track bar, new steering shock, new sway bar end links and bushings, new upper control arm bushings, and new lower control arms from a later model Grand Cherokee. I went with 245/75/16 Goodyear Duratracks.
Here's some before pics: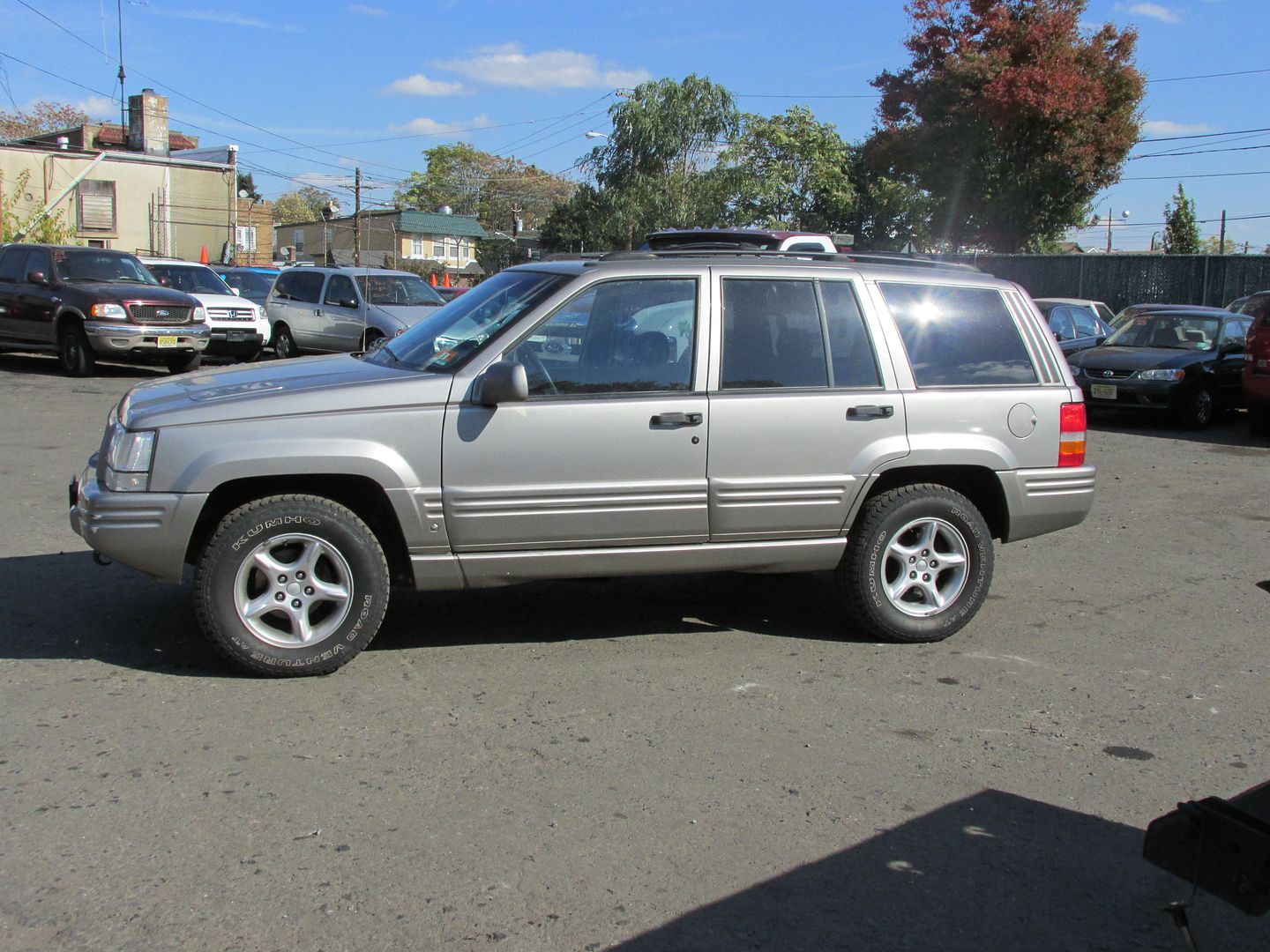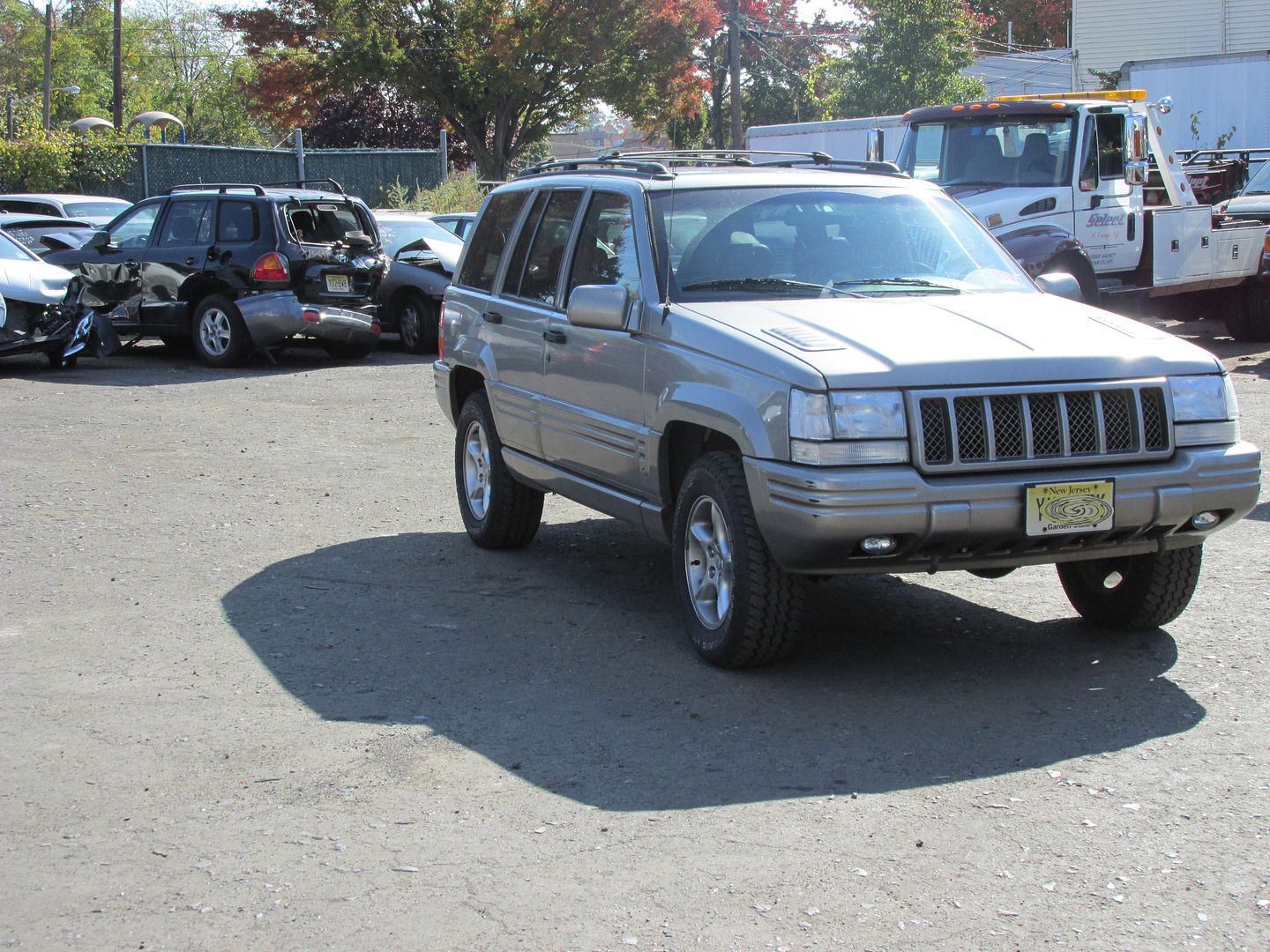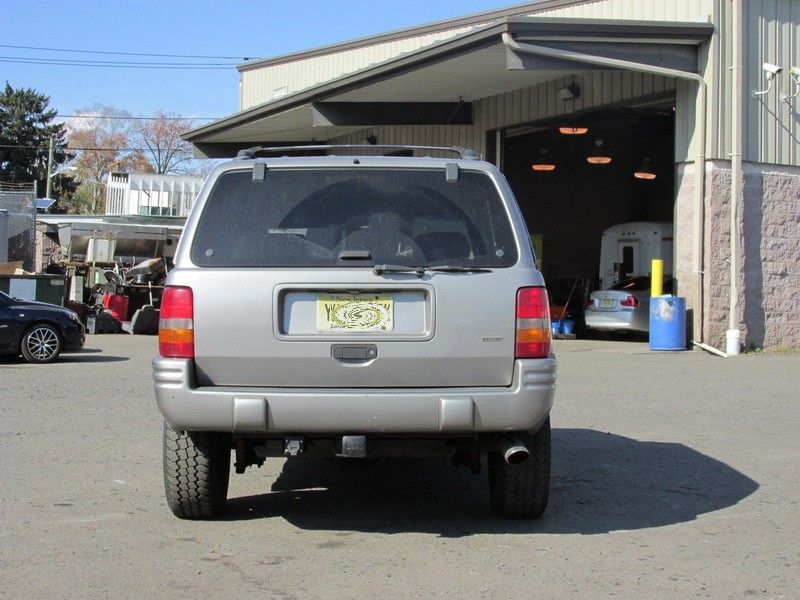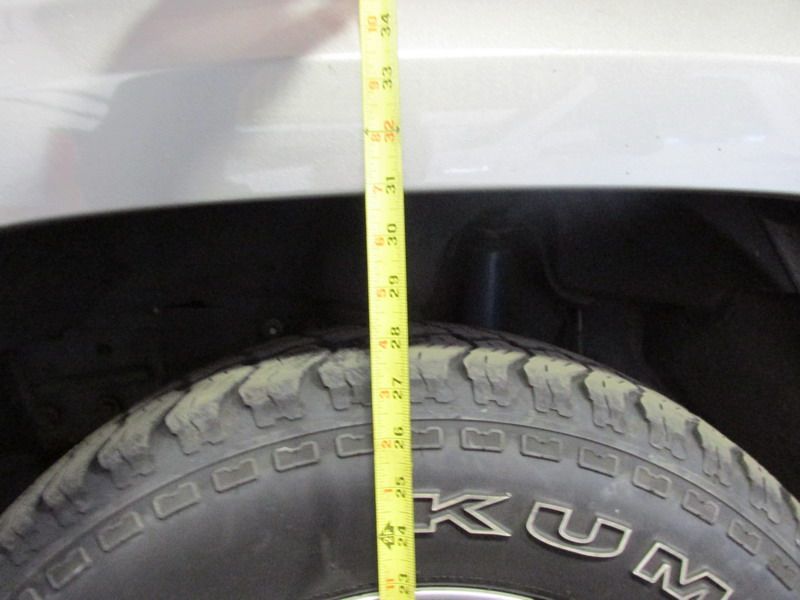 Seat work, I forgot to get pics of the new heater pads going in:
Switches in console: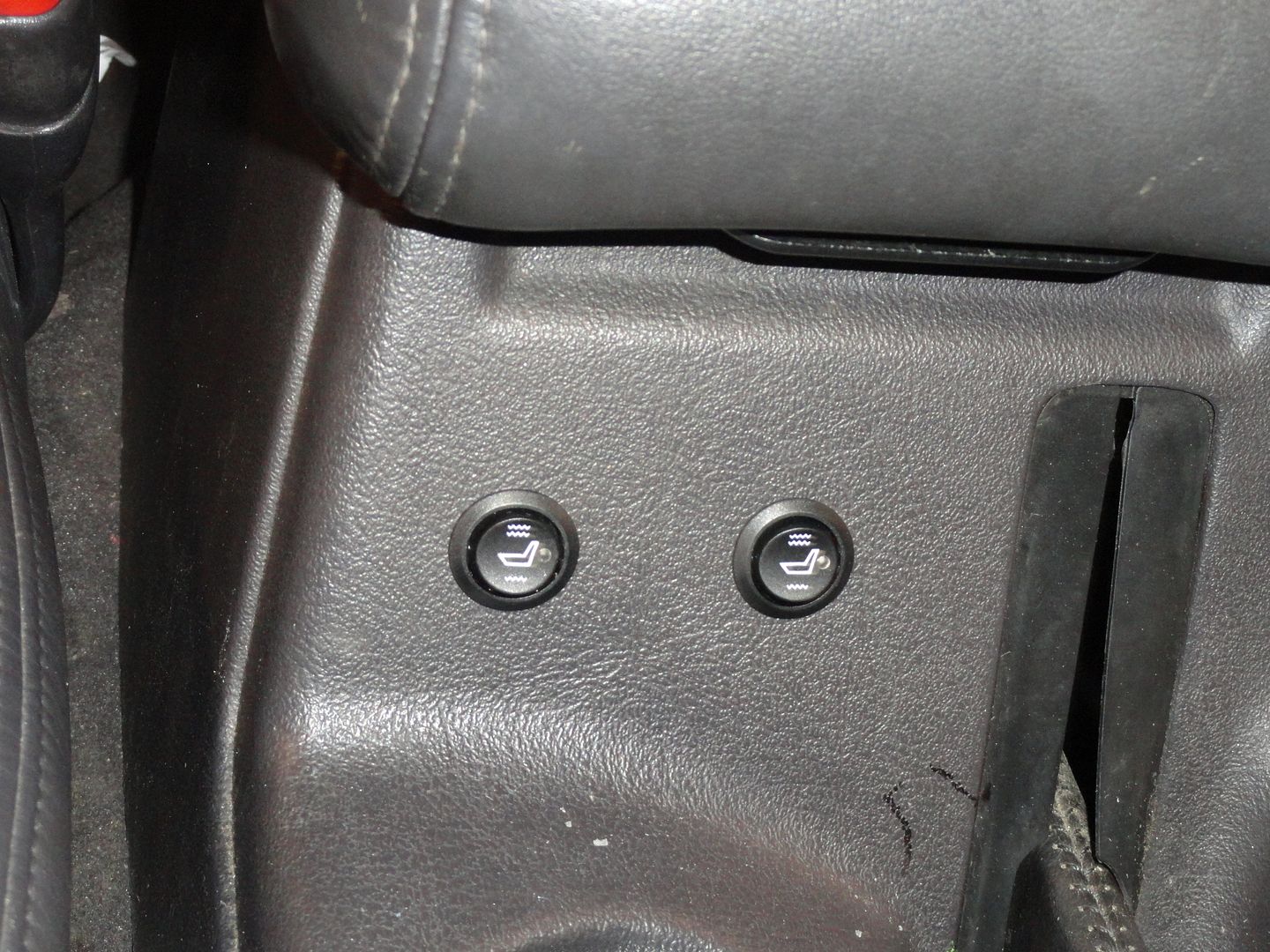 New fog lamps and switch panel: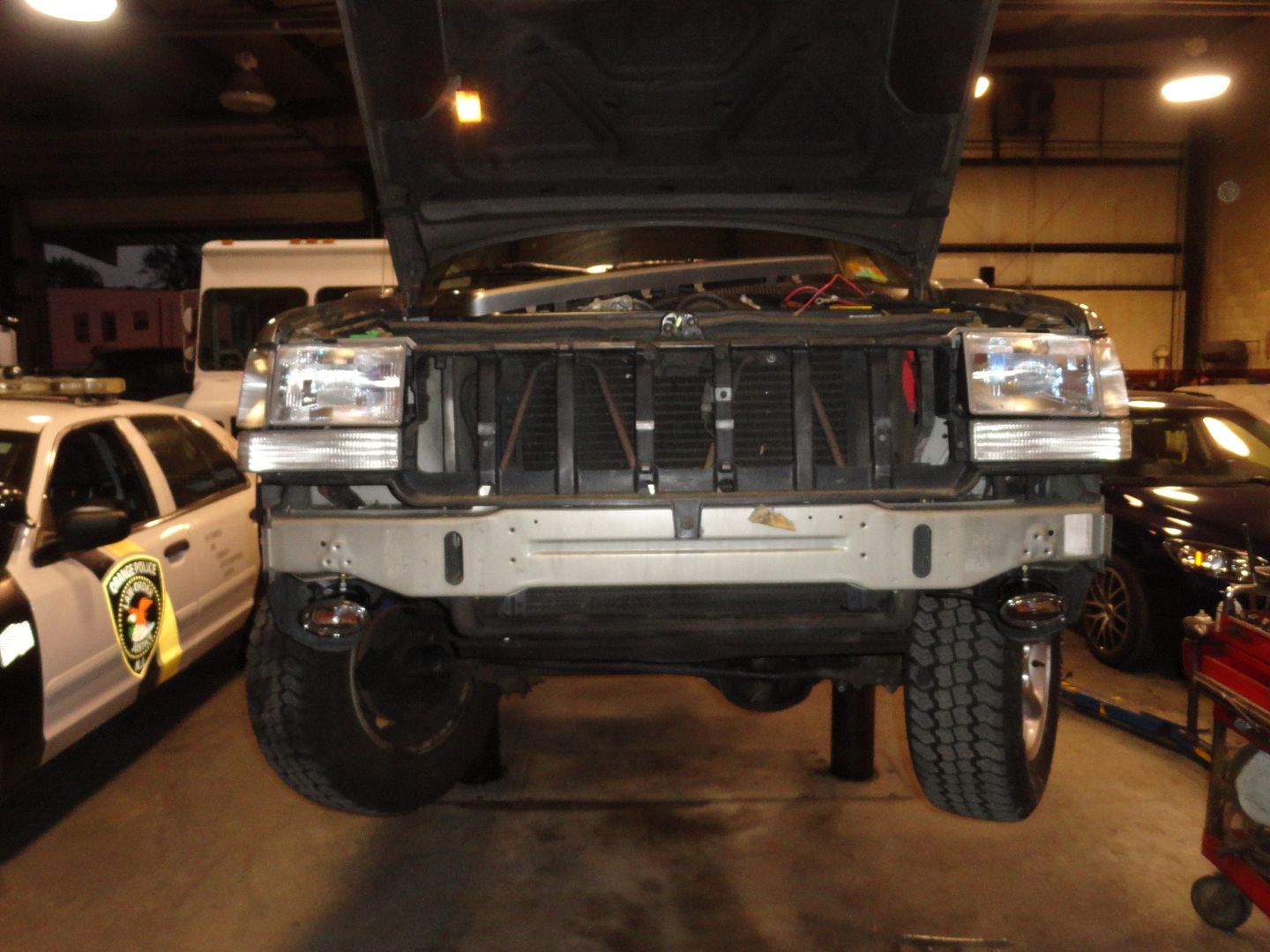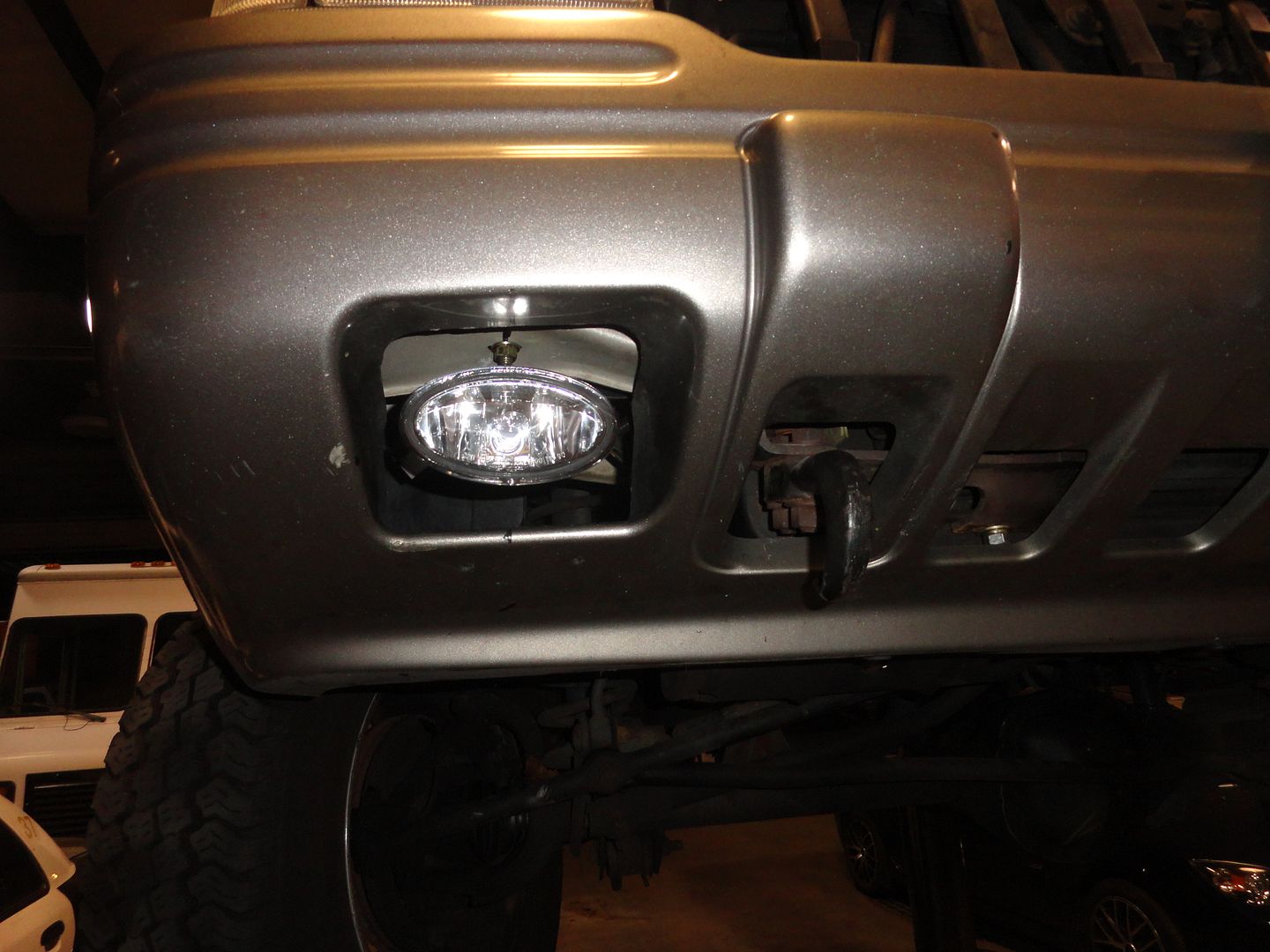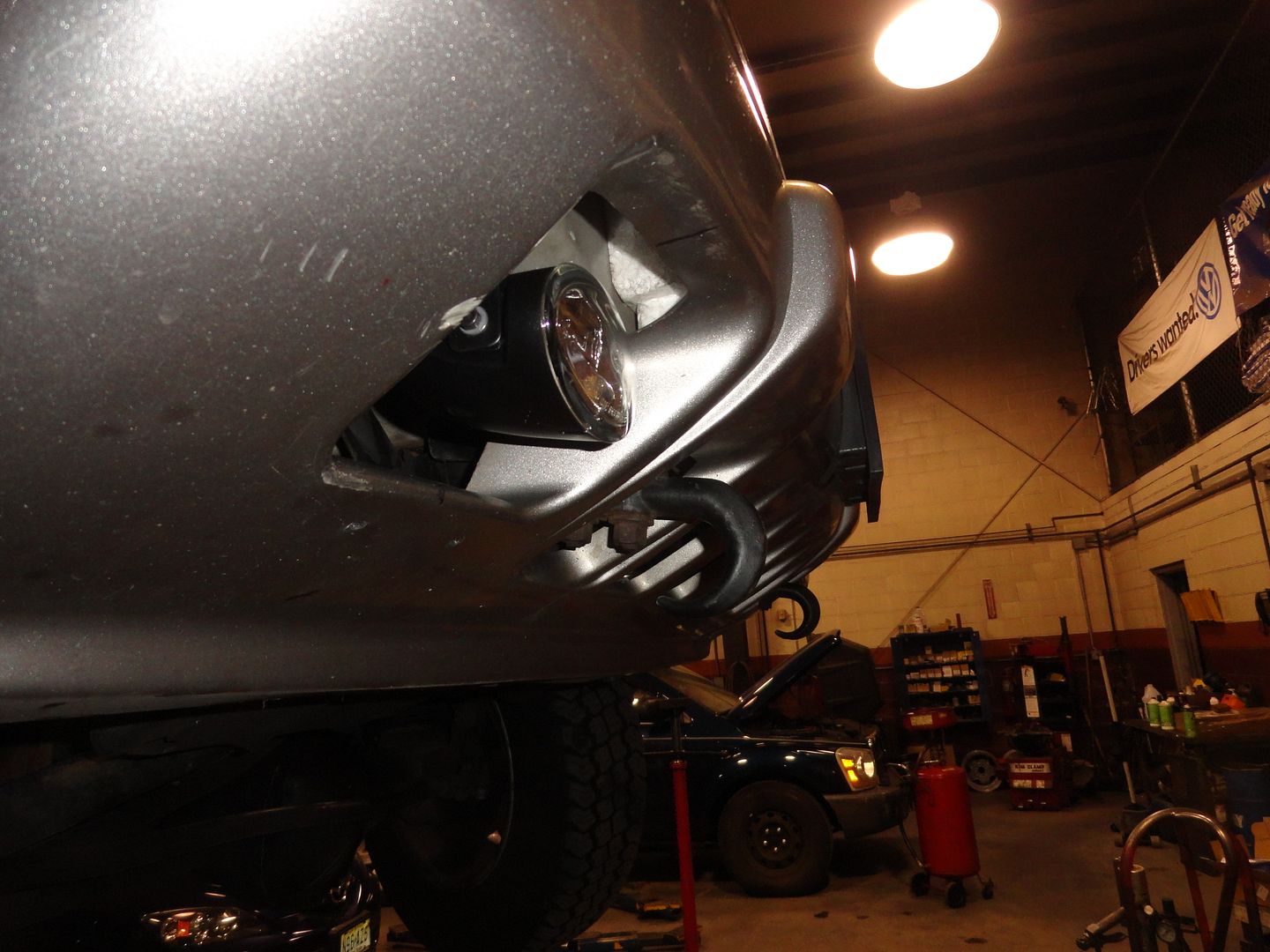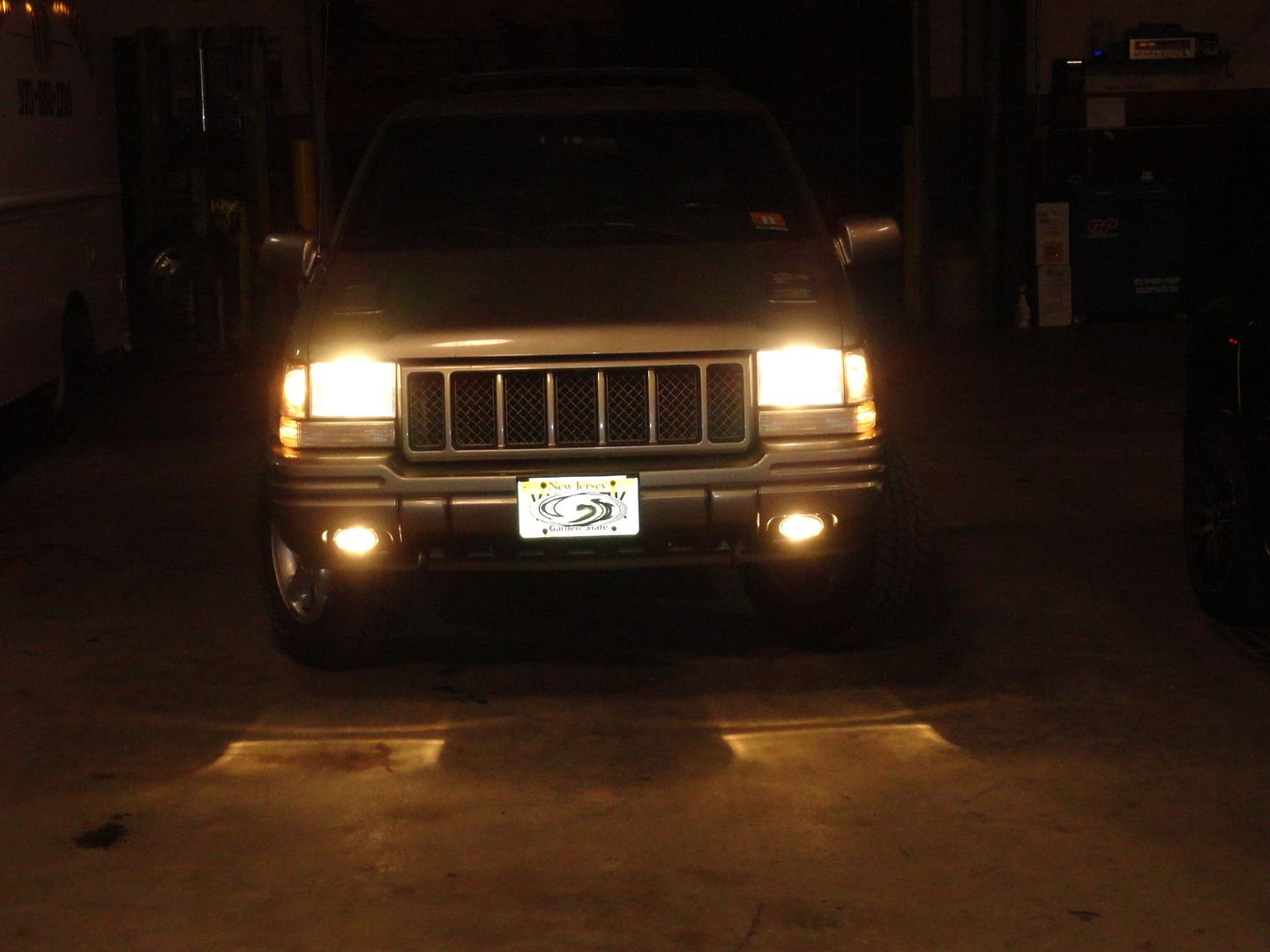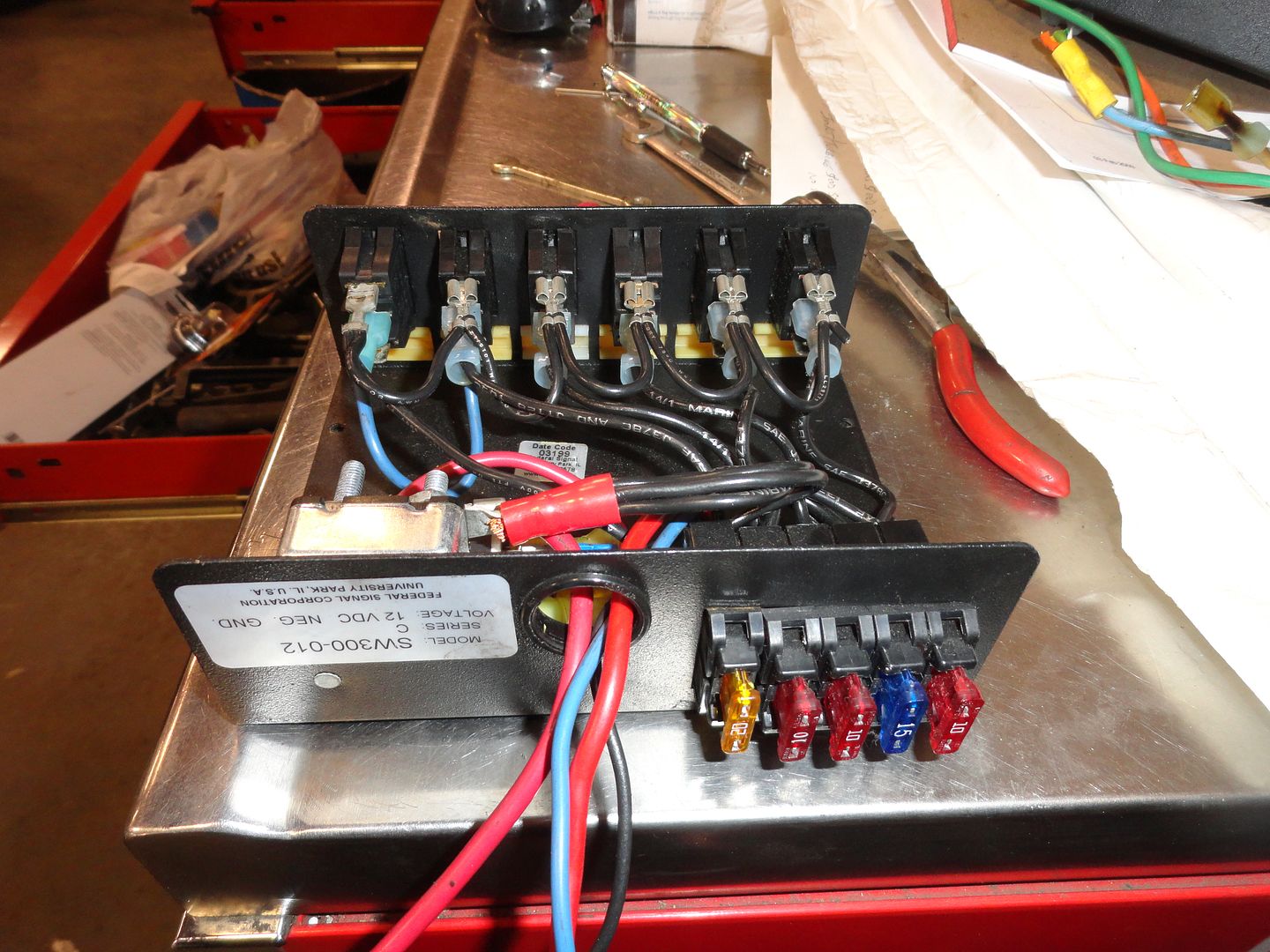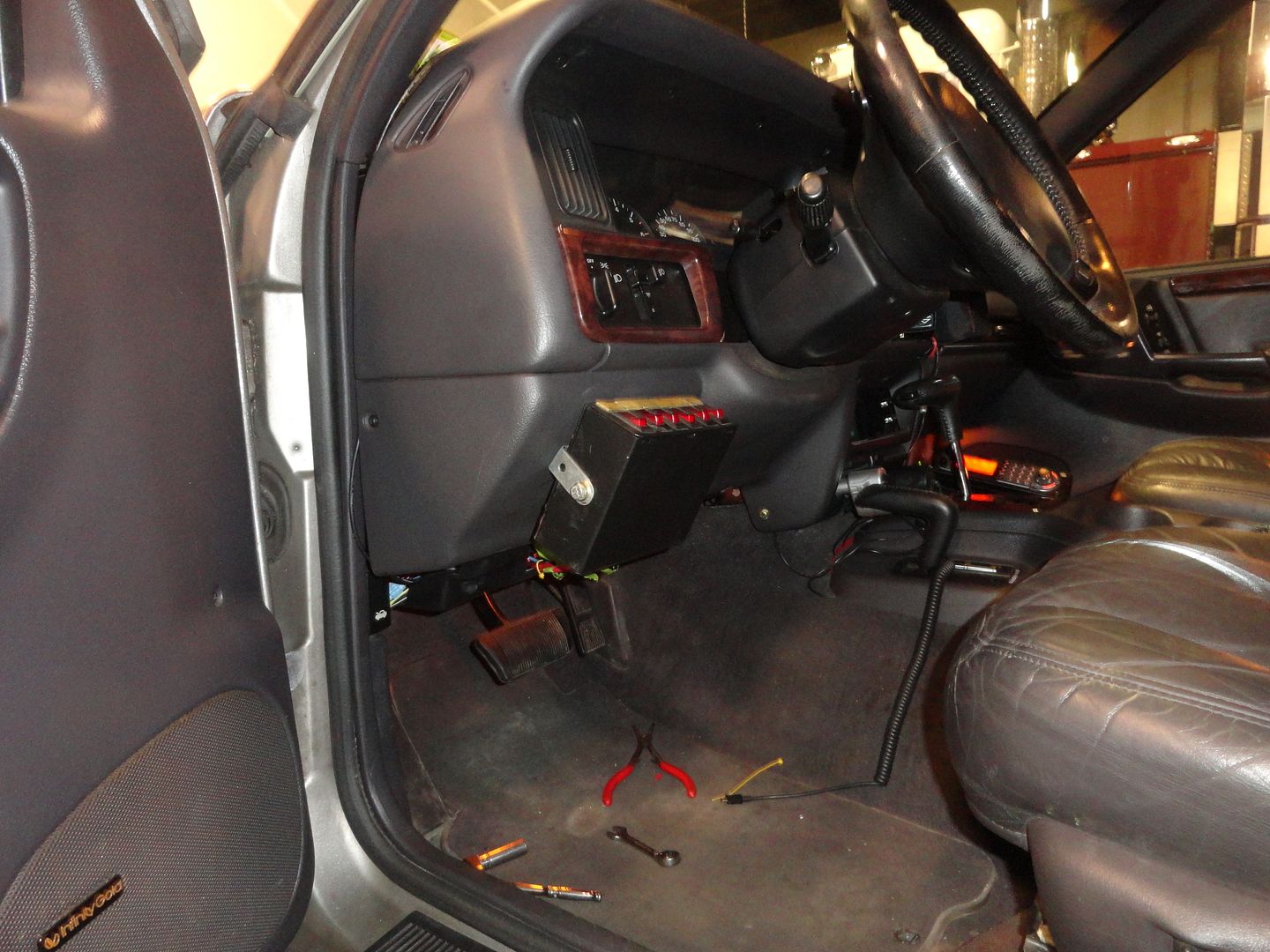 The lift going in. We did this in about 8 hours:
Parts: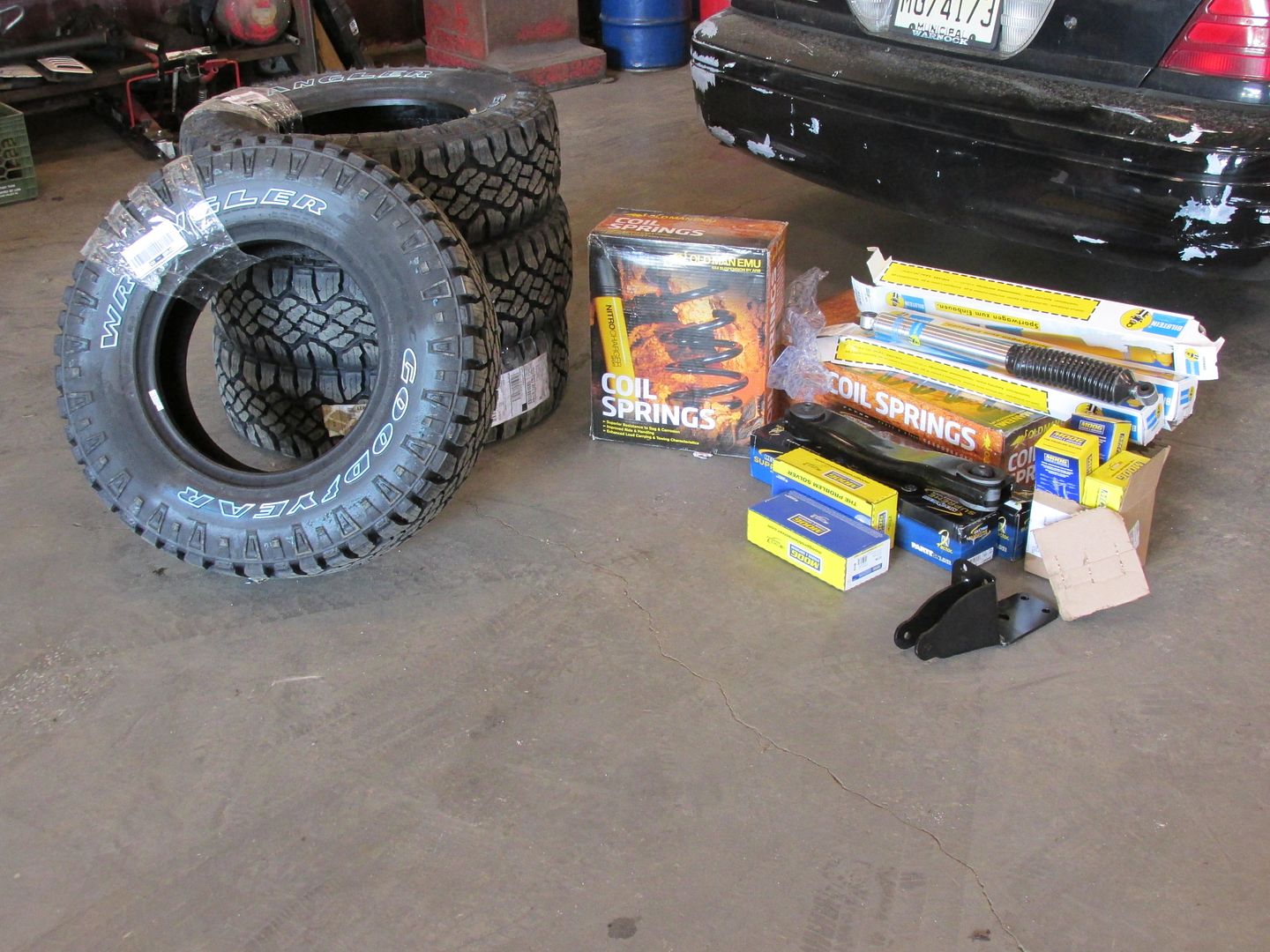 Adjustable track bar going together: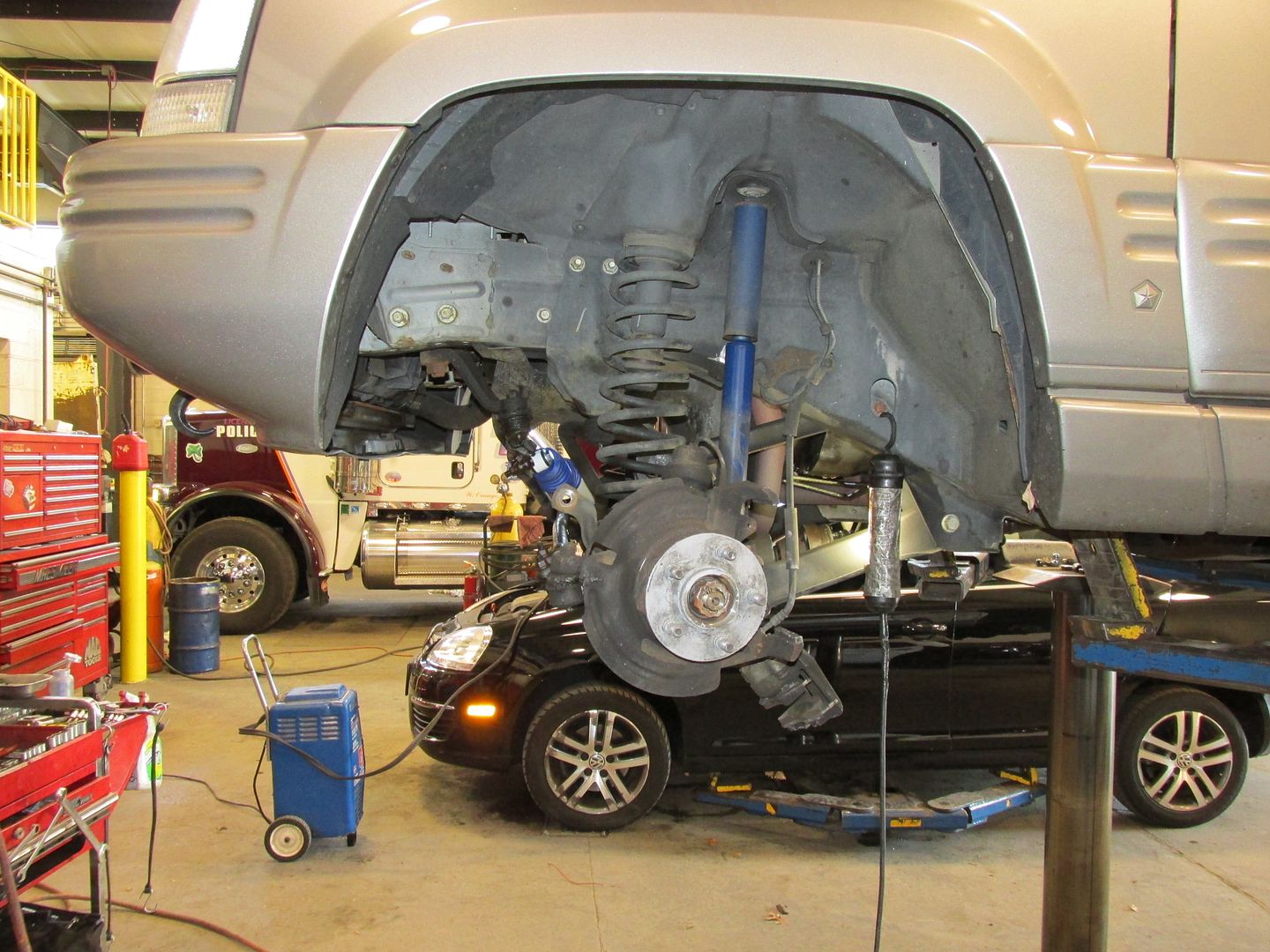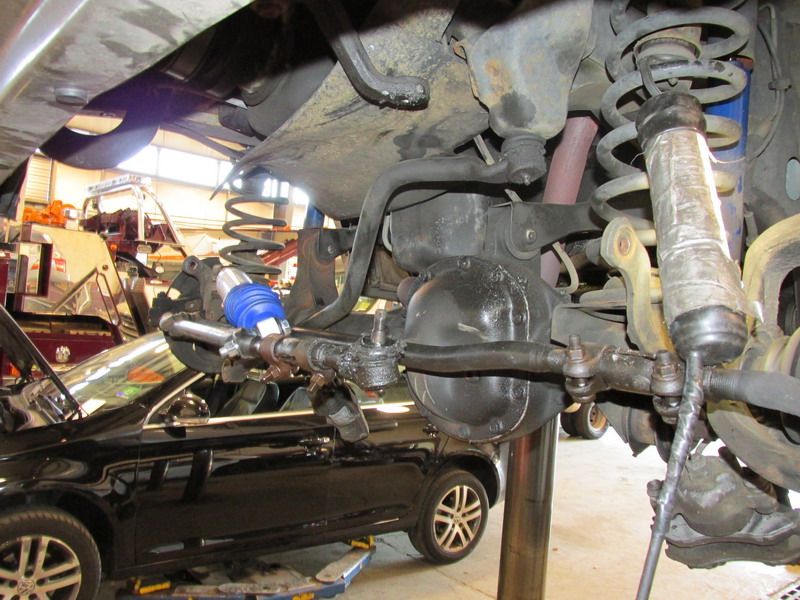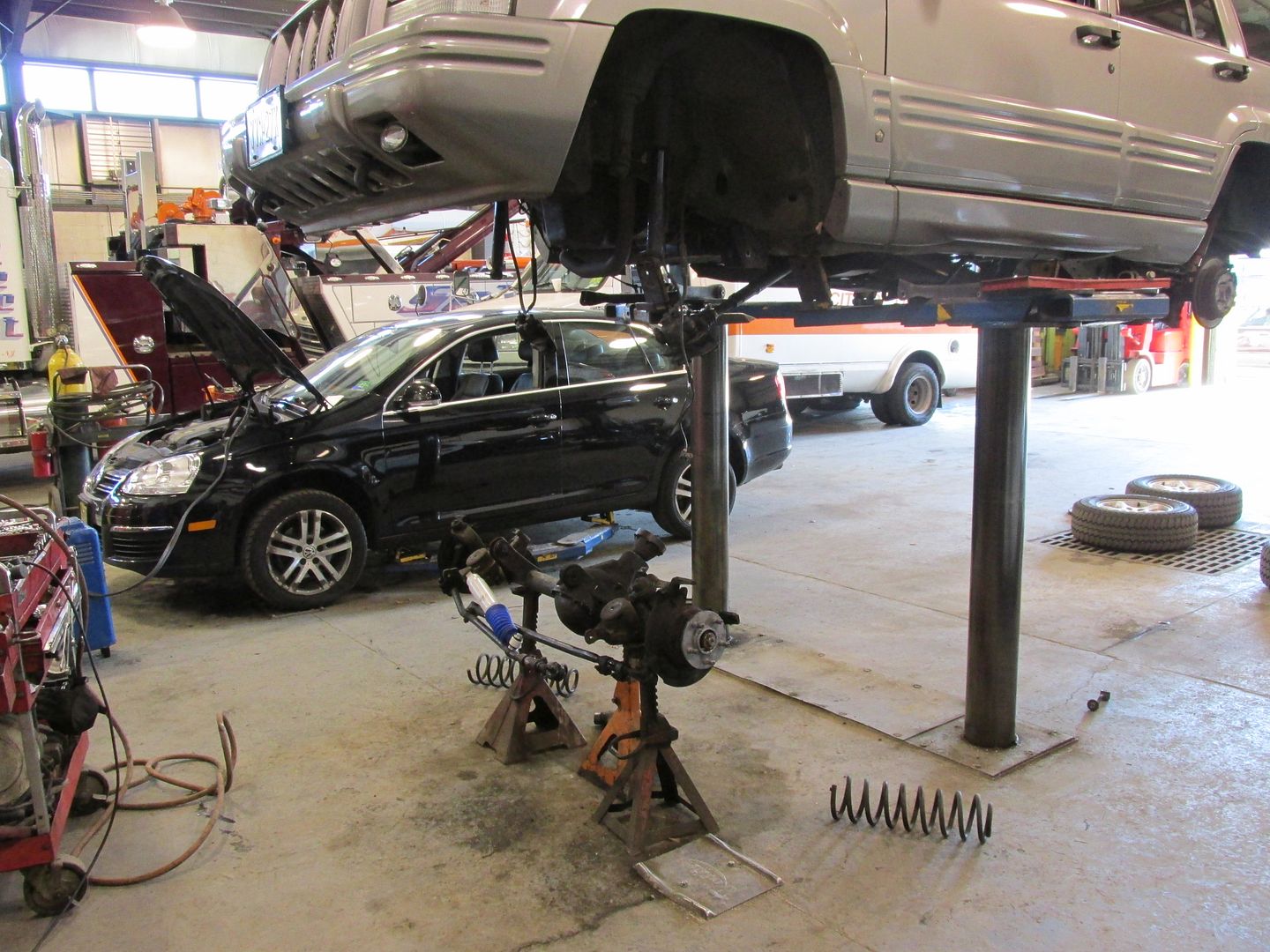 New/old track bar bracket: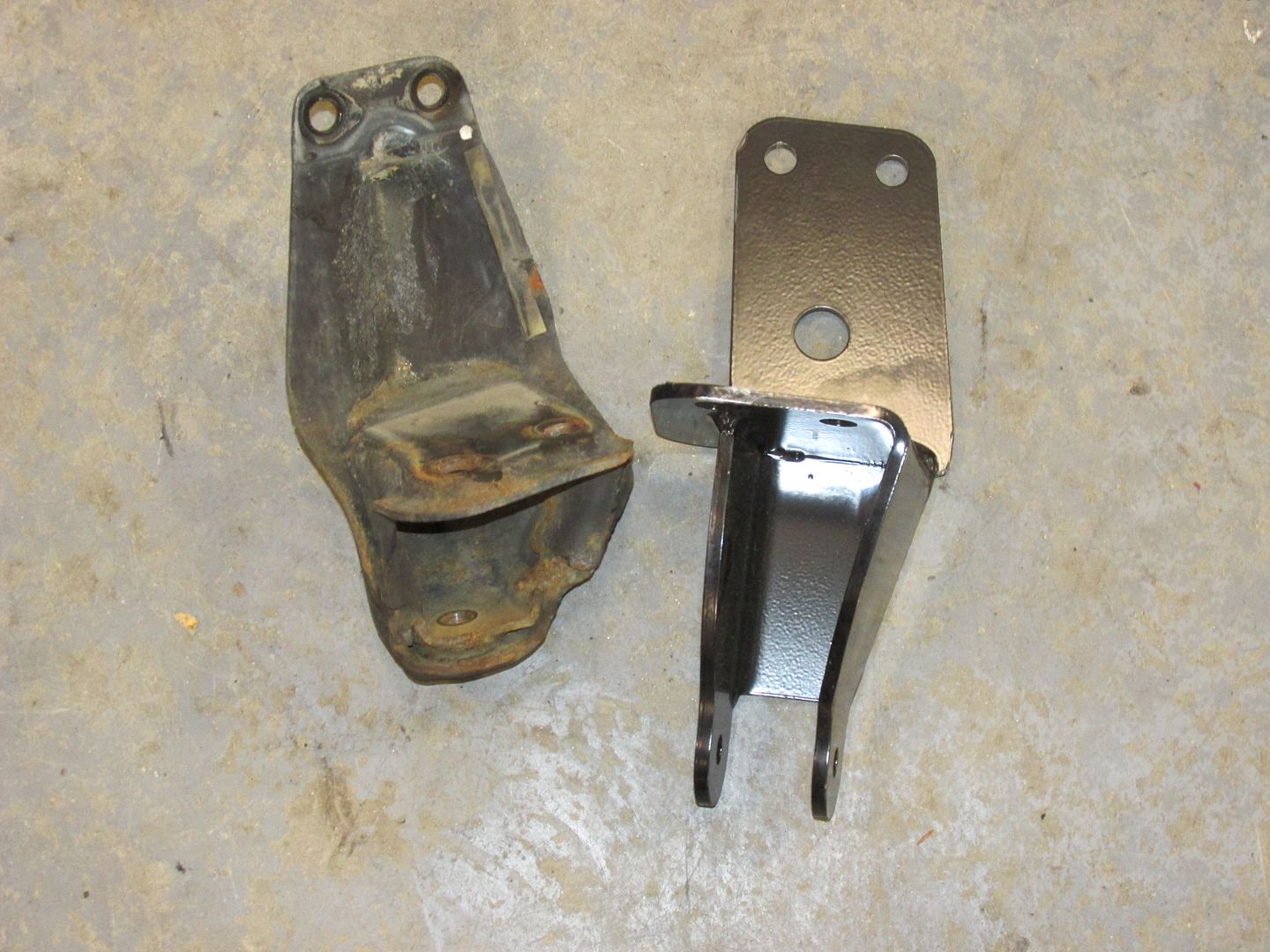 My lower control arm bushings were shot, clunking and worn out. I decided to use new lower control arms from a newer (99-04) WJ grand Cherokee. These are fully boxed and are bent for tire clearance. They also have better bushings:
New/old control arms. Note how mush stronger the new ones look: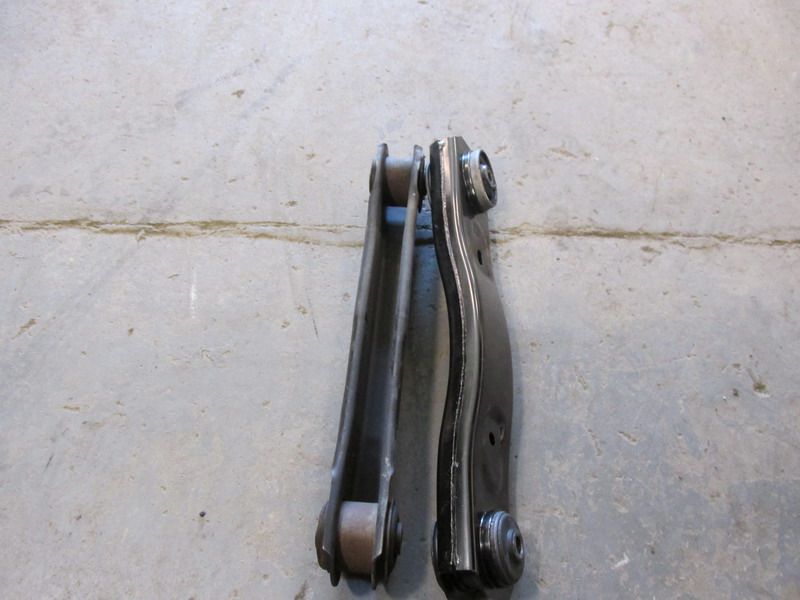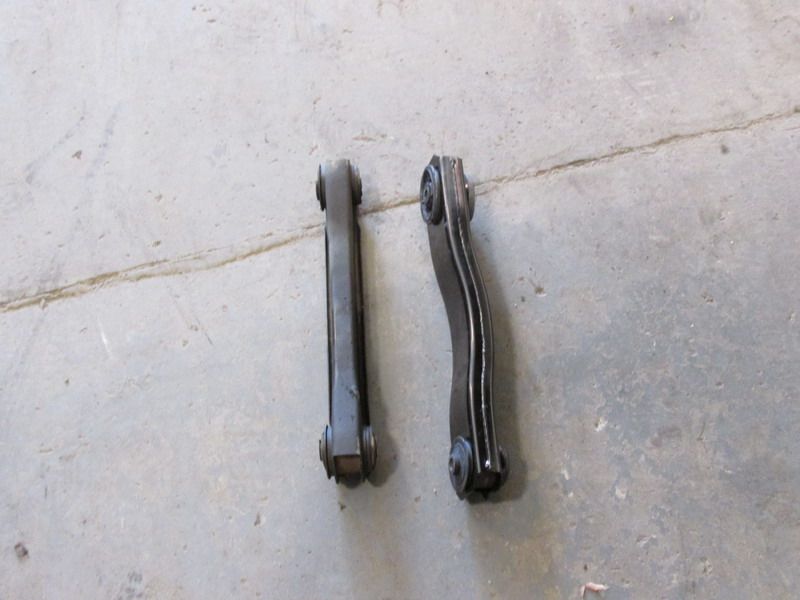 You have to grind down the bushings to use these with my older ZJ truck. Here's you can see the difference: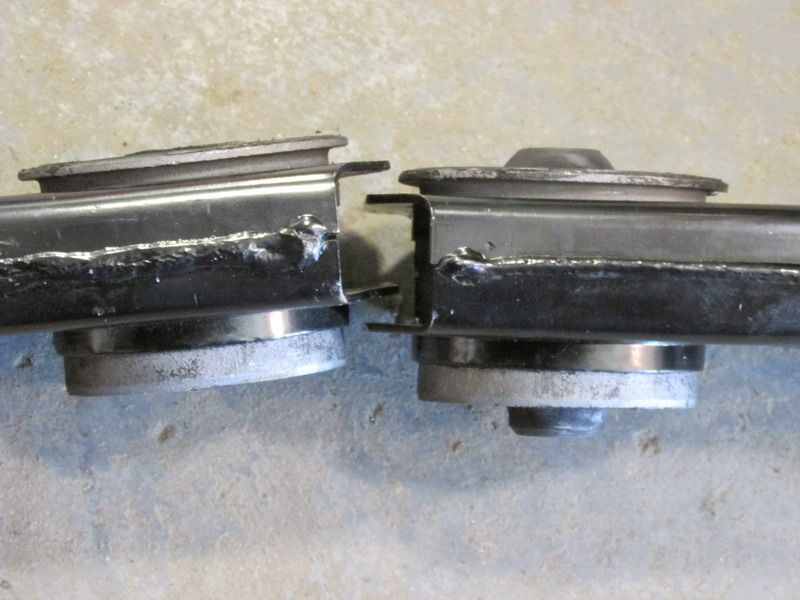 I had to grind down one end for clearance: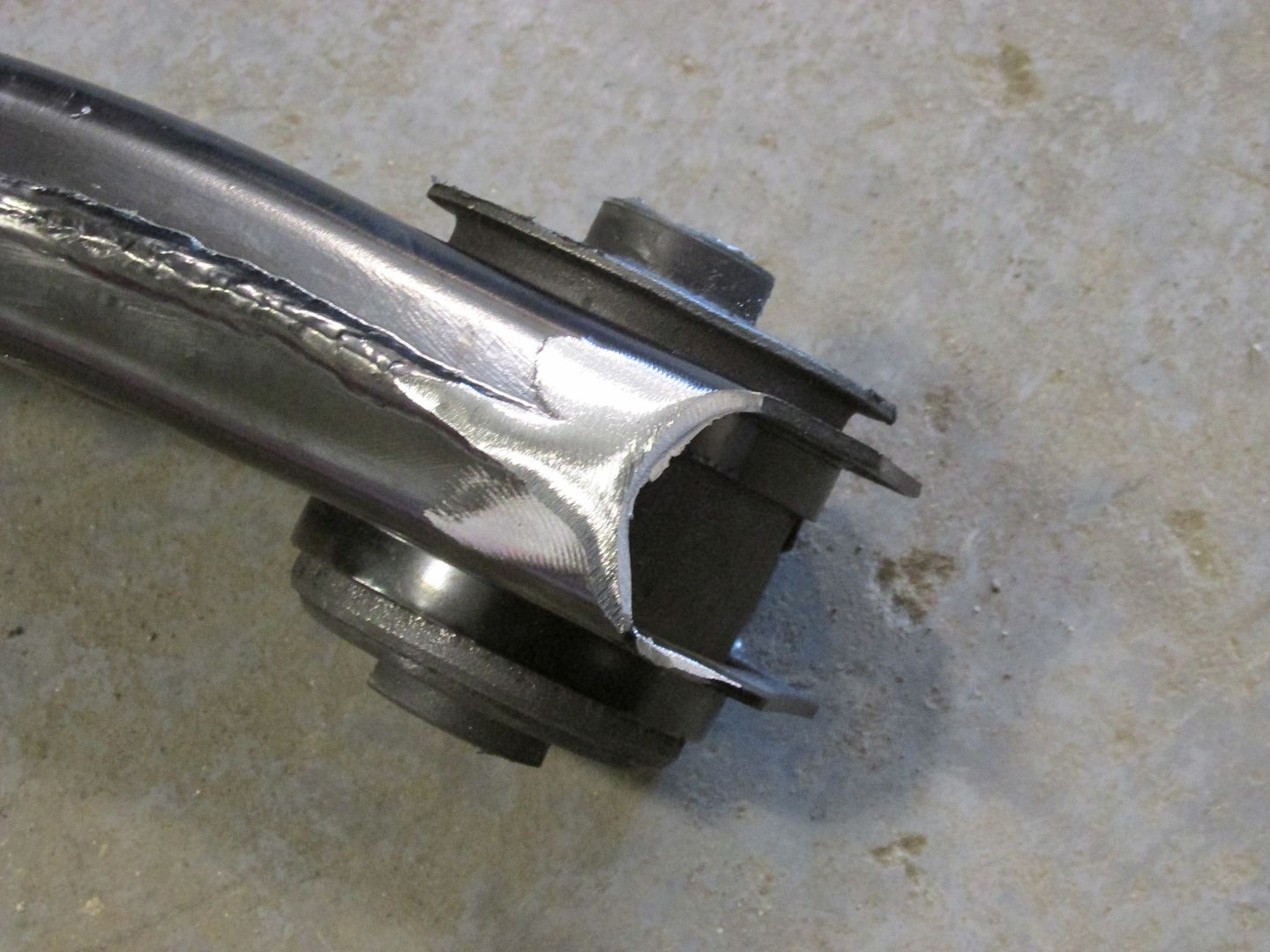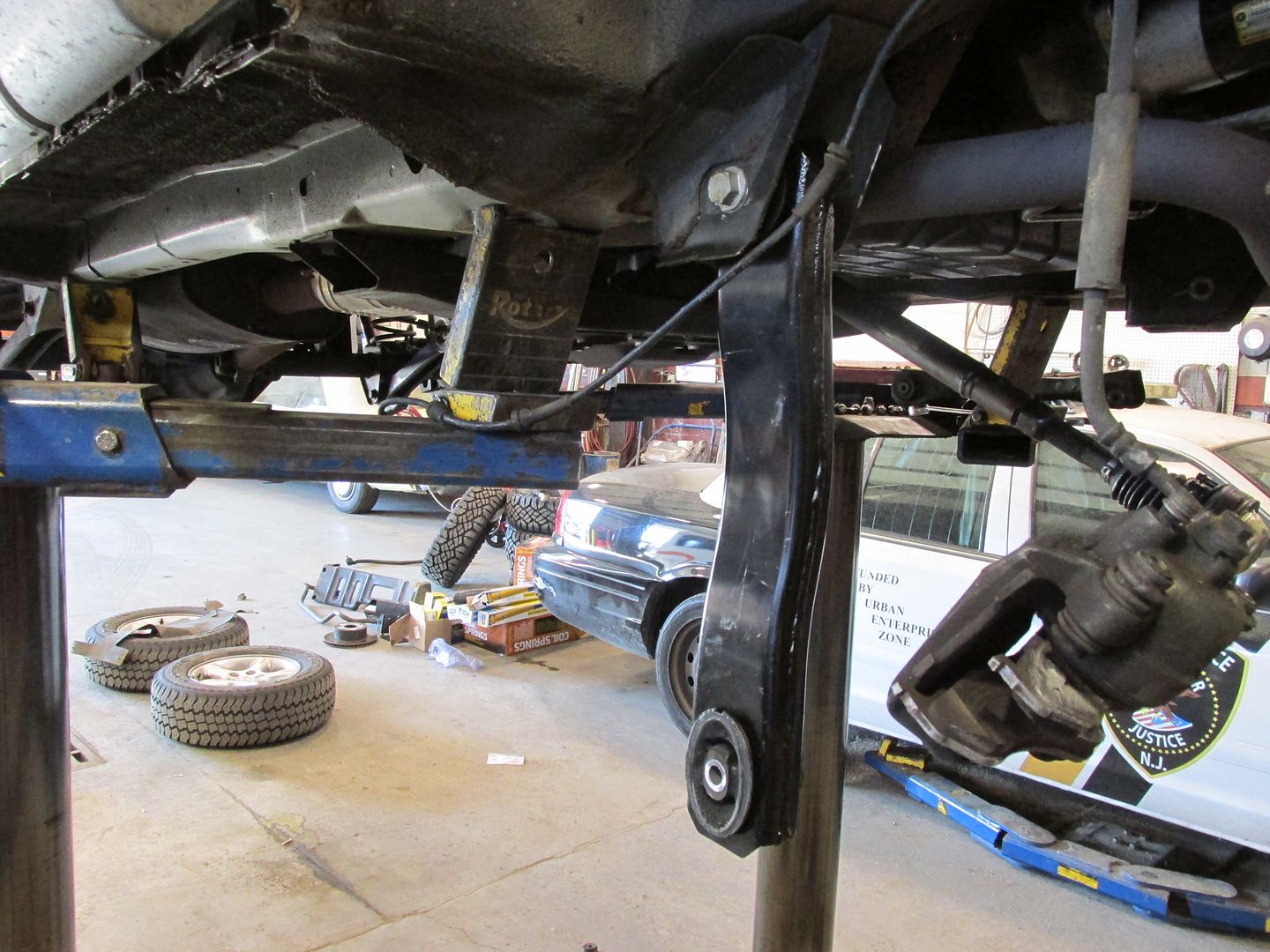 Took the front axle out to work on the control arms: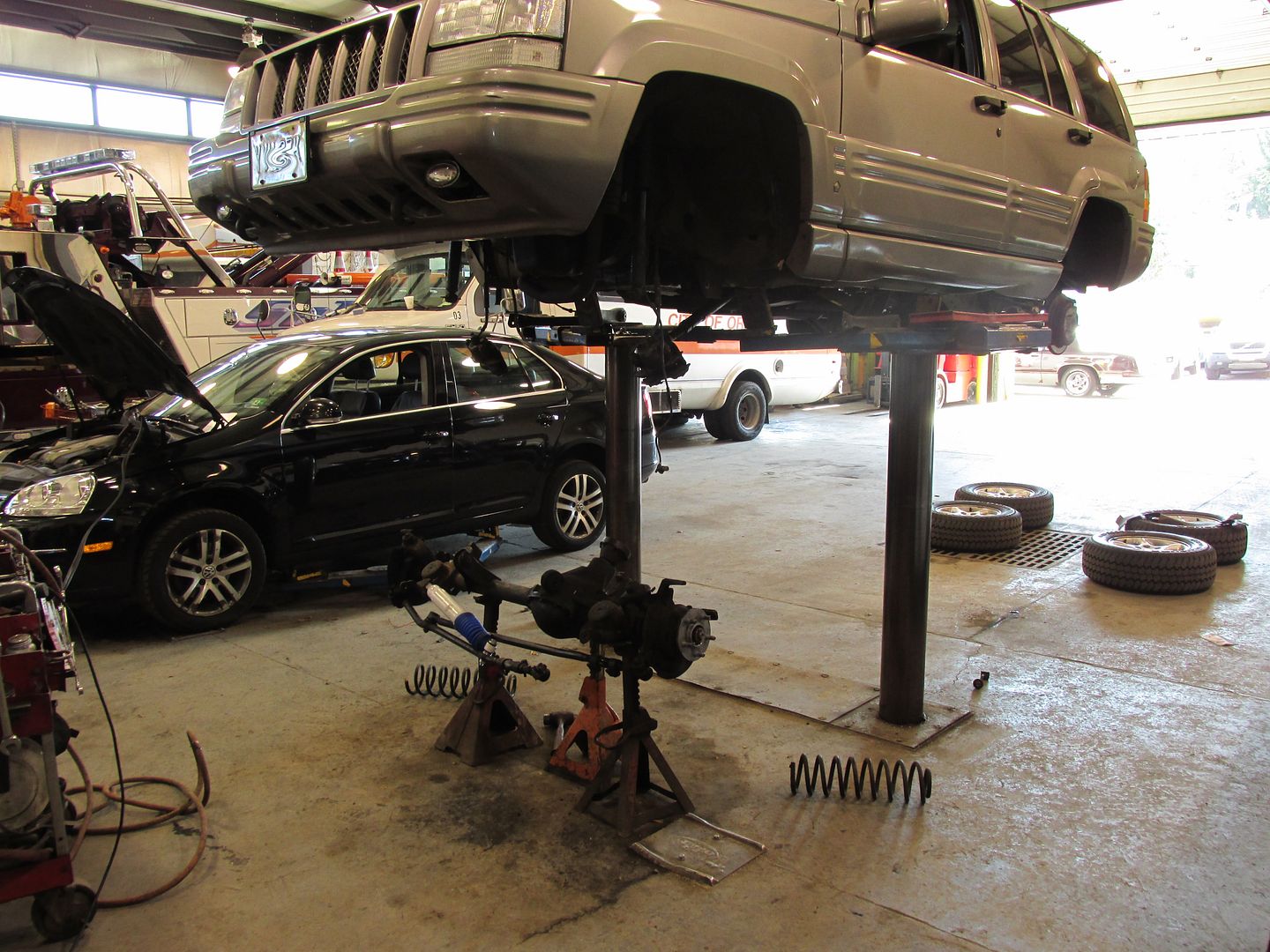 New track bar mount: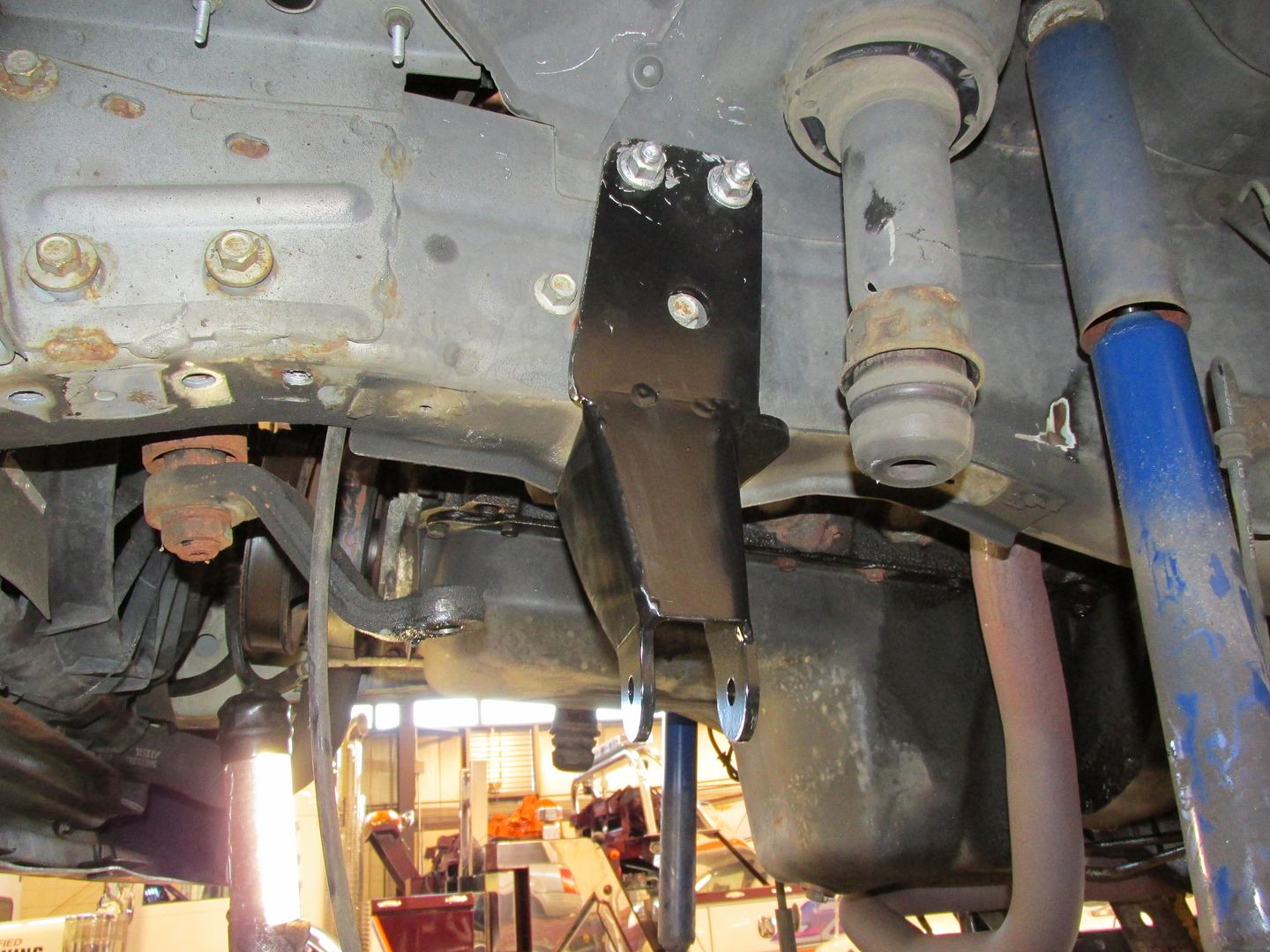 New/old springs: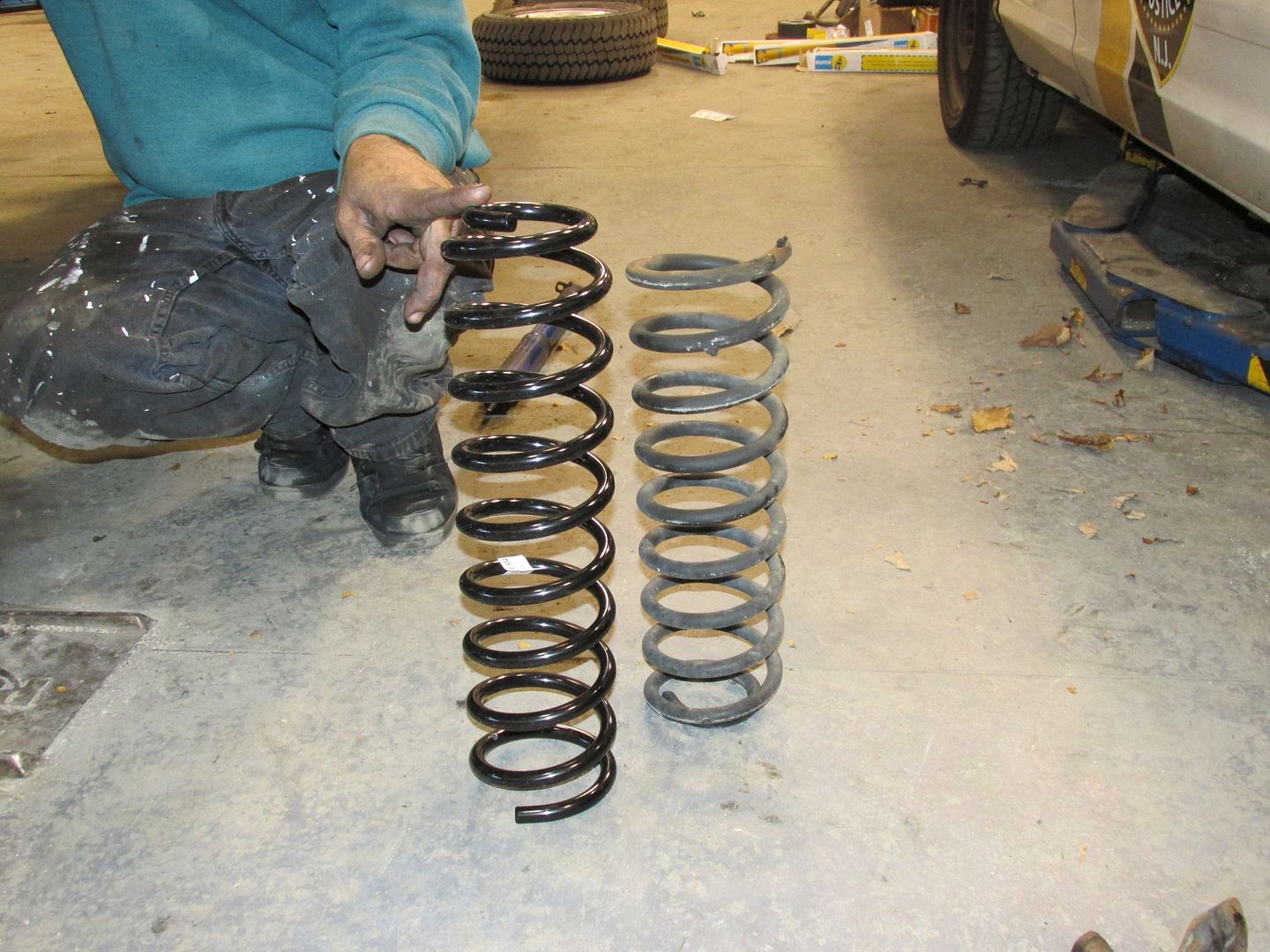 New lower control arms: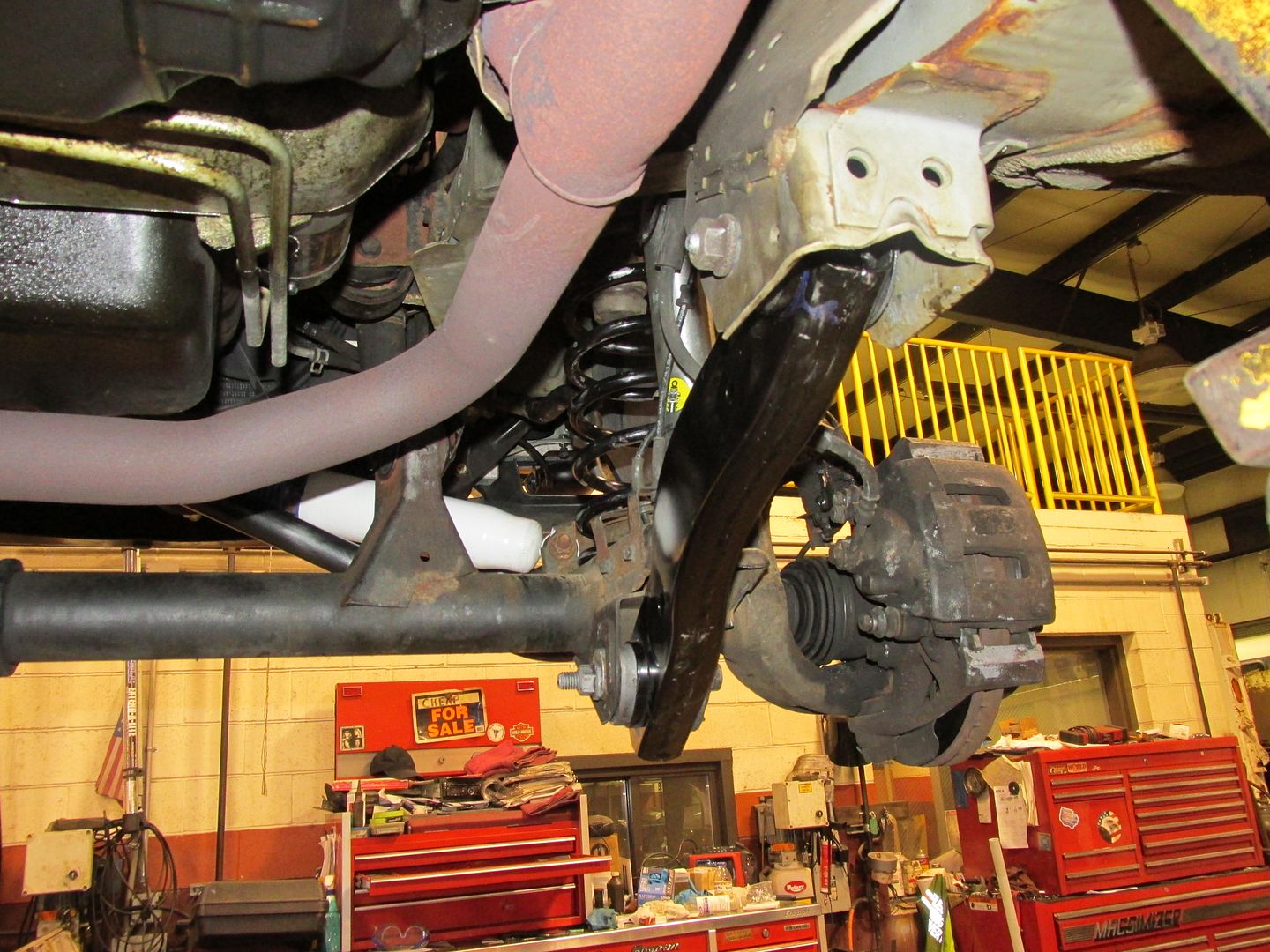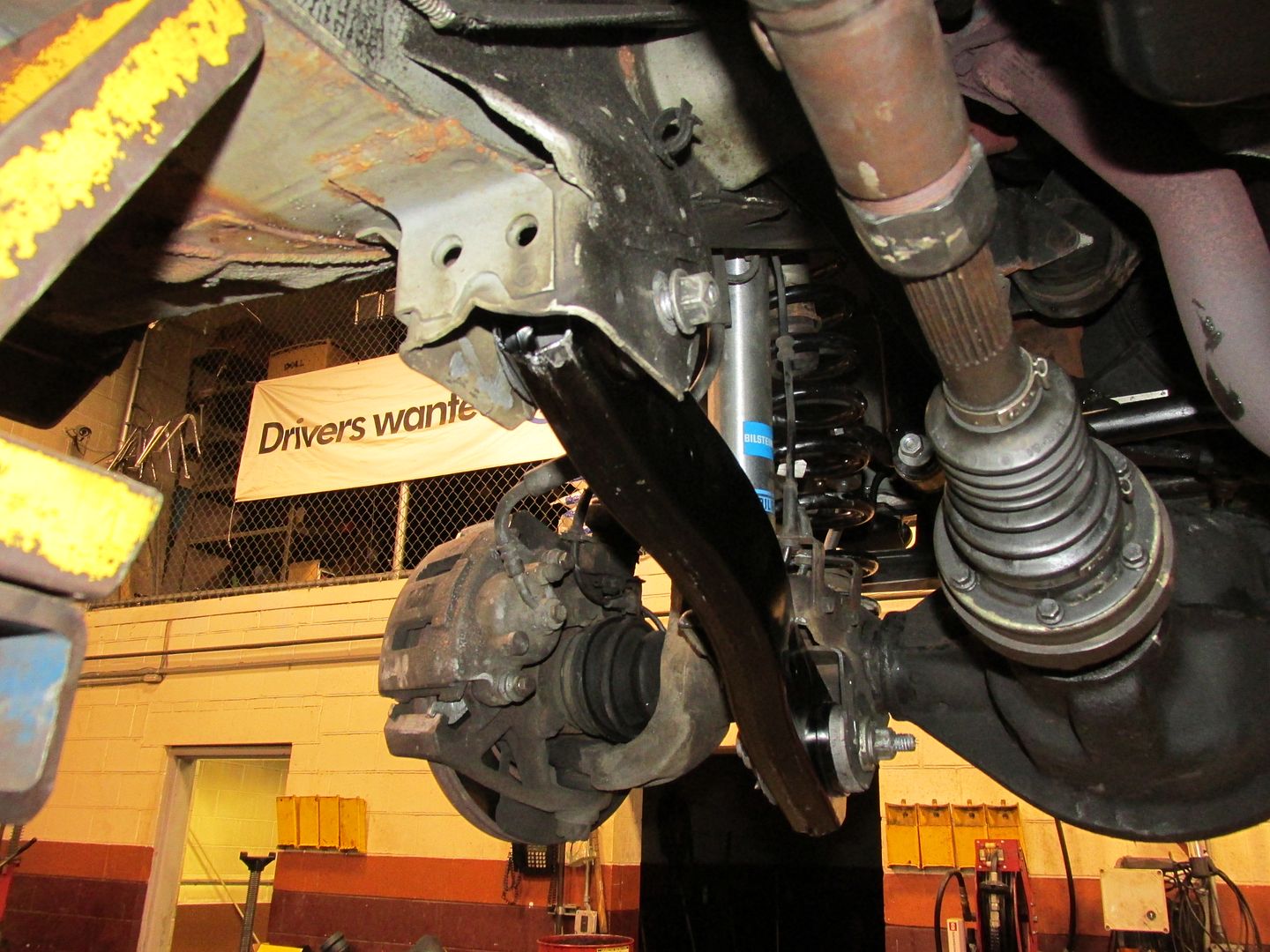 Springs, shocks, sway bar links and bushings, control arms: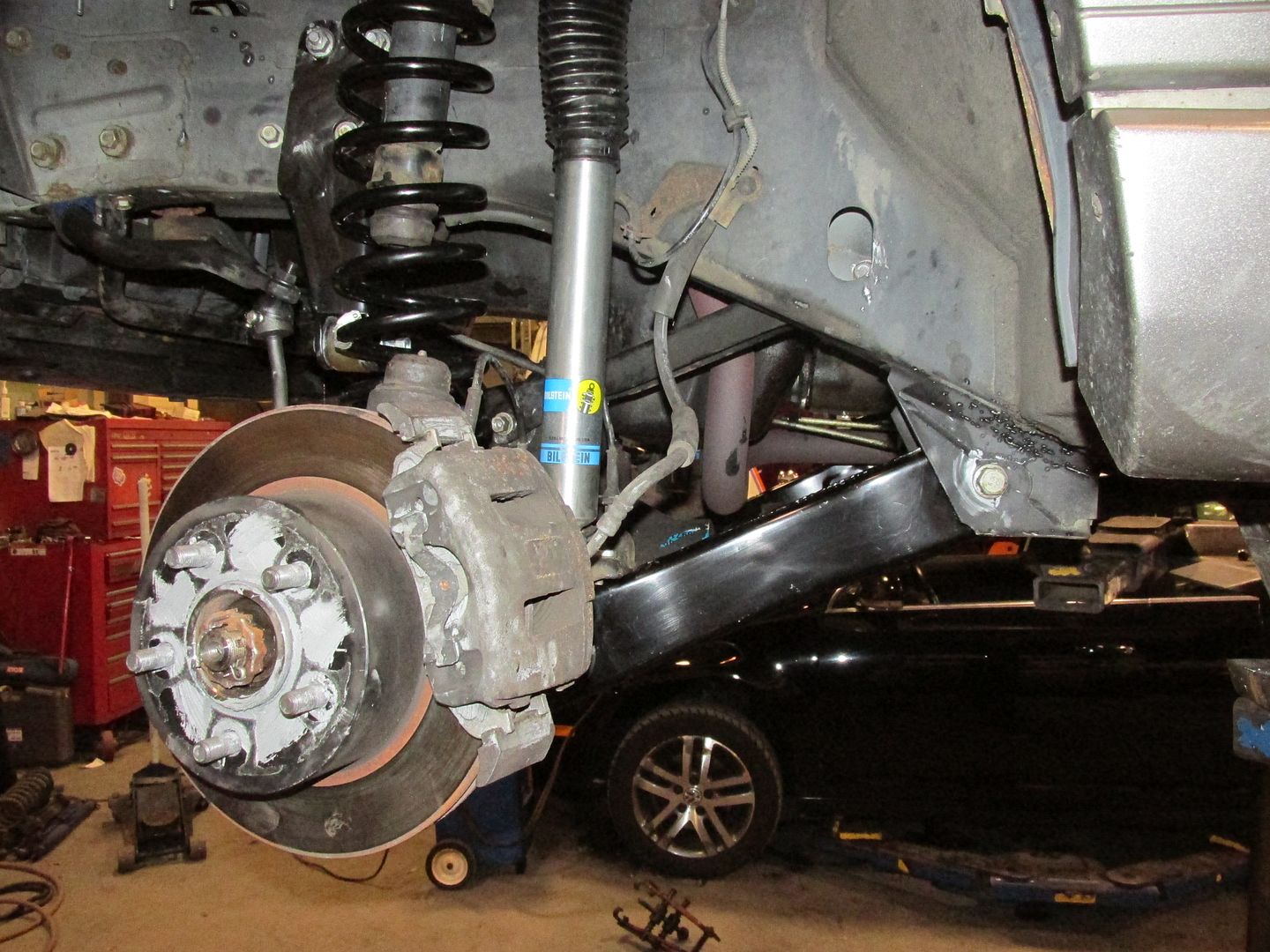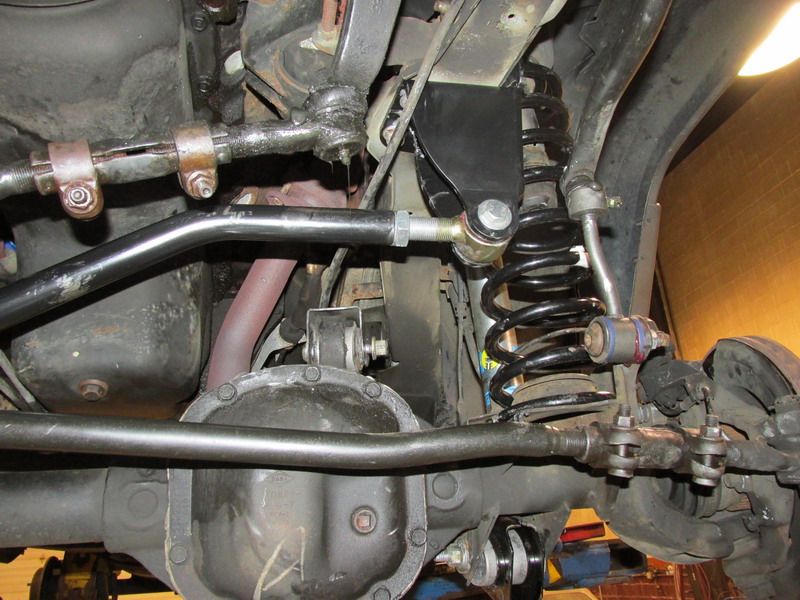 Installing upper control arm bushings: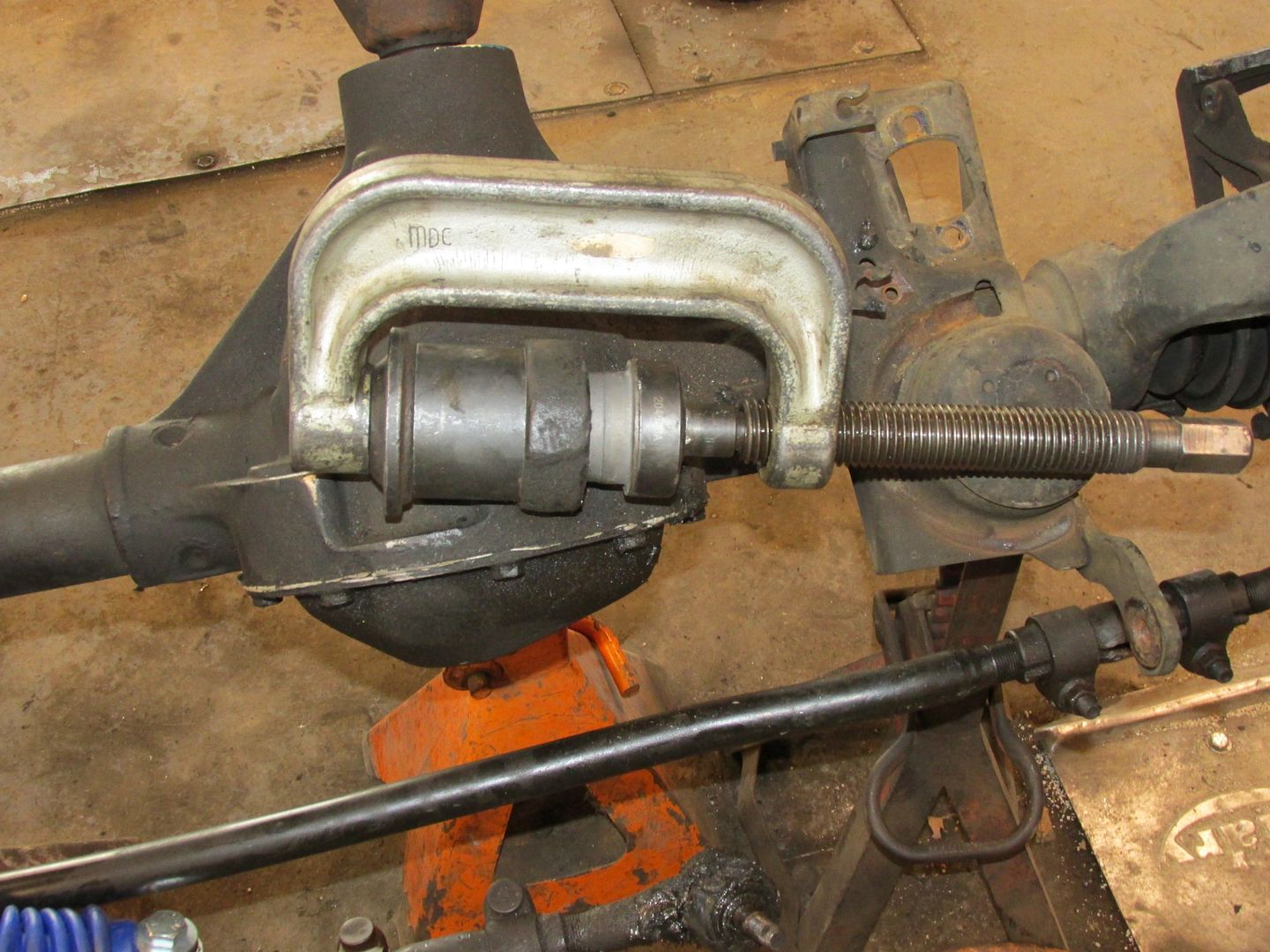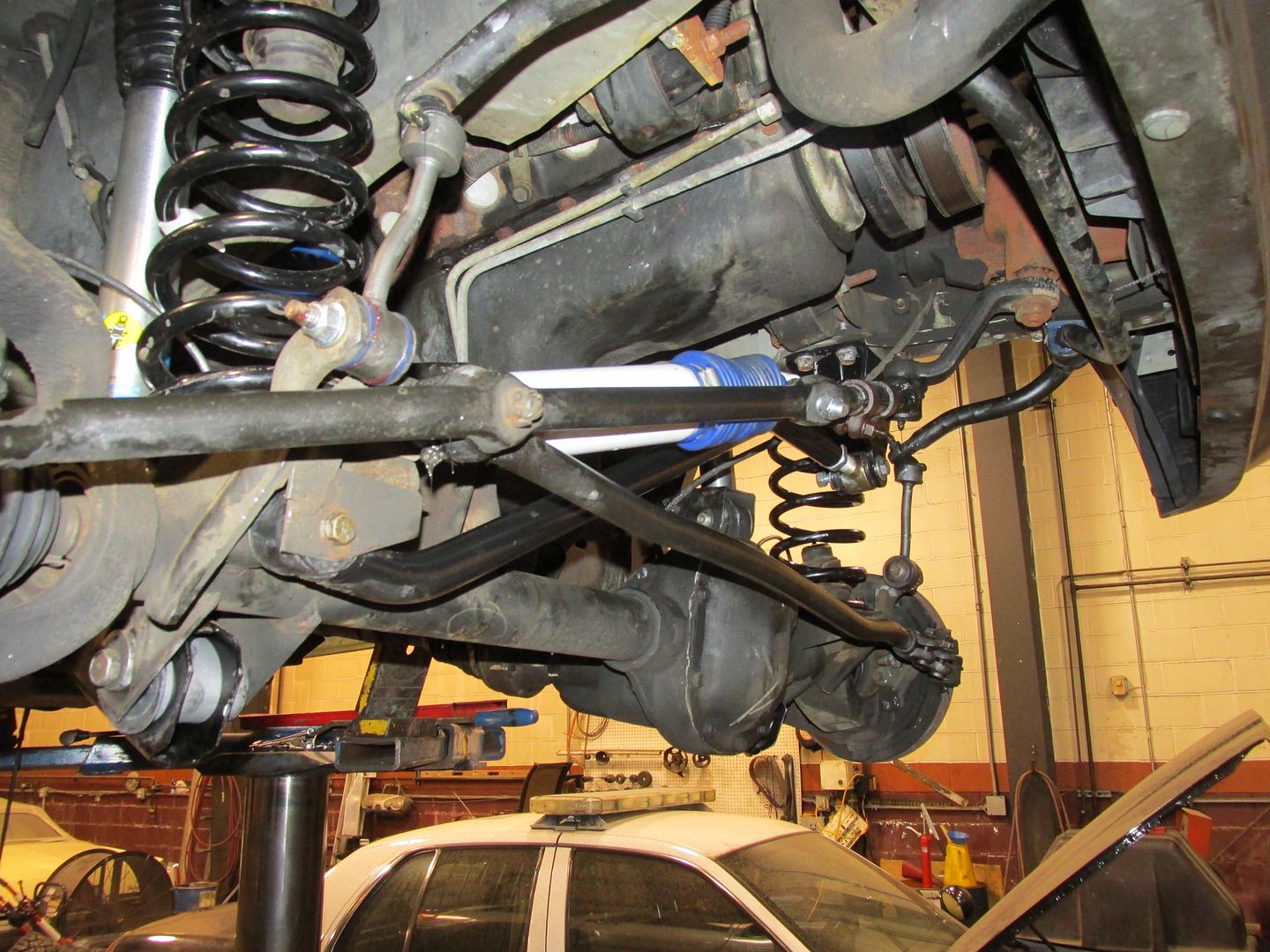 Rear springs and shocks. Rear end was easy. Unbolt shocks, pull down on axle, remove\/replace springs, install shock done!!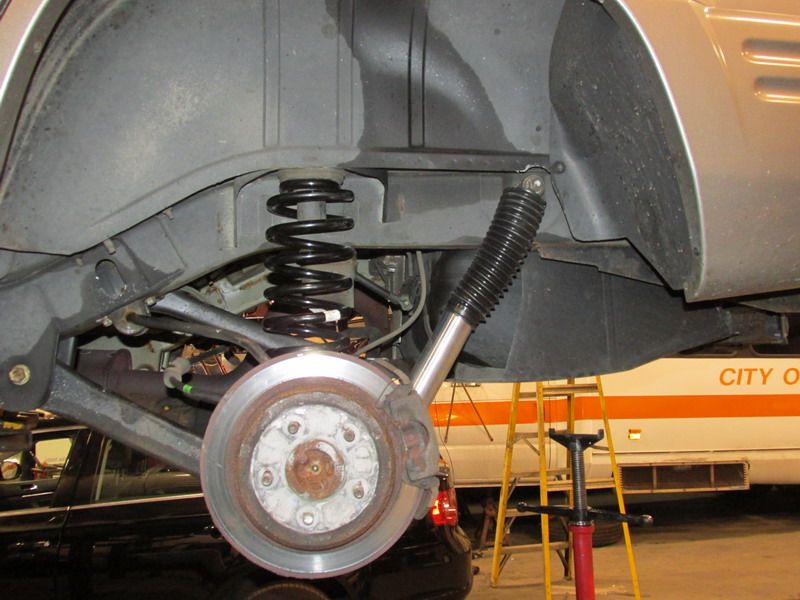 Tires: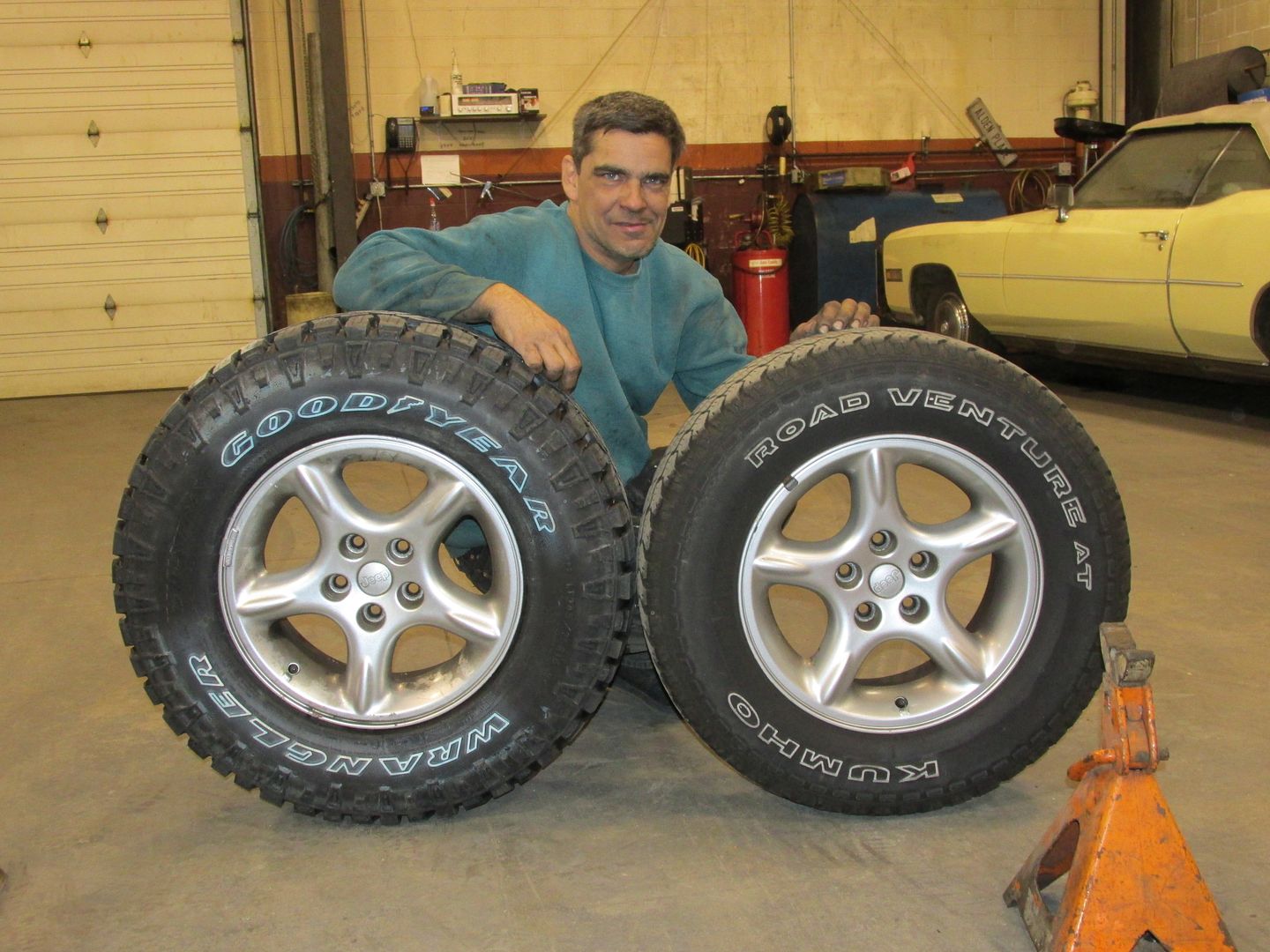 Done: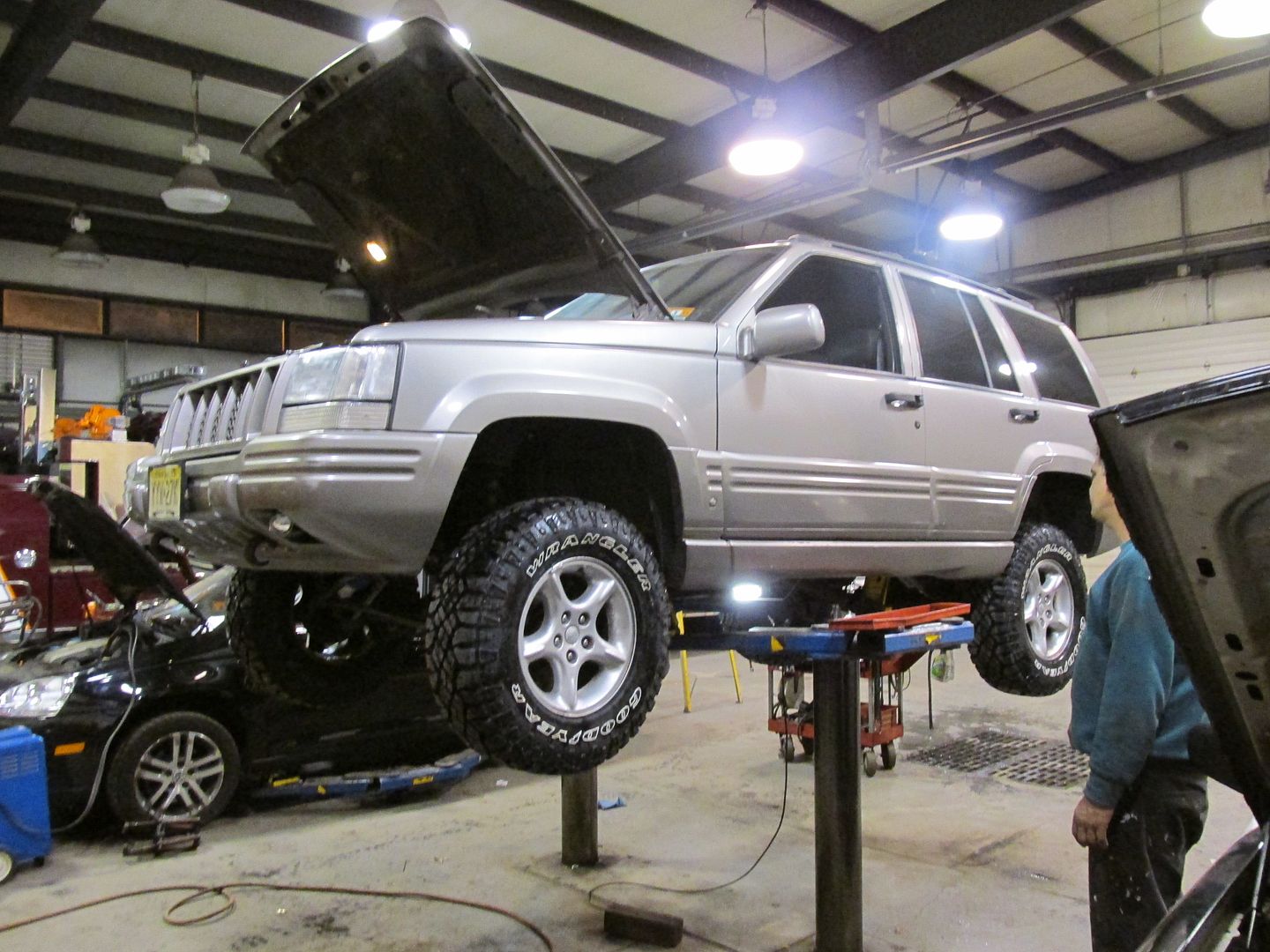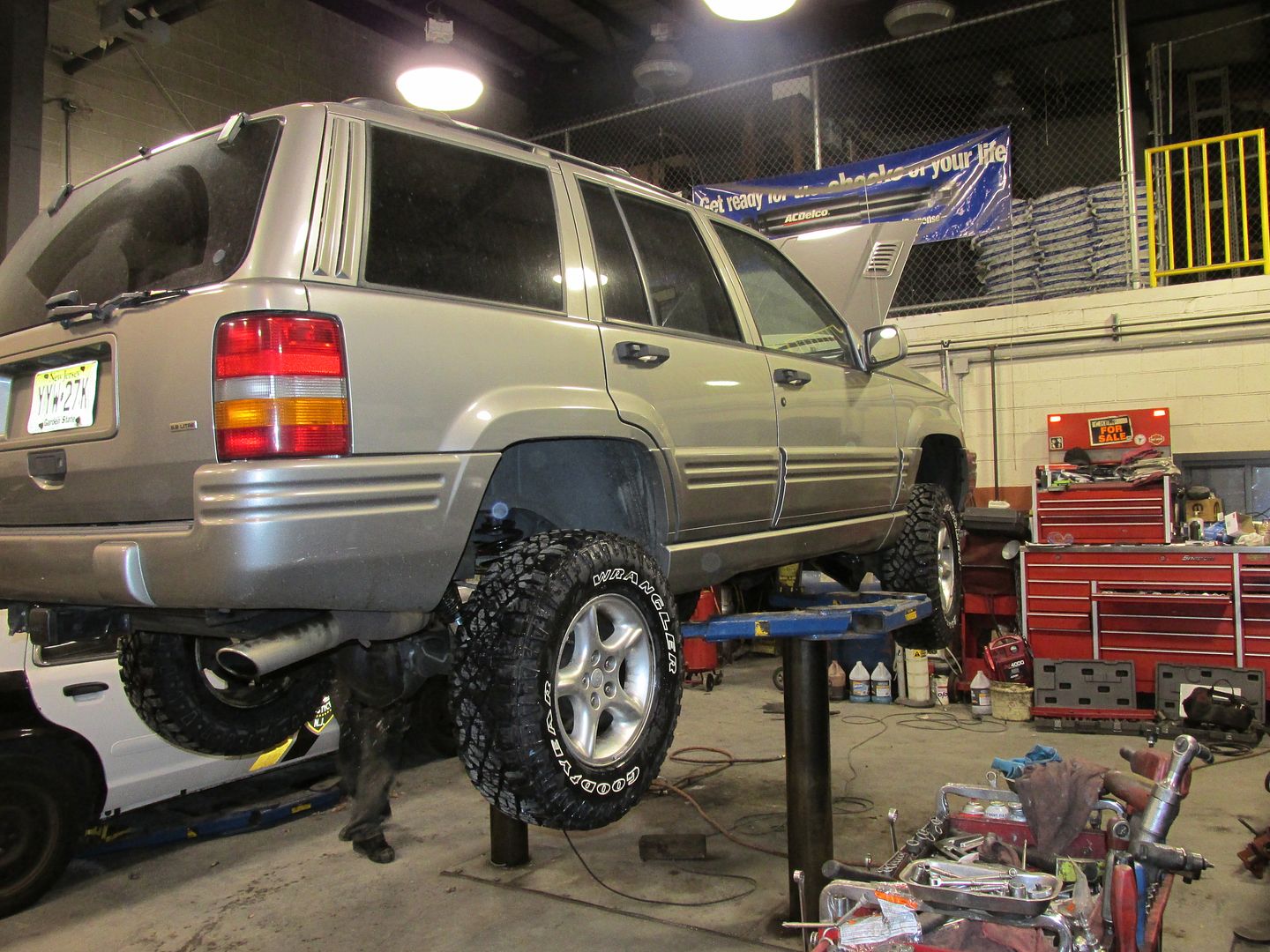 Needs alignment. Front axle is way off to the right, needs track bar adjustment: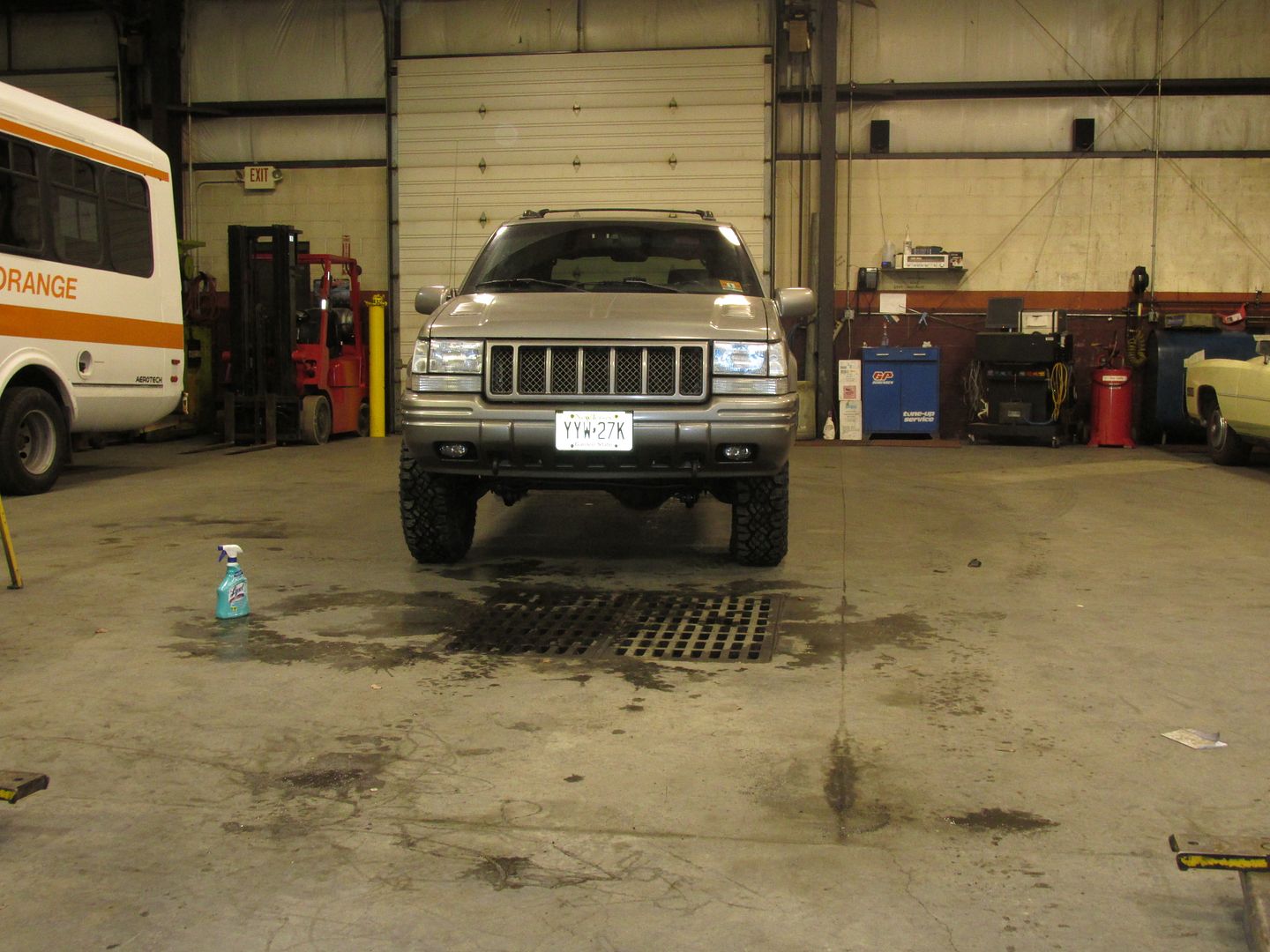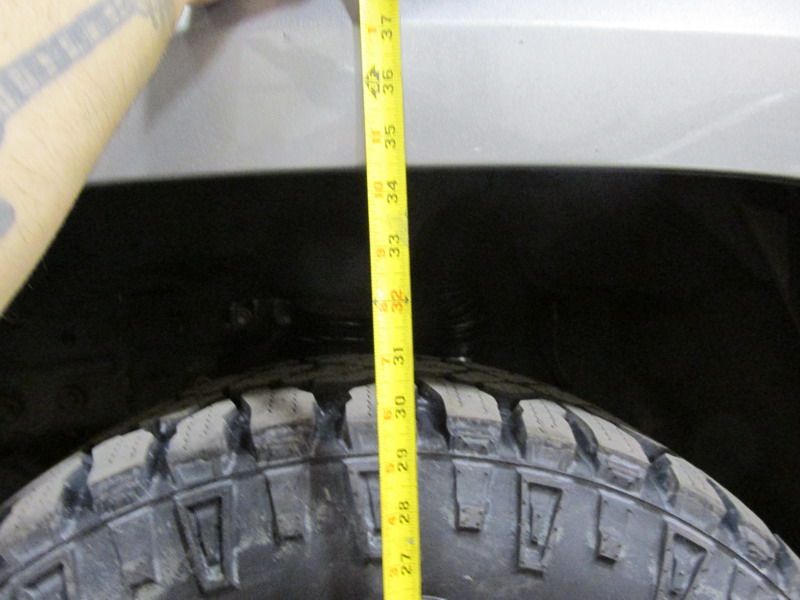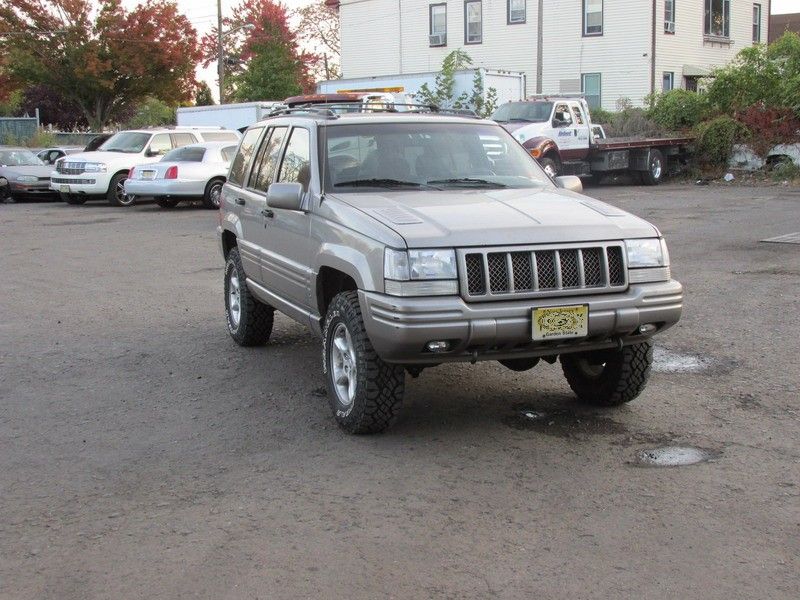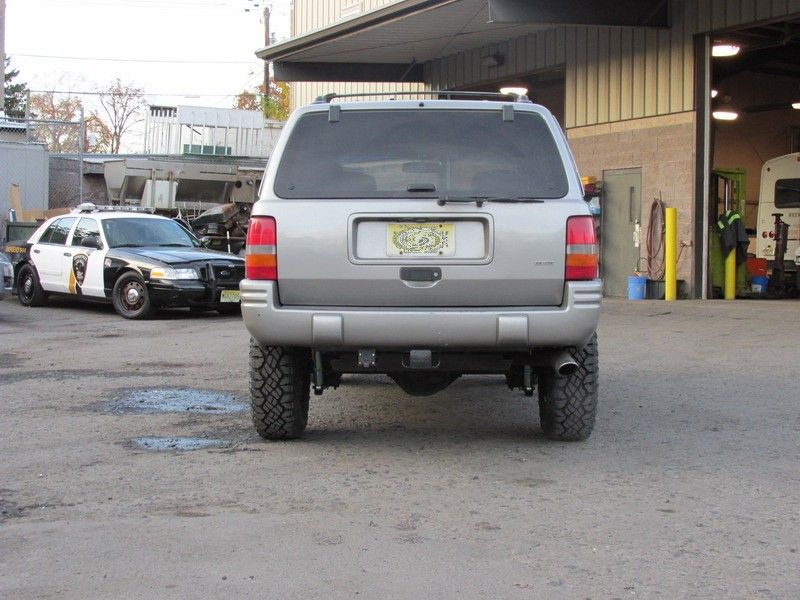 Got it aligned today and took it home. Went 4 wheeling!! Very happy. Drives smooth as stock on pavement. Handels great off road. Only have 1 pic taken inside an old train tunnel: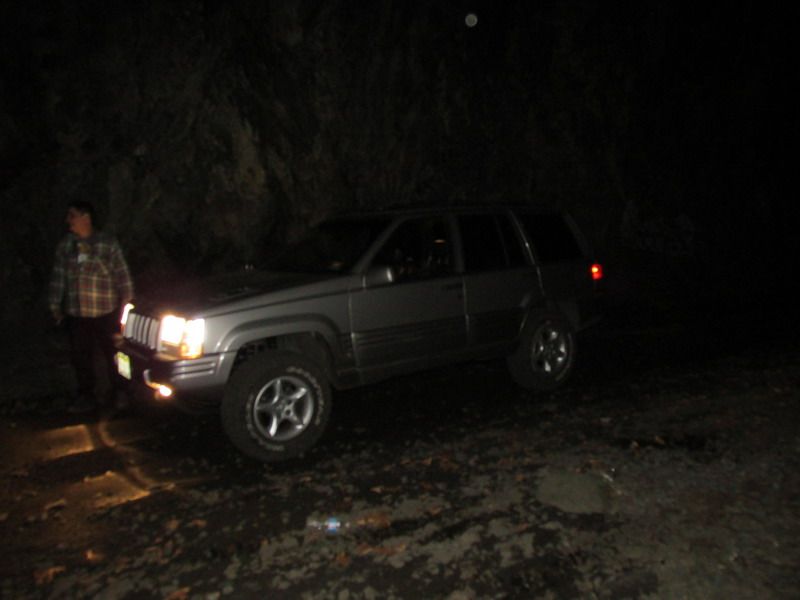 Next mods will be:
100 watt reverse lamps inside rear bumper.
Lock rite rear locker.
Winch.
2 flood, 1 large pencil beam LED off road lights.
Front E locker.
Rock sliders on the rocker boxes.
On board air compressor.
Registered User
Join Date: Jun 2008
Location: SLC
Posts: 322
Looks real good man..5.9's are beast's! Maybe also consider an Magnaflow or Borla exhaust and an CAI boxed type filter system to open that motor up!
---
13 TrailHawk|HEMI|RubiRimsw/32"BFG MT|Intake
14 Silverado 3500|DMax|Allision|Z71|Tuned
Registered User
Join Date: Jan 2013
Location: Jacksonville
Posts: 2,134
Jeep looks great! The 5.9 is awesome! Keep up the work will be following this
---
2010 JKU - Stock for now
2005 WK - 6" lift, 35" BFG's, a lot more (SOLD)
Web Wheeler
Join Date: Mar 2006
Location: Helsinki, Finland - on the European side of the Atlantic
Posts: 8,564
Looking at the underside of your niner makes me wonder if it's never been driven anywhere
---
1998 Grand Cherokee 5.9 LX daily driver, 1.75" BB, 32" KM2s, HPD30 Eaton e-locker/D44a stock LSD, 4.56 gears, custom- fabbed tube bumpers and tube fenders,...


To view links or images in signatures your post count must be 10 or greater. You currently have 0 posts.



1990 XJ Limited (4-door), 4.0 I6, AW4, NP242, ***rolled and totalled @ 165k miles***

***Under construction***
1990 XJ (4-door), 4.0 I6, AW4, NP242, PBR 42" tires, Unimog 404 portal axles, 110" WB, full cage + uniframe completely rebuilt, front 3-link + panhard / double triangulated 4-link rear,... ***SOLD***
Quote:
Looks real good man..5.9's are beast's! Maybe also consider an Magnaflow or Borla exhaust and an CAI boxed type filter system to open that motor up!
Someone put a new cat on in the recent past. There is not much left of the pipe between the cat and muffler. I might be looking into an exhaust system soon. Thanks!
EDIT!! After replacing each of these LED's several times, I went back to regular old 1157 reverse light bulbs. These turned out to be unreliable junk. With the amount of time the reverse lights are actually on, those should have lasted the life of the vehicle.
Installed some LED replacement reverse bulbs from
http://retro-solutions.net/cmspage.php?page_id=13
today. What a difference!! The stock reverse lights were terrible. I'm planning to add some 100W reverse lamps in the rear bumper as my next mod. I can't wait to see how these will all work together.
Stock 3156 bulb: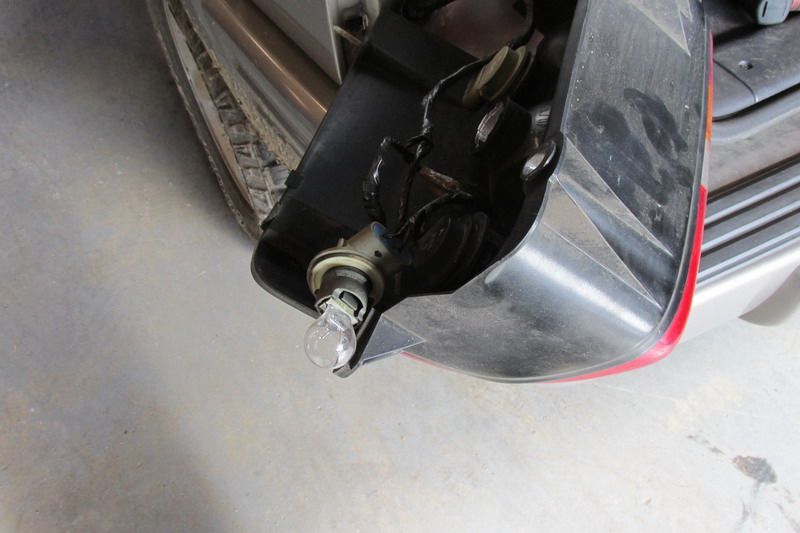 Replacement LED:
Bulb on Left, LED on Right: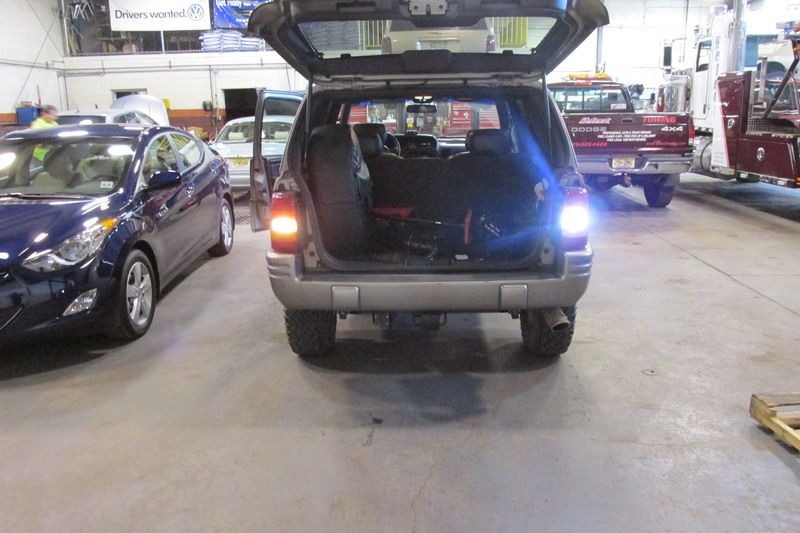 Done:
I installed some LED off road lights on my Jeep the other night, these are the first automotive LED's I've installed and I'm amazed by them!! LED technology has come so far in the last 5-6 years it's astonishing. Back when these first started showing up they were very bright but didn't work very well, and were expensive. They would take a long time to turn on, would flicker and would drop out anytime there was a voltage spike or drop out. Since then they have fixed all those issues and the price has come way down. LED's are solid state electronic diodes that produce light. They don't use a filament like an incandescent or halogen bulb, don't produce a lot of heat, don't use nearly as much current, and last much longer.
Back in the day I would install 4 100 watt lights on my 4 wheeling trucks. 2 floods on the outside that would light in a mushroom shape right in front of the truck and 2 pencil beams in the center that would shine way out in front. Each one would draw about 8.5 amps, about 34 amps total. When your crawling through the woods those lights plus the heater fan and whatever else was turned on would draw more current than what an alternator could produce at low speed. You were always discharging the battery. Every little while you would have to shut everything off and rev the engine for a bit to charge the battery back up. We would never shut the truck off while 4 wheeling because you were never sure if the battery would have enough juice to start it again.
Since LED's don't draw nearly as much current, all those problems no longer exist, LED's are brighter than halogens too. More light, less current.
The light bar I installed has both flood and pencil beam's in it, makes 12,600 Lumens, and is rated at 126 watts. Using Ohms law that comes to about 9.6 amps. It makes more light than 4 100 watt lights while using 1/4 the current. Any modern charging system can easily keep up with that. These are amazing technology!! I can't wait to see what comes along next!!
I started this after work Saturday about 2:00 PM. By the time I was done and got the shop and my tools cleaned up it was 12:30 AM Sunday!! Long day!!
20 inch, 126 watt, 12,600 lumen. Flood beams on the outer ends with spot beam in the center. I'm planning a winch, so this may have to move or go away some day.
Measuring the center line of my bumper.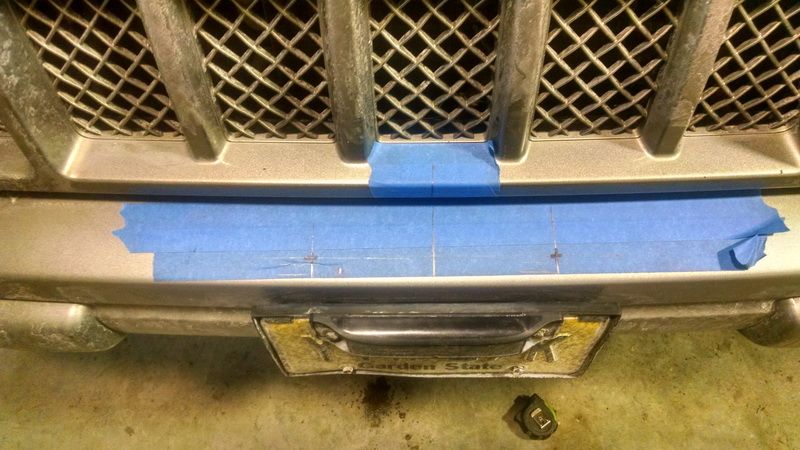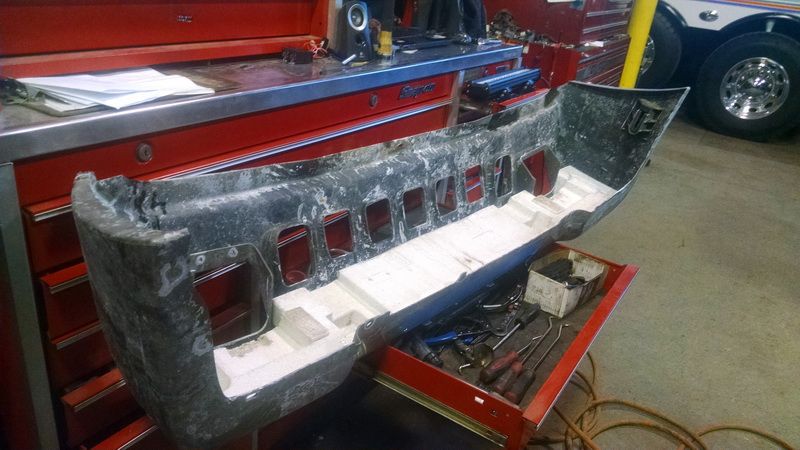 Since I installed this in the bumper cover, I made a metal plate for the inside for support.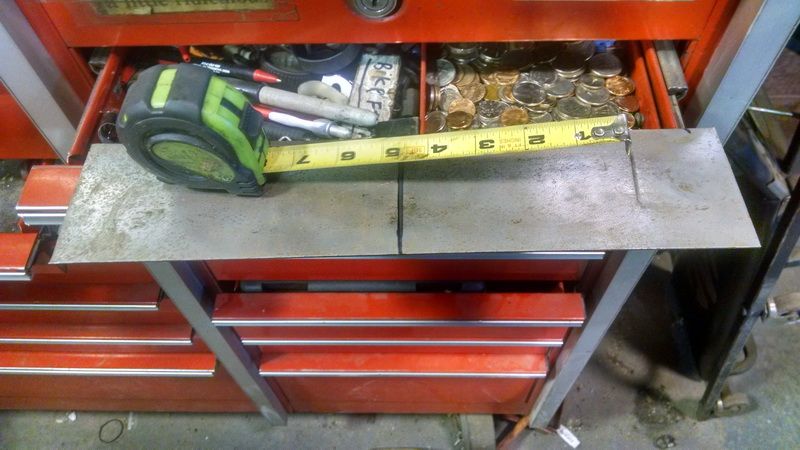 Inside the bumper cover.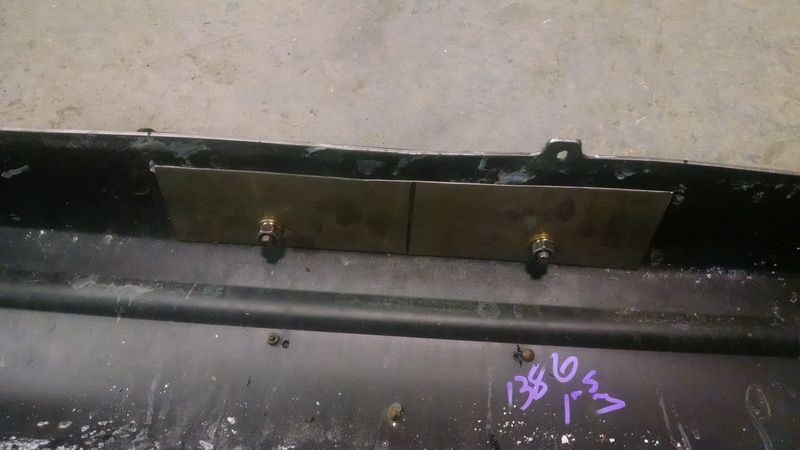 Mounted.
I always use Deutsch connectors on my vehicles. Once you assemble these, water and dirt don't get in. They are sealed front and back.These kick ***!!
http://smg.photobucket.com/user/MIKE...3934e.jpg.html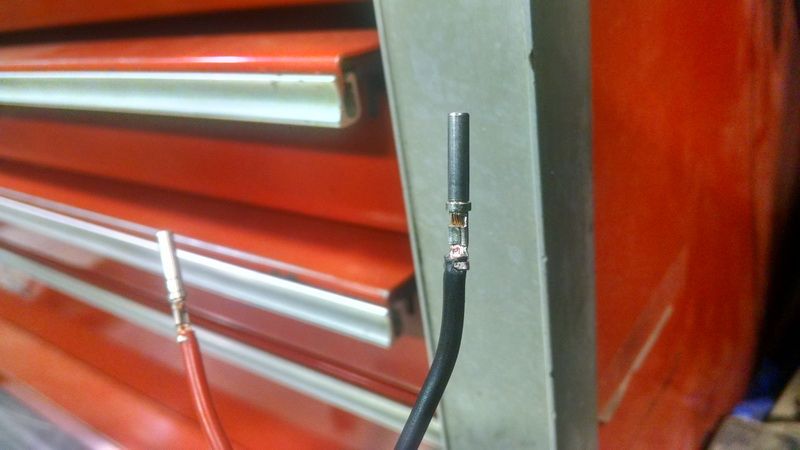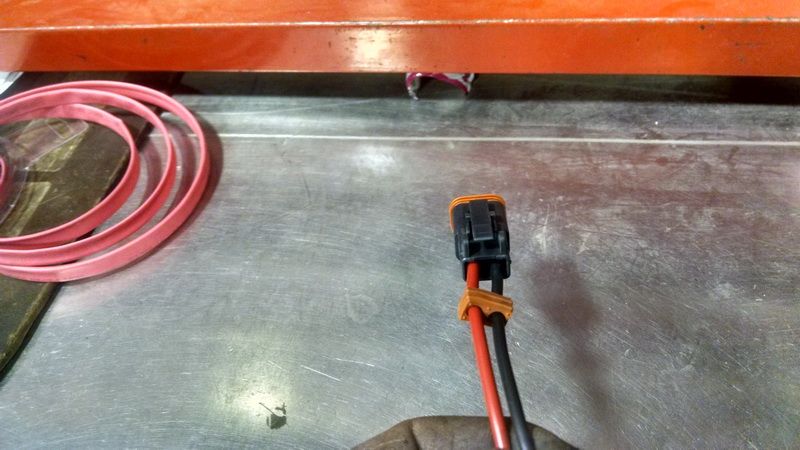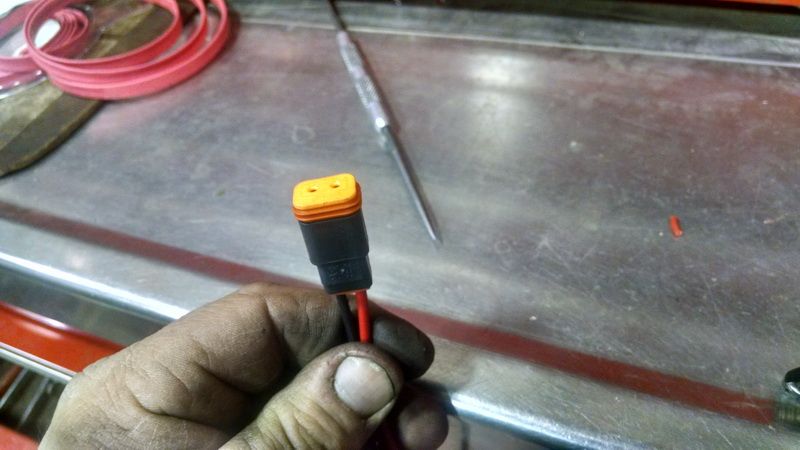 Running relay control wires into my switch box.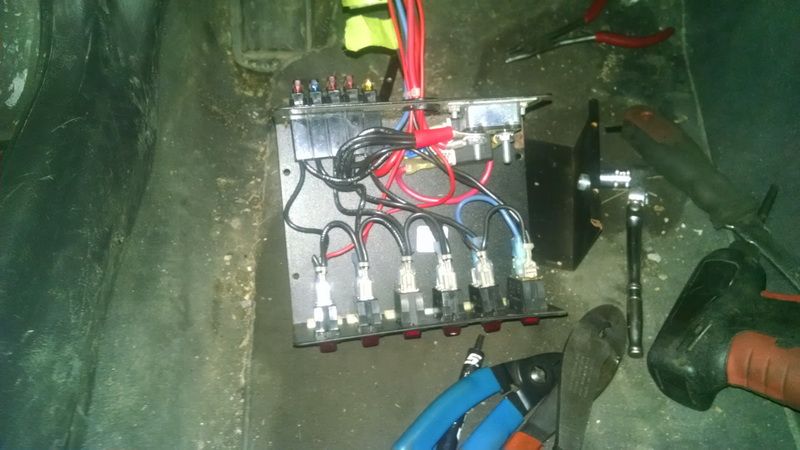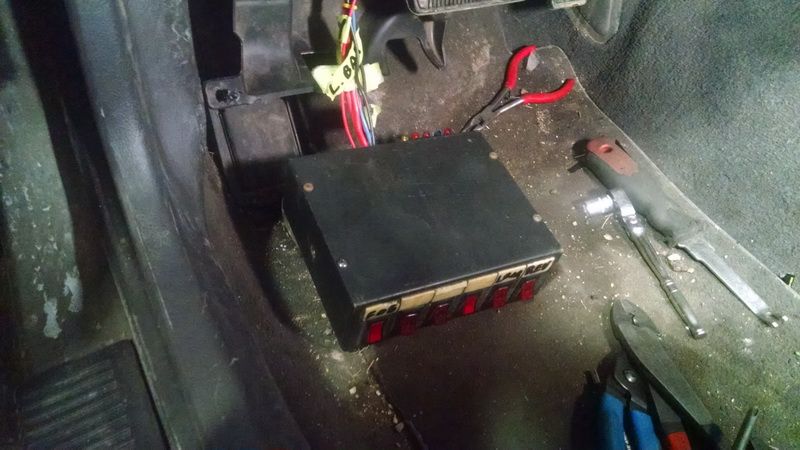 Wiring relays. You really don't need relays for LED's due to the low current draw but I used them anyway.
I always use heat shrink connectors. I put a smaller shrink tubing inside the connector and heat them both. Then, I put another layer around the entire thing. These are as water tight as I can make them.
3 wires connected.
Relays mounted.
Done.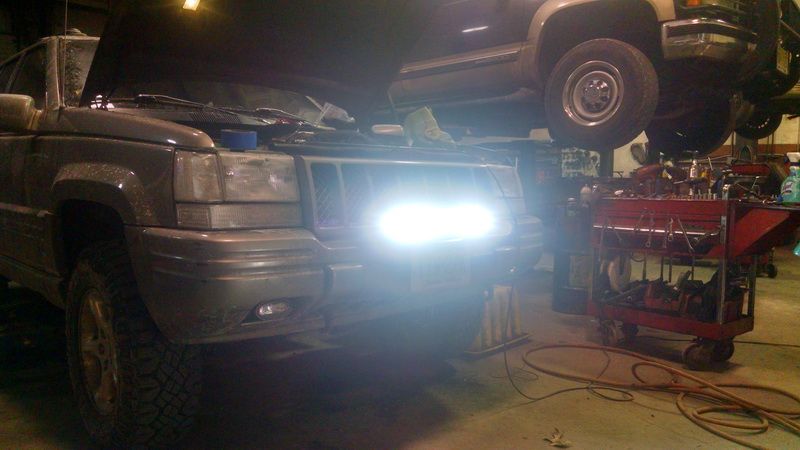 I also installed 2 LED reverse/work lights in the rear bumper. These are Rigid Industries ones with diffused lenses. These really help out backing up in the woods at night!!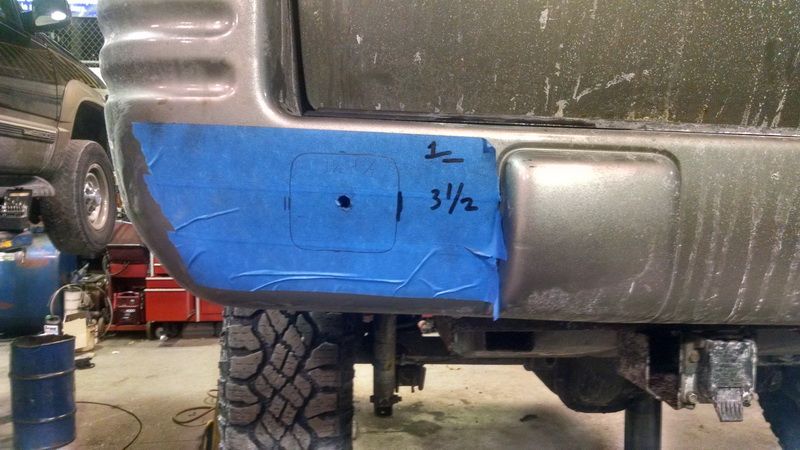 I had to cut holes in the metal bumper as well.
More wiring.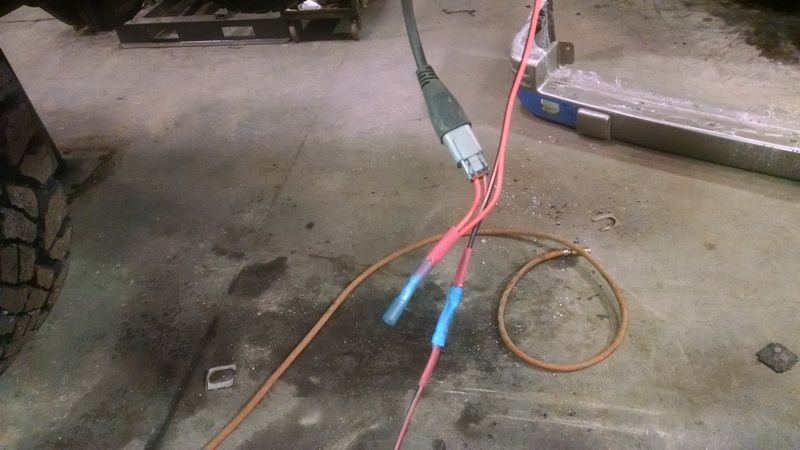 Inside the rear bumper cover.
Everything back together. These turn on in both reverse as well as with a switch in my switch box. I also tied the factory reverse lights into them.
Then we did some 4 wheeling the next day.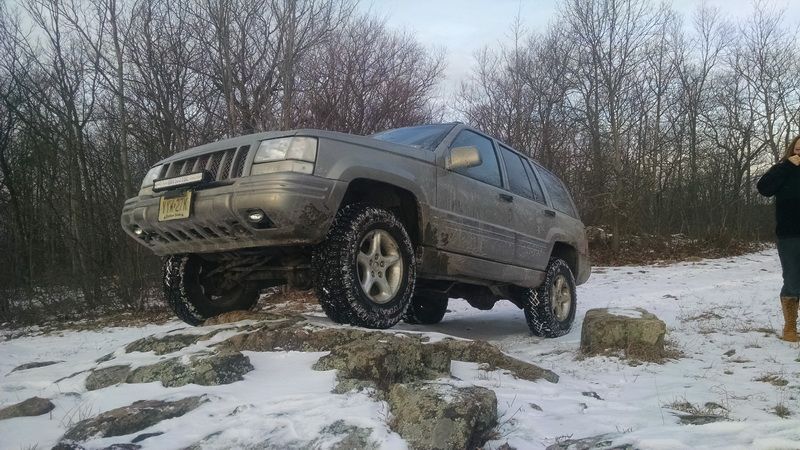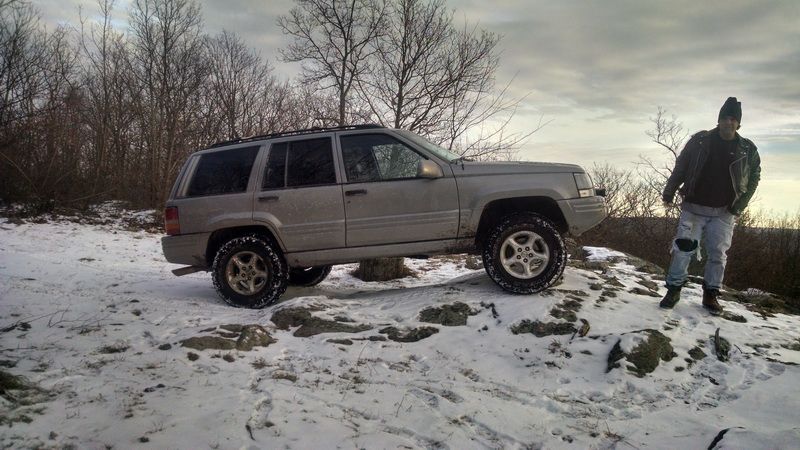 Some views of North Jersey.
LED bar on. It's not aimed properly yet. I have to raise it up a bit to get that super bright spot further up the trail. Pics don't do this thing justice. This thing is ****in insanely bright. I can't believe the light output. That far hill is about 100 yards away.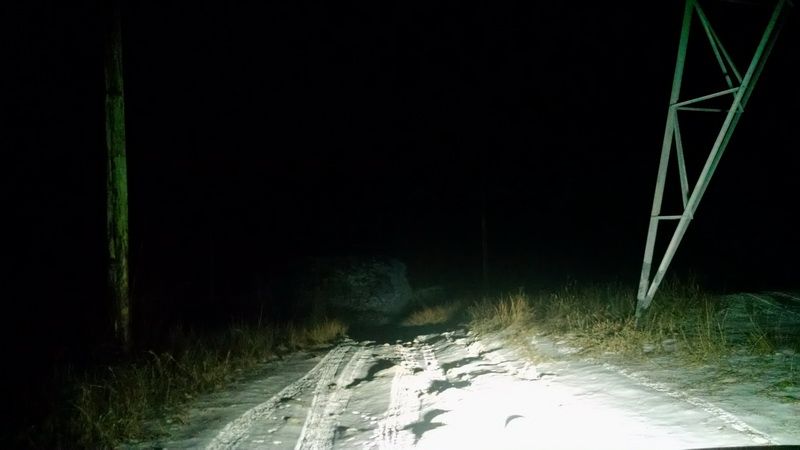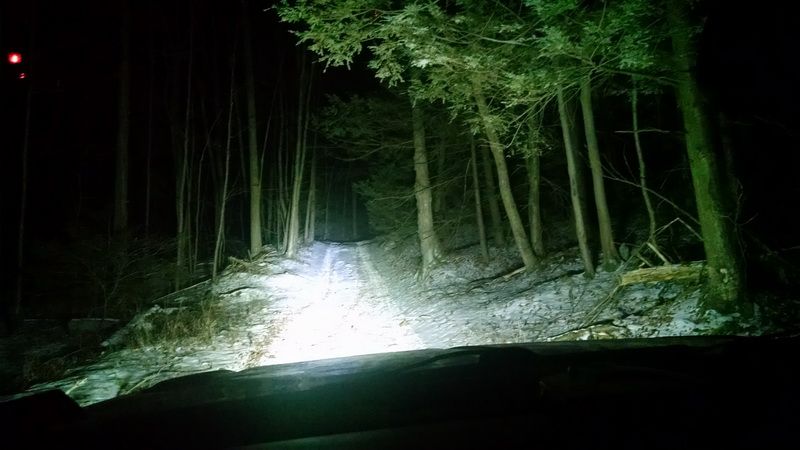 Registered User
Join Date: Apr 2014
Location: South Lake Tahoe
Posts: 447
Hi all,
Latest mods: Durango steering box, rebuilt P/S pump, P/S cooler, 4 new ball joints, IRO adjustable control arms, JKS disconnects.
Rebuilt steering box 99 Durango: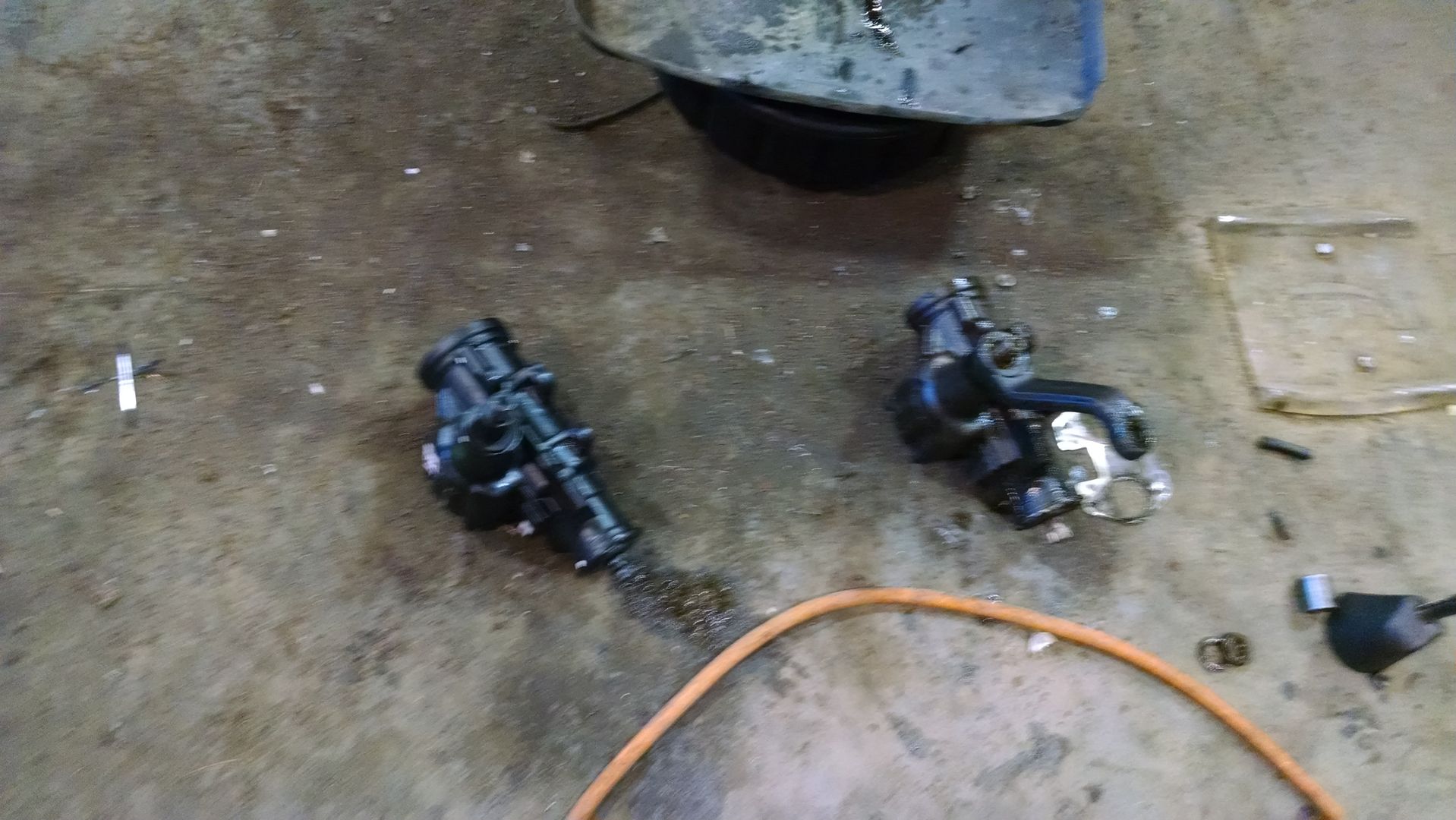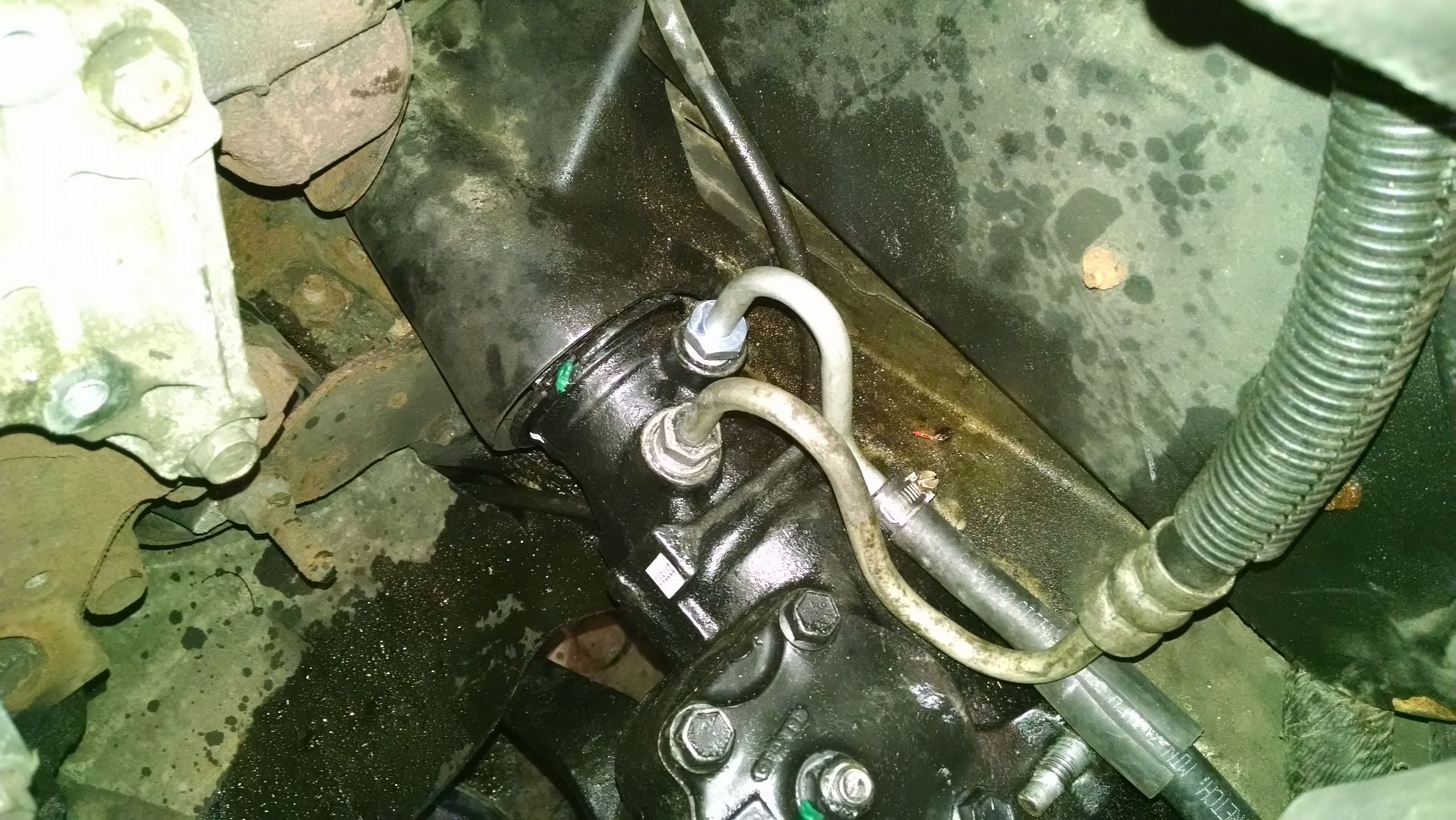 Ball joints: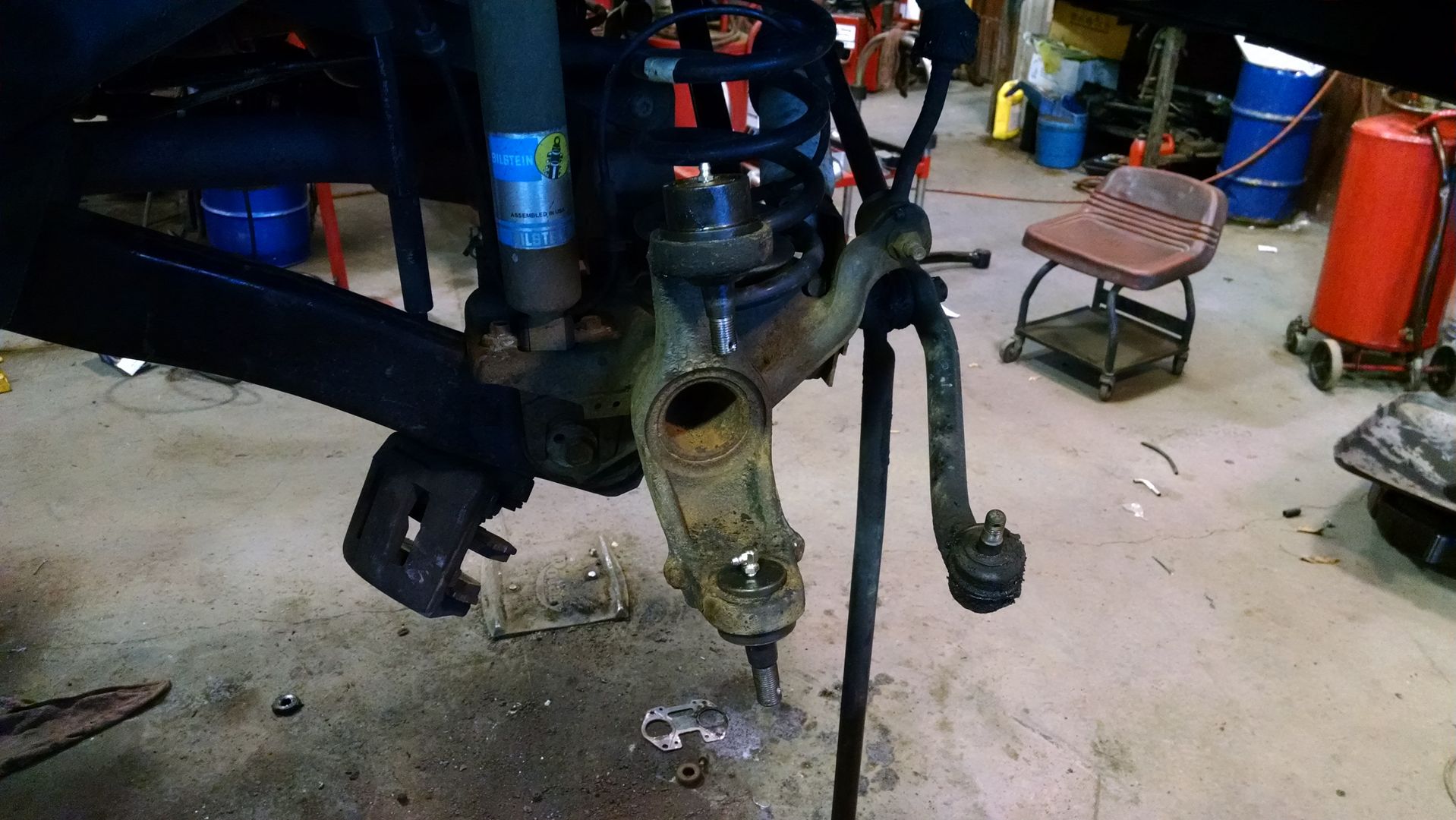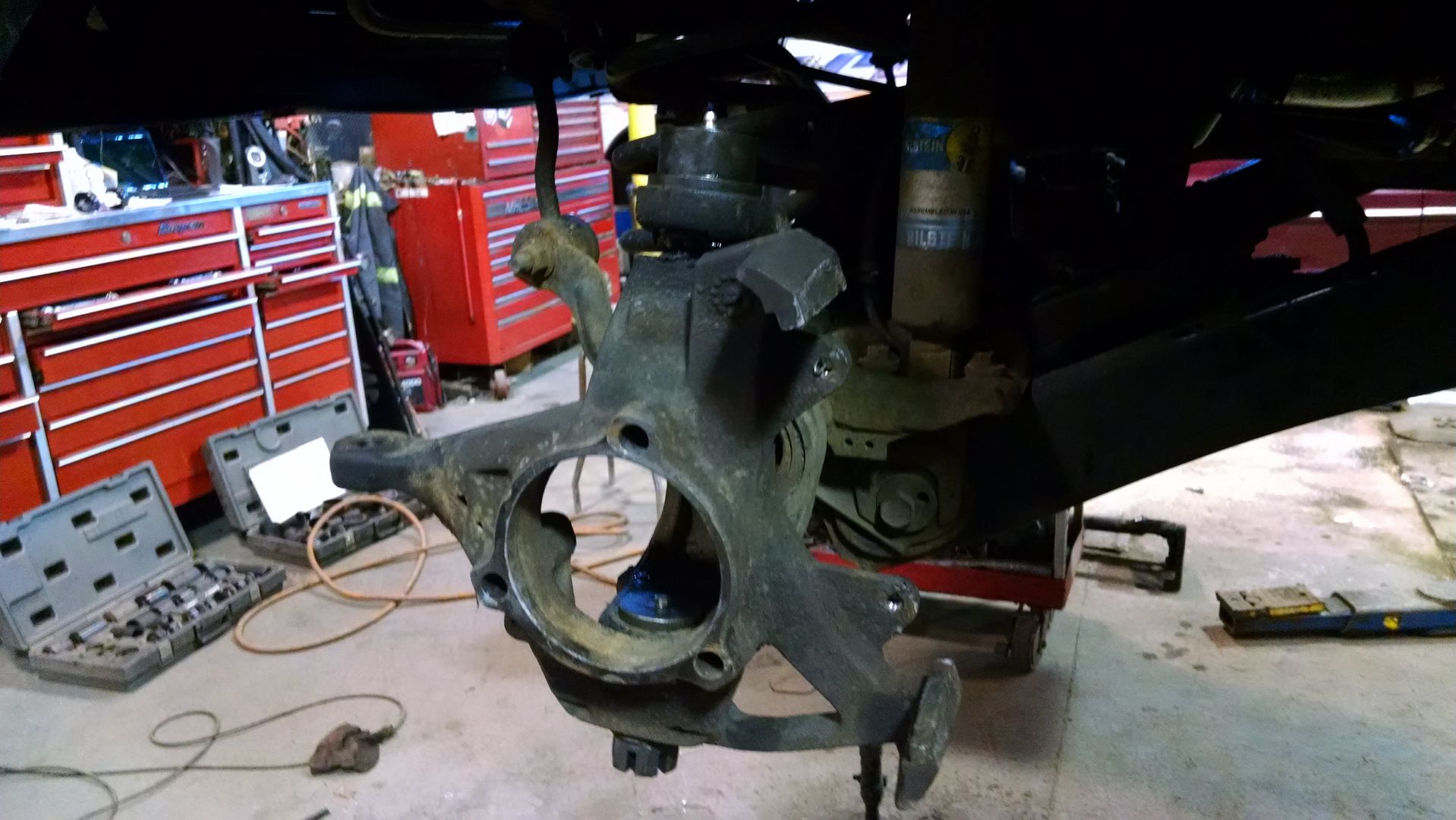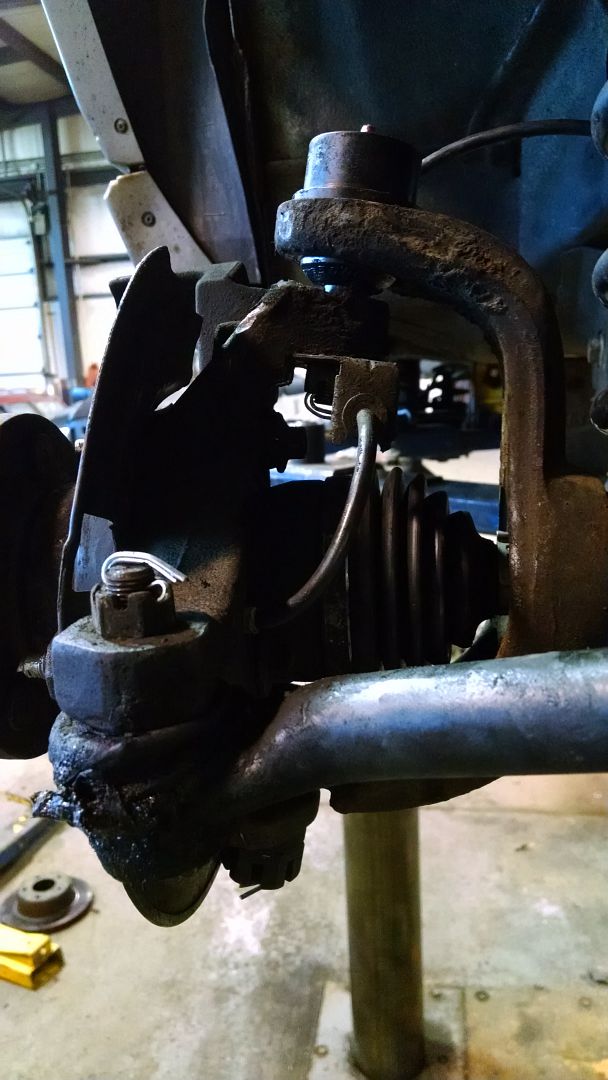 Do NOT!!! use WJ front lower control arms on a ZJ unless it's a street only vehicle. They hit the axle housing and limit your droop. Here's a pic: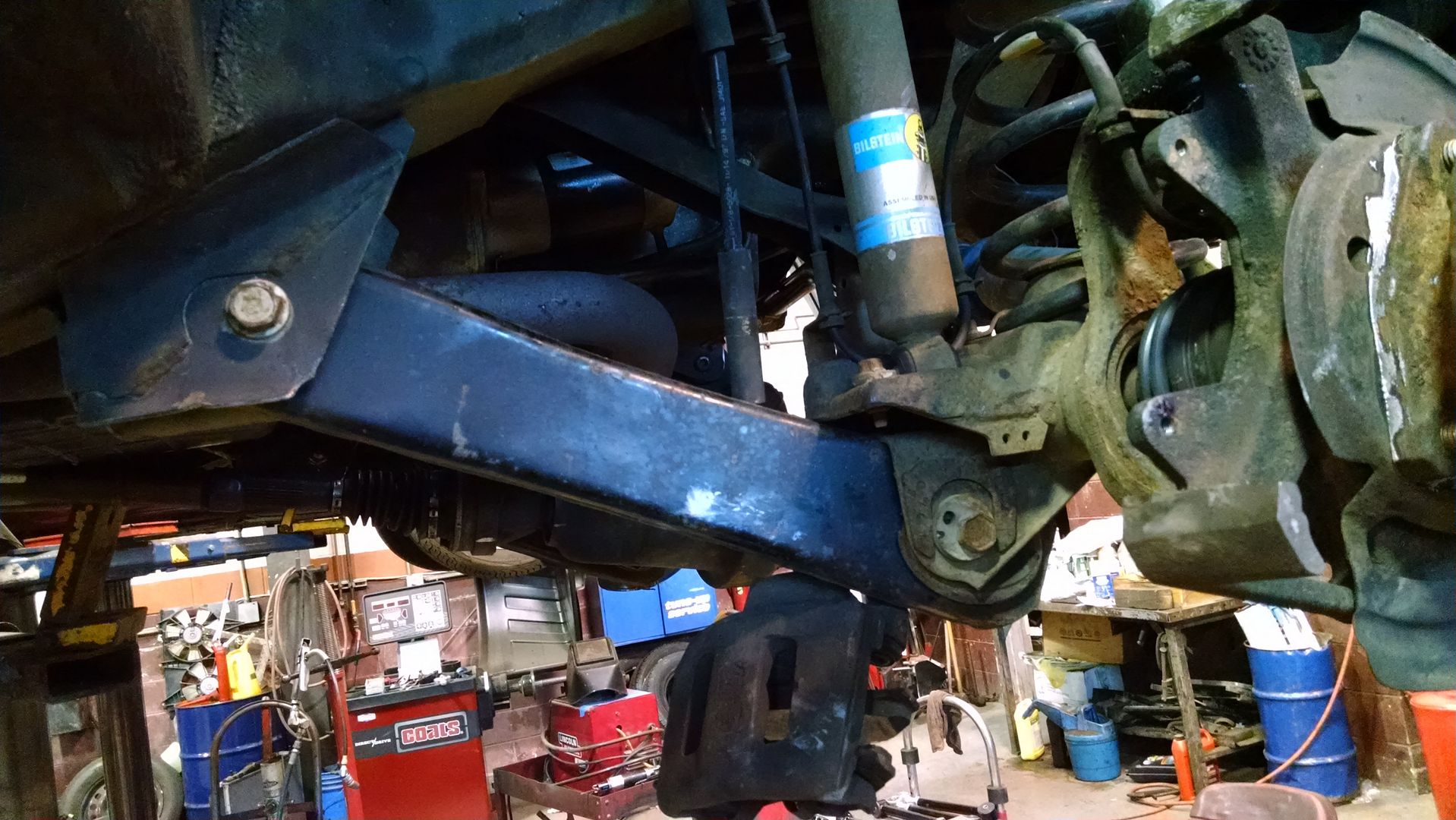 ALSO!!!! The front of the control arm hangs down low because it's a rectangle as opposed to the round ends of aftermarket arms. This causes them to hit rocks along the trail. Look at these arms nicely tucked up out of harms way: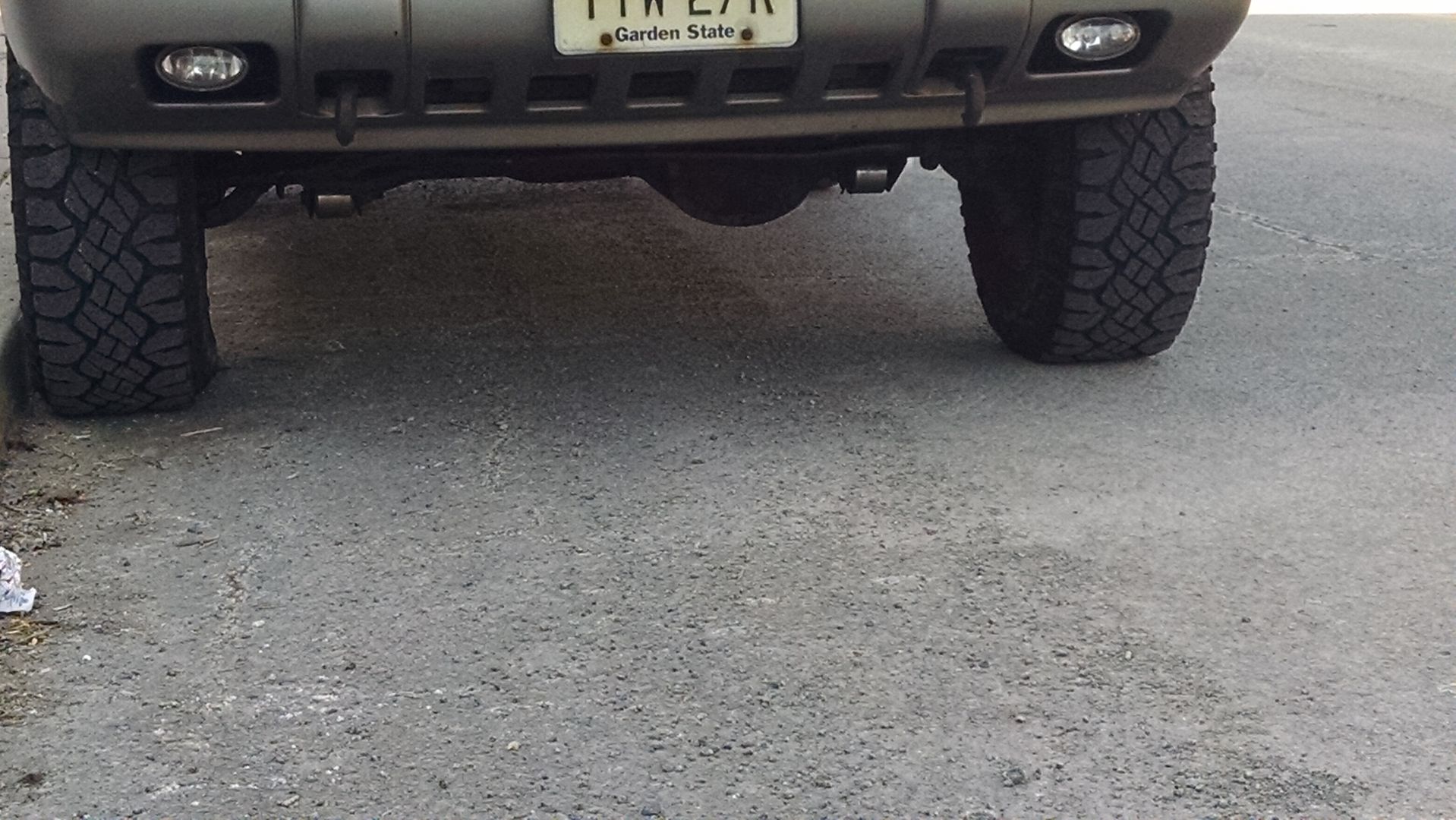 IRO front adjustable arms: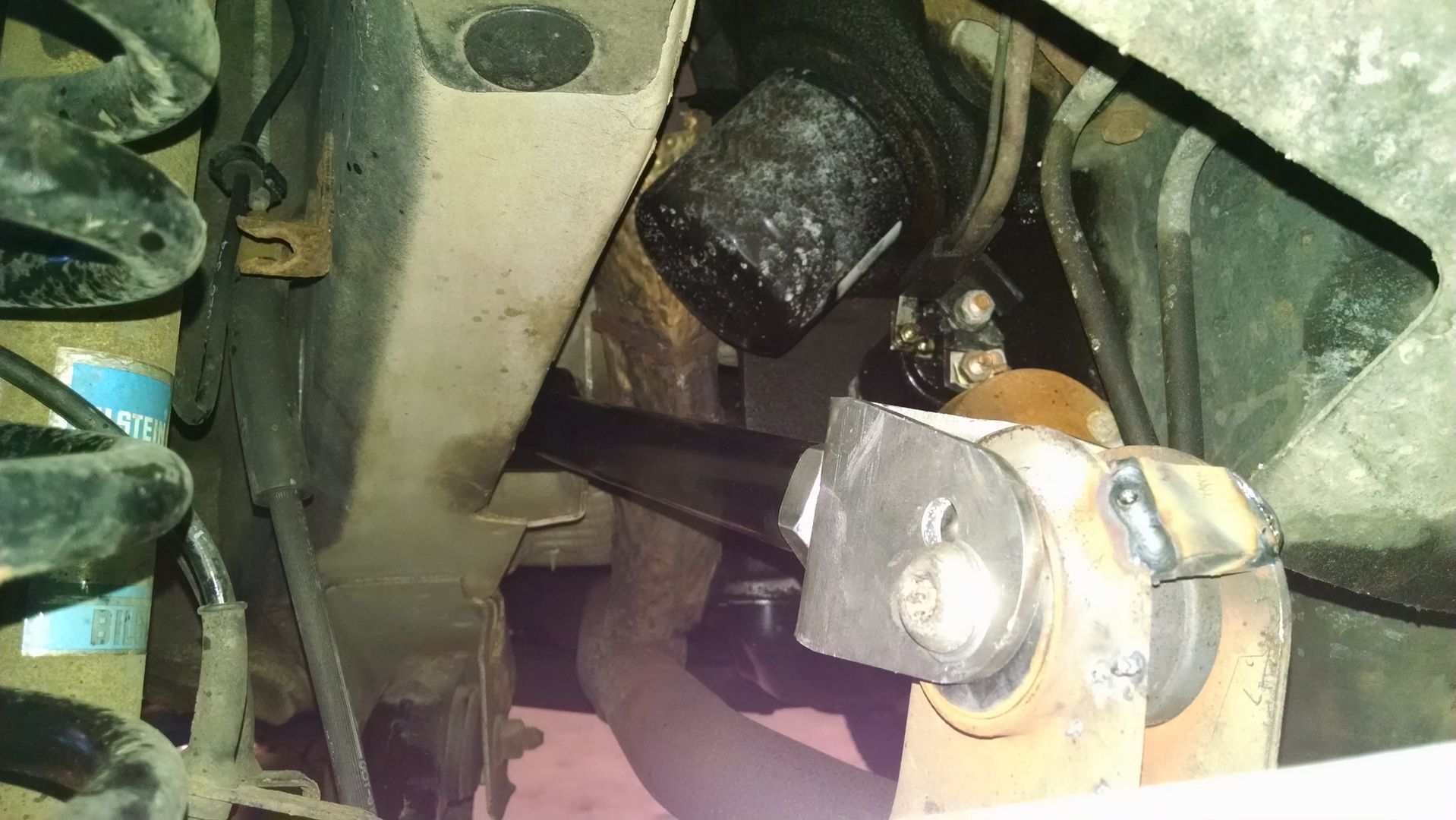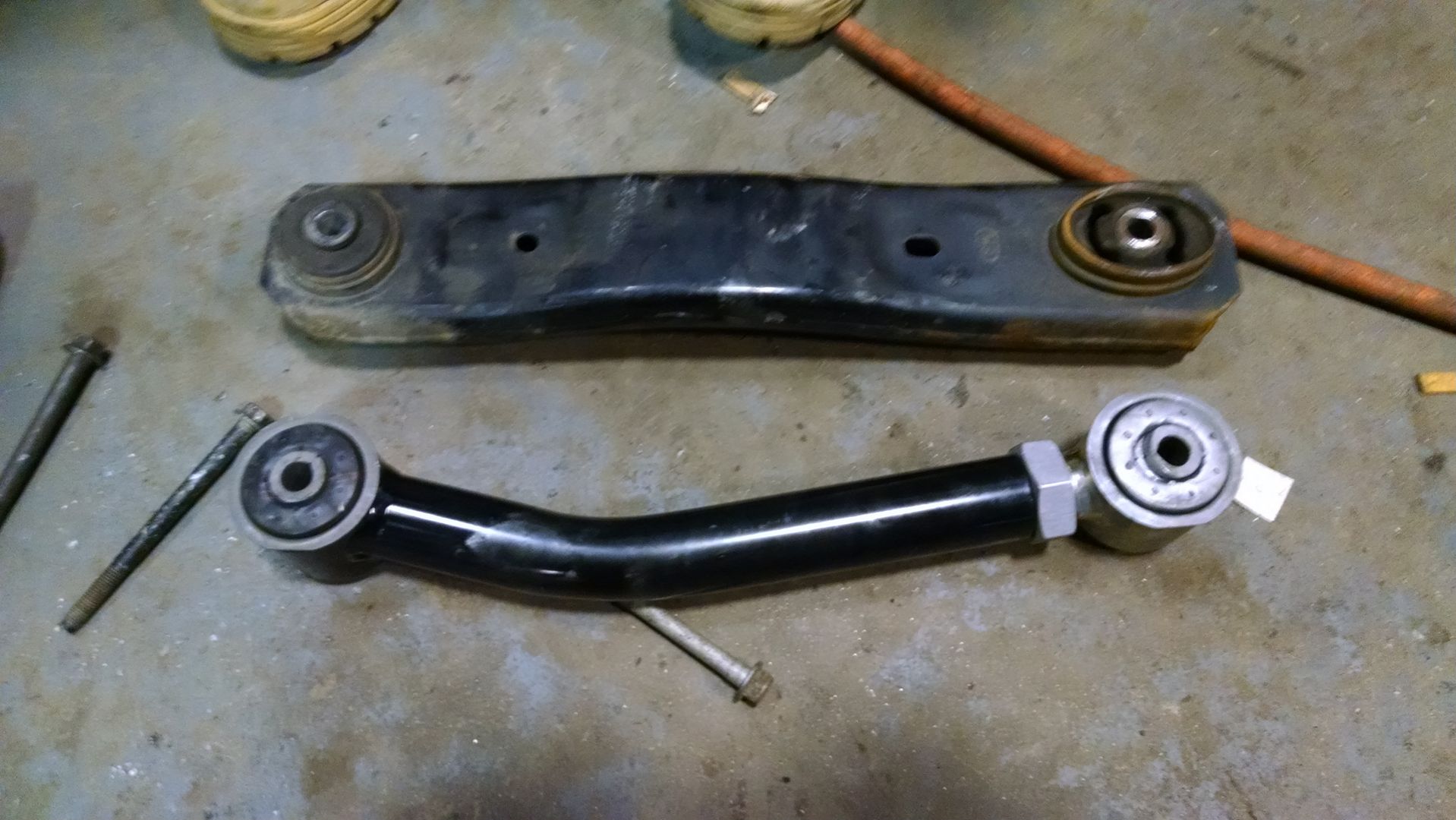 JKS end links: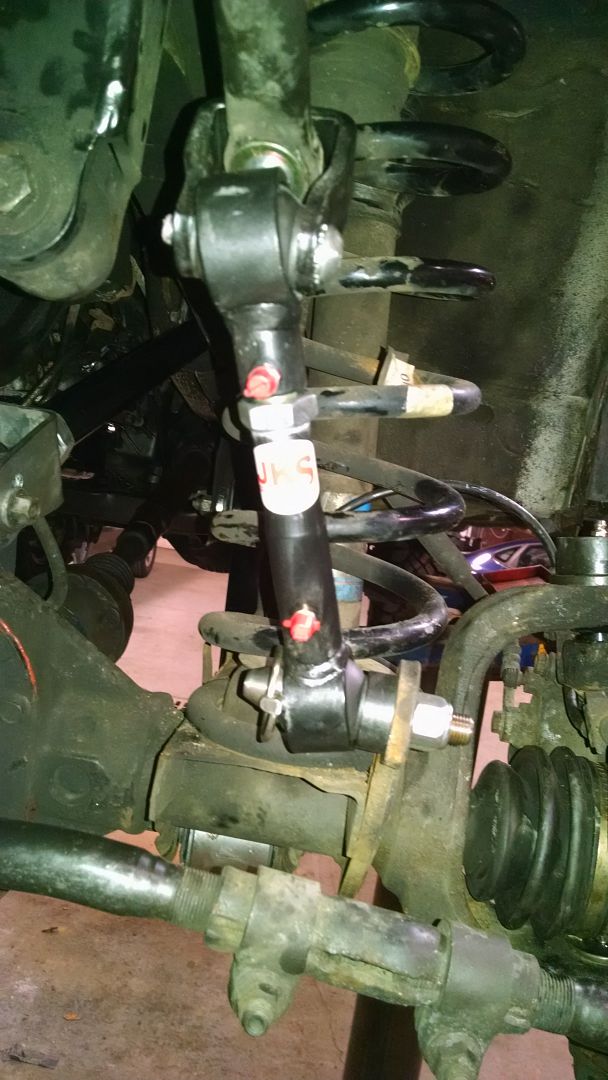 Had to adjust the arms to get a good pinion angle: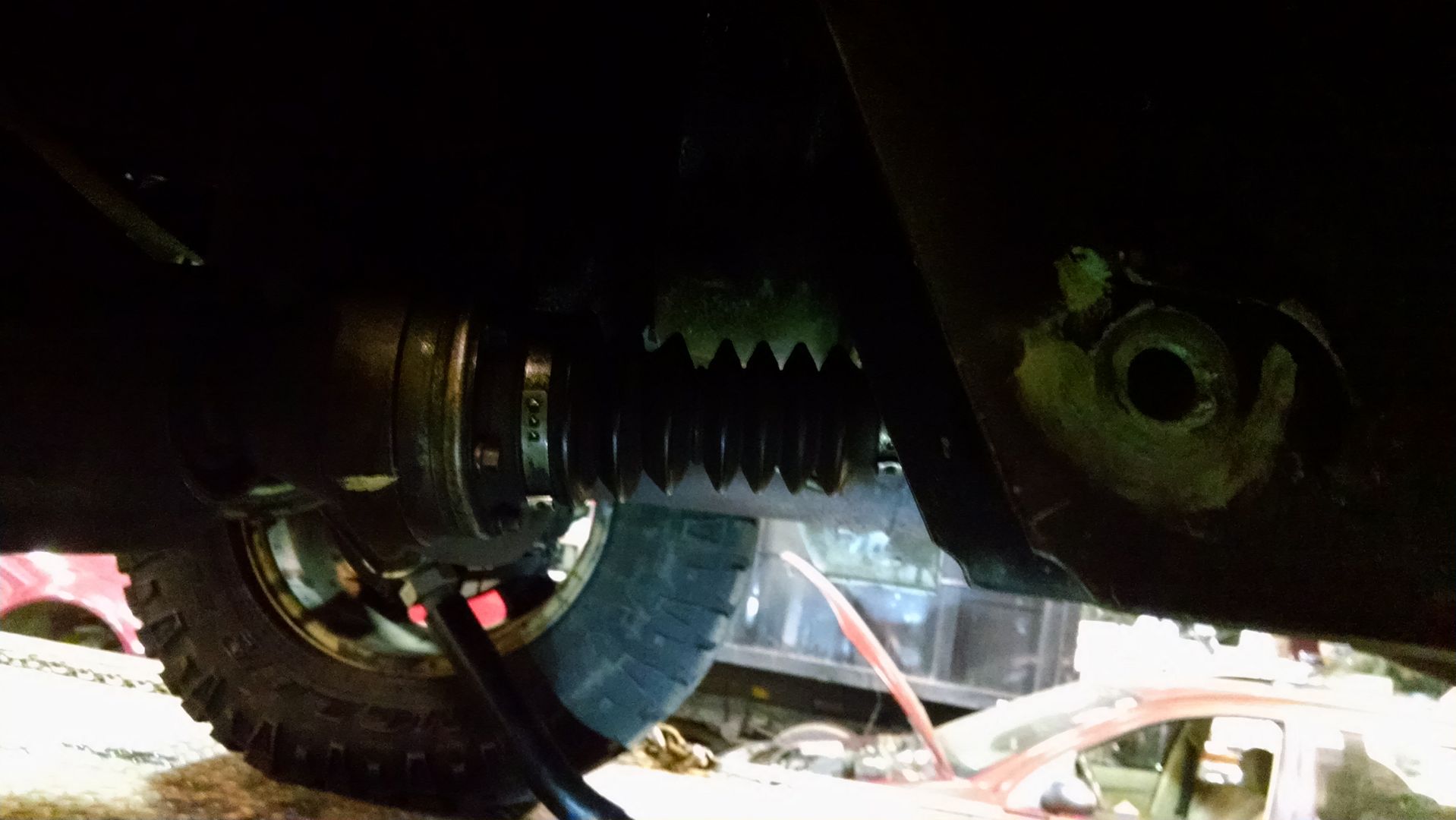 It drives so much better now. Front end is tight, steering is tight but steers with one finger. No more clunking, drifting, or noise.
Tonight I ordered a IRO 3 inch tail pipe, Magnaflow cat and muffler to do my exhaust next.
Also, I've been working on this: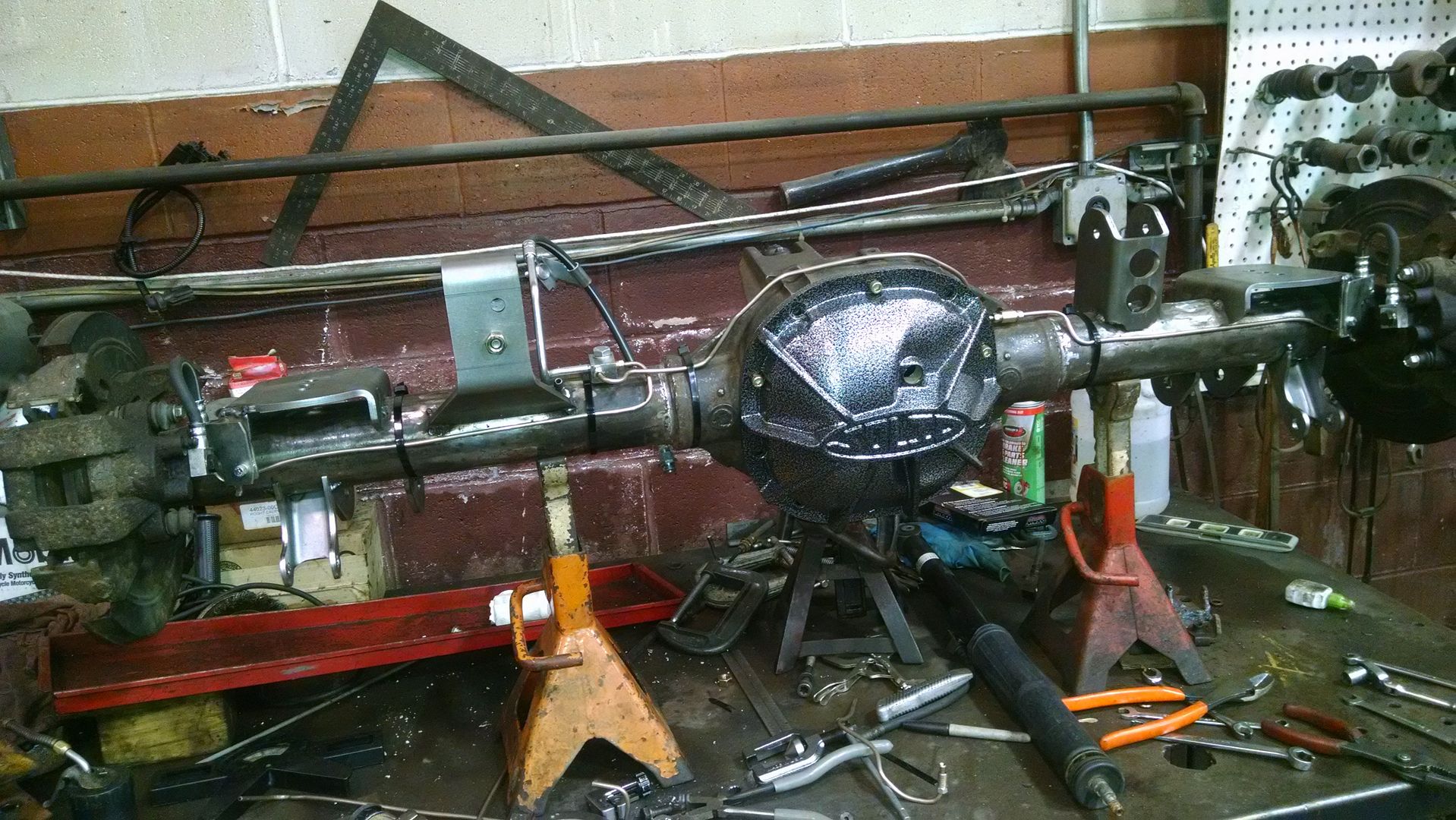 When that goes in, it's going to have a lock right locker, adjustable track bar and 4 IRO adjustable rear control arms. Then it's onto U joint front drive shaft, U joint axles, and probably an E locker but maybe an ARB.
Currently Active Users Viewing This Thread: 1

(0 members and 1 guests)
Posting Rules

You may post new threads

You may post replies

You may not post attachments

You may not edit your posts

---

HTML code is Off

---