i bought my jeep in 09/2008 as a winter vechile because my car is just not suited for the snow. little did i know the phrase JUST EMPTY EVERY POCKET would start to happen.
here is a picture from the day i bought it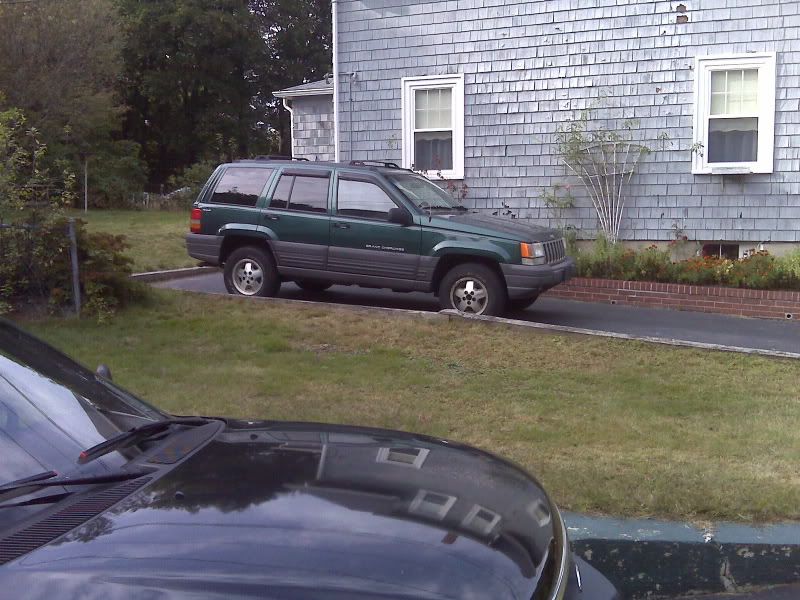 some pics from shortly after i bought it with my zj canyon wheels and 235/75/15 goodyear wrangler sra's installed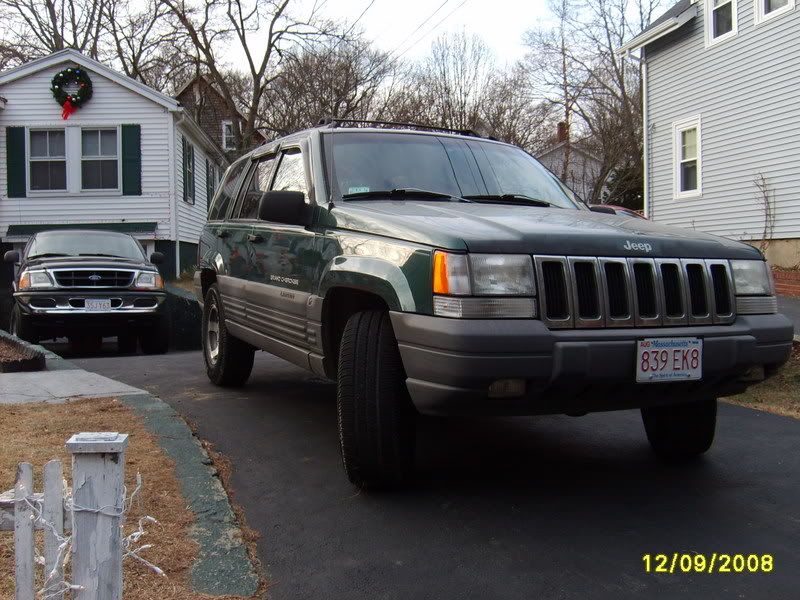 my car in the back ground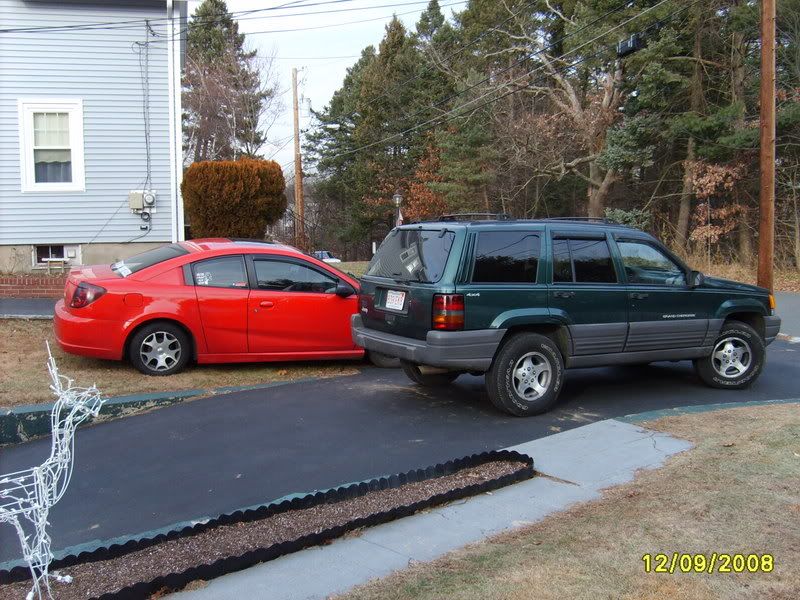 the day i bought it the kid told me it needed a new catalytic converter, magnaflow highflow was ordered. got that in a couple days later and went to local custom exhaust shop to have it installed and ended up putting a new catback exhaust on it at the same time.
changed the plugs, wires, cap, rotor, air filter started alot better now still was not runnign right. brought it to a local garage and found out the head was cracked and needed to be repaired. got that done.
next went out and bought a set of tires since i the tires that were on it would not make it through the winter. bought a set of 235/75/15 goodyear wrangler sra's. had the new tries mounted and got the heep aligned.
since i do drive my vechiles alot i noticed real quick that i needed new shocks so took this as the chance to order a 2" Budget Boost along with a set of pro-comp es1000 shocks. installed at my mechanis shop and noticed that on his part grand cherokee it had the gas tank skid plate so i bought it and installed as well. now i had some armor and i was lifted.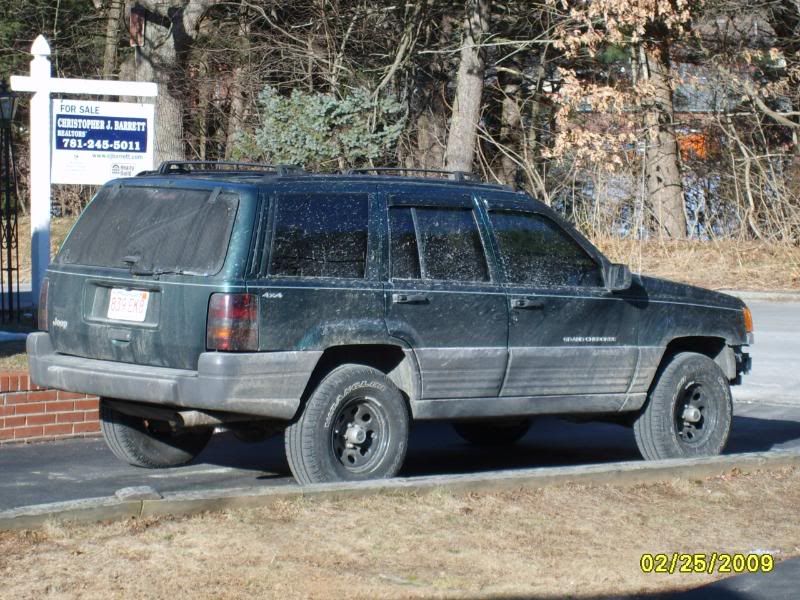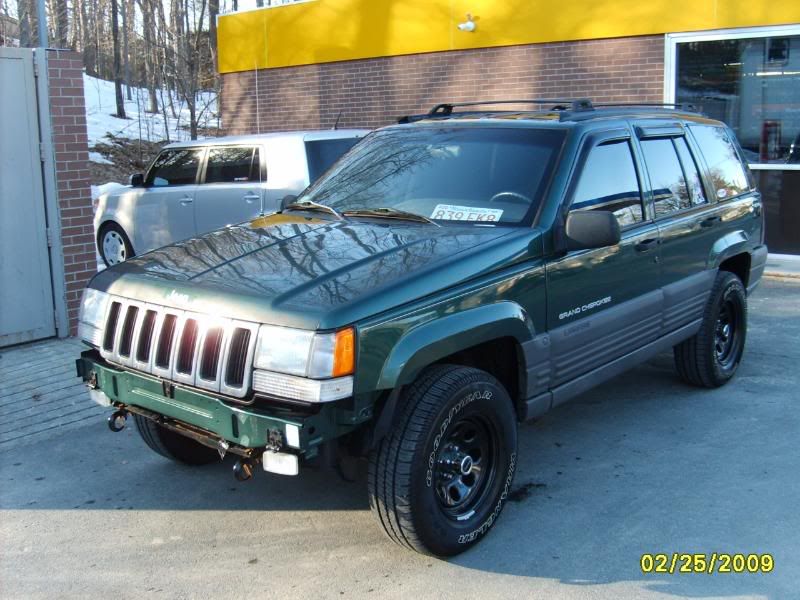 i began to realize that my winter beater was going to turn into a new project at this point so i was ready to just empty every pocket
since the jeep did not have a stereo installed in it and i new this was now a project vechile i decided to start piecing together a sound system. picked up a kenwood cdplayer, alpine mono and four channel amp, jl wiring kit, alpine speakers, and had a set of subs that were supposed to go in to my car but just never did so into the jeep they went. this took about three months to piece all together since money has been tight.
since the previous owner neglected to keep up with matnance i had to do alot of the things they neglected. i had to do pads all around since the pads that were on it had very little life left, replace the rear hatch struts since it would not stay open by itself and also a bunch of other tiny anooying projects.
since i had a can of nightshades from tinting my cars tail lights i decided to tint the zj tails since i had it and wanted to make my jeep look different from everyother one
the tranny started to slip and grind gears from time to time telling me the previous owners had never bothered changing the transmission fluid in it 157000 mile life and so when i finally had to have it done it caused problems so out the tranny came and in came a used one with lifetime warranty as long as i own the vechile.
got the jeep back from the tranny swap just in time for the worst snow storm of the 08/09 winter and i am so glad i did since most roads i had to drive on roads were not plowed and had a foot of snow on them and i just went right through it.
i decided before i install my entire system that i wanted my windows tinted so you could not tell what was in the back so got the front windows tinted to match the factory rears and also had the rear tinted even darker so it was next to impossilble to see in
before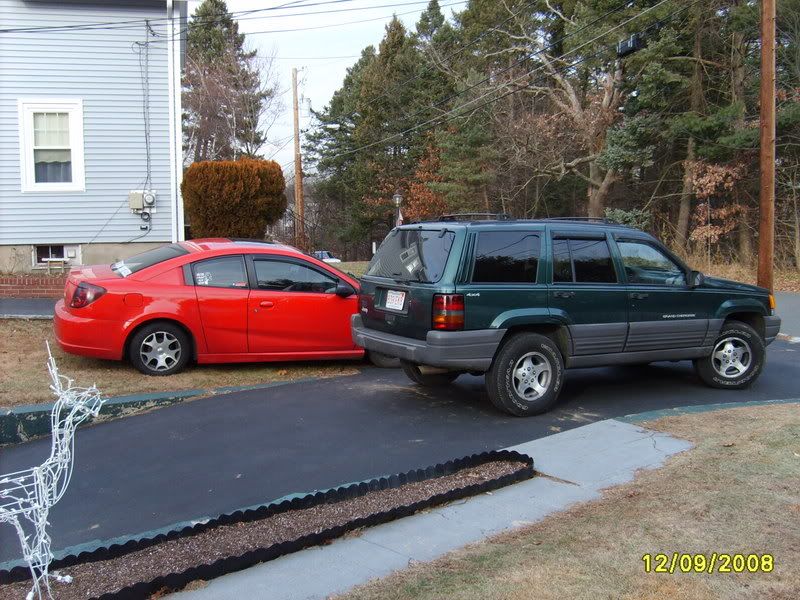 after
was at the world of wheels show when i was looking at some wheels when one of my friends pointed out a set of wheels and i just had to have them so i put a deposit on them to guarantee i got the discounted price they were offering them at.
i had picked up some rugged ridge front tow hooks and installed them for a recovery point when i go off roading and if i need to get towed or have to pull someone out.
next thing that went wrong and had to be prepared was the fuel tank was leaking from the top of the tank so my mechanic replaced the tank and sending unit with a perfectly sealed one from a parts vechile that he had
picked up a factory trailer hitch form a local junk yard to be able to tow something if i ever needed also had a rear tow hook mounted to it so i just had to have it knowing i could make use of it off roading
decided it was time to install my system into the jeep since it has been three months of driving it around listening to my ipod mounted evrything neatly and hidden. ran the wires so you could not see the bulge under the carpet and mounted my amps and stiffening capicator under the rear bench for a nice clean install.
the jeep started slipping and grinding gears again this time worse and ended up leaving me stranded when it stopped shifting as i was working. it sat at the shop for two and a half weeks while my mechanic waited on a tranny. finally ended up having to drive three hours round trip to go and pick it up since i was furious with how long it was sitting there.
while the jeep was in the shop getting its second tranny installed i ordered my Kevin's Off Road bumper mounted light bar.
took it off roading a couple days after getting it back and ended up popping a tire. since i wanted a bigger set of tires i used this as my excuse to get a nice set of 31" BF Goodrich All Terrain KOs. jeep started to look like a real jeep now.
installed my KOR light bar with some cheeap lights from autozone since thats all i could afford. will soon be replaced with some nice KCs or Hellas when i can afford them.