Well I bought the beast back in april, and as ashamed as I am to admit it, it was only 2 wheel drive thanks to a missing front driveline. It came with a different driveline and new yoke for the front axle in the tailgate when i bought it, but I never got around to dealing with it since I was having other car/ financial issues after buying this 5.9 without selling my last 5.9. Fast forward to 2 weeks ago when I finally got some motivation and much needed cash and got my loving girlfriend to help me shorten the driveline that came with the jeep when I bought it. installed the needed yoke and literally bolted the driveline in, and everything worked. I had expected the worst case being a broken axle shaft or exploded spider gears, but everything works as it should! Last weekend I got out wheeling for the first time in this beast, and man was it fun. Keep in mind I am very much inexperienced when it comes to wheeling, so we didn't do anything very challenging, but I will be going out as much as I can/ afford in the near future! So I am sure I have bored you all by now, but anyone still reading, thank you! This has been a new adventure for me, and I fully plan on getting my own abilities up to the capabilities of this jeep soon enough!
Right after I got it, 2 wheel drive, 6 screws and the tip of a key in the front tire.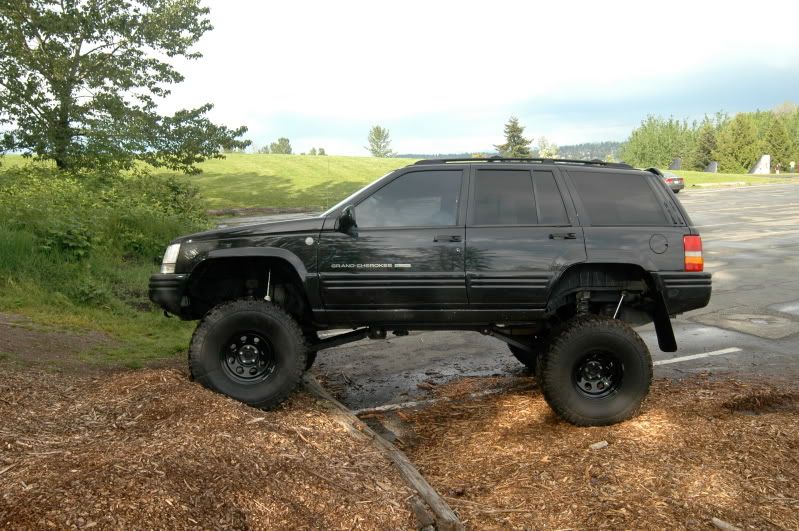 Got new tires, but still 2 wheel drive (tire marks not from me, I swear!)
Finally flexing it out! And simultaneously removing my rear mudflaps! Yeah for illegal mod! FML!
It is faaarrrr from perfect, but for less than $6K invested total, I am super happy! The only thing that held me back was the lack of lockers....
Now for the fixing.....I have been having intermittent starting issues with the jeep, and first thing I did was throw a yellow top in it.....problem gone....a couple months later it came back......clean the terminals and tighten the ***** out of them and good. last week it came back again.....even as tight as it could go, the pos. terminal could still be pulled off the battery post. off to the stereo shop to get some new terminals. Made for a nice clean install with my amp wire and I now have the ability to add more grounds when I add more accessories in the future.
And also "fixed" my broken and leaking sunroof.....black duct tape for the win! (It's only to get me through the winter....then I will fix it or weld in a panel and close it off for good)