November 2008:
It's been a while since my last update; except for a handful of camping trips and brew festivals, saltwater fishing consumes my life between May and October. Fishing season is now over for me so I took a couple days last week and worked on my Jeep from sunrise to sundown. The modifications basically fall into three categories:
Cosmetic (paint the cladding, replace fenders and front lights)
New steering box
Rock sliders
Here's a pic of the final result:
I've wanted to paint the stupid looking gray cladding for months now and finally got the job done. After removing the cladding I washed it down with soap and water, wet-sanded it with 400 grit, washed it again with acetone, and then sprayed on 3 coats of flat black Rustoleum. It looks pretty good. Let's see how long it holds out. Both of my front fenders were pretty well banged up so I picked up a couple same color replacements in near perfect condition from a local parts yard; $75 for the pair. One of my front side marker lights got smashed out this summer, one of the turn signal lenses was cracked, and both of the headlamp lenses were faded so I picked up all new aftermarket replacements from 4Wheel Drive Hardware. The header panel (headlamp mounting panel) was held together with duct tape from carnage a couple years ago so I picked up a new aftermarket replacement ($90 compared to $190 at the dealership).
Fitting up the header panel and fenders:
Relocated charcoal canister:
It took quite of bit of tweaking (and something like six beers!) but everything finally fit together just about as good as the factory:
Next task was to replace the steering box. The stock box was rather sloppy after 220,000+ miles. I considered aftermarket boxes from AGR and PSC but in the end went with a remanufactured stock replacement from NAPA. I figure if the stock box can hang in there that long, and live through three bent tie rods, then it can't be that bad. Besides, the AGR and PSC boxes go for $500-$600 whereas the NAPA box went for $200 after the $200 core charge.
I ran into a little complication pulling the pitman arm off the old box. Normally if I get the pitman arm puller nice and tight, then give the pitman arm a couple good wacks with a B.F.H it falls right off. This time I got the puller tight and just as I was about to wack it, BANG!, the puller fractured. You can see in the pic below a sharp corner that causes a stress concentration and which is a very poor design. Even just a small radius there would probably double the strength. I went and bought a new puller from NAPA (which had a smooth radius instead of the sharp corner) and the pitman arm popped right off.
I coated the pitman arm splines with Never-Seez in case I'm the one that has to take it off the next time:
Here's a pic of the installed box with new hoses: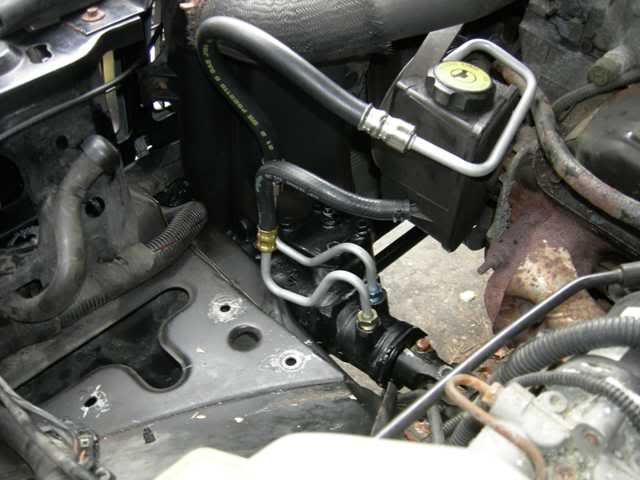 The last task was to bolt on the JCR Stage II sliders. Here is a good example why you want to have sliders:
I guess its better to get sliders late than never. And good thing the cladding springs back into its original shape. The JCR sliders fit about as good as can be expected for this kind of part. Each slider mounts to the "frame" using two flanges and a total of eight bolts:
Then they mount to the rocker panel pinch seam using 1/4" thick bar stock and five bolts:
With the flanges snug against the frame about 3/8" clearance existed between the pinch seam and the bar stock. I probably should have cut the bar stock off and welded it back on in the correct position. Instead I just drilled and bolted which caused the ends of the bar stock to bend a bit and separate from the pinch seam. No big deal:
Here's a driveway pic of the installed sliders and painted cladding:
Now comes the fun part, wheeling it. You need to make it past this rock if you want to climb the hill: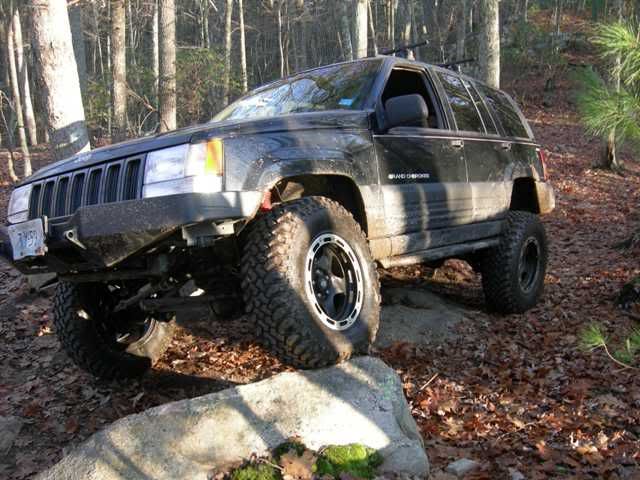 At the top ready to come back down:
I landed on this rock hard enough to push the entire vehicle sideways. No damage to the sliders but some of the rock was turned into dust: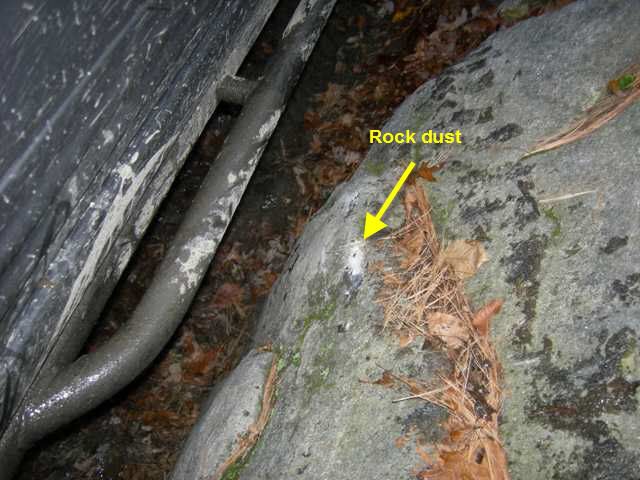 Another solid impact here, but no damage to the sliders:
I picked up this log from the bottom of a mud hole and it came very close to ripping off a brake line. The tire had to be removed in order to get the log out:
The only downside to the sliders is I lost a bit of clearance . . . but I know how to fix that! For a while now I've been toying with the idea of JK axles (which would require new wheels), a long-arm kit, and 5 1/2" coils. Unfortunately, I ended the fishing season with a blown powerhead on my boat motor and now I'm looking at a $5,000 repair bill. Therefore plan B, a long-arm kit and HP D30 front axle, is probably more feasible given the financial realities.