Well, I have two pieces of information for ya'll. First off, I measured the tread depth on the DuraTracs after a year of use (I need to look at the mileage. I'll insert it here when I do.). I was pleased to find they are at 13/32. I rotate them every oil change (~5,000 miles) and they seem to be wearing evenly. I have one tire that's a tiny bit lower than the others but I'm thinking it has something to do with that tire leaving a nice black mark up my driveway when I was trying to back up it on ice in 2WD...
Second set of news... Well, not entirely news but more of something that's running through my mind...
Currently, I have the WJ and my wife has the TJ. We eventually want another SUV for her to drive but are waiting as long as we can to buy one. For now, she DD's the TJ and borrows the WJ when the weather isn't cooperating. We will most likely be getting her an SUV by summer.
So, that adds up to two SUVs and the TJ.
I also have this waiting for me for an unbelievable price (sorry for the quality, it's a picture of a picture):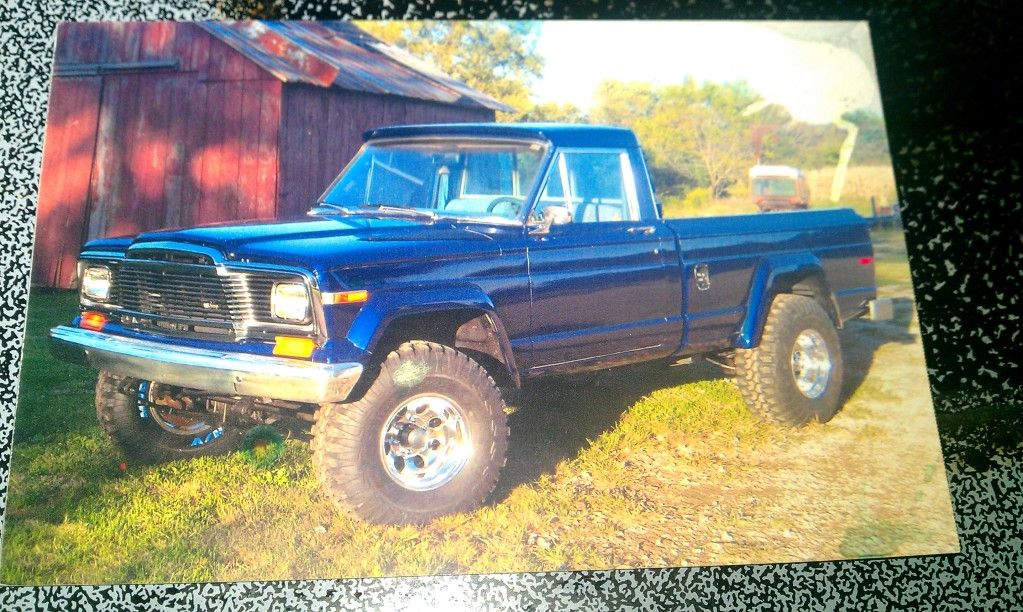 It's a 1979 J-10 Honcho with a 360, T-18A 4 speed with a 6.32:1 granny low 1st gear, D20 Transfer Case with Twin-Stick, D44's Front and Back with the factory posi in the rear, and new Warn Premium Lockout Hubs. It's recently been repainted, has a 3" lift (springs and shocks, no blocks), and new 33 x 12.5 x 15 mud tires on new Mickey Thompson rims. No rust. We believe it only has 53,000 miles on it. There are also a couple other parts that will be 'thrown in' with the truck like a new ignition system, etc. as well. The only thing needed is a new windshield (cracked) and the interior needs restored, which isn't a problem being that my Mom can reupholster.
Here's the problem. We don't need 4 vehicles. I don't want RJ to sell her TJ so I can add another jeep to the stable. It's not her problem. Plus I like the TJ and it's paid off. I also want her to have an SUV for carrying around the baby but I want it to get better mileage than my WJ.
So...
I'm debating selling the WJ.
KBB and NADA list my vehicle in its current condition selling private party for between $7-8K. If I sold it for 7, I could pay off the loan and with a couple extra bucks, buy the J10 out right (this would be my DD). I'm sure it will get bad fuel mileage but no more car payments will offset that quite a bit.
I don't want to sell the WJ but I don't see the need for 2 SUVs in our family. I also really like the J10 and wouldn't mind having a truck, especially for hauling wood and such.
Lay your thoughts on me. I'm not rushing into anything. The truck has been available to me for 7 months and isn't going anywhere currently. I just need to think logically and weigh out which I'd rather have. I would love to have both but I don't logically see why we would license and insure 4 vehicles just for the two of us. Plus, shuffling two in and two out of the garage would get annoying if I switched vehicles all the time.