Table of Contents
Page 1:
Custom roof rack, 3 wheeling trips, Cobra CB in center console, custom sway bar disco mounts, beginnings of a custom bumper.
Page 13
: Rear track bar issues, bar pin eliminators installed.
Page 23
: Aussie Locker that never got installed.
Page 25
: New rear track bar from IRO.
Page 28
: Clayton front long arms arrive, removed all stickers.
Page 29
: Long arms installed.
Page 30-31
: Rear track bar damage, wheeling trip, custom roof rack sold.
Page 37
: Found a KOR tire carrier bumper for half price on Craigslist.
Page 47
: Replacement brakes (rotors and pads)
Page 48
: Rear bumper gets powder coated.
Page 49
: Rear bumper installed.
Page 51-52
: I finally get a CB antenna.
Page 56
: License plate mount.
Page 57
: Another Craigslist bumper - ARB Bull Bar.
Page 63
: Some progress pictures.
Page 65
: KOR Sliders installed.
Page 73
: Inspiration for axle build, more progress pictures.
Page 84
: Burn out video in Moab after I lost my front driveshaft.
Page 88
: Picked up some 1986 Wagoneer Dana 44's.
Page 89-91
: Axle build begins.
Page 94
: Riddler diff covers arrive.
Page 98
: TnT Dana 44 Truss arrives.
Page 101
: More parts arrive, Clayton front double shear track bar and missing brackets from the TnT order.
Page 102
: Front bumper gets straightened out.
Page 104
: I make my jeep look like a 5.9 again with a new roof rack.
Specs/Mods
Iron Rock Offroad 4.5" lift kit with 8 adjustable control arms
-
IRON ROCK OFF ROAD: ZJ 4.5" Premium Lift Kit
Clayton Offroad front long arms
-
Clayton Off Road - 1993-95 ZJ Long Arm Upgrade Kit - Front Half ONLY
Clayton Offroad front double shear track bar
-
Clayton Off Road - Adjustable Trackbar & Drop Bracket
TnT (Treks) Dana 44 truss
-
Treks Offroad Products - Front Axle Truss for swapping Wagoneer axle
Riddler Diff Covers
- Ordered through Moonworks offroad.
ARB Bull Bar
- Can be ordered through Kolak.
Kevin's Offroad Stealth Tire Carrier rear bumper
-
JK, TJ, WJ, ZJ, XJ, MJ, WK, XK, KJ - Jeep Grand Cherokee and Jeep Wrangler Accessories by KevinsOffroad.com
Kevins's Offroad Tube Sliders
-
Rock Sliders Rocker Panel Protection - Hard-KOR RockSliderz for Jeep - Lifetime Warranty
KOR License Plate Relocation Bracket
-
Licence Plate Relocation bracket License Plate relcator [KOR-LPB] - $49.97 : Hard-KOR Jeep Accessories for Wrangler, Grand Cherokee, Commander, Liberty, and Cherokee by KevinsOffroad.com, Rubicon Tested, Moab Approved
Cobra Blue Tooth CB Radio
- Purchased at Radio Shack
IRO Heavy Duty Tie Rod Conversion Kit
-
IRON ROCK OFF ROAD: Heavy Duty Tie Rod
Bar Pin Eliminators
-
IRON ROCK OFF ROAD: Shock Absorber "Bar Pin Eliminators™" (JKS)
JKS Quick Disco's
-
IRON ROCK OFF ROAD: JKS Quicker Disconnects
15x8 Black Soft 8's with 4" backspacing
- Purchased at Discount Tire for $46 each
33x12.50x15 BFGoodrich KM1's
- Discount Tire
ZJ Websites
Kevins Offroad
Hard-KOR Jeep Accessories by KevinsOffroad.com for Grand Cherokee, Wrangler, Liberty, Commander, and Cherokee
Moonworks Offroad
Home Page
IRO
IRON ROCK OFF ROAD
Csl Offroad
ZJ XJ WJ WK MJ TJ - Jeep Grand Cherokee and Cherokee SPECIALISTS!
www.tntcustoms.com
Rubicon Express
Jeep Lift Kits and Suspension Products direct from Rubicon Express
MallCrawlin
MallCrawlin HomePage
Nagca
NAGCA
------------------------------------------------------------------------------------
I bought my rig back in March of 08. I was in the process of lifting my 1993 4.slow laredo that my sister gave me. I decided I wasn't getting enough power out of it, and knew it would only get worse after the lift. So I sold that to a friend and got my 5.9, found my jeep on craigslist.
This is the only picture I have of her when she was stock, it was only stock for a week. I took this the night I got her and really wish I would have taken more. If you look on the far right of the picture you can see the edge of the new tires waiting to go on.
Right after the first IRO 4.5" lift and 33's were put on.
Took off the bumpers, cladding and stock roof rack because I was putting tube bumpers on (that never happened), and a roof rack.
The roof rack.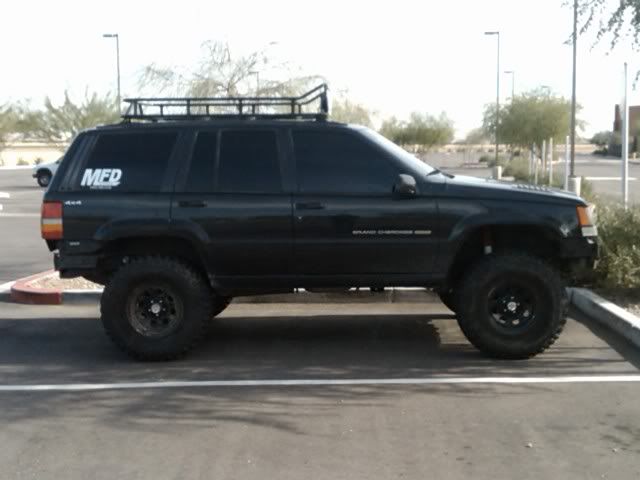 Sold the roof rack and bought the KOR rear bumper, the Claytons and ARB came soon after that. It stayed like this for about 2 years.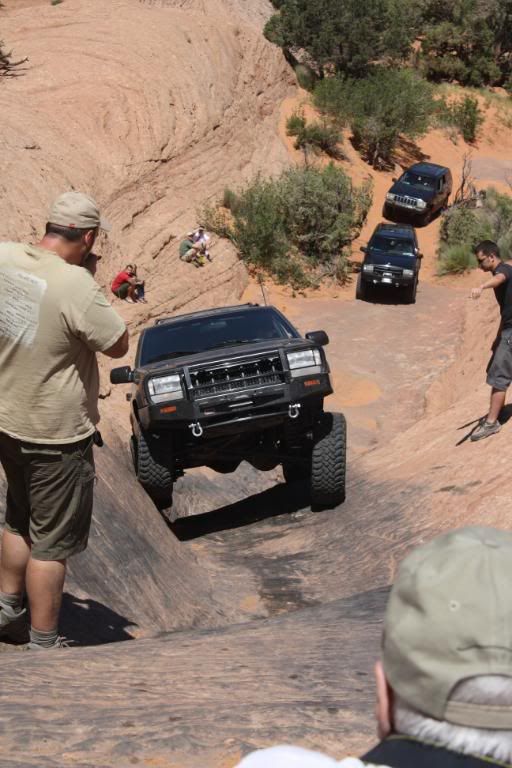 This one is facing the wrong way but it's the only one I have with the Iceland bumper with no flares.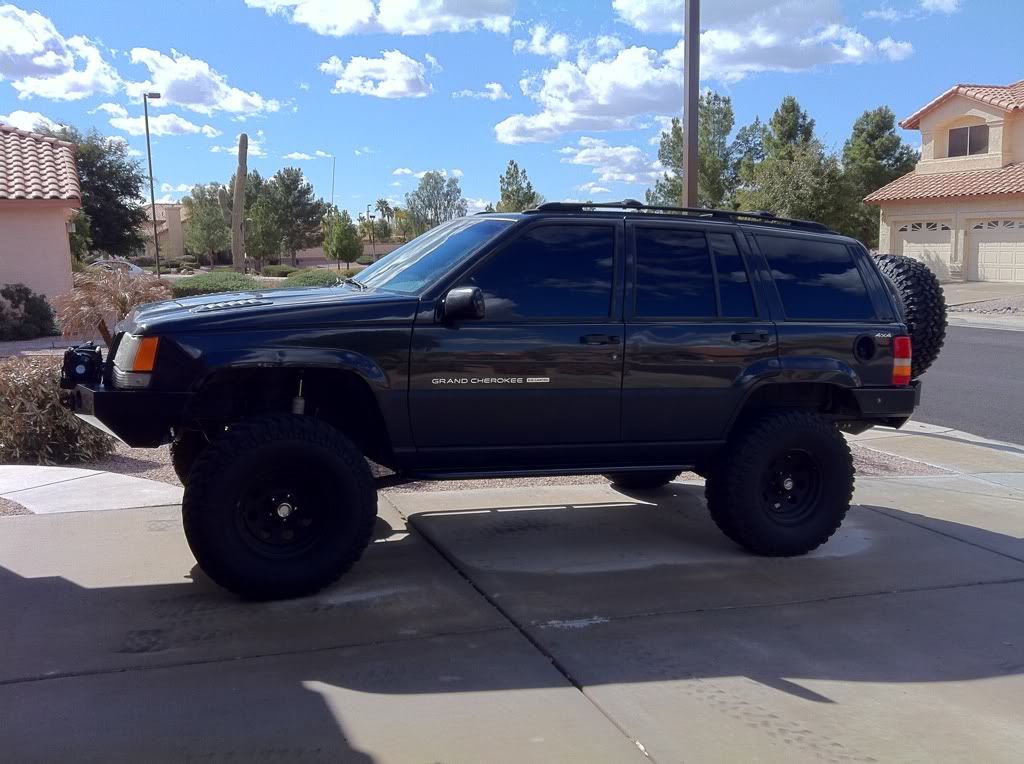 With the Iceland flares and 33's.
Most recently on 5.5" lift and 35's. I'm thinking about taking the 1" spacers out because the 35's still look kind of small with the flares.