Ok, for the final post to bring you all up to date.
The front shaft that I originally had for BLACK turns out is too short... or at least I thought... So I had grabbed a front shaft out of a 93-95 V8 ZJ (longer: ~33" compressed I think) a year or so before. So I went and cleaned and rebuilt the shaft (joints, DC joint) then took it to a local driveshaft shop and had them shorten/balance it to ~32" at ride height. Being so convinced that my rear shaft was the source of my pulsing vibrations, I had them recheck the balance on it which they did for free since they had done previous work to it (shortening for 242 SYE, changing to 3110 DC joint from 1330, lengthening/retubing it for my 231 HD SYE, etc).
Both shafts checked out good and within their allowable range of error (which is more strict than the typical industry standard range). I was really hoping they were going to come back saying the rear shaft was misbalanced but they didn't.. So I figured install the front shaft and do some jackstand driving tests for vibrations.. Which I did.
Pics: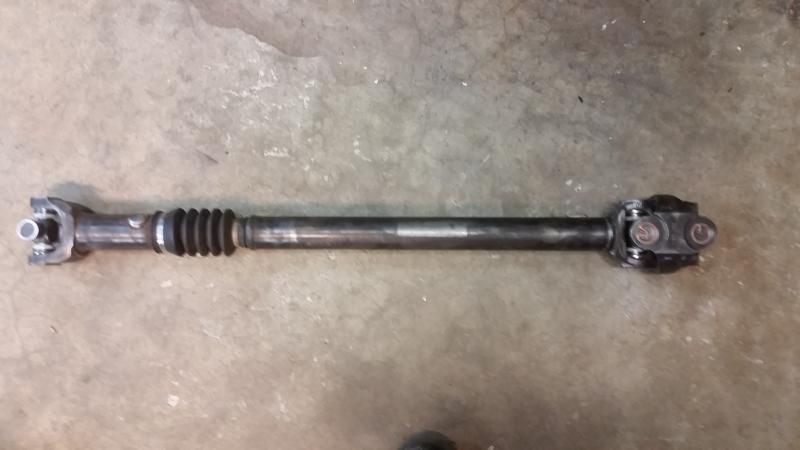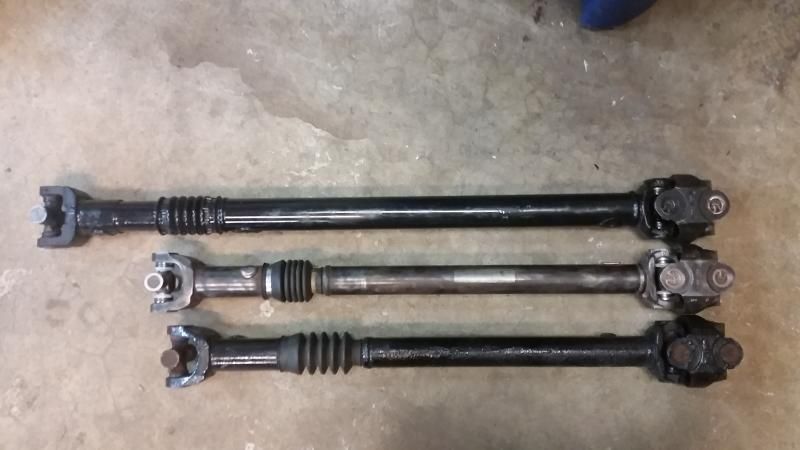 From top to bottom: My rear shaft (originally an 06? Rubicon front shaft which has been modified a lot), 93-95 5.2 ZJ Ujoint front shaft, 96-98 ZJ ujoint front shaft.
This was before I took the two shafts to the shop, hence the barish metal on the 93-95..
Other note: all 3 of those shafts have been completely rebuilt... However, I have learned that the 96-98 shaft is hosed (spline slop) and vibes like hell at 70+ MPH in my 5.9.. Need to take it out...
Jackstand testing with the shortened 93-95 shaft in, tcase in 4part, and no rear shaft in.
Sure enough, vibes are still there.. **** me...
Got mad, and put the tcase in 2wd (thus only the engine, tranny, and tcase were spinning.
Sure enough, ******* pulsing vibe. With no driveshafts spinning...
Vibe Characteristics (no driveshafts spinning):
- 45mph - Begins. Very faint. But there.
- 50mph - Almost nonexistent but there.
- 55mph - Noticeable by feel and sound.
- 65-75mph - Intensity and frequency of pulsing increases with speed and rpm. Rearview mirror begins to blur as if I had my sub turned up.
So, process of elimination:
Only components left to source the vibration:
- Engine, tranny, tcase.
- Tcase: newly rebuilt 231HD w/SYE and the vibes were present with my old 242. Removed from equation.
- Engine: check Harmonic balancer for wobble, looks like it spins perfectly. Check to make sure the outer portion did not spin but moving to TDC and checking distributor rotor to make sure it was pointing at #1 terminal (or whichever cylinder TDC points at - don't worry, I used the FSM, just having a brain fart). Engine eliminated.
- Tranny: in the back of my head, I have ALWAYS thought it was the rear output shaft bearings located in the OD housing. Always, always, always thought that since there have been so many pulsing vibe threads (that I have read and some reread 2-3 times) and nobody that was not able to solve the vibe checked those bearings. I guess I just always shifted the blame to my rear shaft because I did not want to have to replace that bearing in the tranny.... . I also questioned the torque converter but felt that if the TC was bad, then wouldn't I have vibes across all speeds not just 55+?
Picked Martin Saine's (MSaine) brain and talked with him regarding replacing the bearing. And I have rear several 46re rebuilt threads, 46re OD rebuilds, Baxy's 46re tutorial, a video showing how to disassemble and rebuild the OD section, etc etc. I can do this.
So I have been shopping and shopping and more shopping of tranny parts from multiple different sites to determine which site has the best overall price and selection of parts. Looks like Transmission Parts USA has the best final price on parts and the largest and most inclusive parts selection.
I will be (as of right now unless MSaine tells me different when I email him today) buying:
I just today bought a 20ton press from HF for $128 out the door
It was listed at $200..
I will either buy a sawed off intermediate shaft on ebay or snag one from the junkyard along with another front shaft...
And I will use either a two pieces of ABS Tubing (one 3.5" section and one 3" section") or a piece of 3" exhaust tubing to compress the OD spring (don't worry, I already did compressive strength tests on the ABS plastic by figuring out its compressive strength online than figuring out square inches of surface contact.. it checks out fine..... Whoops, did my Construction Management side just come out? I think so
)
Heres where I got that idea:
http://dodgeforum.com/forum/2nd-gen-...-progress.html
about half way down the page, or the beginning of his second post...
Anyways, I will be yanking my tranny out soon and replacing this bearing.. Luckily I have a spare, bad 46re that I can take apart side by side for reference/practice.
So if it is NOT that bearing, then I will suspect the torque converter. . If not that, then I don't know and will be out of ideas. But I WILL NOT give up. I have put WAY TOO MUCH time, money, and my sanity into this project for it not to drive like a dream. And this vibration has been the reason that it has hardly driven at all over the past 5 years or so. I don't want to risk breaking something else, or wearing something else down due to the vibrations.
and
BOOM
this thread is up to date.. That took way too long. And my god I forgot how badly Photobucket bogs down a computer (even my laptop with 8GB of ram and an i7 processor feels like an old Pentium 4 processor. Now that I closed PB I'm good LOL)
Sorry for such a large gap. Been busy with school, two internships, GF, mom, life, ZJs, Halo, etc. But I'm still around working on the ZJs and kicking
If anybody has any further input regarding the tranny (or anything for the matter), please, speak your mind. I take everything into consideration, especially what other people say. There are plenty of other people out there that know more than me so I always accept input and constructive criticism. Now, criticism without good intentions, GTO
One final note, sorry for the Harry Potter size novel of post(s). Had lots to cover and say.