Complete modification list as of 1/4/2011:
Exterior:
-5.9 Grill/roof rack
-Clear corners
-Hella 500FF's behind grill
-Plymouth Roadrunner horn
Interior:
-5.9 Soundbar
-WJ Leather front seats
-Alpine Headunit
-Alpine Type S 6.5" in doors
-Alpine Type S 5.25" in soundbar
Engine:
-180 degree thermostat
-AEM filter
-Throttle body spacer
-150A 5.9 alternator
-Magnaflow 2.5" High Flow Cat
-Magnaflow 2.5" Muffler
-5.9 Tailpipe/Tip
Transmission:
-B&M Super cooler
Suspension:
-Rubicon Express 4.5" springs
-Rubicon Express Superflex adjustable lowers (front and rear)
-Rubicon Express Superflex adjustable uppers(rear)
-Rubicon Express Super ride fixed uppers (front)
-Rubicon Express Superflex Extreme duty front trackbar and bracket
-JKS rear trackbar
-IRO bar pin eliminators
-Bilstein 5100 shocks
-JKS upper loop conversion for front shocks
-Rubicon Express steering stablizer
-Rubicon Express Gen 2 disconnects
-Rubicon Express extended brakelines
-Energy suspension front sway bar mounts
Wheels/Tires:
-JK Moabs 17x7.5
-Spidertrax 5x4.5 to 5x5 adapters/1.25" spacer
-BFG Mud Terrains 255/75R17
OR
-15x10 Mickey Thompson Classic II's
-35x12.5R15 Goodyear MTR-K's
Axles:
-1998 XJ HP30 front, 4.10 gears, boxed UCA mount, Spicer 760x's with tacked caps
-1998 Explorer 8.8 rear, 4.10 gears, Detroit Locker, IRO brackets, Ruffstuff cover
Steering:
-Durango box
-IRO Heavy duty tie rod
-V8 drag link
-Rubicon Express steering stabilizer
Armor:
-ARB Bumper
-KOR support
-JKS LCA skids
-OEM transfer case and gas tank skid
-OEM hitch with receiver shackle
Recovery:
-Warn XD9000i
-48" Hi Lift with winch kit and offroad base
-18k strap, shackles, tree saver
To Be Installed:
-1998 ZJ 5.9/46RE, 90k miles
-Clayton's F&R longarm upgrade
-Clayton's Belly skid
-Clayton's 8.8 truss
-Ruffstuff D30 cover
-T&T frame stiffeners
-Spidertrax 1.25" spacers
-16x8 TJ Moabs
Jeep Story:
So I decided in Spring of 2007 that I needed a Jeep, and a ZJ specifically. I had friends who had stock XJ's, but I wanted something a little nicer with a little more space. So I started my search, and found a lot of ZJ's, but drove very few. I found the one I ended up buying in Worcester, MA, on a used car lot. In retrospect, I probably should have looked a little more before buying.
I paid $3400 for my 1998 Laredo Special Edition with just under 103,000 miles. Stock features included:
-4.0/42RE/242
-Dana 30/35 3.55's
-Aftermarket Sunroof
-Infinity CD
-Full power . . . all the special edition features
The day I bought it, had to borrow a plate off the S-10 I was driving to get it back:
About a month after I bought it, mudding it with BALD tires near Waterville, NY: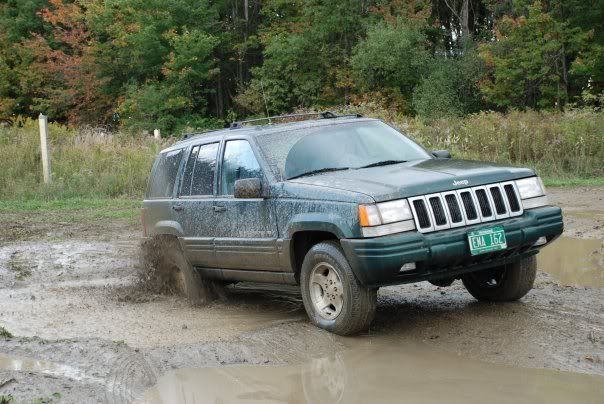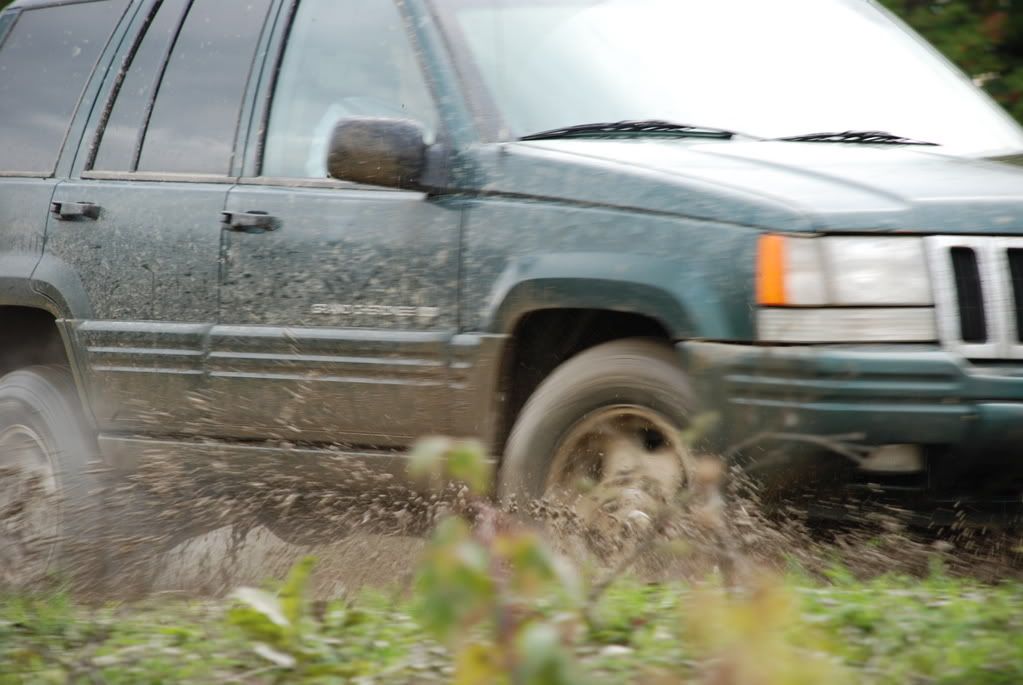 Mods included:
-18k snatch strap
-Hitch pin
-Shovel
Some time went by, and the output seal on my tranny blew on my way back from the Bills/Pats game in Buffalo in November, 2007. At this point, the only thing that I had done to it was added a pair of Silverstar bulbs to help out the weak lighting. The ZJ sat in my garage for almost 2 months while I was at school and deciding whether or not I wanted to fix or sell it. Luckily I decided to keep it, and $250 later, it was back on the road. At this point, I decided to buy it some tires, because driving in Syracuse, NY was a little scary on the slicks I had.
30x9.5x15 Cooper Discoverer STT's, still pretty much stock. Stuffing one of those Coopers, decent stock flex: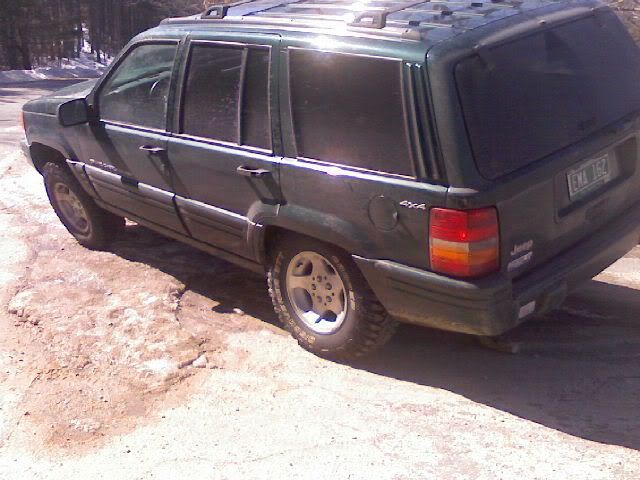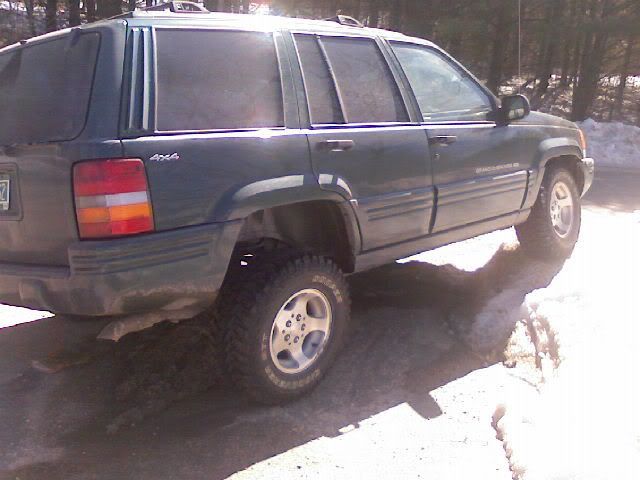 I decided it was time for some skids. I found a gas tank skid for $10, mounted it up, and did this shortly thereafter:
I made use of my shovel, a buddies shovel, 2 XJ's, my new receiver shackle, and 50' of tow straps to get the ZJ out. I was up to the hood in a snow drift, and sitting nowhere near the bottom.
I hung out with some other Jeeps from CNY Jeep on May 3rd for "Go Topless Day." I had the sunroof open, so it sort of counted.
About a month later, I was in a pick and pull in Burlington, VT, when I ran into another guy with a ZJ. I explained to him that I was looking for tow hooks, and luckily, he was parting out a 1995 Orvis. I bought the hooks for $40.
Right before I put them on:
After the install, had to make up for breaking all of the bolts removing them: