Registered User
Join Date: Jun 2008
Location: Richardson
Posts: 321
WJ Kuckle Swap with WJ hubs?
---
**I posted here because this swap is applicable to most Jeeps with D30 front ends.**
I've researched this swap over the last couple of years, reading thread after thread. All of them state that the WJ knuckle has a different offset, so a spacer must be used to re-align the u-joint. I've found that's only half true. The spacer is only required to use the TJ/XJ 4.5x5 Wheel hub assembly as its much deeper than the WJ hub. The best description I being
here
(Picture is below if you don't want to follow the link) -
The internet can be misleading, after actually measuring the parts I found this to be untrue.
WJ owners often use the outer shafts from YJ/TJ/XJ's to convert their front axles to stronger U-joints over their CV axles (requires custom inner shafts)
So, why not go to the 5x5 bolt pattern and use bolt on Brakes?
(steering/track bar solutions aside)
With the JK running 5x5 wheels now, the aftermarket selection has greatly increased. Cheap JK take-offs are incredibly abundant, especially on Craig's List. They give you 32" tires and 16"+ wheel you'd need to fit the larger caliper w/o any grinding.
Obviously you'd have to change out the rear lug pattern, as well. You could use wheel spacers, re-drilled axles & rotors, or even get away with the WJ rear disc brakes!
Unless someone talks me out of this, I think I'm going to give it a shot. My Rubicon may be a prime candidate, as I think there is a good chance the WJ's rear brakes will bolt up. The local Pick & Pull has a few good donors lying around with Dana 44's in the rear to match mine.
I've got my own thoughts on the track bar/Steering situation, I'll save those for another thread.
What's your opinion on using the 5x5 wheel pattern all around?
JEEP FREAK
Join Date: Apr 2004
Posts: 26,297
Interesting idea.
I don't think the WJ rear brakes will bolt up.
You should
send a PM to mrblaine
and ask him to post in this thread. I don't think he visits the Engines & Drivetrain Forum very often.
Senior Member
There is a comprehensive write-up of this on the internet. I can't find it right now. I think the author was aying the spacer is still required. (?)Anyway, this is exactly what I want to do. The WJ bearing, as I understand it, is heavier than the TJ/XJ. My plan was to redrill the rear axles, or orde them dual drilled when I replace them.
Quote:
Interesting idea.
I don't think the WJ rear brakes will bolt up.
You should
send a PM to mrblaine
and ask him to post in this thread. I don't think he visits the Engines & Drivetrain Forum very often.
Yeah, that's the only part I haven't looked into. I've seen threads where people ask about it, but 4.5 x 5 can be had from most ZJ's, explorers, and other donors instead. That's normally where they stop. I've got a spare set of axle plates from the alloy shafts I installed. I think I'll take one with me the next time I go to the junkyard and see if any of the WJ's match up.
I honestly hadn't considered pinging Blaine. I'm sure he'd have a good input. He's done this swap in many different iterations. (I've read through a few) It eventually led to the Vanco kit, which is a great alternative to the WJ swap for bigger brakes.
@Newtons3
I'd be interested in a write up of this method. Do you know what site that was on? I get a search overload when looking for new content on the WJ swap these days. Too many threads just asking what the swap is, or explaining the track bar, etc., all very repetitive. You're right the WJ Wheel bearing assembly is definitely heavier duty than the TJ/XJ version. Its got a bigger offset, flange, and weighs ~1.5 lbs more.
2001 WJ
2001 TJ
Senior Member
I looked briefly, but couldnt find the write-up I wanted. There is one on Burnsville offroad, but he doesnt have all the information, just thoughts. Ill look again when I get home. Let me know what youre going to do about the trackbar. Like you, I have some thoughts but I havent made my mind up yet.
I like this option the best so far, the track bar goes all the way out to the C for a better angle, but its offset so you don't have to move the spring buckets. Might even clear the sway bar links, but that's probably wishful thinking... It'll depend on what angle my drag link actually winds up at. Still need to decide if I want to go OTK, use a drop Pitman, etc.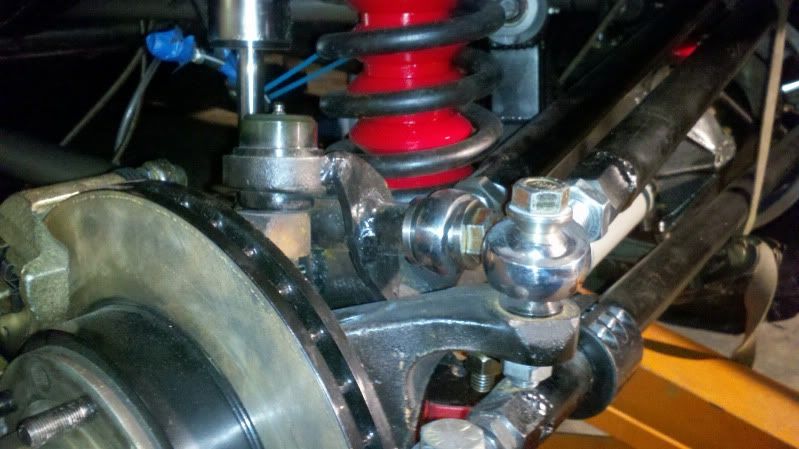 Senior Member
I think Im going to push the axle forward a bit. Whatever I do has to be easily replicated as Im going to turn around and do the same thing to my Cherokee.
Moderator
Join Date: May 2008
Location: Lake in the Hills
Posts: 2,839
---
Of all the things Ive lost
The one I miss most is my mind

Its like a fart in a windstorm
It smells good but thats about it

Registered Six Offender
Home of the Buzzin Half Dozen
Update: So that I don't put anyone else on the wrong track, the back of the WJ hub is indeed the same as the TJ... I finally measured them both. Apparently WJ guys don't worry about centering their new U-Joints between the ball joints. In other words, you'll need the spacers welded to the knuckles in either case.
Currently Active Users Viewing This Thread: 1

(0 members and 1 guests)
Posting Rules

You may post new threads

You may post replies

You may not post attachments

You may not edit your posts

---

HTML code is Off

---