I love my 2002 TJ, but the clutch is making some pretty annoying sounds. I can feel it in the pedal too.
I am a mechanic, but maybe I've been layed off for too long?
I have this noise (SEE VIDEO) that occurs when I depress the clutch.
I pulled the slave cylinder, and the piston is good to go. The nylon cap on the end of the rod looks real good too. I lubed it up just in case.
I power washed my Jeep the other day, and sprayed up under the inspection cover. The clutch pedal smoothed up, and wasn't making noises for 50 miles or so.
Now it's back. Very annoying. I can feel a rough spot in the pedal as I depress it, and can hear the noise from inside the Jeep.
The problem is NOT in the pedal, or hydraulic system.
Not sure if I really want to wash it thoroughly, as I might spray some of that rear main leakage onto the friction surfaces.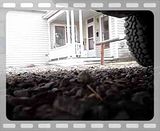 Thanks