Anyways I promised another D44 regearing thread(the first one is Regearing of Jake92321's D44 in TJ Tech), so here it is...
This D44 belongs to JF member MarineJRM, it will be going under his XJ on 35s.
Starting out w/ 3.55 gears and an open carrier, it's getting:
-Yukon 4.56 gears
-Yukon Master install kit
-Yukon Grizzly locker(very cool looking, it's a full case locker like a Detroit)
I also ended up installing new wheel bearings/seals/lock collars, but that is already covered in depth at
Jeep TJ Web Site of Stu Olson - N7QJP
so I'm not going to bother with that here. Just focusing on the gear setup aspect of this.
I took some notes this time which may be of help to some of you, here are some nut/bolt sizes you'll need to tear everything down:
-Bearing cap bolts: 3/4"
-Ring gear bolts: 11/16"(there are two different sized ring gear bolts for D44s, this may not apply to all D44s)
-Diff cover bolts: 1/2"
-Axle shaft bearing retainer plate nuts: 9/16"
-Pinion nut: 1-1/8"
You'll need various wrenches/ratchets/sockets for the above. Here are the "special tools" which you will (likely)absolutely need if you want your gear setup to be accurate and trust it:
-PATIENCE!!!!
-Magnetic base dial indicator(accurate to 0.001")
-in-lb beam style or dial-indicating torque wrench(for measuring pinion preload)
-Torque wrenches capable of 200(pinion nut), 80(carrier caps), 60(ring gear bolts), and 25(diff cover) ft lbs.
-Gear marking paint/brush(included if you're installing a master install kit from Yukon)
-Set up pinion RACE, it's machined on the outside so pinion depth changes can be easily made without screwing up your shims trying to change them... they're maybe $20 or so, not worth it to not have IMO. You -could- knock the old one out and hone it down but you're installing new bearings, get a new setup race as well so it's as close to accurate as possible.
-A good brass punch... use brass since it won't damage anything or marr up any bearing surfaces.
I'll recommend that you have one of the following, or both or else you'll have a hell of a time getting backlash and carrier preload set up:
-Set up carrier bearings. These are honed down on the inside so you can change your carrier shims easily. The only problem is that when you remove them and install the final bearings, it is pretty likely your backlash setting will get thrown off. You can either change your pinion depth slightly(should be a large change, I did this on Jake92321's D44) or use a nice bearing puller to remove them without damaging anything for making changes.
-Yukon carrier/pinion bearing puller. I got one and it's awesome, I could fine-tune the backlash without having to redo the pinion depth to compromise the pattern, was also good when I added the preload shims.
So anyways, with those bases covered, here is how this axle went:
Started out with the axle on stands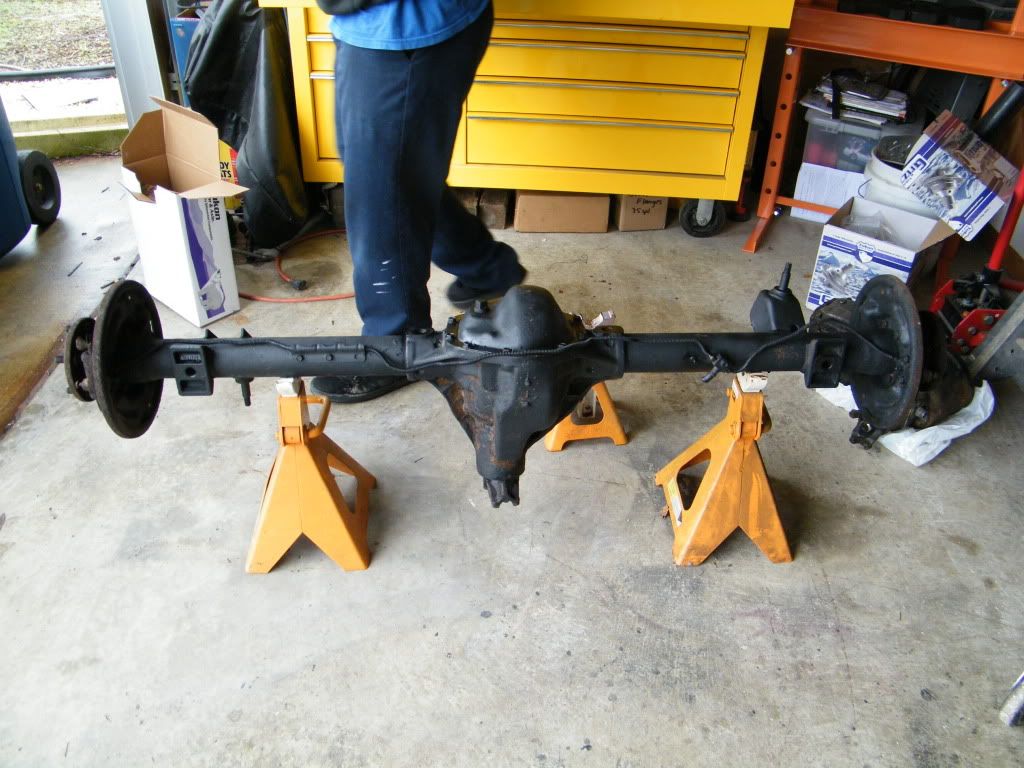 Undo the shaft bearing retainer plate nuts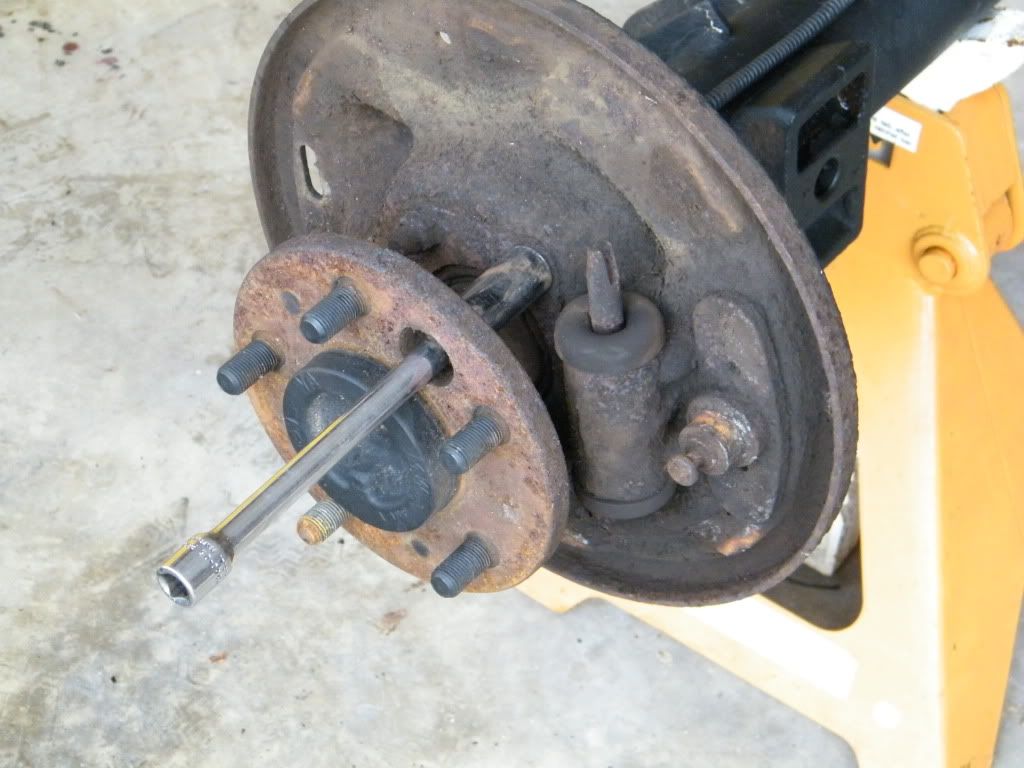 Slide the axle out like so to get it out of the carrier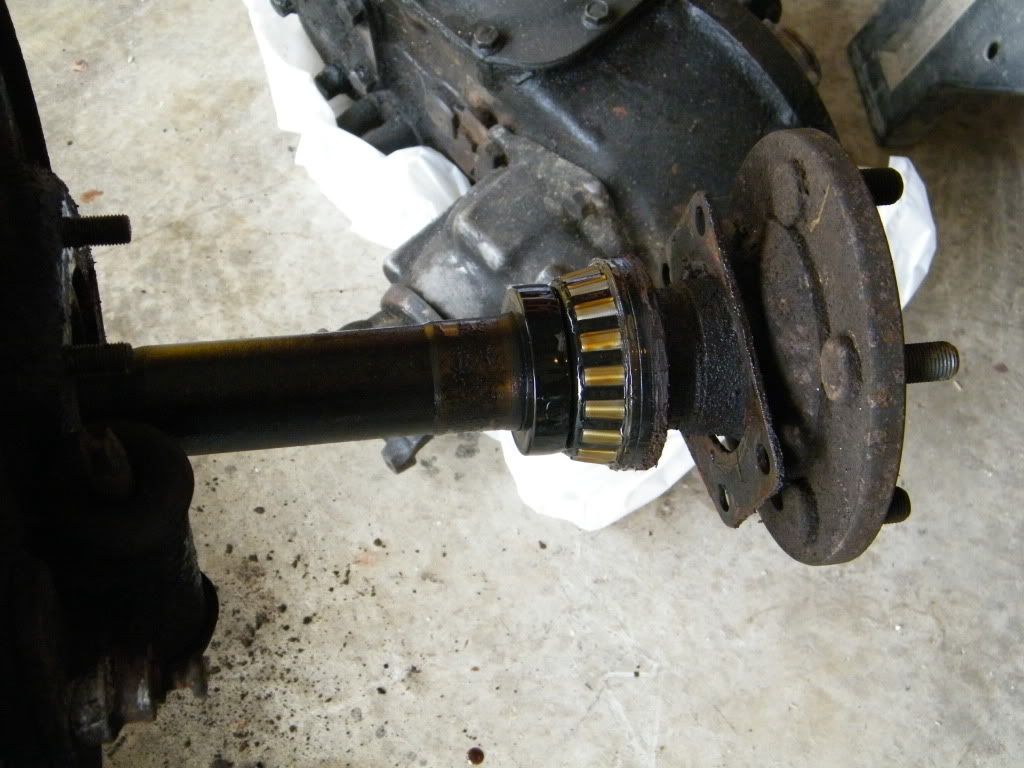 Then pull the diff cover and drain the fluid... you should see something like this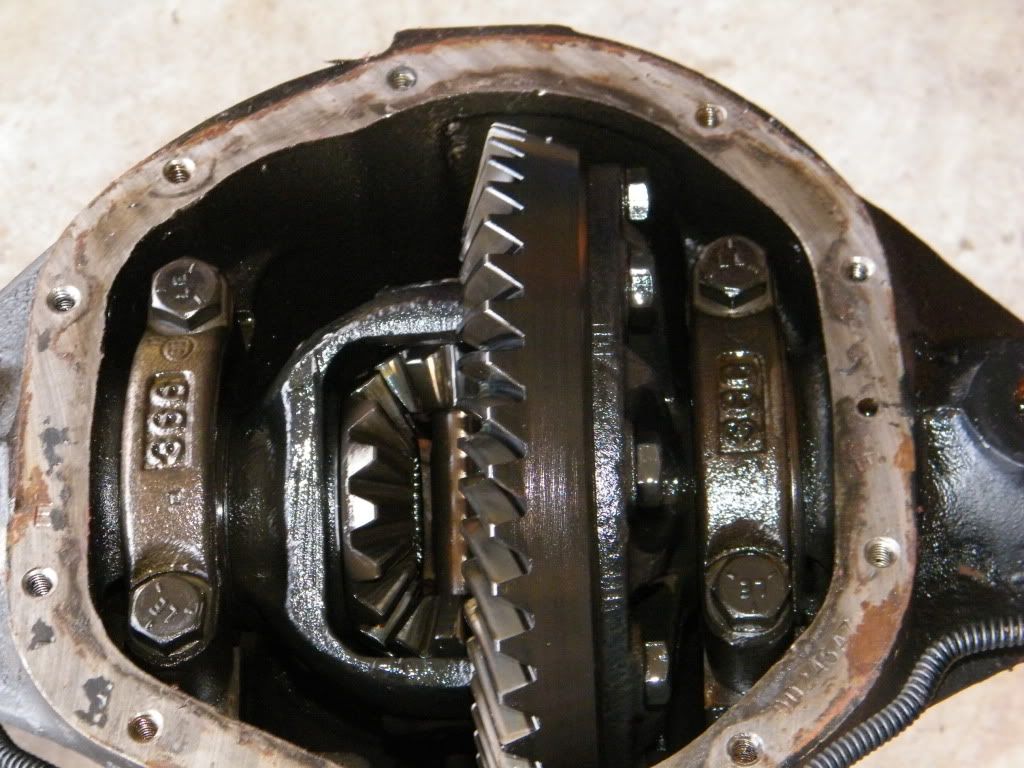 Mark the bearing caps... they can only go on in one orientation... flip them or swap them and you are asking for trouble. They are precisely machined from the factory so that the carrier races are properly preloaded evenly all the way around. I use a chisel and mark a "|" on the top of the left cap and "||" on the top of the right cap. No way for it to wipe off or mix them up.