Registered User
Join Date: Aug 2011
Location: Concord/Harmony/Raleigh
Posts: 9,835
Axle recommendations - Commando on 33's
---
We have a '73 Commando we recently acquired running SOA on trashed leafs and a 3" BL (terrible, I know). We will be (and actually just did) running it in the Small Tire Street class in 4x4cross mud slings. This limits a maximum of a 33" tire. The Commando uses a 304 V8, 400 Turbo trans, a Dana 20, and is currently equipped with a Dana 30 up front and what I believe is a Toyota 8" in the rear. Both are welded. I have zero confidence in the current setup and am looking for some options on what would be better. I'm thinking looking for a front 44 out of a '73-'77 3/4 or 1/2 ton Chevy and the 10 or 12 bolt that would be in the rear, or a pair of Waggy 44s. We already have a Dodge 60 but that's a little big for 33's. Also have a spare 8.8 but I'm fairly confident it would be far too narrow. So, options and opinions?
Also, if anyone knows what leafs from a junkyard would be a direct swap, that would be insanely helpful.
A pic for the hell of it: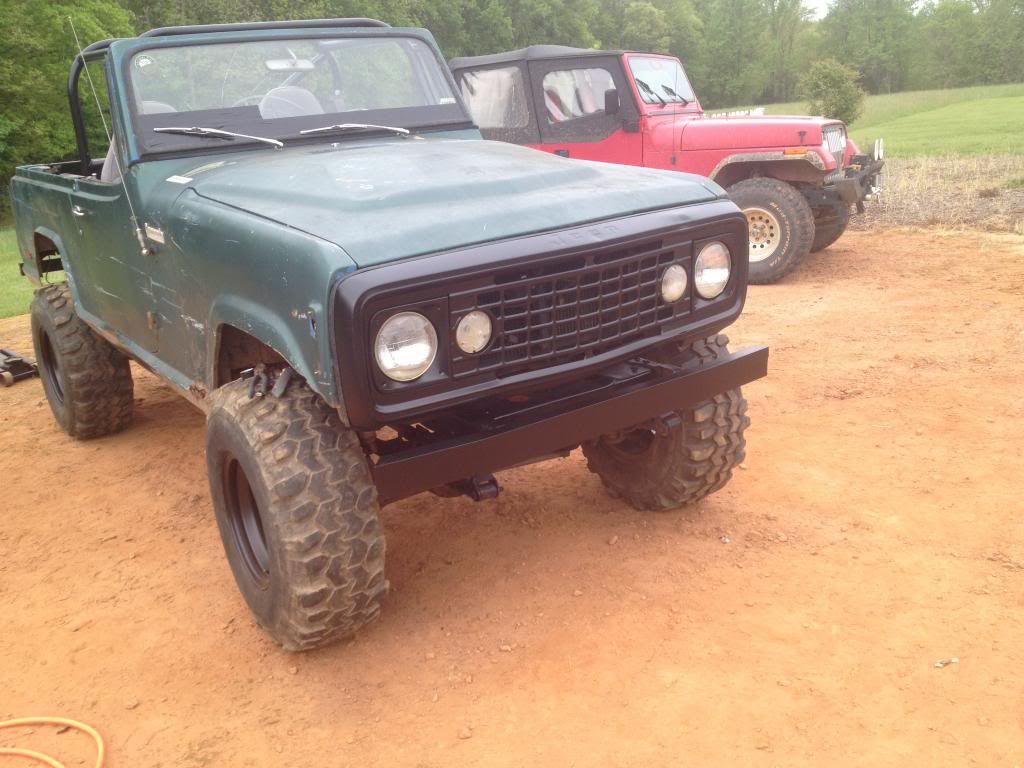 ---
The Offroad Club @ NC State; Founder
The Yellowtail Build
Jeep-Owner.com
Registered User
Join Date: Oct 2009
Location: worcester
Posts: 2,265
Run some Scout 2 Dana 44 axles or Waggy axles.
---
Rubicon Rich ,05 TJ Rubicon: PatriotJeepers.com
86 CJ7 258,T18,Scout Dana300,twin sticks,Dana44's,4W Disc, locked,35's,YORK OBA,Warn 8274,fullcage.
51 M100 1/4 ton Jeep trailer
Moderator
Join Date: May 2008
Location: Lake in the Hills
Posts: 2,823
Just be careful of the front diff location. Scout good Some Waggy bad.
---
Of all the things Ive lost
The one I miss most is my mind

Its like a fart in a windstorm
It smells good but thats about it

Registered Six Offender
Home of the Buzzin Half Dozen
Registered User
Join Date: Aug 2011
Location: Concord/Harmony/Raleigh
Posts: 9,835
Quote:
Just be careful of the front diff location. Scout good Some Waggy bad.
Yea, early Waggy only. Sorry I haven't responded. the software gave me a lifetime ban I had to get fixed.
---
The Offroad Club @ NC State; Founder
The Yellowtail Build
Jeep-Owner.com
Currently Active Users Viewing This Thread: 1

(0 members and 1 guests)
Posting Rules

You may post new threads

You may post replies

You may not post attachments

You may not edit your posts

---

HTML code is Off

---