Quote:
Originally Posted by
TC2XJ414
Took 3 hours to wash the jeep in and out. Than took it over to my buddys house because he has a lift and powerwashed the undercarriage and took a look for any damage after Monday's adventure....CLEAN JEEP!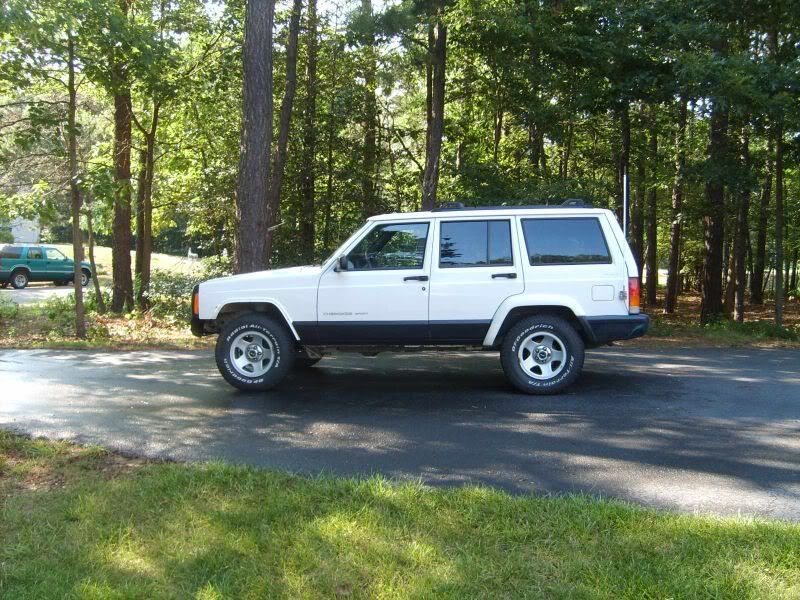 click free..still lookin good man
got home from camping..first thing i did was open the garage and pull out the xj..so heres how tonight went.
i went down to work at 4 to check my schedule for this week. i get there and the manager is like "well youre just 4 hours late". i said "what are you talking about". he's like youre scheduled to work and sure enough it said 12-8. turns out the guy who was covering for me ended up having his last day yesterday so they ended up scheduling me for sunday. manager said if i came in and finished up my shift, i wouldnt be in trouble. so i drove home, got my work shirt and finished up my shift.
i got talking to one of the new guys and he noticed my rig and said he had a fullsize chevy on 32" M/Ts. he asked if i wanted to go muddin after work and i was like hell yea. so he called up a friend with a 97 silverado and we headed down to a local trail and drove it but it was dry due to no rain. so we headed over to another spot but on the way, my co-workers truck died. so me and the other guy turned around and went back to help him out.
his truck just over heated so we just sat around and waited for it to cool. i had to get goin home so i made sure all was good and left.
ill be cleaning the jeep up tomorrow and end up re-painting the front bumper. ill try and get the bajas off the bumper and on the rack tomorrow too along with mounting the KCs on the bumper but who knows if ill get around to that. also gonna ask my friend with that made me the cb door jam mount to rig me up a drivers side one. the antenna on the rack was smacking tree branches so im gonna try the drivers side mount and see what happens..