Entry #1
xjjeepthing
2001 XJ / 4.5" lift / 32" Kumho KL71's / 15x8 Soft 8's /Surco / Hi-lift / Hella / Bad Apple Fab Diff Gaurds / Midland CB / Wilson Antenna / Front and rear receiver hitches / Rusty's LCA's / Magnaflow Cat Back / T B Spacer / Jet Stage 1 / Pioneeer & Fusion Sound / AJ's Super rails / Warn T Case Skid / Big Daddy Tie Rod / Rubicon Express HD Trac Bar and Brace / Mores Offroad Gear Box Brace / Trimmed Fenders / Bedlined Rockers and Quarters / Tsunami OBA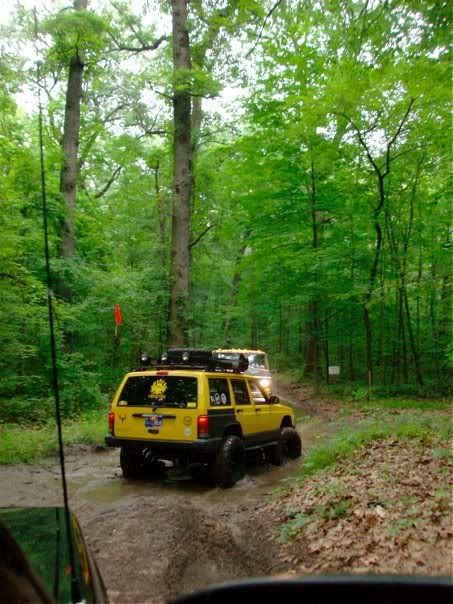 Entry #2
Jeepster425
2001 Steel Blue Jeep Cherokee Sport 4x4 4.0 liter
Auto
NP231
Chysler 8.25 rear
Dana 30 front
Electric Windows/Doors
Suspension/Steering:
(5)BFG All-Terrain 32x11.50-15 on black Rockcrawler wheels
Rubicon Express Extreme Duty 5.5" lift with drop brackets
DPG Offroad front and rear Trailgunner springs
Old Man Emu shocks
JKS ACOS
JKS rear shock tower
JKS upper and lower control arms
JKS front/rear bump stops
Currie HD Steering
Currie Steering Brace
CRok Steering Brace
Protection:
ARB front winch bumper
Durango 4X4 rear bumper with tire carrier
Skid Row engine skid plate
Skid Row T-case skid plate
Skid Row gas tank skid plate
RRO rock rails
Defender Roof Rack
Performance/Driveline:
4 Wheel Disc Brakes with Powerslot rotors
Front and Rear ARB Air Lockers
4.10 gears
High Angle Driveline
Alloy USA front axles
Banks Torque Tube header
EDGE performance module
Safari Snorkel
K&N Apollo filter canister
Gibson Exhaust
Electrical:
Mean Green HD Alternator
Heavy duty battery cables
Wrangler NW dual battery system
Dual Optima red top batteries
IPF driving lights
KC long Range lights
Full under body rock lights
CB
Upgraded stereo with subwoofer and JL Audio sub amp
Recovery:
T-Max 9000lb winch
Bushranger X-jack
Warn winching kit
Tow and tree straps
10-lb Source CO2 tank
Tuffy metal security box with roll out drawer in rear cargo
Hi-Lift
Entry #3
JustAnotherJpr
2000 XJ Sport 4.0L
Rear Suspension: Rubicon 3.5" springs with 1.5" shackles and .5" block, 1" BPE's. Monroe Sensatrac shocks
Front Suspension/Steering: Rubicon 3.5" springs, 2" spacer, super-flex short lowers, control arm drop brackets TNT 6+ track bar and bracket. RE TwinTube shocks. IRO tie rod.
Rear axle: 29 spl 8.25 w/Yukon 4.56 gears, Yukon alloy shafts, No-Slip locker, ZJ disc brakes, diff guard. "Custom" rear driveline and CV
Front axle: 91 HP 30 non-disco w/ Yukon 4.56 gears, Aussie locker, LCA skids
Armor/bracing: AJ's bumpers front/rear, AJ's super sliders (3/16"), TNT frame stiffeners, ZJ t-case and gas tank skid, C-rok inner and outer steering box bracing.
Tires: 33" Interco TrXus on cheapie D-windows.
Other: MAD-XJ style hi-water intake, rear cargo tray. LeBaron hood vents, front TJ flares, Rampage h4 conversion w/harness. Cheapie Pioneer CD player with Pioneer 6.5" all the way around
My Cherokee isn't really all that 'special', I guess, but it's the one I built. It's solid on the freeway at 80mph and can crawl with anything else in it's 'Class'. It's not the biggest or the baddest, but with the armor and bracing, it's tough as nails. It goes anywhere I point it, and has never let me down. I love it to death, sometimes I love to hate it. It's a great Jeep and I couldn't part with it.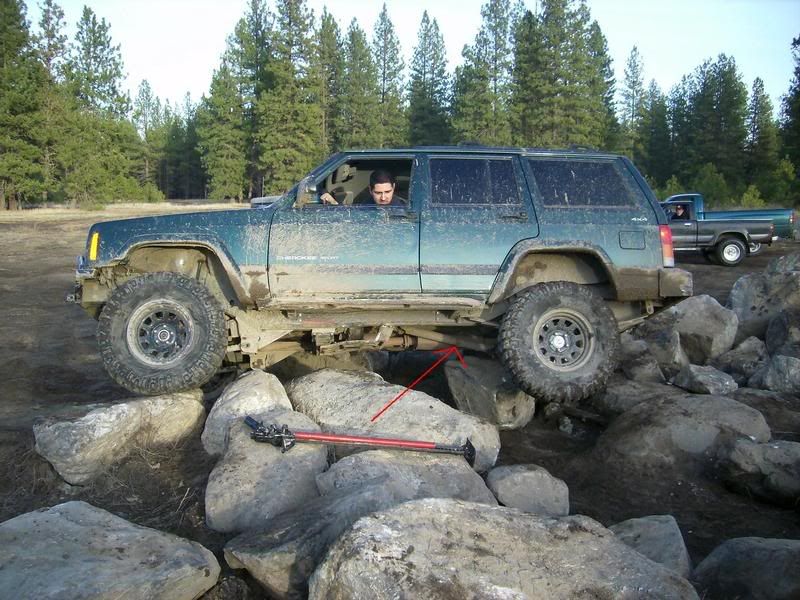 Entry #4
Red88MJ
Specs - My names Justin, I used to work for Rock Krawler Suspension and this is my 2000 XJ, 4.0 I6, AW4, Dana 30 High Pinion reverse cut front, Chrysler 8.25 rear, 4.56 gears, Aussie locker in the rear, OrFab front winch bumper, Smittybuilt XRC8 winch, custom rear bumper w/ swingout tire carrier and JK rear tow hook (made by my brother), Tranny cooler, Mean Green duel battery setup, bored throttle body and spacer, Air Intake, 6.5" Rock Krawler X-Factor long arm kit, Deaver leaf springs in the rear, Rock Krawler steering kit, 305/70/16 Mickey Thompson MTZ's, 06' Rubicon wheels, 1" wheel spacers, SYE, smoked front corner lenses. It's NEVER finished!
Pictures -
Entry #5
jdbwrx
I picked up my white '99 Cherokee a little over 4 years ago. At the time, it was cherry with only about 72K miles on it. My original intention was to use it to see more back country areas near where I live (Avon, CO) and to access remote hiking areas. Well, while it did do that, I also got bit by the wheeling and building bug and it took on a life of its own. So far the Jeep has been a GREAT learning experience and I have done and seen things I never imagined myself doing. I love fabricating and building things, and this has proved to be an excellent platform for whatever I can dream up. Probabaly the best thing about the XJ has been the community and some of the people I have met since getting into this hobby/sport. No doubt this is a work in progress, and I enjoy where I've been and where I think of going with it. I have put a lot of effort into my XJ, so I hope everyone likes it!
Specs:
1999 Jeep Cherokee Sport
Drivetrain, axles and steering:
-4.0L I6
-Auto
-NP231 T-case, Advanced Adapters SYE, Tom woods rear DS
-Dana HP 30 front, 4.56 Superior gears, Aussie locker, JKS lower control arms skids, SOLID diff cover, Ten Factory Ally shafts w/ full circle clips, Alloy USA axle seals
-WJ front knuckle conversion, WJ brakes, Ford Explorer Sport Trac Rotors
-Ballistic Fab steering, 1.5" x .25" DOM tubing with 3/4" heims on draglink, Teraflex offset TRE's on tie rod,
-Custom made track bar with Ballistic fab brackets and 3/4" heims
-Durango steering box, Iron Scorpion inner steering Box brace
-M.O.R.E. steering brace
-Chrysler 8.25 Rear, Alloy USA shafts, 4.56 Yukon gears, Powertrax No-Slip locker, Rusty's rear diff guard
-Custom 2.5" exhaust w/glass pack muffler
-ZJ Rear Disc Conversion
-Stainless brake lines
Suspension:
-4.5" BDS front coils, 1" spacer
-TNT Customs adjustable upper arms, Rock Krawler adjustable lower arms
-RE Drop brackets and braces
-JKS Sway Bar discos
-OME heavy duty rear leaf pack + few extra bastard leaves, TNT Customs 1.5 Boomerang shackles
-JKS BPE's, Edelbrock IAS shocks, upper shock conversion
-JKS cross over rear shock conversion, 2" raised axle side shock mounts, Edelbrock IAS shocks
-33x12.50 Truxs M/T's, 15x8 Cragar street locks rims, 1.5" wheel spacers
Exterior and protection:
-Trail Ready Front Bumper (ends customized), JCR offroad frame tie-ins, Harbor Freight 8000lb winch with 5/16" Amsteel Blue
-TJ front fender flairs
-TJ hood vents
-clear corner lamps
-C4x4 2" square rock rails
-Custom Rear bumper with 2" receiver and swing down tire carrier (built by me)
-Custom Exo Cage (built by me), 1.75" diameter .12" wall HREW, removable upper
-plated frame rails with 3"x3"x3/16 angle
-Homebrew cross member and t-case skid (currie look alike)
-Removable front doors
-small Hella lights on front bumper, rock lights underneath
Interior:
-Carpet removed, Herculined interior
-import style front "race" seats with custom brackets
-Custom rear cargo rack/cage (built by me)
-spare front and rear shafts and front hub assemblies
-lots of tool, supplies and recovery gear
-12V air compressor
-2000 Watt power inverter