I've been really sick so this is behind,
I'm also changing how you enter the contests, instead of messaging me entrys they are going to go right in a thread. So much easier than sorting my inbox. The thread for that will go up in a week or 2.
So here ya go pick a winner
ENTRY 1 ScottD16
My dad bought this jeep for me from a friend when I was 16 on the terms that I would have a job and get a B average so I got all that and every pay check went right to the jeep! T-Bird is her name she was once small and black now big and yellow! My dad got me into jeeps, wheeling, wrenching, and I love it!
Year: 1996
Model: SE
[B]Drive Train: I6 4.0, Magnaflow, flexalite tranny cooler, Dana 30 HP Chromoly shafts lockright locker 760x U-joints, Chryser 8.25, 4.56 ring and pinion.[ B]
Suspension: 4.5" Rough country short arm full pack, Iron rock HD tie rod, Rustys HD steering stabilizer, JKS quick discos, Hockey Puck bump stop.
Wheels/Tires: Cragar D-Windows/33x12.5r15 KM2
Other Notable Modifications: Warn diamond plating, Sucro roof rack, eBay winch bumper, hitch, trimmed fenders, Hula girl!, YELLOW
Favorite Modification: used to be black
Least Favorite Modification: roof rack keep getting hung up on it
[B]Favorite Trail: Rausch creek yellow jacket[ B]
Best Trail Damage: Smashed rear quarter panel on a winch only trail
Build Thread: none soon though
3.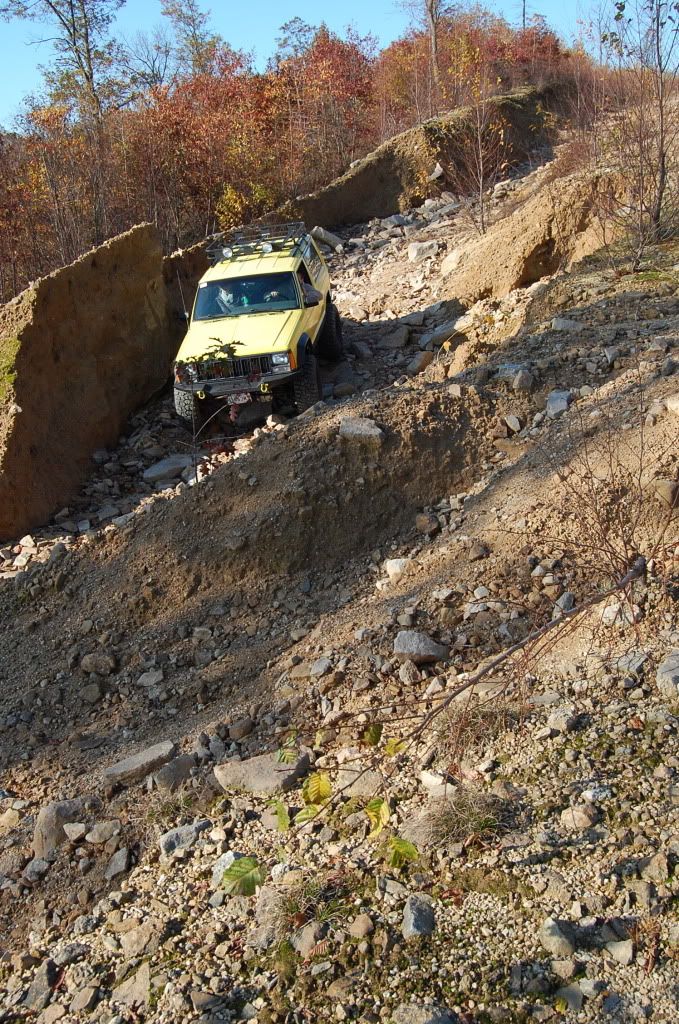 Entry 2 4x4xjCREW
MY name is Louie I own a 1998 cherokee classic that i purchased bone stock about 3 years ago and it has come quite a long way. My jeep has step by step worked its way up to where it is now. Started with a rough country budget boost and 30" tires to a 3" rustys lift and 31" tires to a 4.5" rustys lift, cut fenders and 33" tires to a Clayton 6.5" pro series 3 link conversion which actually sits at about 7.25 due to a spacer and shackle. I have aussie lockers front and rear, with axles D30 and CHRY8.25, 33" KM1 bfg mud terrains, surco roof rack with hilift mount and axe and shovel mount aswell. custom made front bumper and rear hidden hitch that comes through the stock bumper for a clean look. warn m8000 winch and CB radio. I work at EVB in Danbury ct and I cant ask for a better team to help me along the way, Ive worked paycheck by paycheck to build this thing and like every other cherokee it will never be done but I enjoy every minute of it. Theres nothing better than wheeling with your buddies and having a good time and thats why i dedicated the time, effort and money into my cherokee.
[B]Year:[ B] 1998
Model:
Classic
Drive Train:
4.0, aw4, np231
Suspension:
Clayton 6.5 Pro series 3 link
Wheels/Tires:
33" BFG KM1 mud terrain on D-window steelies
Other Notable Modifications:
Front bumper, Roof rack, Winch, PIAA lights, Rear reciever,
Favorite Modification:
Doorless mod in the summer
Least Favorite Modification:
aussie lockers, worked great for about a year and its time to do ARB air.
Favorite Trail:
Camels back at RC offroad park, PA
Best Trail Damage:
Caught between 2 trees banged up my rear hatch, quarter panel and ripped my rood rack completely off one side.
Build Thread:
dont have one unfortunately
ENTRY 3 egodfrey
Year: 1995
Model: Cherokee Sport
Drivetrain:
4.0l w/ brown dog mounts and Ford Injectors
Aw4 tranny-- Np231 w/ HD SYE
D30 HP front w/ Chromo Shafts 760x u joints, Aussie Locker
D44 rear w/ Spartan Locker
4:56 Gear Ratio
Suspension:
Total= 4.5"
RC coils, Rear bastard pack.. 1.5" rear shackle, upper and lower flex joint control arms, no swaybars
Wheels/Tires:
33x12.5 Baja Claws on 15x8 Soft 8's
Other Notable Modifications:
3 core radiator w/ dirtbound triple electric fans, Front and rear recovery bumper w/ custom fabbed front winch mount, warn m8000 winch, JCR tie ins, hi lift, OTK steering, Double Sheer Trac Bar, CD player w/ Sattelite Radio
Favorite Modifications: Lockers! And trail rash.
Least Favorite Modifications: Having to park it next month for a year while i deploy.
Favorite trail: Honestly: All of them!
Best Trail Damage: Broke my old winch leg and shorted it, backfeeding catchign my map sensor on fire, then fire extuinguisher didnt work, ended up having to rewire the entire engine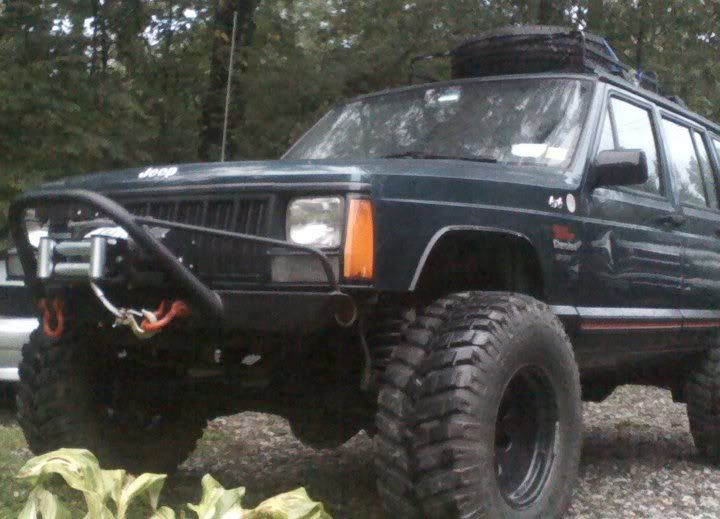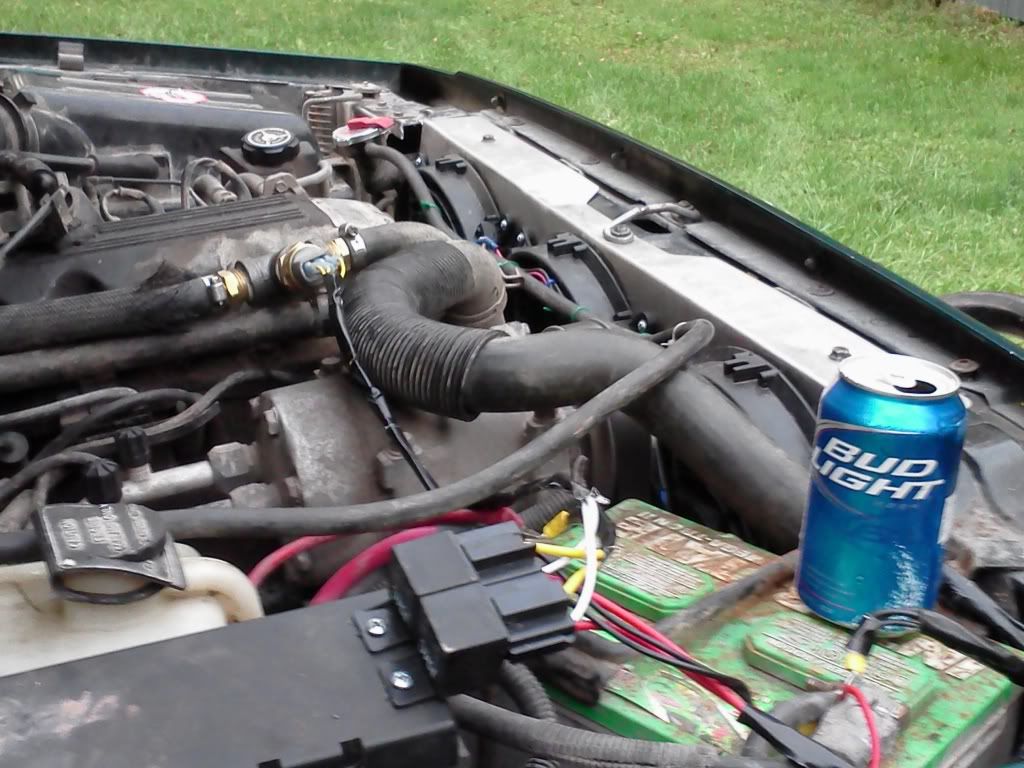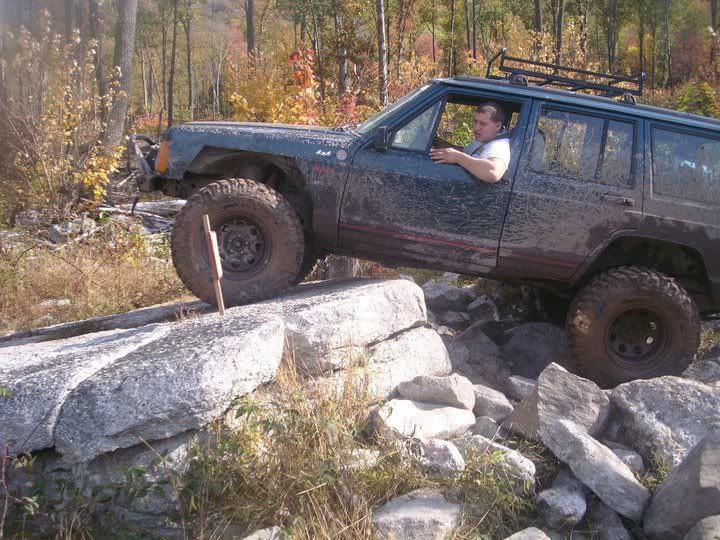 ENTRY 4. Biggn235
2. Bought the Jeep stock, broken, used, abused, and neglected. The Jeep has come a long way in just 7 months, and has a lot more coming.
Nickname: Atlas
Year:
1999
Model:
Sport
Drive Train:
AW4, NP231, 30/8.25
Suspension:
RC 4.5" coils, fixed LCAs, RC 3" leaf packs, 1" Daystar greasable shackles
Wheels/Tires:
15x8 Cragar Soft 8s, 33x12.5 BFG ATs
Other Notable Modifications:
Roof rack, recovery points, flat flares, some armor
Favorite Modification:
Power window fix
Least Favorite Modification:
Lifted without an adjustable/longer track bar
Favorite Trail:
Richland Rd, NC
Best Trail Damage:
Numerous scratches and dents
Build Thread:
http://www.jeepforum.com/forum/f177/...build-1212527/
3. Currently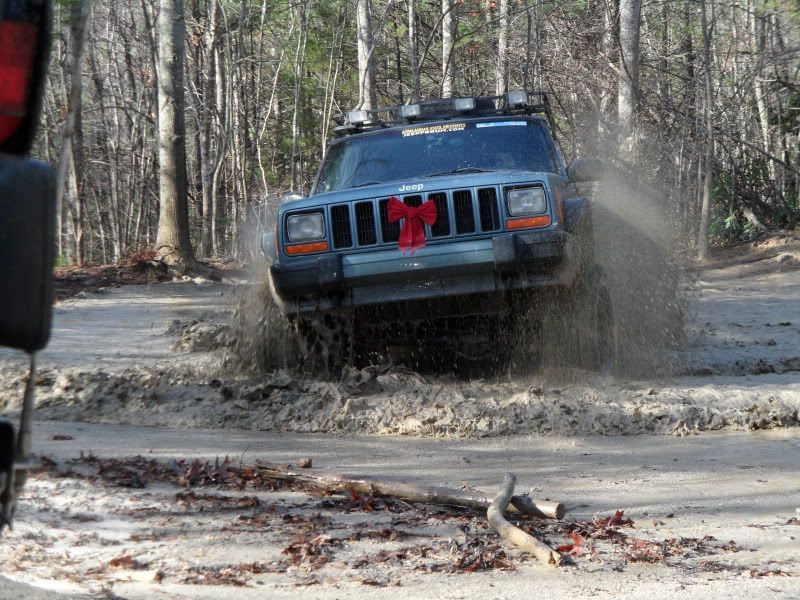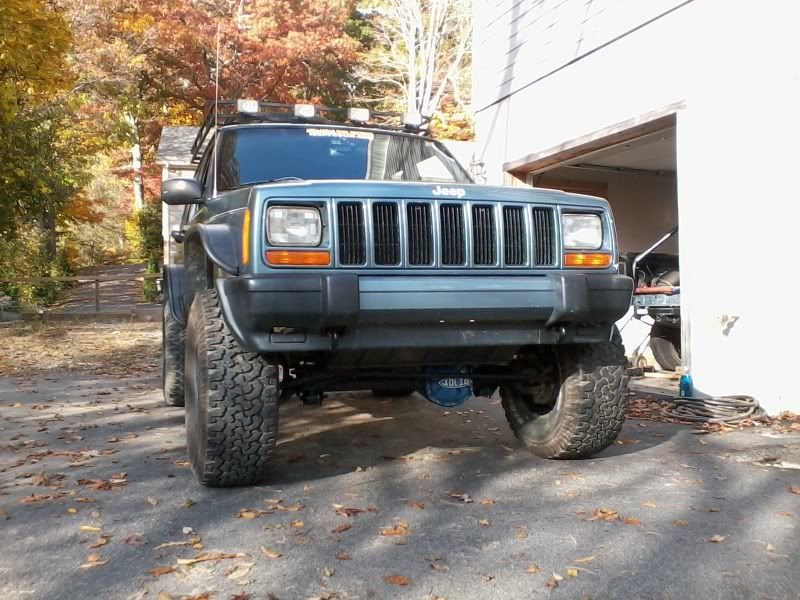 How it began