Its Friday, Im just sitting here watch TV and drinking an adult beverage. Looking through my phone I realized I took a fair amount of pics during installation of the HD no lift brackets, so I guess Ill share. A sort of alcohol induced "mini-writeup", if you will.
Ok, you got your brackets in the mail. Stare at em for a while. **** theyre beefy.
Now, get off your *** and find a day to get started. Get the Jeep on stands, unbolt shackles and let everything droop. You will need room to work.
Once this is complete, thats when you have to quit being such a buttercup communist ***** and bust out you metal destruction device of choice. I used a grinder with cutoff wheel. Cut and fold will make your life easier here. Now cut that stock **** out.
Paint it. And the brackets. You like rust? Course not. Spray that ****.
Put the brackets up in place, lining them up even with the unibody rail. Snug the bolts and mark your holes to drill through the floor. Yea I said drill through your floor. You will have to put your purse down to do this, sorry.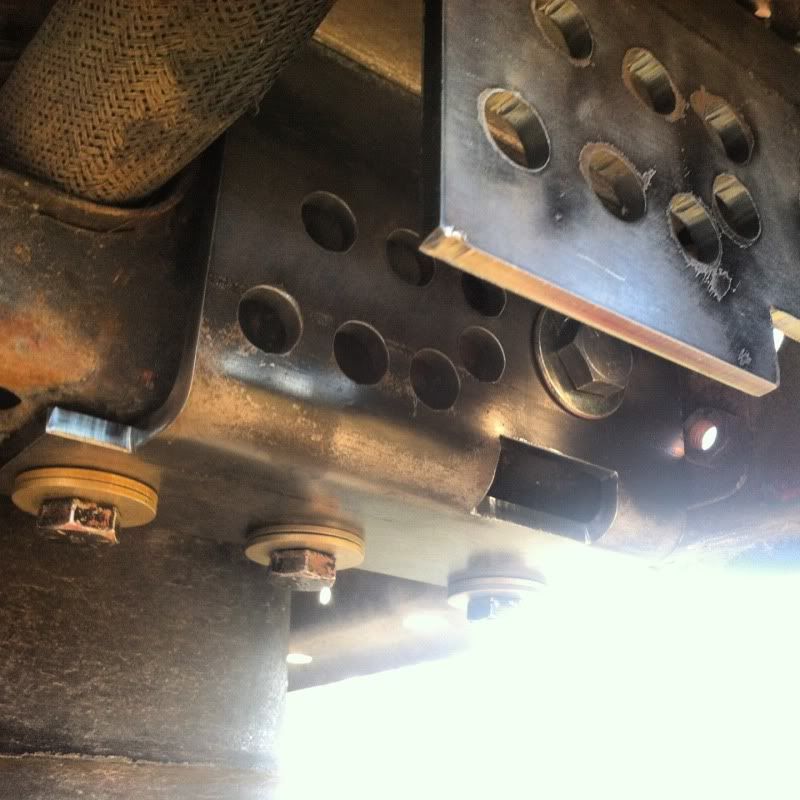 Now you wanna put the plate in and run the bolts through. HD ships rectangle shape plates, and Im not sure why. To seat nice and flat I trimmed mine, and from searching around, almost EVERY single person with these has had to do similar. I probably went overboard with trimming but I wanted perfect fitment. Heres trimmed plate.
All bolted up.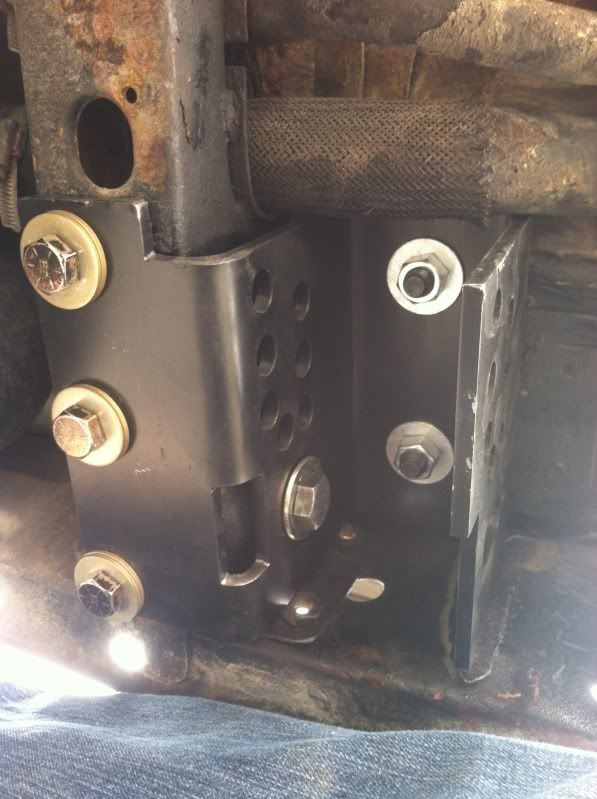 Havent drove with it yet, but I figured Id go ahead and give my impressions on install. This is my first experience with HD Offroad and I have been very pleased. From the time I ordered to the time this stuff was at my door was 48 hours during the postal services busiest time of the year. Package was well packed, everything was there, and quality was top notch. Everything match up great during install and it is incredibly stout. The factory shackle box setup is so thin its embarassing compared to this. I was able to cut both factory brackets off using only 1 4.5" cutoff wheel with minimal wear. Puny.
So far, I have no legit beefs with this setup. But I do have one pet peeve. Im not sure why they keep sending rectangle floor plates. Every case Ive read of someone running these, they have had to trim the floor plates to clear the fuel filler hump at least. HD Offroad is aware of this but still sends rectangle plates. How hard would it be to lob off a corner before it ships? That said, I understand the reasoning. Honestly anybody willing to take on a permanent decision like cutting out their factory shackle box is more than capable of trimming up some plate steel. So no harm no foul.
So far I give em an A+ for a good all around experience. Anxious to get some trail time on these things!!