Ive been putting off doing shackles out back a while now, and the saggy look is beginning to bug me. Currently running a full length AAL and thats it. I got enough lift out of it initially that it didnt look to bad but now that they are getting some miles on them, the leafs are settling some. So time to throw a lift shackle in like I shoulda done in the first place.
I will be doing something a bit different here as well. On my last 99 I used a 2" drop shackle for a full size GM truck, a part available and Autozone for 39 bucks. It yielded 2" of lift and fit almost perfect, only need a couple washers on the leaf side. Well, while digging around in my old parts stash of junk, I found a long lost pair of the same shackles, new in box!
Only problem is I only want about 1.5" lift, and while it has a hole for that, the back portion of it is too close to fit the leaf in. Nothing a little surgery couldnt fix. Good cheap alternative to nice shackle that is locally available anywhere. Even better if you have access to parts store discounts.
Original on top, shortened/clearance on bottom.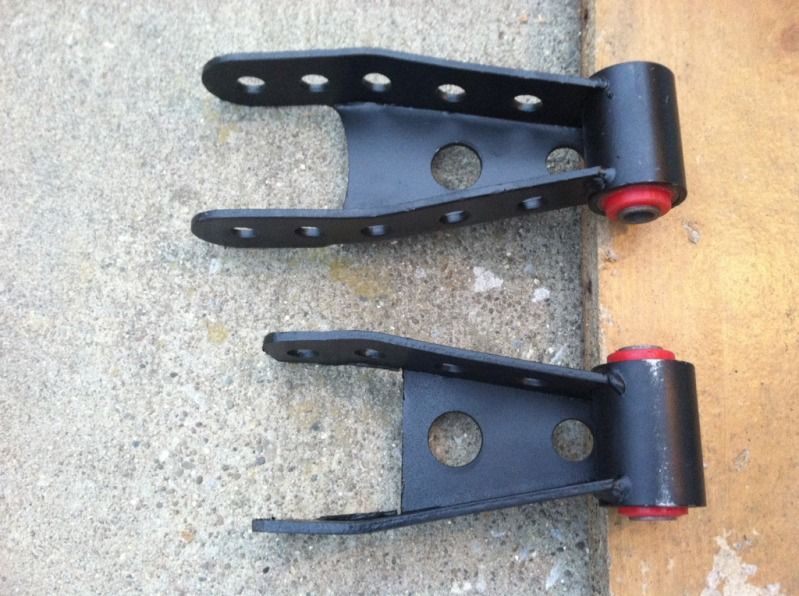 Will try and install these this weekend. Wish me luck against any seized bushings, broken weldnuts, and empty beer cooler!