Used the lift at work to get my front bump stops pushed in. I put the Jeep up in the air to droop the axles and then stuck and extra 4 hockey pucks in and then the bumpstops on top of them and then let the Jeep down to let the weight push them in. Took some trial and error but beat the **** outta pulling the coils.
I couldn't quite get it flex all the way with the service jack but it's damn close and I've still got room for up travel if I wanted to pull a puck out. I could probably fit 35s just fine how I'm setup at the moment. Lift arms are out in the picks to catch the Jeep in case it fell off the jack. It's not a long fall but I didnt' want to catch the jack and pop a tire either. They're not actually touching anything in these pics.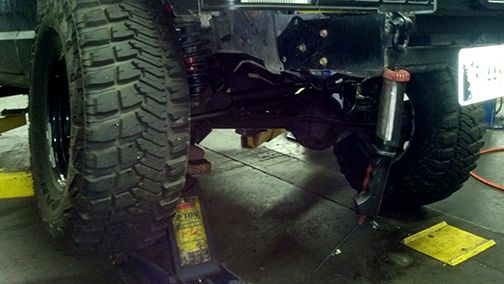 I'm 6'3" and the pass side fender was over my head at this point. Not bad for stock LCAs.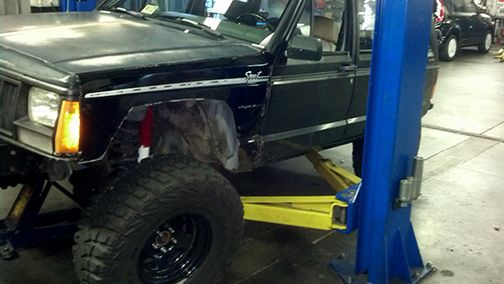 I couldn't get the rear up enough to catch the wheel well or the bumpstop but the axle tube is closer to the bump stop than the wheel well so I should be good. It's a solid 16" off the ground with the other 3 wheels planted here lol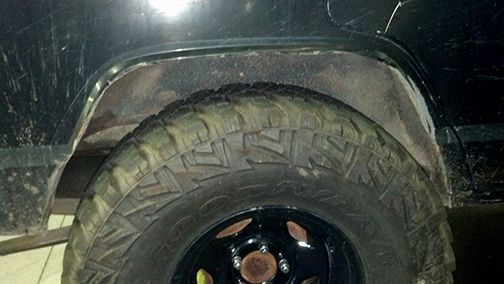 Left there and went over to one of my dad's job sites he said I could throw some mud in before they grade on Monday when I was done. Jeeps been too clean lately.
I also got an email back from the state senator I'd written about the land behind my house. Apparently he's never been back there because he wrote back saying the only reason he couldn't give me permission is he thinks there's no access (I told him I have a Jeep
). Wrote him back with pics of the paved road that runs up to it (it's part of an old road that's now divided in two by a highway that's been built since, pics below) so we'll see what happens. His email seemed positive about giving me written permission to drive back there if there was access.