Registered User
Join Date: Mar 2009
Location: Rochester
Posts: 274
Ol' Red 1999 cherokee build thread
---
Well to start this off I'm Marty and I live in Rochester NY, and I've always been into jeeps since my dad had one way back in the day. So finally August of 2008 I finally came up with enough cash to purchase a 1999 Cherokee Classic 4dr, 4.0 HO, 242, Automatic, C8.25, with 75,xxx miles. First thing I did was take it to my local Zebart store and got the underside completely undercoated. Then, I changed the turn and park signals to clear lenses and got myself a full set (except trunk) of Husky liner floor liners, which I love by the way.I tinted the front 2 windows @ 38%, and the windshield strip @ 20% I started changing the oil with Mobil 1 full synthetic, and gave her some seafoam.
I kept it this way for a while and used the jeep as a daily driver and a commuter on the weekends to get me home from college. Every once in a while I got the chance to take it out on some of the seasonal roads around school and had a great time.
In the spring of 2009 I purchased a Thule M.O.A.B rack and welded 6 light tabs on it, 4 front, 2 rear. I got 4 hella 500s off ebay and wired em up mself and they worked pretty good til they kept blowing fuses. I eventually got two walmart fog lights and wired em up as reverse lights.Then I got myself a TBS, which wasn't worth the $80 i spent on it, and at the same time I picked up a dynomax super turbo exaust kit from summit.
In the late spring I took a job working for the BLM out in New Mexico doing land surveying (what I go to skool for). I took the jeep with me, knowing it was going to be a long and strenuous trip. I drove pretty much all over New Mexco and did a bit of wheeling up in Colorado. i headed back around mid summer and rolled into my driveway with an 8,000 mile trip behind me. So now, in August of 2009, the jeep has 95,xxx miles on it.
Once back in NY, I'd accumulated enough funding for a lift and tires, and after almost a year of research I knew what I wanted- 3" lift, with full leafs b.c mine were shot, and 31"s. I decided to go with Rusty's 3" with full leaf packs. After looking around for tires, I mistakenly/impulsly bought some super swamper 31x11.5s which were not quite want I wanted (they are still for sale). I read a lot and researched Treadwright's retreads and I ended up getting the MTG's, which I really like.
stock with my bike rack on.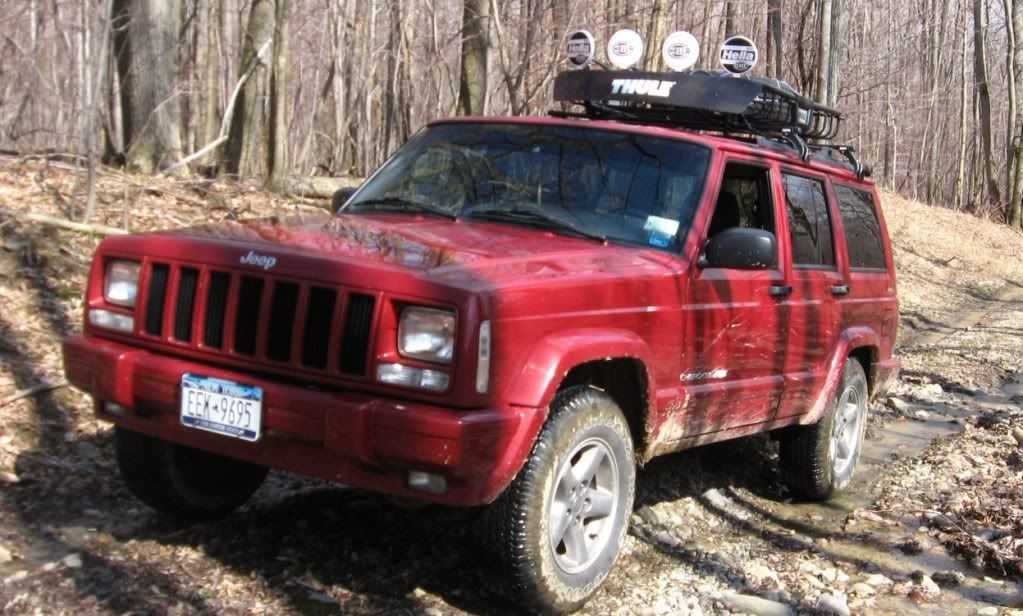 Wheelin on a seasonal road.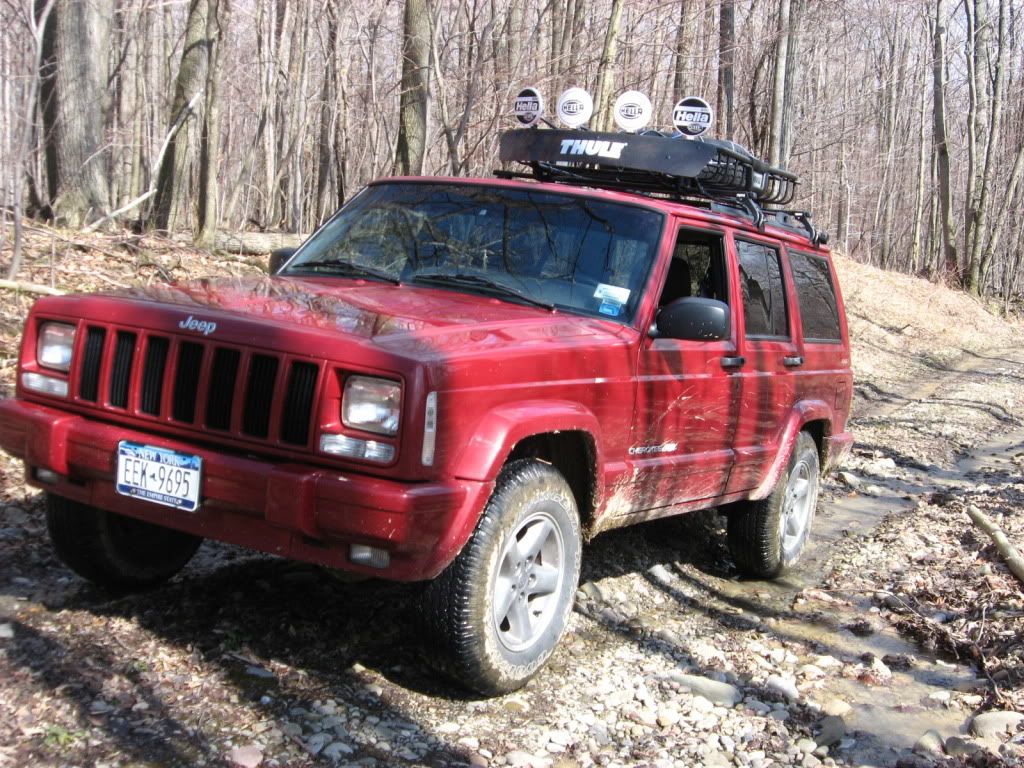 (more pics to come)
Registered User
Join Date: Mar 2009
Location: Rochester
Posts: 274
More pics
---
So after returning home from NM, I took out the entire interior and herculined the floor. This was quite a pain, but i got it done in about 3 days. I snapped one of the bolts off that held the drivers seat on, but drilled it out and put a new nut and bolt in with some big washers.
Along with the Rusty's 3 in lift and treadwright MTGs, I also purchased a set of Hicounty offroad cherokee tow brackets with the d-ring mounts.
the following pics are right after the lift with the stock tires.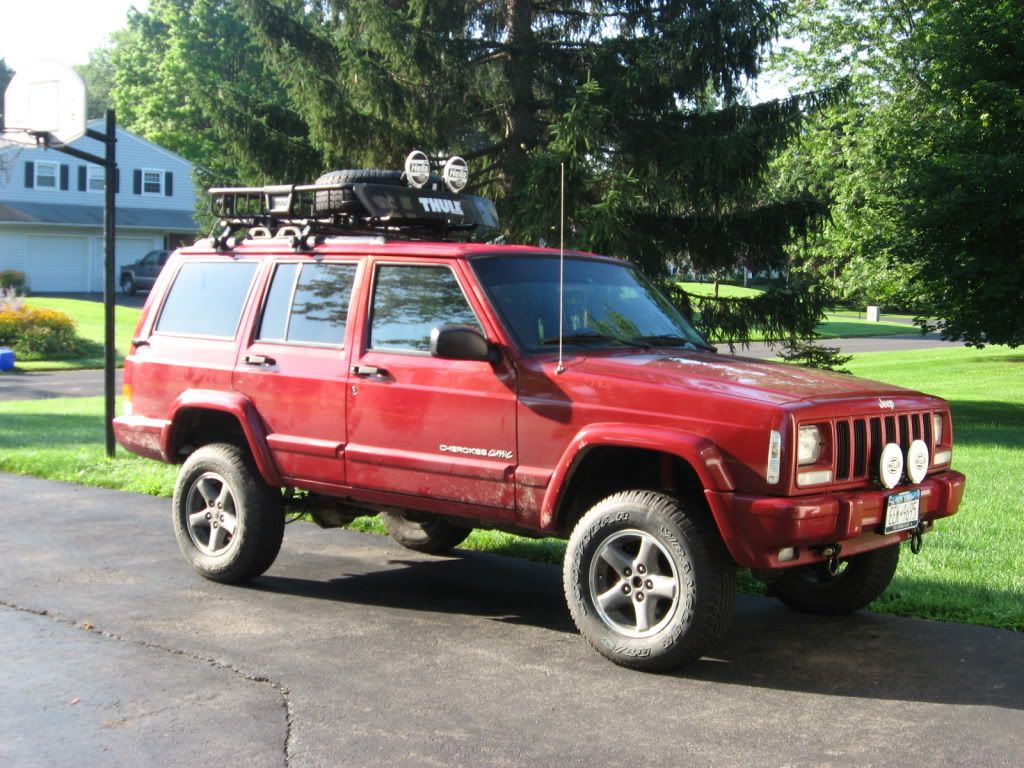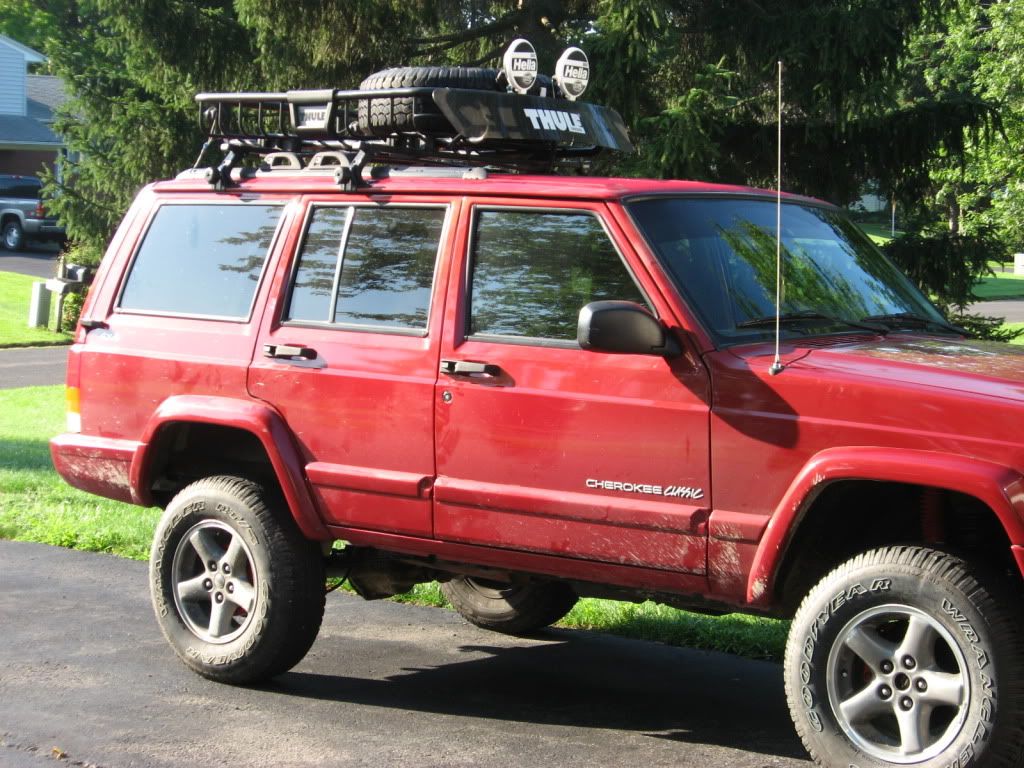 I moved the two outter hells off the roof and wired them to the stock fog light switch, which didn't work, so I purchased one off ebay and now they work great.
This is right after I got the tires installed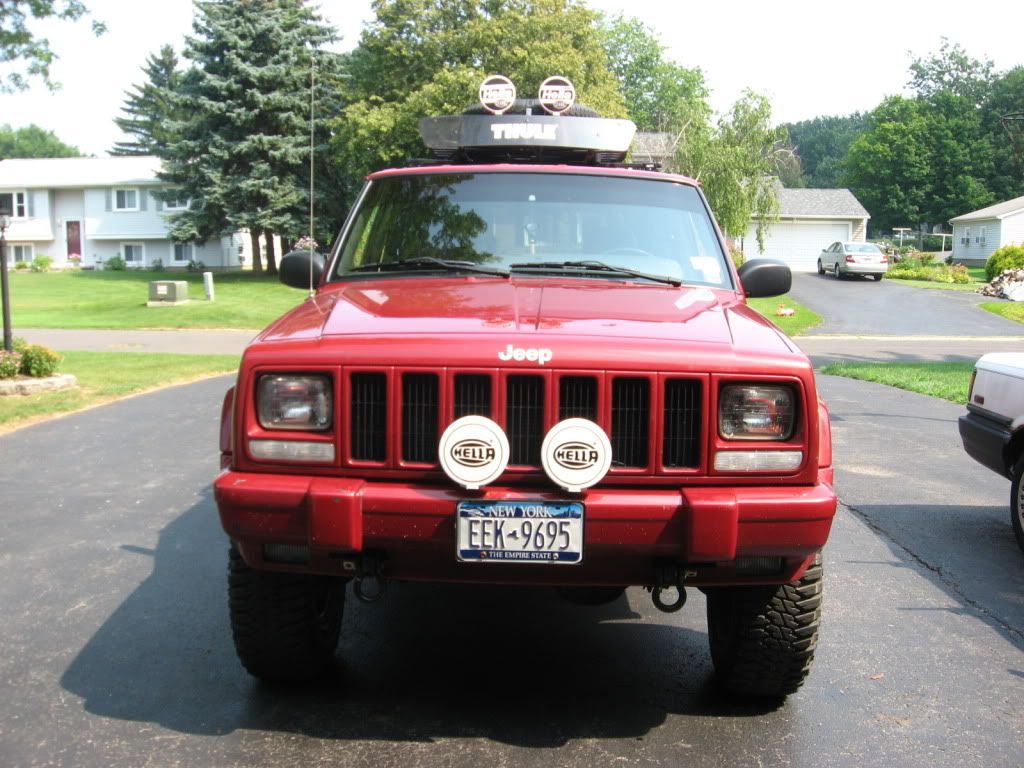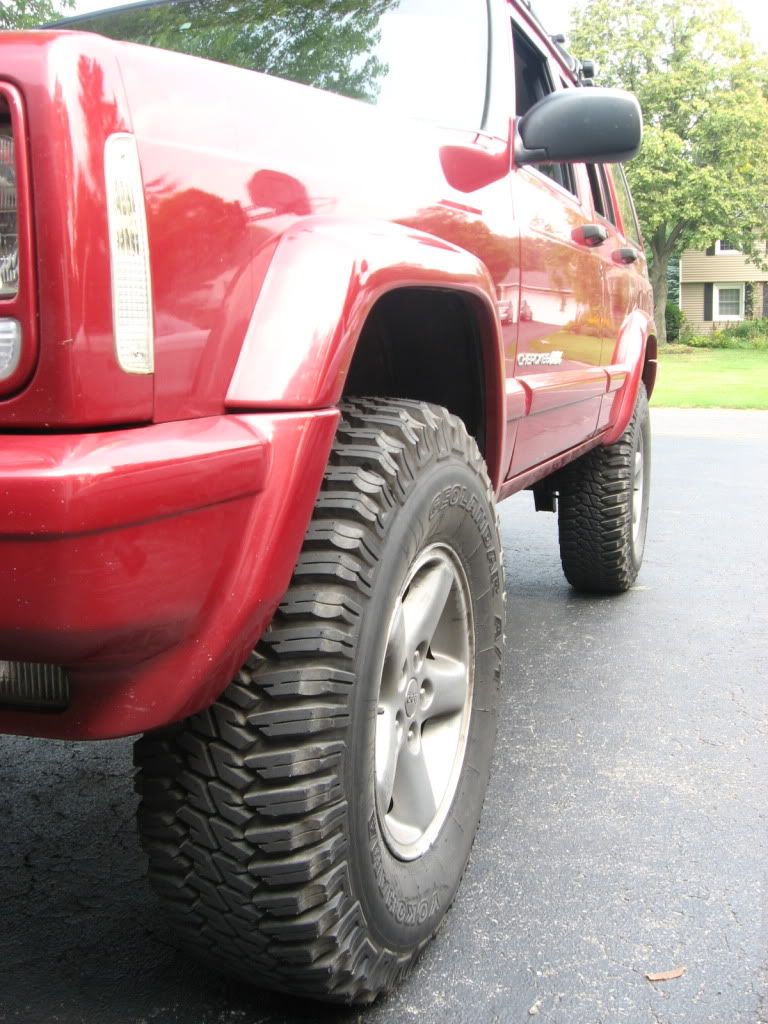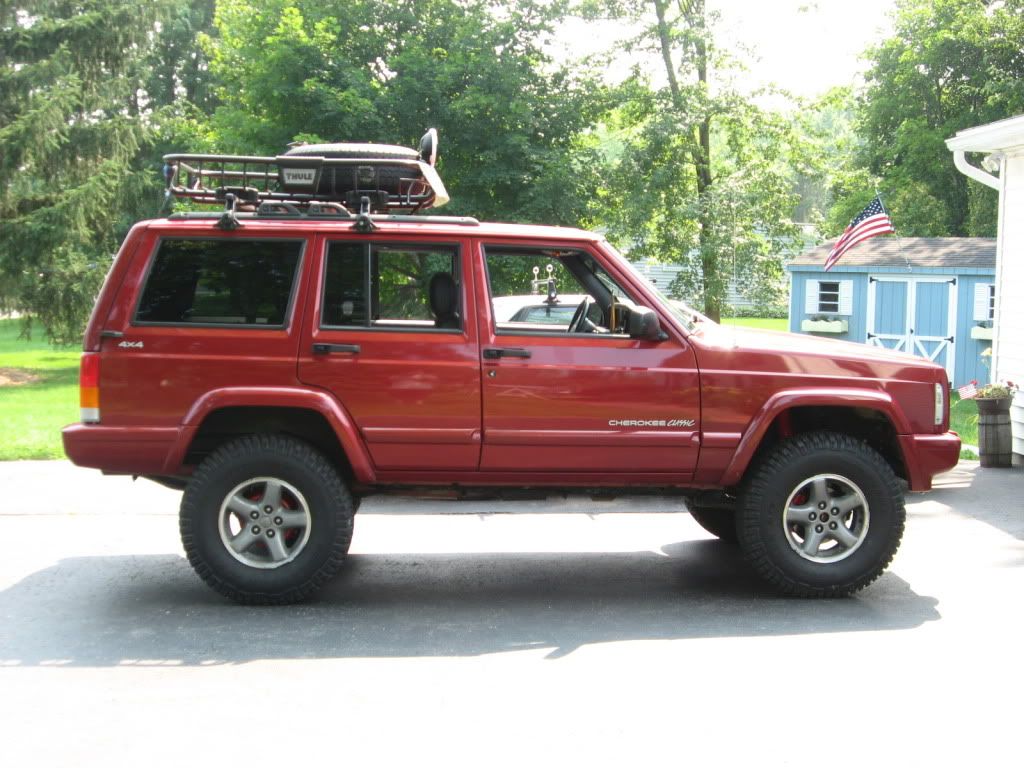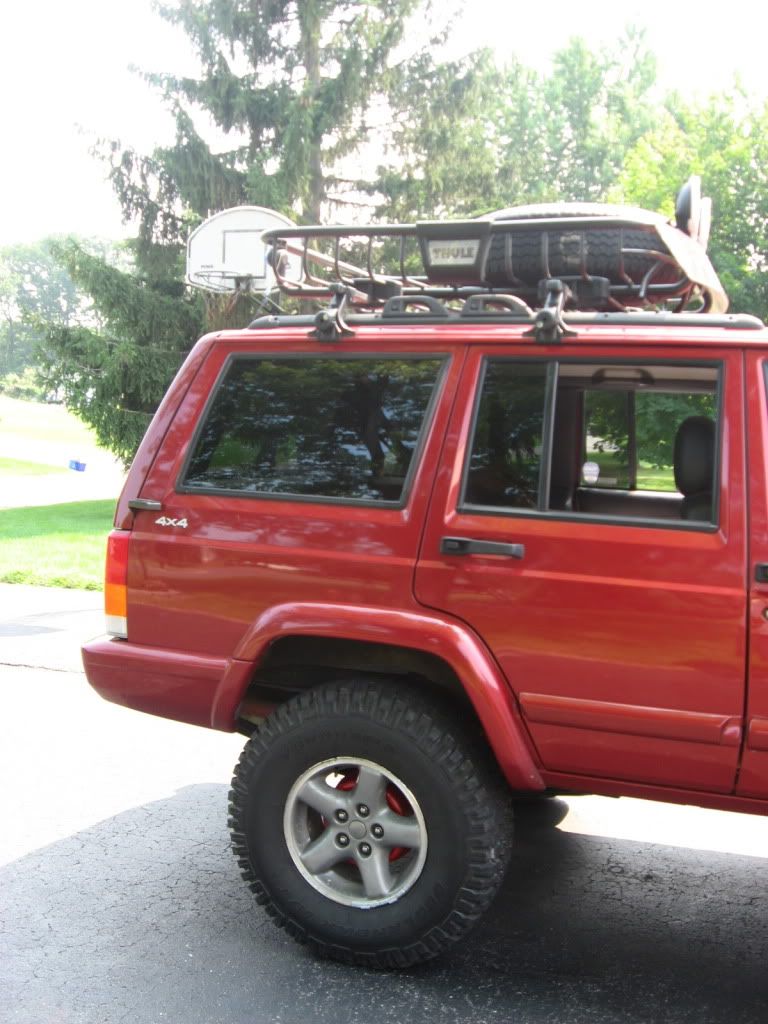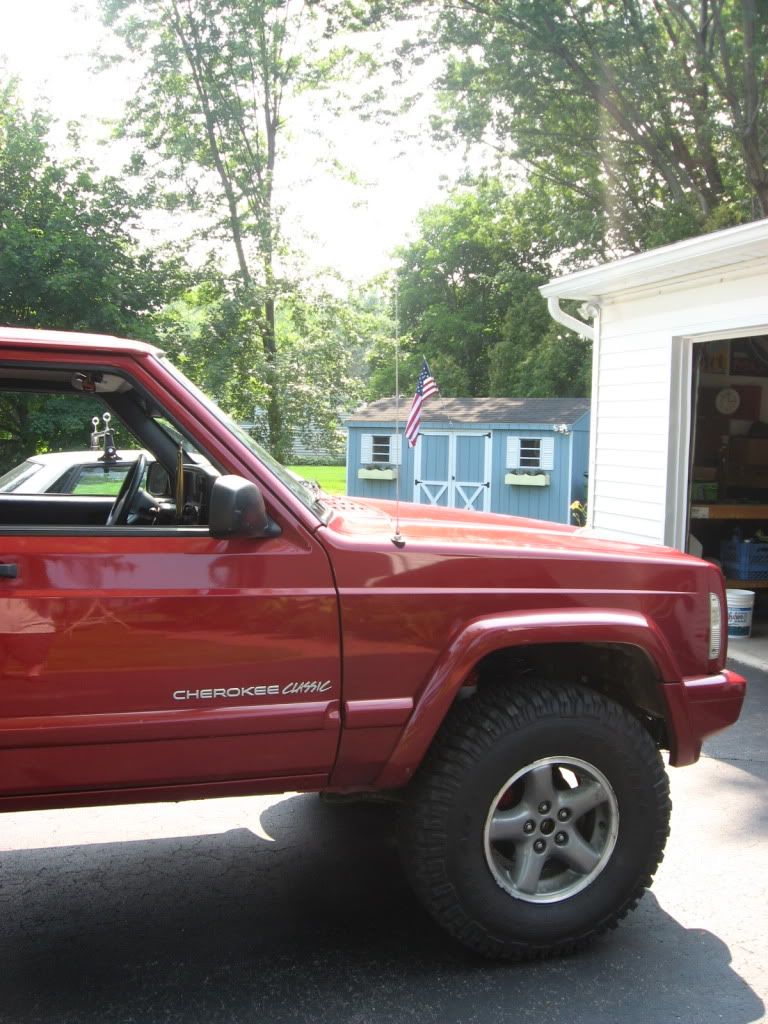 The lift took me a week and half, not joking! the front end went together in about 4 hours, no problems at all. So as I started working on the rear, I said this should be easy, the front is always harder than the back, so I guess I screwed myself there. But first off the upper shock mount bolts all snapped, then the driver side front leaf spring bolt stripped all the threads on the weld nut, so I had to cut out the mount and weld in a new piece with a new nut. Then the leaf springs were so stiff they wouldn't reach the shackles, so a combination of jacking up and down at the same time on the leaf was the way I ended up getting them in.
These are just a few shots of the leaf bolt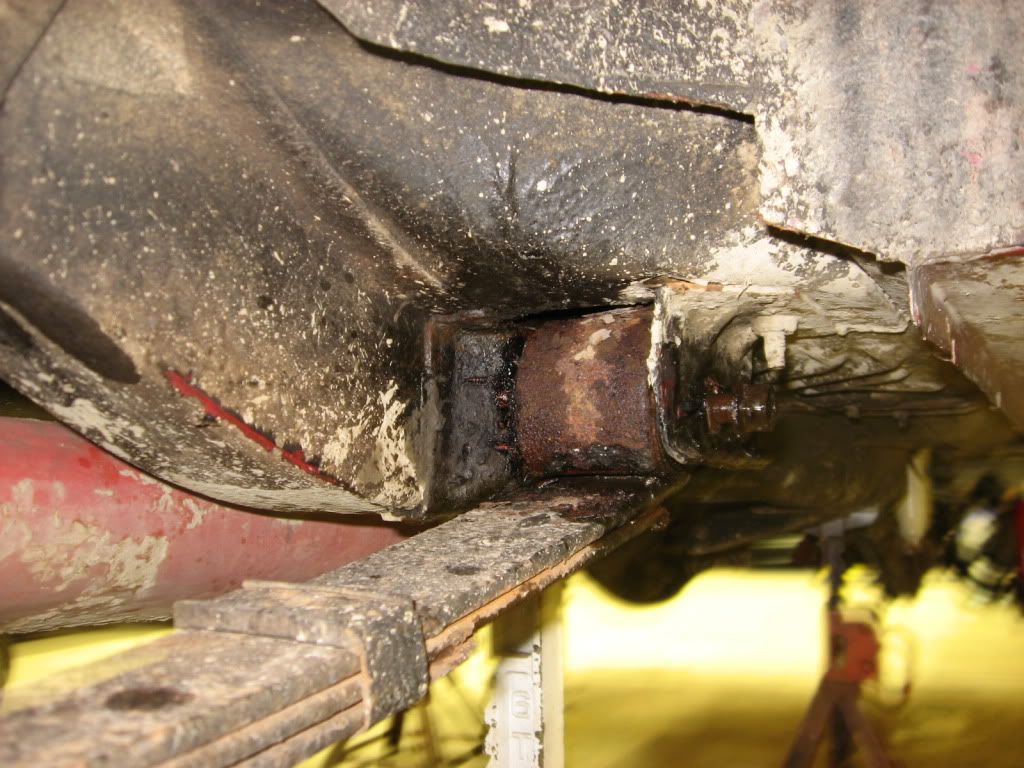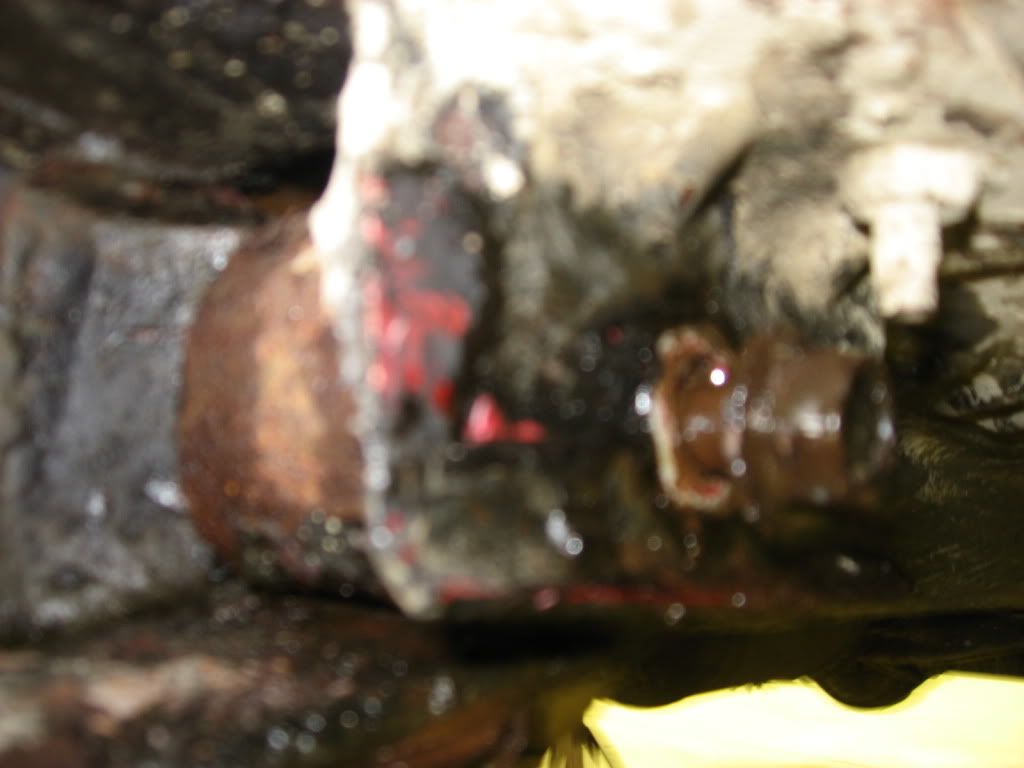 More pics to come
Registered User
Join Date: Mar 2009
Location: Rochester
Posts: 274
Hicountry offroad tow brackets.
---
Here are the tow brackets I purchased from Hicountry Offroad.
In order to put these on the sway bar mounts must be removed, all new hardware is included for these. If you notice on the underside of the frame (pass side) there are 3 holes, the bracket used all three. On the side of the frame there are also 3 holes, the middle one had a bit of sheetmetal covering it, only about 1/4 of the hole, but it was on both the outside and the inside. I used a drill to remove the excess metal. I had to cut a big hole in the lower front bumper guard, but it was only plastic, so i just used a zip wheel and removed the plastic where the bracket sticks out.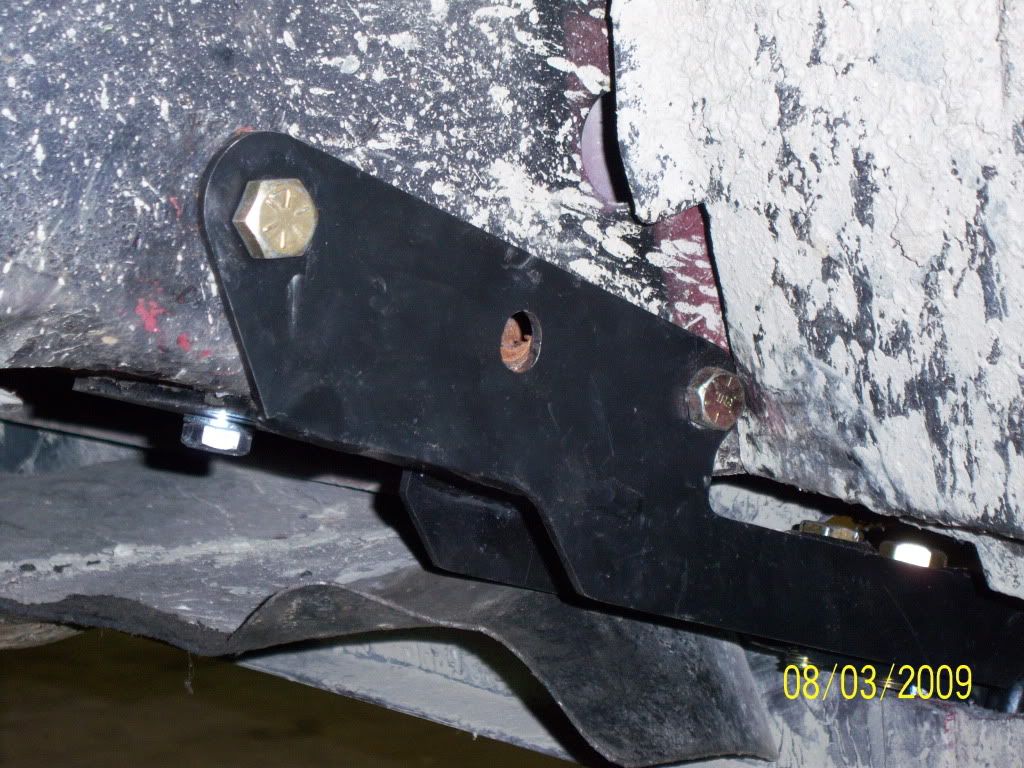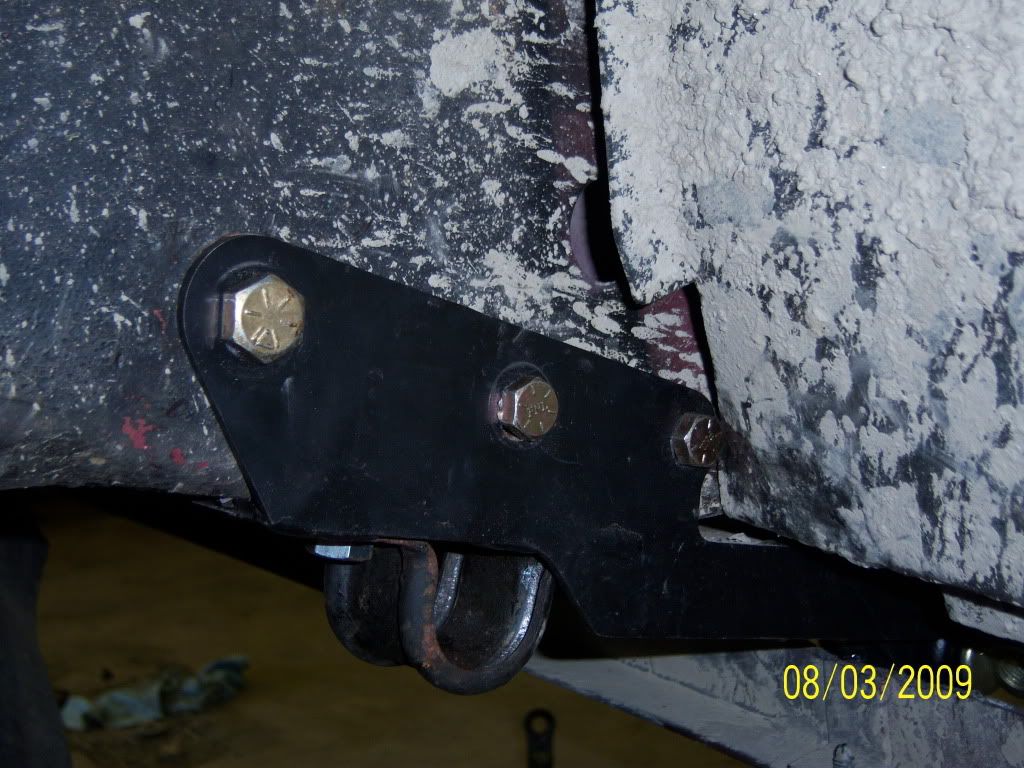 As you can see from the under side, the mount bolts right in using the sway bar mount and the extra hole next to the sway bar mount.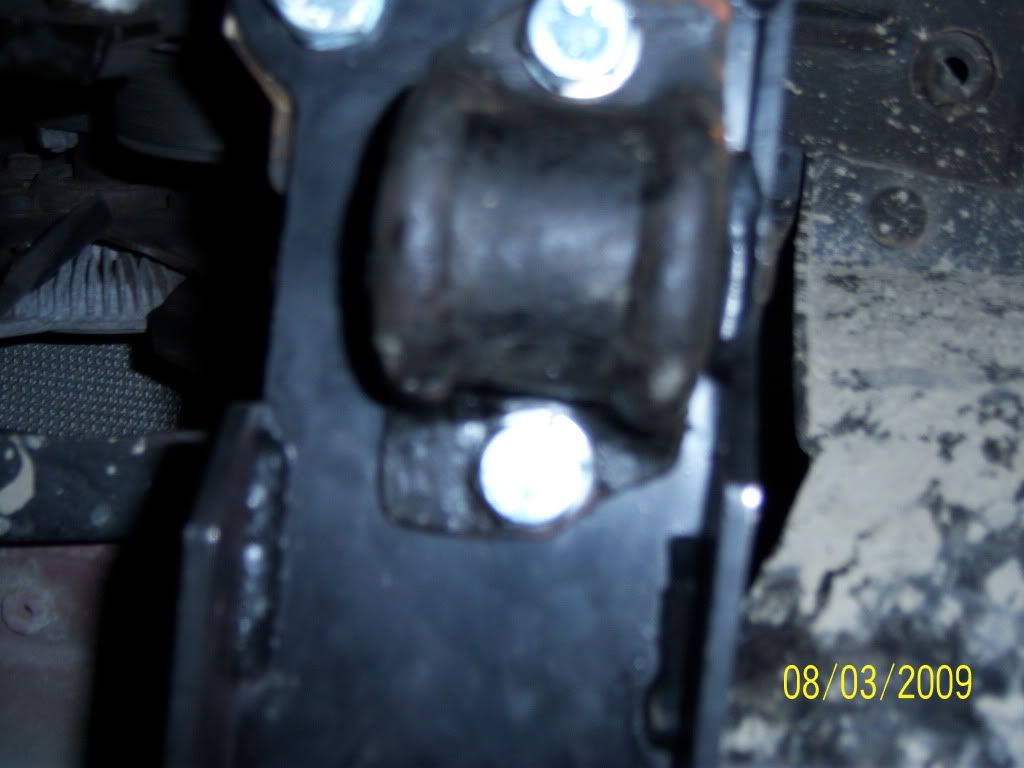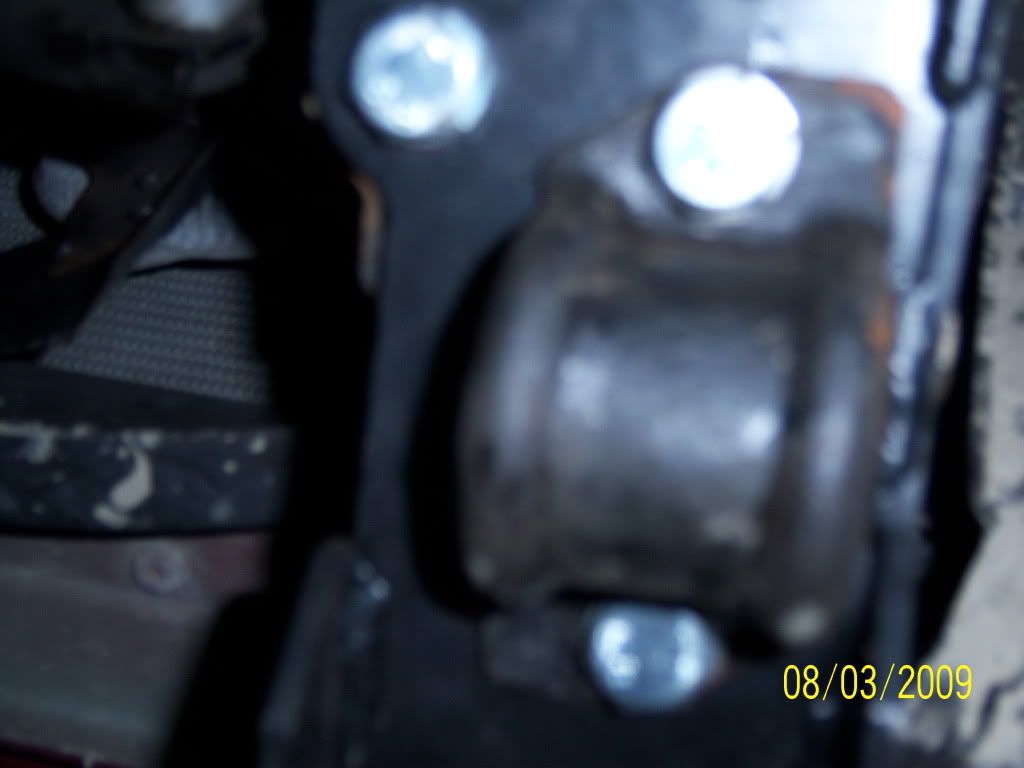 Currently Active Users Viewing This Thread: 1

(0 members and 1 guests)
Posting Rules

You may post new threads

You may post replies

You may not post attachments

You may not edit your posts

---

HTML code is Off

---