Well to start this off I'm Marty and I live in Rochester NY, and I've always been into jeeps since my dad had one way back in the day. So finally August of 2008 I finally came up with enough cash to purchase a 1999 Cherokee Classic 4dr, 4.0 HO, 242, Automatic, C8.25, with 75,xxx miles. First thing I did was take it to my local Zebart store and got the underside completely undercoated. Then, I changed the turn and park signals to clear lenses and got myself a full set (except trunk) of Husky liner floor liners, which I love by the way.I tinted the front 2 windows @ 38%, and the windshield strip @ 20% I started changing the oil with Mobil 1 full synthetic, and gave her some seafoam.
I kept it this way for a while and used the jeep as a daily driver and a commuter on the weekends to get me home from college. Every once in a while I got the chance to take it out on some of the seasonal roads around school and had a great time.
In the spring of 2009 I purchased a Thule M.O.A.B rack and welded 6 light tabs on it, 4 front, 2 rear. I got 4 hella 500s off ebay and wired em up mself and they worked pretty good til they kept blowing fuses. I eventually got two walmart fog lights and wired em up as reverse lights.Then I got myself a TBS, which wasn't worth the $80 i spent on it, and at the same time I picked up a dynomax super turbo exaust kit from summit.
In the late spring I took a job working for the BLM out in New Mexico doing land surveying (what I go to skool for). I took the jeep with me, knowing it was going to be a long and strenuous trip. I drove pretty much all over New Mexco and did a bit of wheeling up in Colorado. i headed back around mid summer and rolled into my driveway with an 8,000 mile trip behind me. So now, in August of 2009, the jeep has 95,xxx miles on it.
Once back in NY, I'd accumulated enough funding for a lift and tires, and after almost a year of research I knew what I wanted- 3" lift, with full leafs b.c mine were shot, and 31"s. I decided to go with Rusty's 3" with full leaf packs. After looking around for tires, I mistakenly/impulsly bought some super swamper 31x11.5s which were not quite want I wanted (they are still for sale). I read a lot and researched Treadwright's retreads and I ended up getting the MTG's, which I really like.
stock with my bike rack on.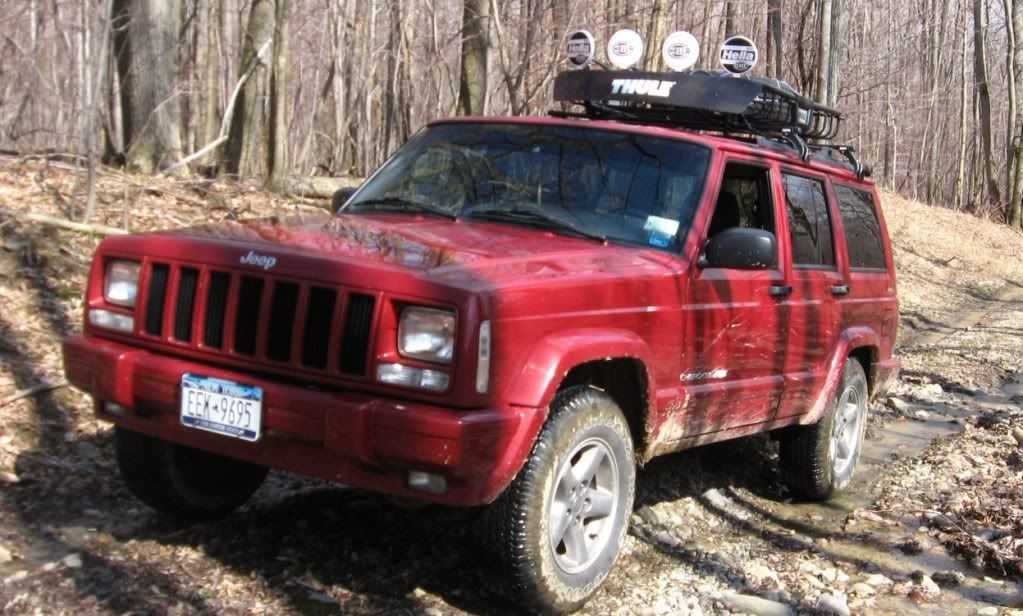 Wheelin on a seasonal road.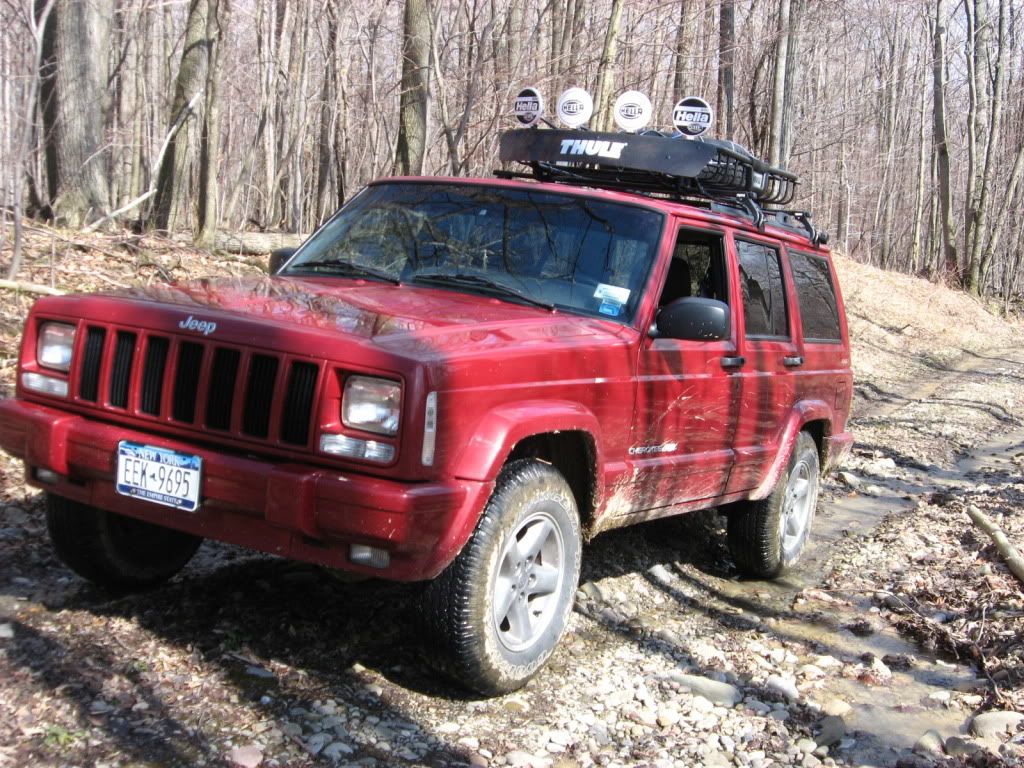 (more pics to come)