Entry #1
rob92xj
92 XJ 4.0L AW-4 NP 242 with SYE
Front axle Dana 30 with lock rite, 4.56 gears, 297x shafts, full cast rotors and hub bearings from a 99+
Rear axle Chrysler 8.25 thats been shaved, 4.56 gears limited slip, 29 spline shafts ZJ rear disks, home brew diff cover in the works
Lift Rustys 4.5" lift with 1.75" BB in front RE 1.5" boomerang shackles in rear, home fabbed bumpstops
1 ton steering, 88 Waggy steering box Rustys steering box brace and C-Rok frame strengthener/ steering box re-enforcment
Wheels Pacer Soft 8s 15x8
Tires BF Goodrich Mud Terrains 35x12.5x15(waiting for the new MT KM2's)
Interior 00 XJ headliner with rear speakers, 00 XJ center console(love the cup holders) Herculined floor, Hunsaker Sports Syncro full suspension seats with 5 PT harness
Armor Mopar front skid plate and fuel tank skid, home brew 2x3 rocker slides, 1/4 plate t-case skid with 2x3x3/16 crossmember(skid and crossmember made 2 days before URE cross race pic 2)
Other stuff Rustys taillight housings with LED lights from
www.vehiclelight.com
, Uniden PC68 CB, Highlift on modified rack mounts, ported throttle body, Poweraid throtle body spacer, 4.7L stroker in process with 99 intake
Entry #2
Cruzin Illusion
Owner Tom and Rebecca Barger
Hometown Commerce City , Colorado
Vehicle Type 1987 Jeep Cherokee Pioneer
Builder Tom Barger
Chassis
Frame / Chassis Design Stock
Frame / Chassis Materials Stock
Cage / Cage Material Cruzin Illusion Customs 10 point Cage / 1.5"x.120
Overall Wheelbase 102 inches
Overall Length 168 inches
Belly Pan Clearance 25 inches
Overall Height 73 inches
Wheel Track Width 78 inches
Overall Weight 4600 lbs
Drivetrain
Front Suspension / Type / Materials 8.5" TNT Customs Y-Link with 7" Rubicon Express Extreme Duty Coils
Front Sway Bar N/A
Front Shocks Sky Jacker Nitro's
Front Bump Stops Cruzin Illusion Customs Custom Length Bumpstops
Front Axle Housing Cruzin Illusion Customs Shortened Ford HP Dana 44
TNT Custom's High Pinion Dana 44 Truss Conversion
TNT Customs Above Axle Track Bar Conversion
Front Differential / Locker ARB Locker
Front Ring & Pinion / ratio 5.13 Yukon Reverse Cut Gears
Front Differential Cover Riddler Manufacturing Chromoly Differential Cover
Front Axle Shafts Alloy USA Custom Length Chromoly Inner Shafts
Alloy USA Chromoly Outer Shafts
Front U-Joints Yukon Super U-Joints
Front Drive Flanges / Hubs Warn Premium Hubs
Front Brakes Chevy 1/2 Ton Brakes
Front Steering Setup Matt Cooks Drag Link and Tie Rod
Parts Mike Parts High Steer Arms
C-Rok Sleeved Inner Steering Brace
PSC Hydraulic Assist
Front Driveshaft Drivetrain Specialties
Rear Suspension / Type / Materials Cruzin Illusion Customs 4-Link with Fox Shock Coilovers
using Rock Krawler Axle Brackets and TNT's Truss
Rear Sway bar N/A
Rear Shocks Fox Shock 10" Coilovers
Rear Bump Stops N/A
Rear Axle Housing Dana 44
Rear Differential / Locker 33 Splined Detroit Locker
Rear Ring & Pinion / Ratio 5.13 Yukon Gears
Rear Differential Cover Crane Hi-Clearance Differential Cover
Rear Axle Shafts 33 Splined Superior Axle Shafts
Rear U-Joints N/A
Rear Drive Flanges N/A
Rear Brakes Cruzin Illusion Customs Ford 8.8 Disc Brake Conversion
Rear Driveshaft Drivetrain Specialties
Rear Steering Setup N/A
Tire Make / Size BF Goodrich Krawlers / 35" x 13.5" x 15
Wheel Make / Size / Bolt Pattern Cruzin Illusion Customs DIY Beadlocks 15X9 5x5.5 3.75" BS
Powertrain
Engine Make AMC
Engine Displacement 4.0 Liter
Engine TQ 220 ft lb @ 4000RPM
Engine HP 177 HP @ 4750 RPM
Engine Induction
Engine Modifications N/A
Batteries Blue Top Optima
Radiator / Fans Performance Radiator 2 Core
MAC's Radiator Close System Aluminum Coolant Bottle
Air Intake Cruzin Illusion Customs Air Intake
K&N Air Filter
Exhaust Custom 2.5 Inch Exhaust
Transmission Make AW4 - 4 speed automatic, electronically controlled - manufactured by Aisin
Transmission Adapters N/A
Transmission Cooling System B&M model #70268 Transmission Cooler Kit
Torque Converter Stock
Transmission Shifter Automatic
Transfer Case(s) NP242 Transfercase 2.72:1 ratio low range
Tom Wood's SYE
Fuel Containment Stock
Body / Interior
Body / Body Panels Cruzin Illusion Customs Tube Doors
Body Modifications Cruzin Illusion Customs Tube Fenders - Quarter Guards
Cruzin Illusion Custom's Door Pin Off Conversion
Cruzin Illusion Custom's Frame Rail Reinforcements
Rear Quarter Panels Cut and Folded Modification
Skid plate / Material TNT Customs HD Belly Pan with Transfercase Skid
Cruzin Illusion Customs Rock Sliders
Painter Name Mike Sweet
Hood / Grille Cruzin Illusion Customs CJ Grille
Floors / Firewalls Stock
Dash / Gauges / Switches Stock / Autometer Water Temp Guage / Standard Switches
Steering Column / Wheel Stock / Grant
Pedal Assembly / Cutting Brakes N/A
Seats / Harnesses Master Craft Rubicon Seats
MasterCraft 5 Point Racing Harnesses for Front Seats
MasterCraft 4 Point Racing Harnesses for Rear Seat
Electronics Cruzin Illusion Customs Manual 4 Low 2nd Gear Switch Modification
Lights Interior / Exterior Roundeyes.com H4 Headlights
LED Tail Lights Rear
Safety - Fire Extinguisher Standard Fire Extinguisher
Winches - Front / Rear Warn M8000 with Master Pull Synthetic Rope
Extras 10lb. CO2 Air Tank
Rigidco Front Bumper with Boxed in Frame Supports
Rigidco Rear Bumper with Tire Carrier
Entry #3
MG2000XJ
2000 Limited XJ, Lp Dana 30, Chrysler 8.25, Np242, Aw4
Rubicon Express 4.5" Superflex Kit
4 33x12.50r15 BFG Mud Terrains
5 15x8 4" Bs Cragar "D" window steelies
1 33x12.50r15 Mickey Thompson Baja Claw
Hella 500's driving lights
Jks Mini Skids
Jks BPE's, front lower
MORE steering box brace
C4x4 tow hooks and brackets
Herculined roof and rockers
Bushwackers
Rubicon Express Hd trackbar
Rubicon Express Hd trackbar bracket (2)
Jcr 1 ton steering
1 ¾" spacers
Rock Krawler 3 link longarm upgrade
4.5"-5.5" Rubicon twin tube shocks
Custom intake
2" rear hitch w/ receiver shackle
Rancho steering stabilizer bracket
Rubicon Express steering stabilizer
Rubicon Express hack & tap
Rubicon Express driveshaft
Alpine amp
Alpine 6.5" coaxial speakers (4)
Polk 6.5" component speakers (2)
JL 8W7 subwoofer & box
Alpine head unit (2)
Entry #4
GravesdiggerXJ
1999 XJ sport 4 door 4.0 HO, AW4, NP231
Susp/Steering
5.5" in front 5" rear.
Rubicon Express 3.5" Coils, 2" spacers
Modified Rock Krawler 3-link Long arm
Center Limit strap
modified Rock Krawler quick disconnects
RE Extreme duty Track bar (Modified to run over the axle) and bracket.
Rocklogic 1 ton steering 3/8" wall DOM over the knuckle
Modified Rusty's Offroad steering box support
Plated the driverside framerail on all 3 sides all the way back to the trackbar bracket with 1/4" steel
Procomp steering stablizstabilizer Rusty's/ RockKrawler/ Teraflex hybrid leaf pack (sagged) 1.5" Teraflex Shackles
Skyjacker Hydro's in front and Rancho 9000s in back
Drivetrain
76' Ford High Pinion Dana 44 fullwidth front, 1/2" thick tubes with homemade brackets, truss and JKS over the axle bracket. Alloy USA X-Joints with full circle clips. Warn Premium hubs. Lockrite locker, 4.88 gears.
76' Ford 9" rear axle. 4.88 gears. Lincoln Locked with a Detroit sitting in the garage.
15x8 interco "soft 8 hole" wheels
35x12.50x15 Goodyear Wrangler MTR's
Front shaft from an 88' 4.0 manual (shorter)
**** SYE. front driveshaft in ther rear shortened/ retubed with heavy wall tubing by Tatton's drivelines
Engine
Stock 4.0
K&N Filter
Cherry Bomb Muffler
180* thermostat
Armor:
Homemade tube/ prerunner front bumper
Homemade diff armor and lower control arm skids
Homemade rear bumper with quarter panel guard to protect cut q-panels
Homemade sliders w/ 1/4" 2'x2" square and 1.75" DOM
Homemade full belly skid
Custom T case skid
Five Bolt Main gas tank skid
Other:
Tons of cutting
yakima roof rack
Traction/ antiwrap ladder bar that protects the rear driveshaft
homemade quick disconnect mudflaps, Rear bushwackers to keep the 5-0 off my back.
200w cop light
Rock lights, top lights
c/b with PA speaker
60" Hilift
Read my build thread here
http://www.naxja.org/forum/showthread.php?t=927699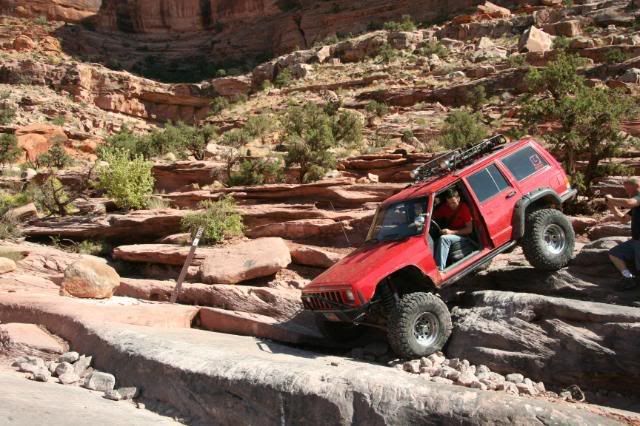 Entry #5
Sccrstar011
1998 Cherokee Classic (2wd from factory....ewww)
Engine:
4.0 I6
Front axle:
Dana 30
Lunchbox Locker
Stock gears
Rear axle
Chrysler 8.25
Stock Gears
Lift:
4" Coils in the front
Stock leaf springs with lift blocks
Wheels/tires:
32x11.5x15 BFG Mud Terrains
Craiger Soft 8's
Other:
Front and Rear Hitch
Homebrew Spare tire carrier that mounts in rear hitch
Pioneer Head unit with sony xplodes all around and a 12" sub in the cargo area
Custom Bike rack using factory rack
Trimmed fenders with black 3m molding around cut edge