(Sorry for the long first post)
I recently purchased my first Jeep about 3 weeks ago. Bought a 1997 Jeep Cherokee Sport with 86000 on the odometer for $3000. After getting home with it and crawling under it again I noticed the engine appeared to be one out of a different Jeep (96 Jeep was wrote on the bottom of engine). Body is in pretty good shape with a couple minor dents. When purchased it I knew it needed new windshield and a ujoint in the near future. I drove it home 250, it started idling a little weird at a couple stop signs but not too bad. Once home I replaced the passengers side Ujoint which seemed to get way worse on the drive home (going to do the drivers eventually).
After about two days of driving it started getting worse and had soot coming out of the tailpipe . After searching lots of threads on here I decided to change plugs, wires and distributor cap. The plugs were covered in soot and looked pretty old. After replacing those it did not help at all in the idling issue. After more searching I decided to take off the throttle body and clean it and the IAC and TPS. This also did not fix the problem and it continued to get worse. I purchased a new TPS and IAC to try but neither seemed to fix the issue. I returned the IAC but kept the TPS because it looked pretty rough.
I decided to take it to a mechanic in town who did free diagnostic checks. His computer was not advance enough to read it fully but he said it was losing connection around the crankshaft position sensor. I decided to just try that ( since i read they are known to go out) as well as the 02 sensor. For about 2 minutes of driving it ran better but not perfect. It started getting worse and would barely run, it was acting like it did not get fuel when giving it gas it would sputter and almost die. I once again took it in to get checked out since I had changed the CPS. They said it was showing high voltage around the MAP and rear 02 sensor but once again the system the used was not good enough to tell for sure. I finally decided to take it to a mechanic they recommended with a better system. They came to the conclusion that it was the MAP after they did an override and it ran perfect. So MAP was replaced and now it runs good!
It still has a few minor things that need fixed, plan on replacing front brake pads and other ujoint this weekend as well as change the oil. Checked the antifreeze and its looking pretty dirty so plan on draining that and replacing in the next week or two and plan on changing transmission and diff fluid in the near future. I have noticed that when in drive there is a vibration on the floor board that sounds like metal to metal. It mainly does this when accelerating and when at a stop in gear. Of course I try to get it to do it when I am actually at home so I can crawl under and figure it out but it won't do it then.
Other future things to do is remove seats and clean the carpet (its a little dirty), need to check CEL light because it is not working, replace headliner that is sagging and tint windows with tint i already purchased. I also am in search of a lift kit in the next few months to purchase. I have 5 crager wheels on BFG Mud Terrain KM2's 31 10.5 15's I bought for $225 from a family member, 3 tires are almost brand new so have to purchase 2 new ones. Also plan on purchasing a Tcase skid plate soon to do some off road parks around here while its stock to see how it does.
It is a work in progress and will probably be done a little at a time. I am really excited to finally be part of the Jeep community though!
Thanks for looking at my thread and sorry its so long!
"Flexing" the stock suspension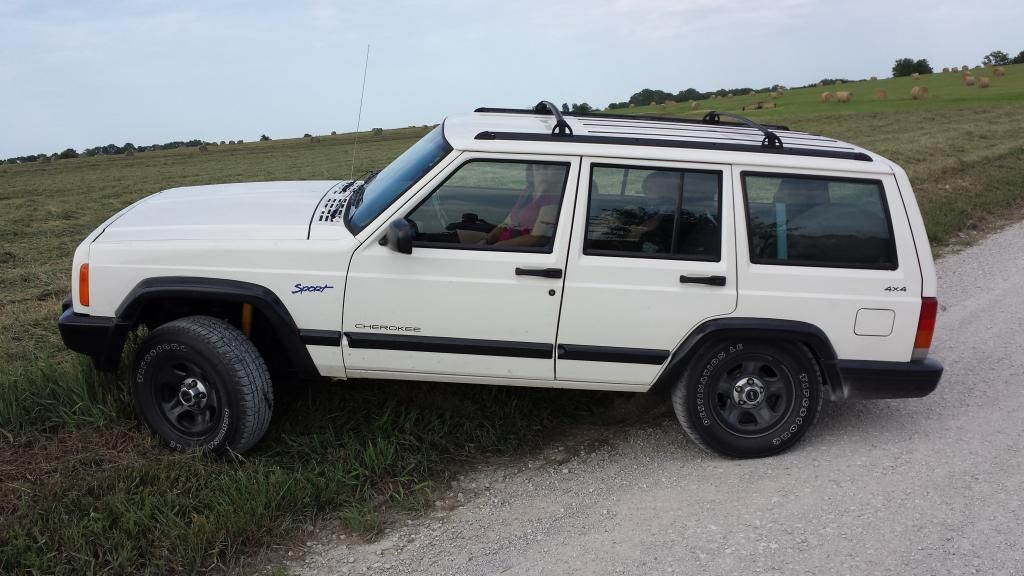 The day i purchased it before the drive home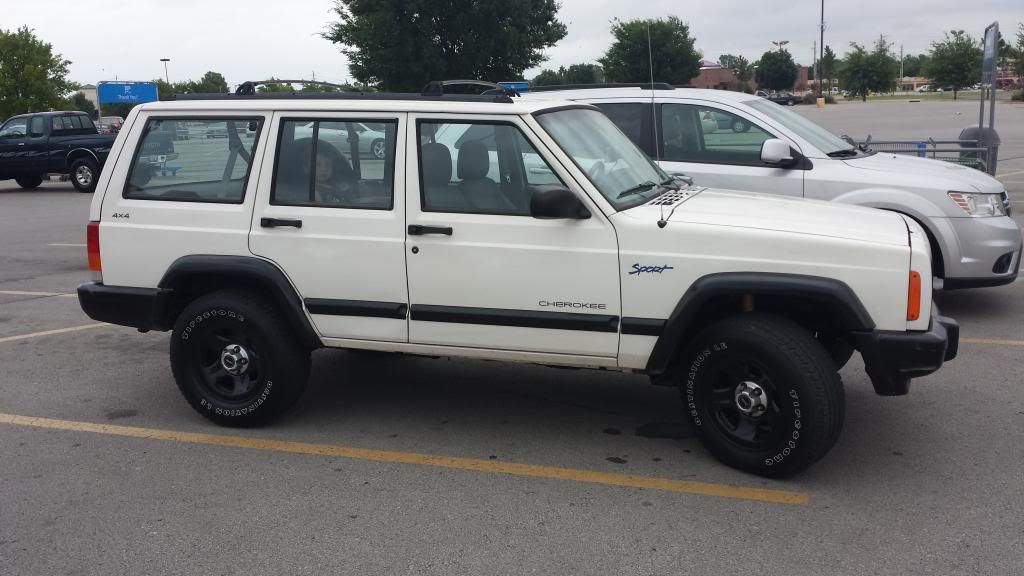 The wheels and tires that will go on after lift