I started this on the build page but it seems like someone starts a new one on a wrangler every 5 mins, figured it would get more response over here!
As it sits today: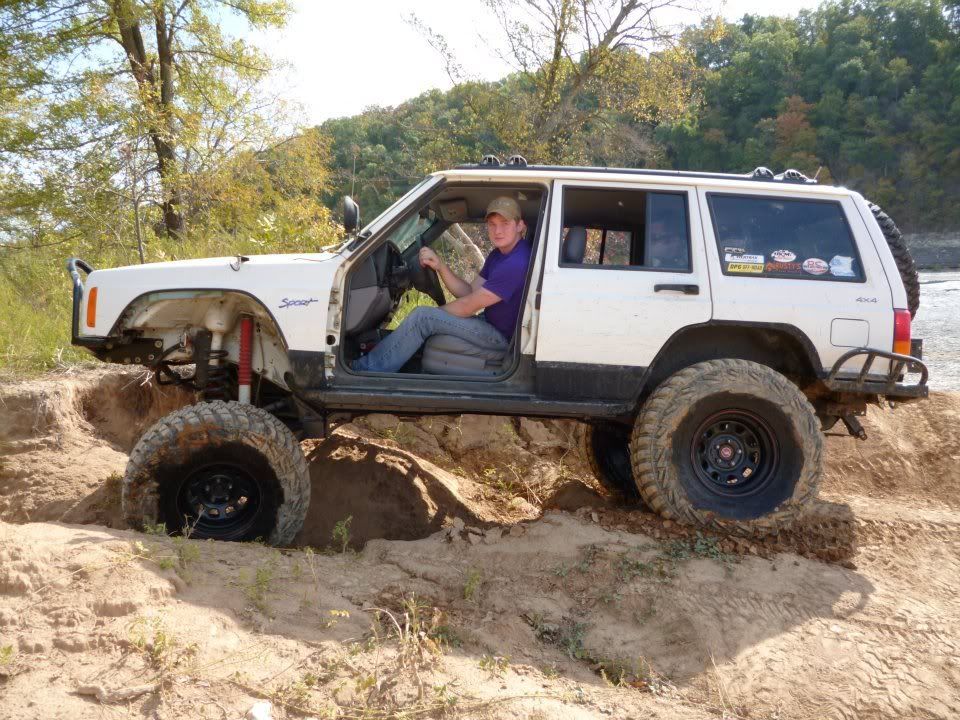 Suspension
-6.5 rusty's coils
-Rubicon express super flex uppers/lowers
-Rough Country Drop Brackets
-Rusty's HD track bar and bracket converted to Ruff stuff heims on both ends
-HD Shackle Brackets
-Rough country 2 inch shackles
-s-10 bastard pack
-ss brake lines
Axles
Dana 30
-4:56s
-Lockright
-Ruff stuff cover
-Alloy tube seals
-Full circle 5-760x u-joints
-chromo shafts
-Control arm skids, boxed passenger mount
-Poison spider tie rod
8.25 29 Spline
-4:56s
-No slip
-Ruff Stuff cover
-ZJ disk brakes
-Raised shock mounts
-Superior Shafts
Armor
-Home made/ custom front rear bumpers rear with swing out tire carrier
-Cut out rockers for rock rails
-T-case skid
-Stock gas tank skid
Other
-Brown dog motor mounts
-AA SYE
-Spot light mount (home made)
-No carpet/ herculiner
-B&M Trans cooler with gauge
-35x12.50r15 MTR Kevelars on black steel
-Bored thottle body
Well I figured I would make a build thread, even though I have been building it for the last 6 years. But here it goes…
I bought my jeep my senior year of high school, it was completely stock 1998 sport with 105k on it and it pretty good shape. When I bough it the guy gave me some 2 inch lift pucks for the front so what did I do the next day? Went to pep boys and bought some 2 inch lift blocks…I know I was young and dumb… not having the jeep more then 3 days it had all ready begun… I can't find any pics of it at that point, didn't even have a camera at that point. So I finished up senior year and head off to college with my XJ! I did do a few things, built a roof rack and put on some lights! Well I soon found the schools off road club and I didn't take long before I wanted more! So after working all of Christmas break I bought my first lift kit, rough country 3inch with AAL…I know…dumb.
I stacked the 3 inch with 2 inch for around 5 inches with stock track bar, no SYE.. all ready sagging in the rear, I also got a set of 30inch off brand MTs from my brother. Wheeled like that for a while, also got a no slip for the rear which helped tons!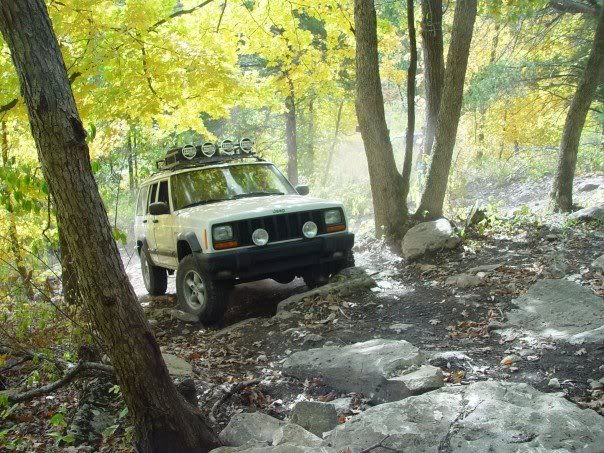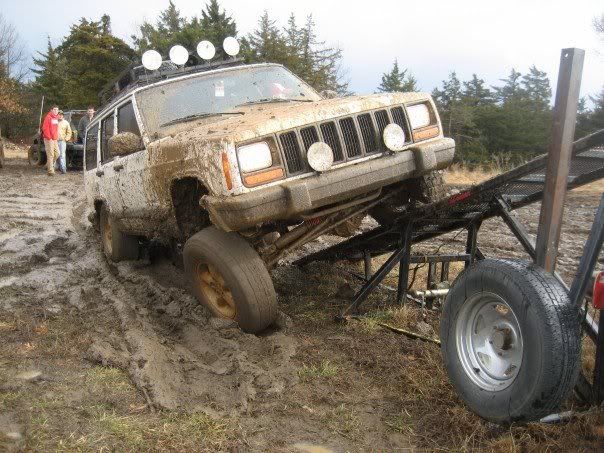 End of freshmen year, I had lots of plans for the summer, After spending the first month in South Korea for SAE Mini Baja, I came back with lots of plans..
After going thru 3 stock track bars I ordered up a rusty's bar with HD bracket. Also added RC 2 inch shackles to try to fix the sag… and bought a set of 32s on black steel from a buddy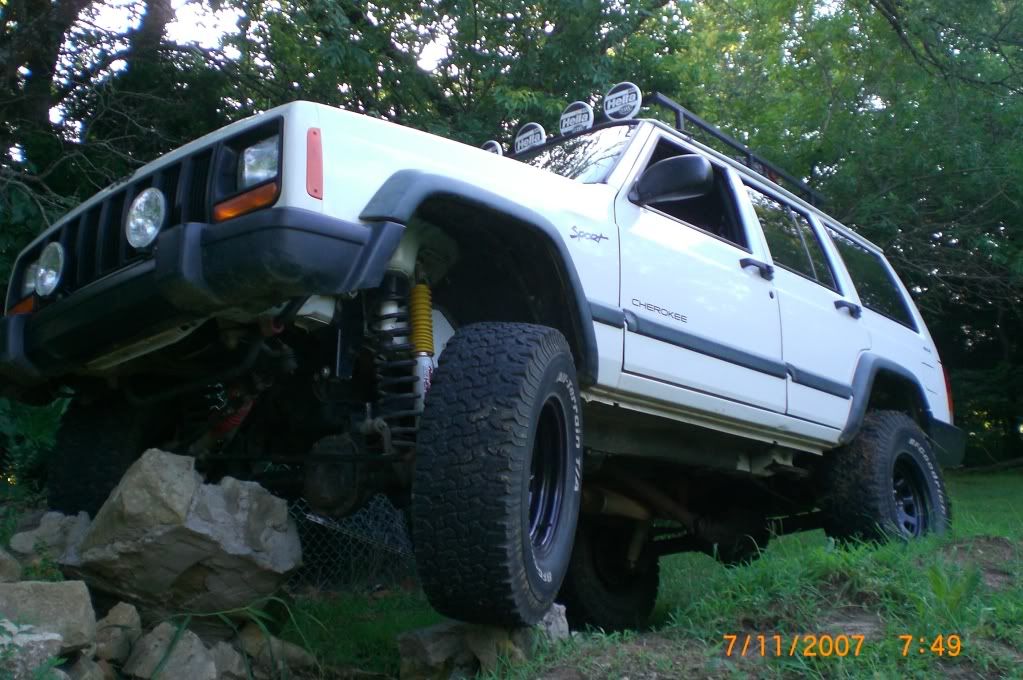 Got tired of loosing flares so decide to cut the fenders..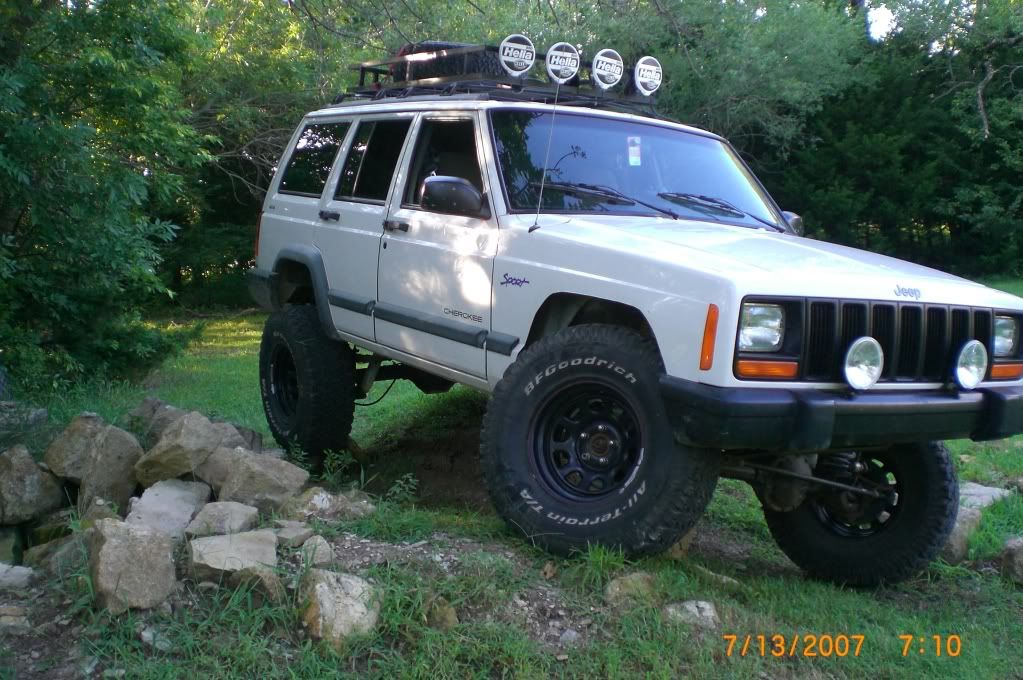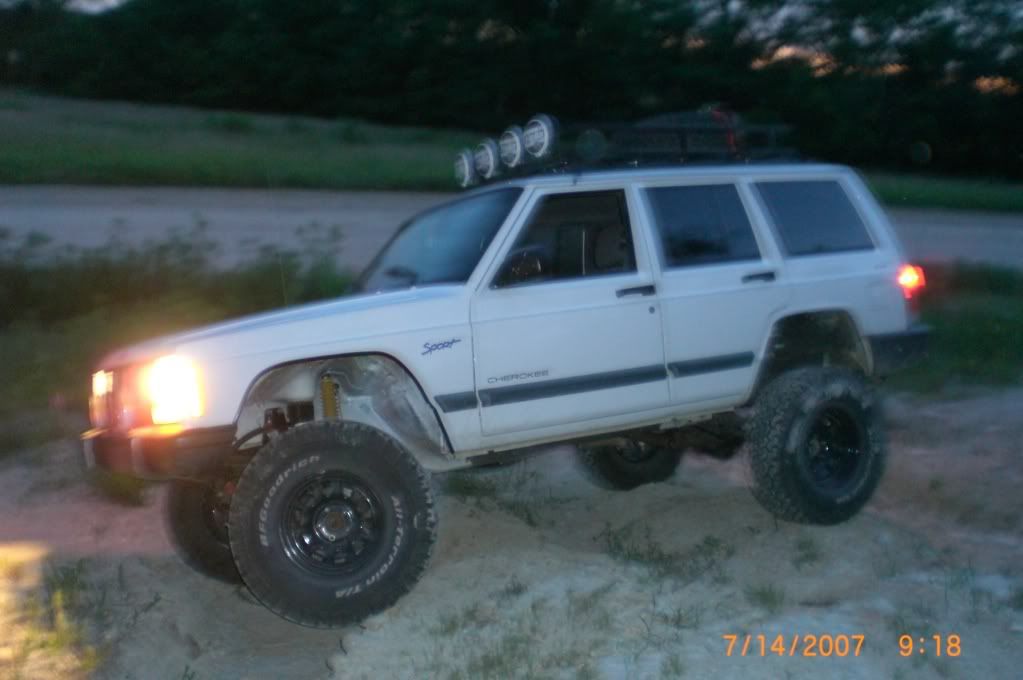 Also built a front bumper…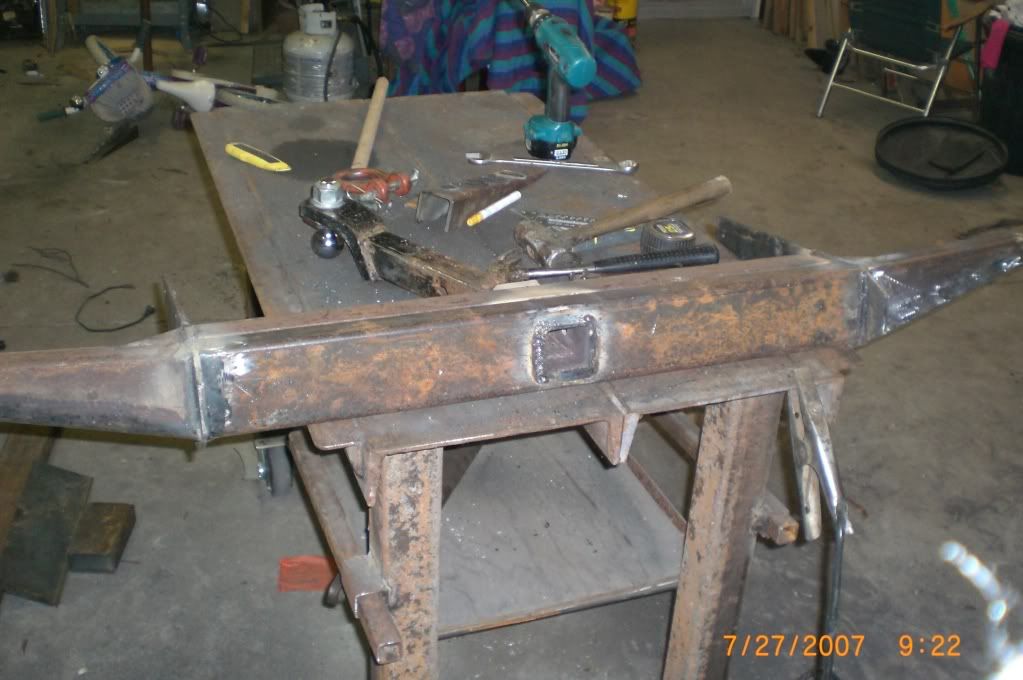 I had crazy Vibs, no SYE or T case drop, so got an AA SYE and ran a stock front shaft..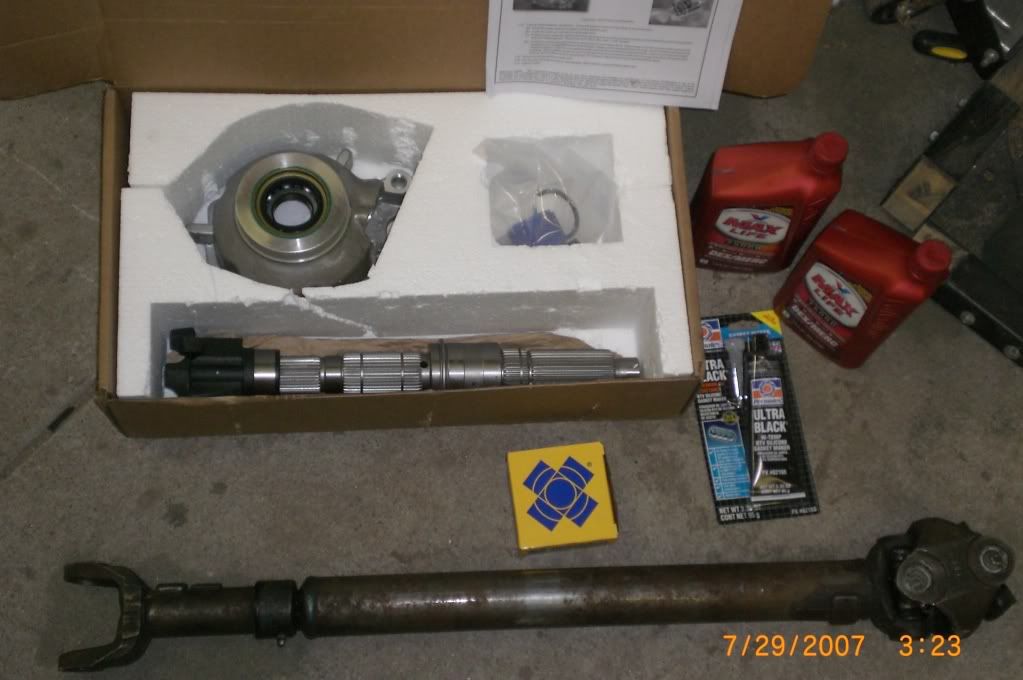 And got some good wheelin in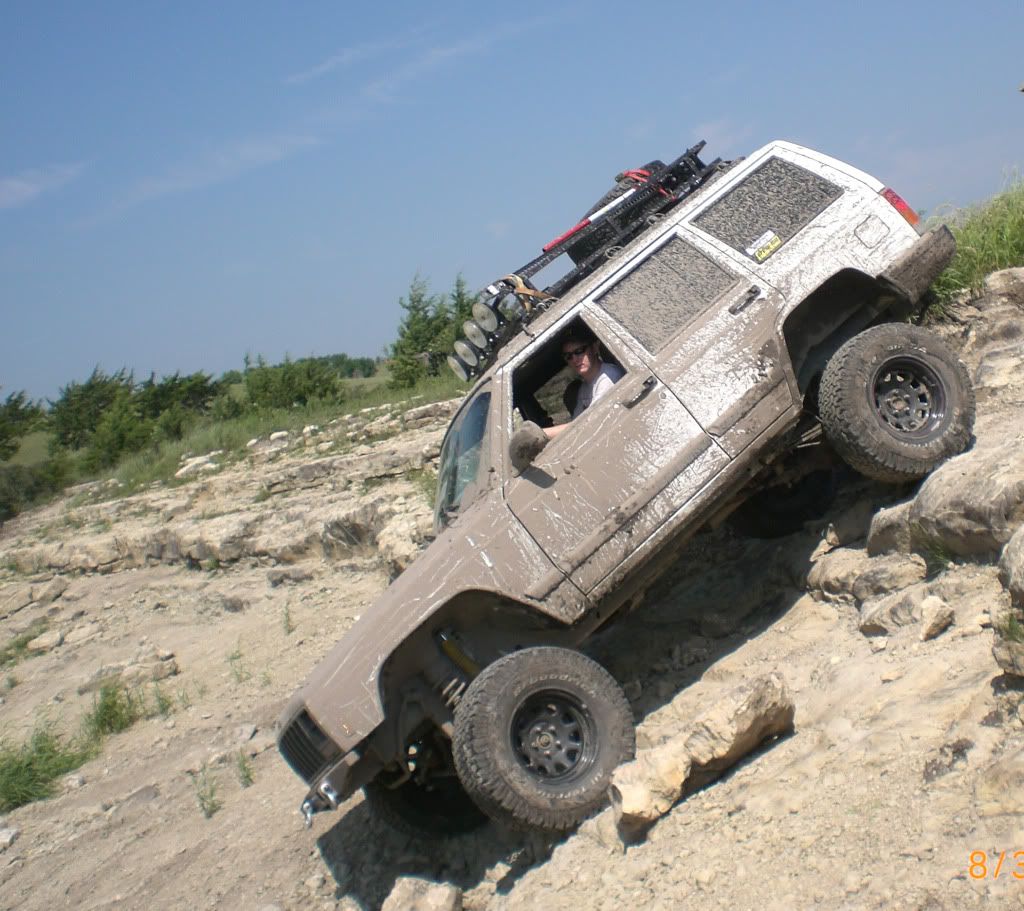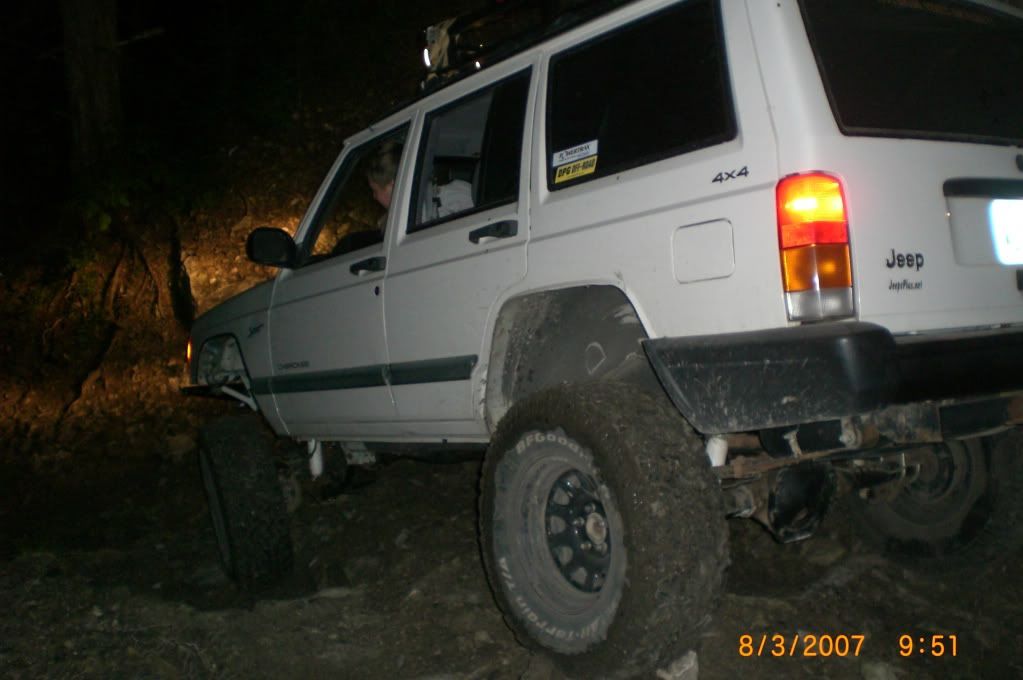 Summer was over so headed back to school. Got some more wheelin in..
On Christmas break I worked to buy more jeep stuff. Got some beef diff covers and built a rear tire carrier bumper. Can't find any pics though… But kept on wheelin..