I have a buddy in the "I buy junk cars" business and he hooked me up. Had a ZJ with a 3" Rusty's kit on it that had brand new Rancho RS5000s on it. I was just going to resell them but after looking at the part numbers, the rears were the same and the fronts came in around 1" longer than ideal, so they should work too. If not, I have a couple other sets of shocks sitting in the garage.
The fronts were simple. Back when I added the 3/4" spacer to the front, I'd already broken and replaced the lower bolts and the upper nuts came off pretty easily.
I also lowered the front brake line about 1". I put the lip of the mount in the threaded factory hole and popped a self-tapper through the original bolt hole. The process could be repeated again if need be to bring them even lower.
For the rear shocks, I followed the write up at
http://www.jeepforum.com/forum/f11/s...-heavy-323809/
and there was nothing to it. Took a couple hours to pop the bolts, pull the old shocks, clean and swap some components to my "new" shocks and clean up the tools.
All 4 bolts popped right off with a 1' ratchet and 1/2" socket.
The factory nutserts drove out easily with an air chisel.
On the Ranchos, I had to drive out sleeves in the lower bushings and drive in the dog bones on the uppers. Silicon spray lubricant is your friend for that work!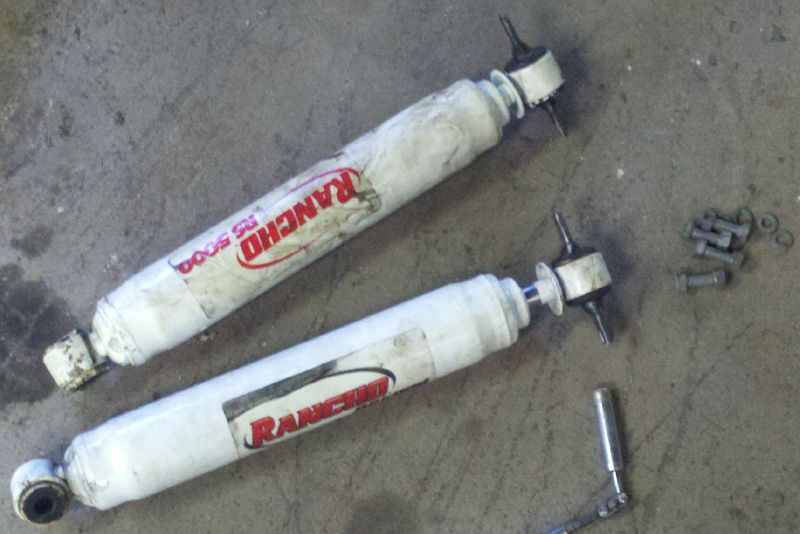 I used mechanical fingers to maneuver the bolts with washers to the holes. They dropped in easily. It took a little finagling to get nuts started without pushing them back in the hole but it wasn't a bad job at all.