Quote:
Originally Posted by
MCObray
Nice! I'm looking forward to it as you have great detailed write-ups. This is something (SYE) that i'm going to have to due sometime... I'm only lifted 2.5"
Somebody looking forward to my writing is a huge compliment. I can't thank you enough, honestly! I'm only at around 2" of lift myself right now but these 97+ t-cases are practically blenders. Seems like they want to issue out vibes under most any circumstance. My vibes were manageable when the rear was sagged as badly as it was. Since I built the bastard pack though, 60 has been pretty much my top speed...until now!
http://ironrockoffroad.com/Merchant2/merchant.mvc?Screen=PROD&Store_Code=IROR&Product_C ode=IR-XHNT&Category_Code=XDT
I will admit I was in a hurry and didn't take as many pictures as I usually do. I apologize for that but I do have some pictures and a fair amount of info. I followed
the IRO instructions
but they would be much more helpful if they went into detail of explaining various methods of cutting, how to drill and tap, etc.
Plain and simple, there is a lot that can go wrong with this mod. Cutting, drilling and tapping your output shaft is risky business. Patience, sharp tools, plenty of oil and clean rags should be considered a must. Without these, there is a considerable likelihood of breaking a drill bit or tap off inside of the output shaft. Should that occur, your options are ordering a pre-fab SYE shaft or installing another stock shaft, buying new tools and trying things again. Anyway, on to the real info.
The first thing I did was to remove transfer case drop. It was a simple matter of supporting the crossmember, removing 4 long bolts, removing the spacers, raising the crossmember up and reinstalling it with the included bolts. If you have a factory transfer case skid plate, you may need to remove it before you can get a clear space on the crossmember for removal.
Next, chock your wheels or set your e-brake and remove the stock rear driveshaft. Once you have it out of the way, make sure your rig is sitting on flat ground with it's own weight in place. No jacks, no ramps, etc. Measure from inside the rear axle yoke to the output shaft and put a mark at 33-3/4". That's just a rough number. You actually have 3/4" to work with on either side of that measurement. You need to take care to leave at least 1" of splines on the output shaft. I ended up leaving 1-3/8" on mine.
The instructions suggest using a silver marker. I don't have **** like that, so I wrapped the output shaft in green masking tape and made a simple mark with a black Sharpie. From there, I installed a fresh cutting disc in the angle grinder and put on safety glasses, gloves and a hooded sweatshirt. Many people have recommended running in drive or reverse to get a good, straight cut. I found that running in neutral provided a more workable low-speed rotation. Use whatever suits you. I used my Sharpie to finish marking all the way around the output shaft then I started cutting. After it's cut, while the output shaft is still spinning, hold a file to the sharp edge from your cut to dress it slightly. It will make sliding the yoke on easier.
The finished output shaft.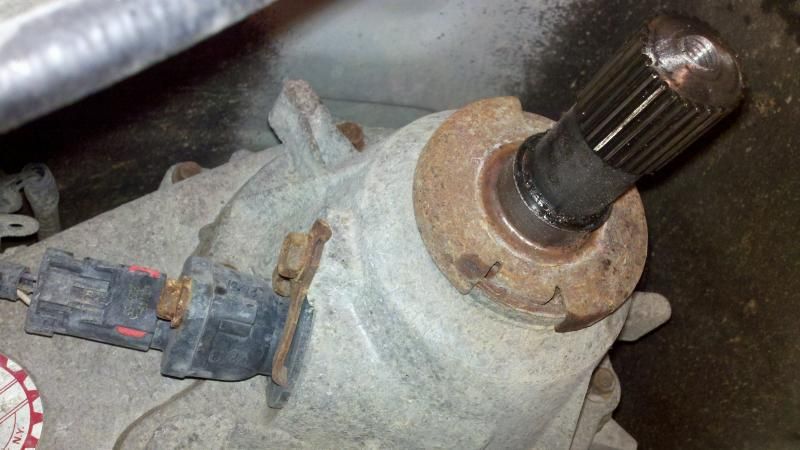 When you leave the minimum amount of splines or a measurement close to that like I used, you'll find yourself bottoming out the new yoke before you bottom out the output shaft inside of it. It's a good time to test fit your driveshaft, but odds are if you have less than 3" of lift, you'll need to cut the new yoke as well. The same cut off tool you used on the output shaft will also work here. I took advantage of the opportunity to borrow a band saw to save some time. I cut 3/4" off the end of the yoke. I also dressed the cut a bit.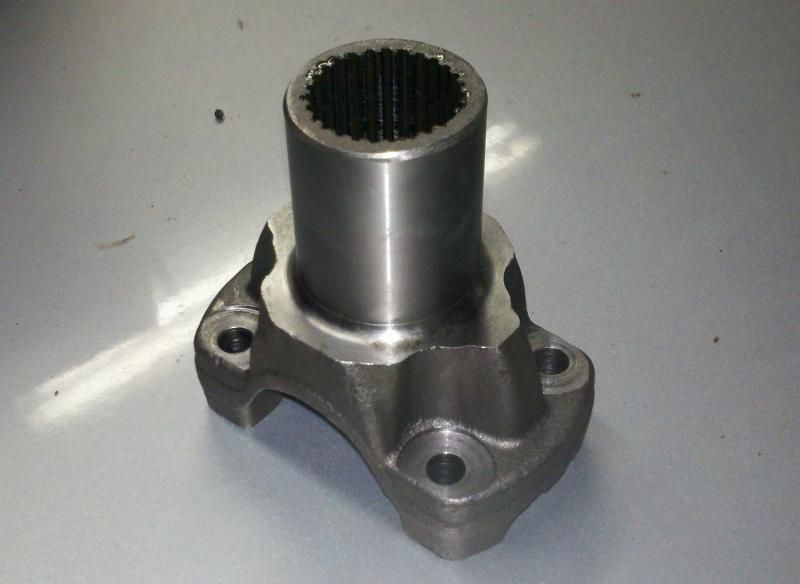 Once you have an output shaft and yoke that fit together nicely, that's when things slow down tremendously. There are a variety of methods to establish the center of the output shaft. I used a remnant from the cut and a center punch. It was very close, although I did drill the bolt hole in the center of the new yoke slightly larger to make starting the bolt easier. Once I marked the center of the output shaft, I drilled it out twice - once at 3/16" and again at 5/16" to tap it out to 3/8". If you use the 3/8" bolt provided, you only need to drill and tap 1" or so into the output shaft. I measured my drill bit and wrapped a small piece of my green masking tape around it so I knew when to stop drilling. I marked the tap in similar fashion as well. When tapping, after every quarter-turn or so, I removed the tap fully, wiped it off and oiled inside the output shaft until a few drops ran out. It took quite some time to complete this stage.
After cutting and tapping, this is what we're left with.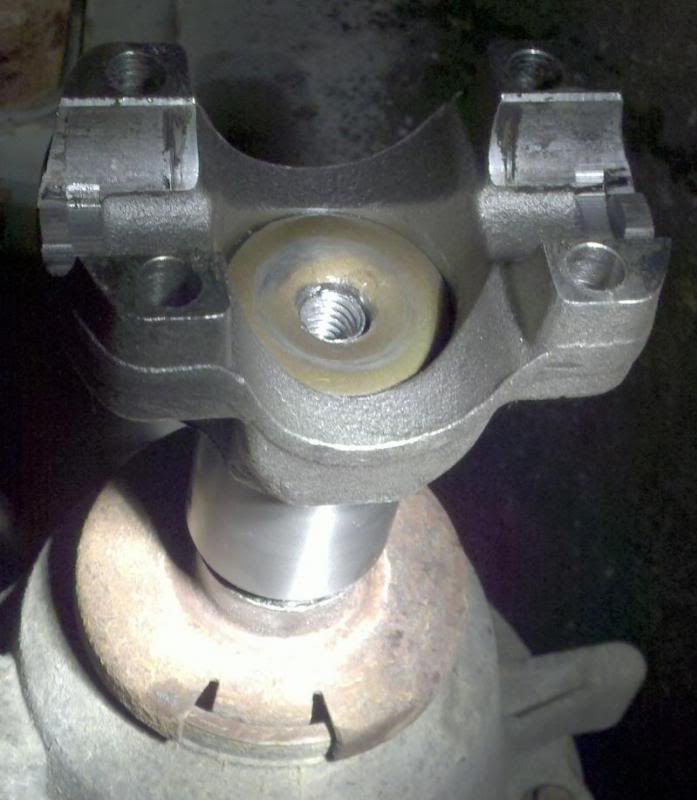 Depending on how much of the output shaft you leave, this may put your driveshaft in contact with the emergency brake cable. I didn't have any problems with this but since it's so close, it's worth keeping an eye on.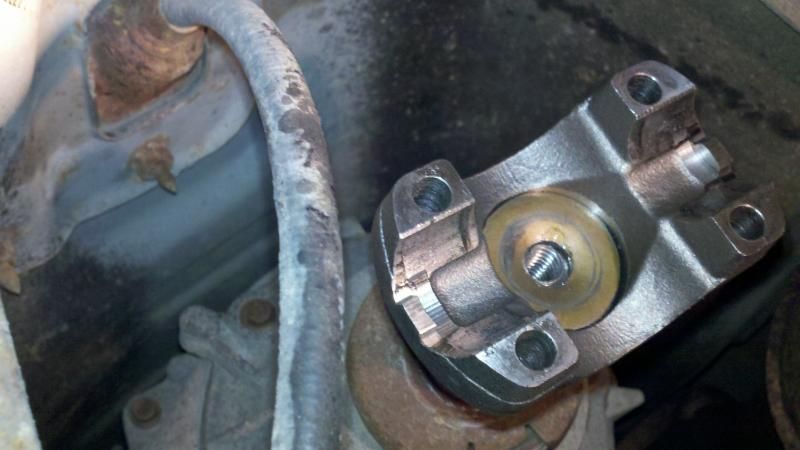 The stock 87-01 XJ front driveshaft has about 4" of travel. With a 2" lift and the measurements I've provided, you'll be left with about 1" of compression and 3" of extension.
Shown here at ride height.
One side effect I experienced as a result of removing the transfer case drop was that the exhaust hanger that ties in with the transfer case mount forced the exhaust up against the body. This caused vibrations and a droning inside the cabin. Fixing it was as simple as bending the hanger down slightly. I used a large adjustable wrench.
The ride is fantastically smooth now. All of my drivetrain vibes are gone and it feels like a new vehicle. Our XJs really should have come from the factory with a SYE and double-cardan shafts front and rear.
Aside from losing the vibes and being ready for most any lift, there's also the added bonus of tucking everything back up where it's supposed to be. Even if you don't do any additional lift, removing the t-case lowering kit will give you back ground clearance where you most need it.