Entry #1
Sierra Drifter
2001 Jeep Cherokee Sport - Patriot Blue
4.0L Inline 6 HO
AW4 Auto transmission
RocTrac NV241OR 4:1 transfer case from an 04 TJ Rubicon
Tom Woods rear CV drive shaft
Front Axle:
Dana 44 high pinion full width 8 lug from a 1978 Ford F250 68" wide
4340 chromolly alloy inner and outer shafts
Yukon super ujoints
ARB selectable locker
Yukon 5.13 ring and pinion gears
Warn Premium Locking Hubs
Ford 1-ton dual piston disc brakes
JKS over axle trackbar relocation bracket
Custom made sway bar brackets located above the high-steer tie rod
JKS Quick Disconnects
Rear Axle:
Dana 60 full width from 1979 Ford F250 66" wide
Bored spindles to accommodate 1.5" shafts
Yukon alloy 1.5 inch 35 spline alloy shafts
ARB selectable locker
Yukon 5.13 ring and pinion gears
Disc brake conversion using Cadillac Eldorado calipers
JKS shock mounts
Lift:
Rubicon Express 5.5" Extreme Duty suspension lift
T&T Customs Y-Link Long Arm upgrade kit
JKS Adjustable Coil Over Spacers (ACOS) set to minimum height
Two-inch lift shackle on rear leafs
About 7+ inch total lift and a lot of fender trimming
Steering:
Ford flattop knuckles
Harsh Terrain high steer arms
Foothill Offroad heavy-duty tie rod and draglink.
Chevy 1-ton tie rod ends
Waggoneer pitman arm
C-Rock steering box inner and outer reinforcing plates
Steering box brace
Protection:
Custom 4x4 front winch bumper with brush guard and recovery points
Kevin's double square tube Rock Sliderz
T&T Customs full belly skid
Stock XJ gas tank skid
Custom made differential guards
Plated lower control arm mounts
Other Misc:
37" x 12.50 x 17 Goodyear MTR's
Cragar black steel wheels
Bushwhacker fender flares
Rubicon Express heavy-duty track bar, drop-bracket, and brace
T&T Customs Frame stiffeners
Warn M8000 winch
Lokar cut-to-fit emergency brake cables
Extended stainless steel brake lines
Thule roof rack gutter-mounts and crossbars
Yakima Load Warrior roof rack with extension
Cobra 29wxst CB
Firestick 4ft CB antenna
ARB Air compressor for lockers
Viair 400 Air compressor for tires
Off road lights
Red Top battery
Cut and folded rear quarter panels
Custom made switch box for ARB lockers
Custom made IPod dash mount
4 new JBL Speakers
Two fire extinguishers mounted inside
Highlift jack, tow strap, tree saver, snatch block, d-rings, cable weight etc.
I've done every modification myself except the ring & pinion setup, and welding on the front axle brackets. I do my own welding now. After 4 years of modifying I am almost done, well as done as any rig can be. My XJ has been through some of the toughest trails in the west, including the Rubicon, Fordyce, Dusy, Swamp, and two trips to Moab. It has performed well, a couple very minor trail breaks but it has always brought me back home.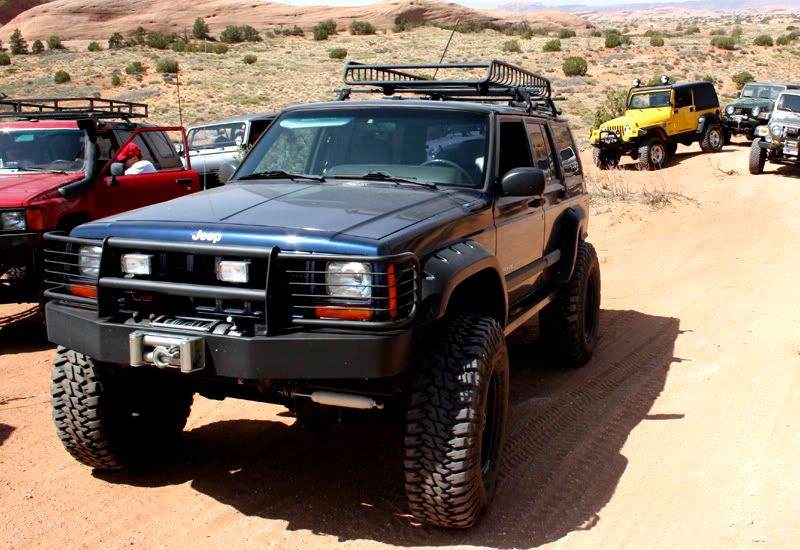 Entry #2
millhousenator
Intro: Yeah some may call this a brown nosing attempt to get into the COM this month, but it is tough for a guy like me to keep up with my jeep's wants and needs. Being an active High School Student, i don't have time for a job, or to work on the heep as often as I would like. Thankfully, my parents supplied me with my jeep. Originally I wanted a TJ, but after owning and driving an XJ, i can actually say that the XJ was a good decision. We got it from an older couple, and since then i have put about $2000 into it. I worked all summer at minimum wage just to pay off the lift and tires. Most of the add-ons that you can see came from my pocket. While my buddies may have nicer jeeps, or bigger lifts and bumpers, their parents bought it all for them. I am proud to say that i actually work for this jeep with little parent help. Just a 17 year old (bad teenager!) trying to get by with school, get off to college, and most importantly, have some fun!
Specs:
Year & Trim: 1999 XJ Sport
Engine: Stock HO 4.0L
Transmission: Stock AW4
Transfercase: 231, Rubicon Express Hack 'n Tap
Axles: Dana 30, Chrysler Corp 8.25, 3.55 gears
Suspension: Rubicon Express 3.5" Superflex, stock shackles, actual height about 4"
Tires: Cooper Discoverer STT 31x10.50
Wheels: Cragar Soft 8, Stock 5 spoke center caps painted black and mounted
Recovery: Cell Phone, a buddy, or Smittybilt D-ring mount for hitch
Armor: Curt Hitch, not much, but good enough for me so far
Other:
- Surco 45x60x5 Roof Rack, Surco Gutter mounts, Surco Rack Tire mount
- Polk Audio 5.25 Speakers in rear
- 130w KC Slimlites on roof rack (X2)
- Rectangular Baja (Wally World) Lights on roof rack (X2)
- Trimmed Front Bumper, removed OEM fogs
- Expensive Bosch Wipers (you know the ribless ones)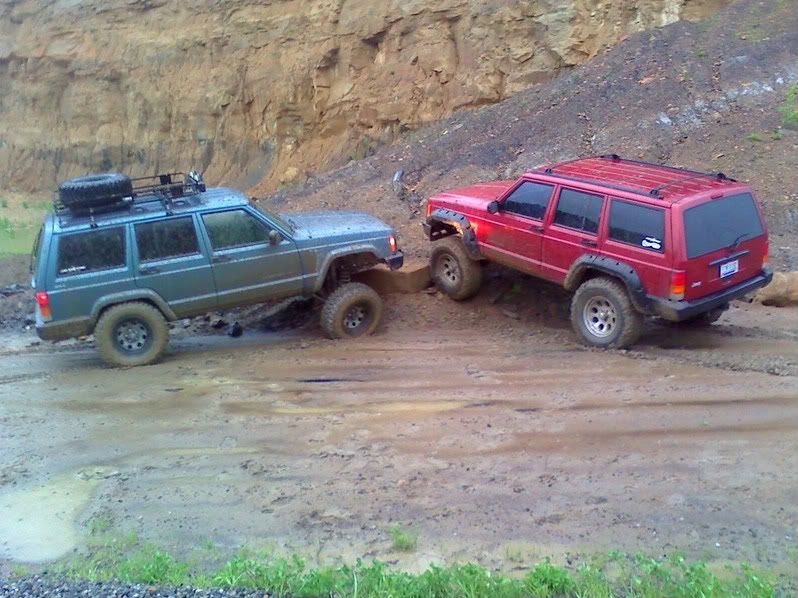 Entry #3
bigred99
1999 Jeep Cherokee XJ
Mods-4.5 full lift kit by rough country, 33x12.5 runway tires, 15x8 cragar soft 8's, quick disconnect bar, sway bar, track bar, bushwhacker 5in fender flares, safari roof rack, 4 maxtel light bar, custom bumpers, tow hitch, tinted windows, neoprene red/black waterproof seat covers, sunroof, aiwa cd player, dog gate, banners
Entry #4
ddeadserious
1992 Jeep Cherokee Pioneer
Drivetrain:
4.0 Liter
Optima Yellow Top
Raised Air Intake
Flowmaster 40 Muffler
AW4 Transmission
NP231 Transfer Case
**** SYE
Stock Front Driveshafts F & R
Axles:
Dana 30
4.10 Gears
Open Diff
Ford 8.8
4.10 Gears
Powertrax No-Slip
Disc Brakes
RuffStuffSpecialties Diff Cover
Suspension/Steering:
Rock Krawler 3-link Long Arms
5.5" RE Coils
Rough Country Front Shocks
JKS Trackbar
JCR 1-ton Steering
Rusty's 3.5" Rear Leafs
Stock Rear Shocks w/ raised mounts
Tires:
33x12.50x15 Interco trXus M/T's
15x8 Steelies w/ Cragar Center Caps
or
285/75/R16 BFG A/T's
16x8 AR Mojave Teflon Coated Wheels
Interior/Audio:
Leather Seats
97+ Center Console
Soundbar behind front seats
Herculined Interior
Pioneer Head Unit
Stock Tweeters
5.25" Pioneer Speakers
6.5" Kicker Speakers
Radioshack CB w/ 3 ft. Firestik
Exterior:
TJ Rear Flares on the front
Custom 3/16" Front Bumper
Hella 500 Fog Lights
Delta Xenon Headlight Kit
Custom Hood Louvers
97+ Mirrors and Door Decals
Lower Door 3/16" Diamond Plate
1/8" Rear Quarter Panel Protection
Custom 3/16" Rear Bumper/ Tire Carrier
TNT Frame Stiffeners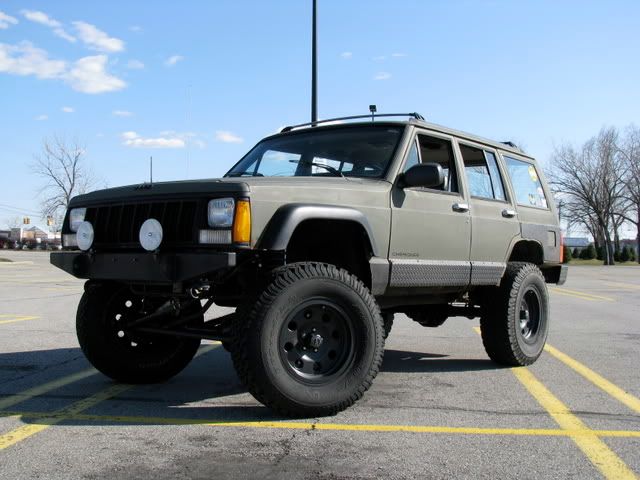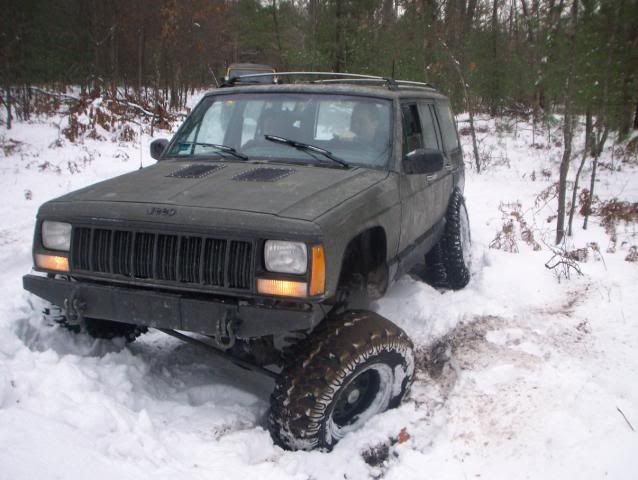 Entry #5
dude in an xj
Suspension
Front: 4-wheel Customs 2.25" Spacers
Rear: RE 2.5" Long AAL
Skyjacker Hydro Shocks
JKS Quicker Disconnects
Tires/Wheels
31x10.50 BFG Mud Terrain
15x8 Summit Racing Series 50 wheels / 3.75" backspacing
Skids/Recovery
OEM T-case Skid
ZJ Gas Tank Skid
Nates 4x4 Rear bumper
C4x4 Tow Hooks / Rock Rails
Rusty's Offroad HD Crossmember
Other
Cobra CB
Hella 500s
Custom Tail Lights
Gen-Right Hood Vents
Cherry Bomb Turbo Muffler
C-Rok Inner Steering Box Plate
Homemade Rear Brake Line Ext. Bracket
CSF 3-Row Radiator
Hesco Hi-flow Thermostat Housing
Mr. Gasket Performance Thermostat