Registered User
Join Date: Nov 2009
Location: Greeneville, TN
Posts: 307
JCR bumper
---
I bought a bumper from JCR In February and finally got a good weather gap to get it painted and installed. There seems to be a lot of people on here talking about how their quality has gown down hill, but I couldn't be happier. I just have to find a new place to mount my horns and Vacuum Canister.
I painted it myself with Krylon Rust Tough flat black. I don't think it turned out too bad for never painting steel before.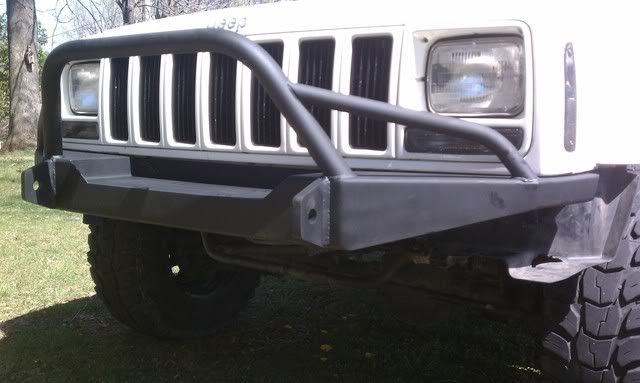 ---
RC 3" series II AAL | RCX wheels | Kumho Road Venture MTs | RC Steering Stabilizer | Sony CD | Sony 6.5" speakrs | Audiobhan 10" bass tube | FM Super 40 | 20% tint | XJ leather seat swap | JCR Pre-Runner Winch Bumer | JCR stage II rear bumper.
Web Wheeler
Join Date: Jul 2009
Location: NNJ
Posts: 2,920
I have a bunch of stuff from JCR, heres what i like and own of theirs. Front bumper, 1 ton steering, steering box spacer. Heres what i dislike, rear 1/4 panel armor, rear bumper, unibody tie in brackets. The brackets dont line up too well, the rear bumper has horrible fitment, and the 1/4 panel armos, doesnt line up too well either.
They do have great customer servvice though. They are a great company, who if they make a mistake, they will do their best to correct it.
Heres a pic of my jeep outfitted by JCR.
---
Waggy 44s, chromo shafts, 4.88s, spools, mid arm 3 link, 35" kevlars

2012 Cherokee of the Year
Registered User
Join Date: Aug 2010
Location: Brookfield
Posts: 341
nice, i have the non-winch version of the pre-runner bumper, and mine fit and i love it too
---
You'll fine me chasing the Sun!
97' XJ 7" of lift 33's - Still Running Strong
97' XJ 5" of lift 33's - Sold
93' ZJ 4"of lift, 31's - Totaled
Registered User
Join Date: Sep 2009
Location: Kaysville
Posts: 723
I just recived their Stage 3 Rock rails, The quailty looks top notch to me. I have them painted and ready to go, just waiting on the weather to brighten up so I can install The frame stiffeners. So that then, i can instal the rock rails. :P
---
Utah jeep crew member #32
Registered User
Join Date: Jan 2010
Location: Clinton Twp., MI
Posts: 99
I second that on the fitment of the rear bumper. I bought a stage 2 used and it definitely took some time to get it all lined up and the bolts put in. I guess it was worth it though because I really like the look of it and it's pretty beefy.
---
'98 XJ: 4.5" lift by Zone l 15x8 black Unique wheels l 31x10.5 Goodyear Duratrac's l JKS adjustable trackbar l CV rear DS by CCI Driveline l JCR rear w/ d-rings
Registered User
Join Date: Jun 2008
Location: port hueneme
Posts: 34
I am running their stage two rear bumper just put it on last week with no issues what so ever. Also running the pre-runner winch bumper with no problems. It is nice to run products that were built hard working owner operator Americans. Just remember that all Jeeps are different, depending on how its been treated during its life.
Currently Active Users Viewing This Thread: 1

(0 members and 1 guests)
Posting Rules

You may post new threads

You may post replies

You may not post attachments

You may not edit your posts

---

HTML code is Off

---