Registered User
Join Date: Nov 2009
Location: Leitchfield, KY
Posts: 5,395
Ive flipped several XJ's and came out quite well, but ever area is different. While I agree that as a general rule, modded vehicles dont have any increased value (and often less value) than a good stock one, in my area (under a certain price point) there is a market for light modded XJ's. Many people here dont care for a stock XJ and dont have the knowledge or wanna put the effort into giving a lift and bigger tires. A lot of people just want to hop in one already done up and go (again, under a certain price point).
Heres a good example from firsthand experience. I bought a 92 2 door, 4.0/auto 4x4 XJ for $700 bucks. 150k miles, but had an issue of overheating in traffic. I went and looked at it and the owner was a teenage boy who appeared to have no mechanical knowledge and just wanted money to buy an S10. Quick look under the hood revealed a non function electric fan and no fan shroud on mechanical fan. Oil and coolant looked good so I bought it.
Cute lil thing: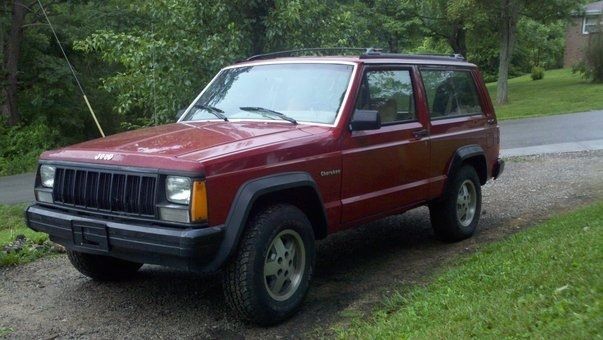 Put new tstat on and grabbed efan and shroud from pullapart for next to nothing. Solved the overheating. Installed cheap (key word in making money on this) 3" spacers up front and I had a couple s10 leafs for a bastard pack. Scores used 31s on stock steelies for 150 bucks, all putting me 900 bucks or so into the Jeep. Put it on craigslist and sold it in 2 days at 1800 bucks.
A lot of it all depends on how cheap you start off into it and figuring costs of what it needs, then sourcing used parts. Ive done about 3 XJ's this way with good luck, some more profitable than others. A lot of people just dont have any desire to get involved in this hobby or know whats under their rig. They just want a tough looking lil Jeep for not much money. That said, this seems to only be profitable if you keep the price under 2k. People looking to spend much more than that either want a stock one to drive or want an unmolested starting point.
---
- '88 MJ Pioneer -
Build In Progress
- '04 Sierra Z71 Crew Cab -
Daily/TowPig
Currently Active Users Viewing This Thread: 1

(0 members and 1 guests)
Posting Rules

You may post new threads

You may post replies

You may not post attachments

You may not edit your posts

---

HTML code is Off

---