Registered User
Join Date: Oct 2009
Location: southamerica
Posts: 48
DD 3" shocks ... OME, BILSTEIN or FOX 2.0 ???
---
The XJ is a dd so
it canīt be too hard to ride in the city or too soft in the dunes
, I'm getting 3" coil springs, but a bulbar (80lbs) it's going to be install ...
So which shocks should do the right job ?
- OME Nitrocharger Sport for 3"-5" lift
- BILSTEIN 5100 for 3"-5" lift
- FOX 2.0 for 2.5" lift
thanks
---
1990 Cherokee 4.0 2.5'' lift Fox 2.0 shocks 30*9.5 Maxxis Trepador
Registered User
Join Date: Oct 2013
Location: Portland
Posts: 277
Im in the same situation as you, going with bilstein 5100s personally
---
2001 Jeep Cherokee XJ Limited -3.5" Rubicon Express Super-Ride kit, H4 headlights
Registered User
Join Date: Jan 2009
Location: Maryland
Posts: 1,231
Kinda in the same boat too, except with my ol TJ. Decided on the 5100s aswell because of the price. OMEs will be close to $100 more a set. The new OME sport shock just looks kinda cheap to me, and I am pretty sure they are not montubes either.


You find the bilsteins cheaper then about $80?
Registered User
Join Date: Oct 2009
Location: southamerica
Posts: 48
At least to what I've found (quadratec) the 3 brands and models are almost at the same price ... just $30+- ...

I've always heard the quality ride of the OME are the best ... and years ago I had the yellow bilsteins in the xj, and the ride was kind of hard.
---
1990 Cherokee 4.0 2.5'' lift Fox 2.0 shocks 30*9.5 Maxxis Trepador
Registered User
Join Date: Feb 2014
Location: Yulee
Posts: 31
I was in the same situation not 4 weeks ago.. I ended up going with Fox 2.0's because the Bilstein 5100's were backorder 6 weeks out at that time... Im happy with the set up. They are a little on the stiff side (no comparrison to go off of but just IMO) but the added plus is that it controls body roll so I am not running sway bars now and do not have to mess with discos. They really shine around my area where we have alot of flat bumpy hard packed sand roads and seem to be "loosing up" as I use the jeep more. Kind of hard to explain but they provide a firm feeling but still remain "flexy" in the woods and they soak up the bumps really nice.. Plus the added look factor is worth noting...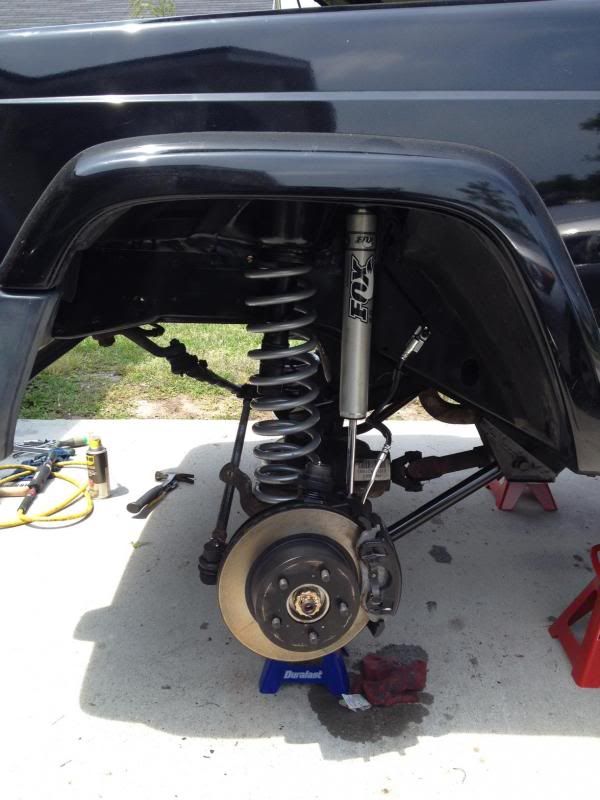 Currently Active Users Viewing This Thread: 1

(0 members and 1 guests)
Posting Rules

You may post new threads

You may post replies

You may not post attachments

You may not edit your posts

---

HTML code is Off

---