Congrats to Sierra Drifter for winning the Cherokee of the Month for June!
Sierra Drifter
2001 Jeep Cherokee Sport - Patriot Blue
4.0L Inline 6 HO
AW4 Auto transmission
RocTrac NV241OR 4:1 transfer case from an 04 TJ Rubicon
Tom Woods rear CV drive shaft
Front Axle:
Dana 44 high pinion full width 8 lug from a 1978 Ford F250 68" wide
4340 chromolly alloy inner and outer shafts
Yukon super ujoints
ARB selectable locker
Yukon 5.13 ring and pinion gears
Warn Premium Locking Hubs
Ford 1-ton dual piston disc brakes
JKS over axle trackbar relocation bracket
Custom made sway bar brackets located above the high-steer tie rod
JKS Quick Disconnects
Rear Axle:
Dana 60 full width from 1979 Ford F250 66" wide
Bored spindles to accommodate 1.5" shafts
Yukon alloy 1.5 inch 35 spline alloy shafts
ARB selectable locker
Yukon 5.13 ring and pinion gears
Disc brake conversion using Cadillac Eldorado calipers
JKS shock mounts
Lift:
Rubicon Express 5.5" Extreme Duty suspension lift
T&T Customs Y-Link Long Arm upgrade kit
JKS Adjustable Coil Over Spacers (ACOS) set to minimum height
Two-inch lift shackle on rear leafs
About 7+ inch total lift and a lot of fender trimming
Steering:
Ford flattop knuckles
Harsh Terrain high steer arms
Foothill Offroad heavy-duty tie rod and draglink.
Chevy 1-ton tie rod ends
Waggoneer pitman arm
C-Rock steering box inner and outer reinforcing plates
Steering box brace
Protection:
Custom 4x4 front winch bumper with brush guard and recovery points
Kevin's double square tube Rock Sliderz
T&T Customs full belly skid
Stock XJ gas tank skid
Custom made differential guards
Plated lower control arm mounts
Other Misc:
37" x 12.50 x 17 Goodyear MTR's
Cragar black steel wheels
Bushwhacker fender flares
Rubicon Express heavy-duty track bar, drop-bracket, and brace
T&T Customs Frame stiffeners
Warn M8000 winch
Lokar cut-to-fit emergency brake cables
Extended stainless steel brake lines
Thule roof rack gutter-mounts and crossbars
Yakima Load Warrior roof rack with extension
Cobra 29wxst CB
Firestick 4ft CB antenna
ARB Air compressor for lockers
Viair 400 Air compressor for tires
Off road lights
Red Top battery
Cut and folded rear quarter panels
Custom made switch box for ARB lockers
Custom made IPod dash mount
4 new JBL Speakers
Two fire extinguishers mounted inside
Highlift jack, tow strap, tree saver, snatch block, d-rings, cable weight etc.
I've done every modification myself except the ring & pinion setup, and welding on the front axle brackets. I do my own welding now. After 4 years of modifying I am almost done, well as done as any rig can be. My XJ has been through some of the toughest trails in the west, including the Rubicon, Fordyce, Dusy, Swamp, and two trips to Moab. It has performed well, a couple very minor trail breaks but it has always brought me back home.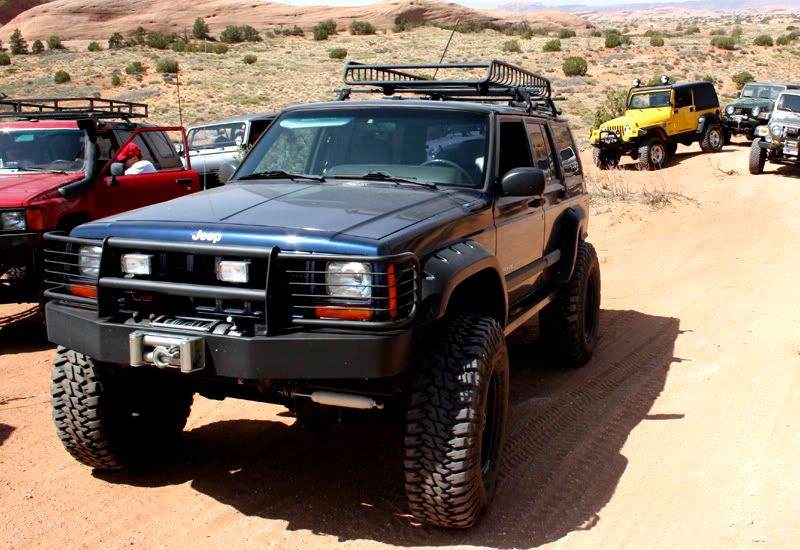 Click here to see previous Cherokee of the Month winners