Alright it was inevitable, but I'm back with another XJ.
Specs-
'94 Cherokee XJ Sport 2 door
4.0
AW4
NP231
HP30/8.25
Rebuilt engine
Some terrible, crappy lift installed
15x10 American Racing wheels
33x12.5 Mastercraft Courser MT
Factory grill guard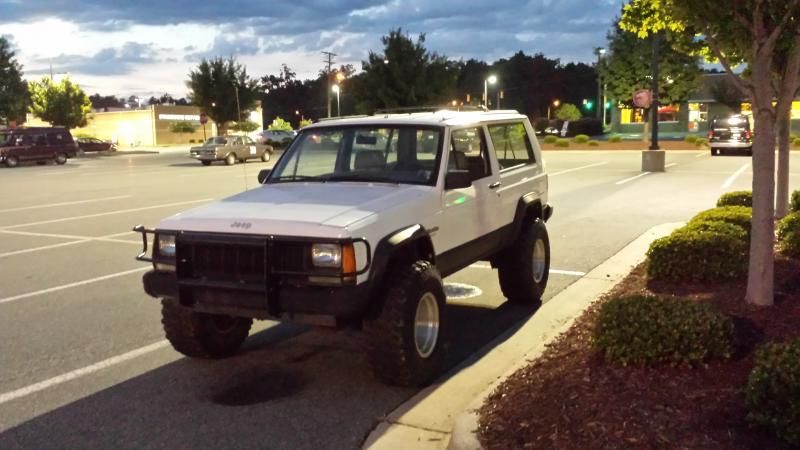 It had been sitting for three years, and even though it started right up with a jump and was able to drive, it needs some work. As you can see from the photos- it was leaking fuel from the rear and water from the front, the brakes are locked up and it was starting to overheat. So rather than try to limp it 50 miles home, I left it in a Target parking lot and came back the next day with a truck and trailer.
Home in the shop.
Has no carpet, headliner, or radio.
List of things it needs to be street driveable, reliable, and relatively safe-
Fuel tank
-ordered 7/27
-finished
Fuel filters
-ordered 7/27 -finished
Fuel vent gaskets
-ordered 7/27 -finished
Fuel pump gasket
-ordered 7/27 -finished
Filler and vent hoses
-ordered 7/27 -finished
New brake lines
-ordered YJ lines 7/27 -finished
Pump/pickup/sending unit assembly
-given 8/11 -finished
New rubber fuel lines
-purchased 8/15 -finished
Rotors
-ordered 8/7 -finished
Calipers
-ordered 8/7 -finished
Pads
-ordered 8/7 -finished
Radiator
-ordered 8/7 -finished
Coolant fill tank
-ordered 8/7 -finished
Radiator hoses
-ordered 8/7 -finished
Thermostat
-ordered 8/7 -finished
Trans/t-case fluid
TC drop
Clean NSS
Fix horn
Fix signals
-finished
Replace muffler
Replace windshield
Replace driver side window
-finished
More updates coming, I was able to get some work done already. Let me know what you think