Thanks for the input; I agree that an automatic locker would not be ideal for me. I am going to stick to my original plans of selectable lockers front and rear when I do my gears.
So I finally have some updates.
My jeep has not been getting very consistent connection with the battery due to my pathetic terminals so I will be upgrading to these.
They are the military terminals from Prime 4X4 (
LINK
). I also picked up a pair of their side terminal connections just in case I get a battery that also has side posts. Such as the Diehard Platinum battery that has both side and top posts.
I wish I would have realized that they were local so I could have saved on the shipping. Also, they have already proved to me that their customer service is trustworthy because the refunded me for shipping costs caused by computer error that I was not even aware of. I will be going back to them for future electrical needs.
I think I will wait to install these until I have upgraded my main electrical. I plan on following this write up (
LINK
).
I think I am going to go with 2 awg wire for all of it because I can and I cannot think of any reason not to.
Now for the actual progress that I have made…
I have had the C 4X4 tow hooks installed for a while. One of the downsides for these OEM style tow hooks is the lack of strength for side pulls. Many people prefer the full tow hitch type setup because it ties into both frame rails and gives better strength for side pulls.
The solution I have found for this concern is a bulk head/ cross member that tied both frame rails together at the tow hooks.
C4X4 Brackets:
It replaces the small angle brackets provided with the C4X4 kit and crosses the entire front end of the jeep. It cost me $50 through a local company RigidCo. I have visited Terry's shop and while it is a small setup he does very good work and he does it very well.
The install would have been pretty straight forward except for the fact that I had already installed th tow hooks and I have my front skid on. This made it a lot more work than it would be for many people. You cannot get to the bottom bumper bolts without taking off the tow hooks.
First thing you have to do is take off the front bumper caps. Should be 2 bolts/nuts and two screws per side.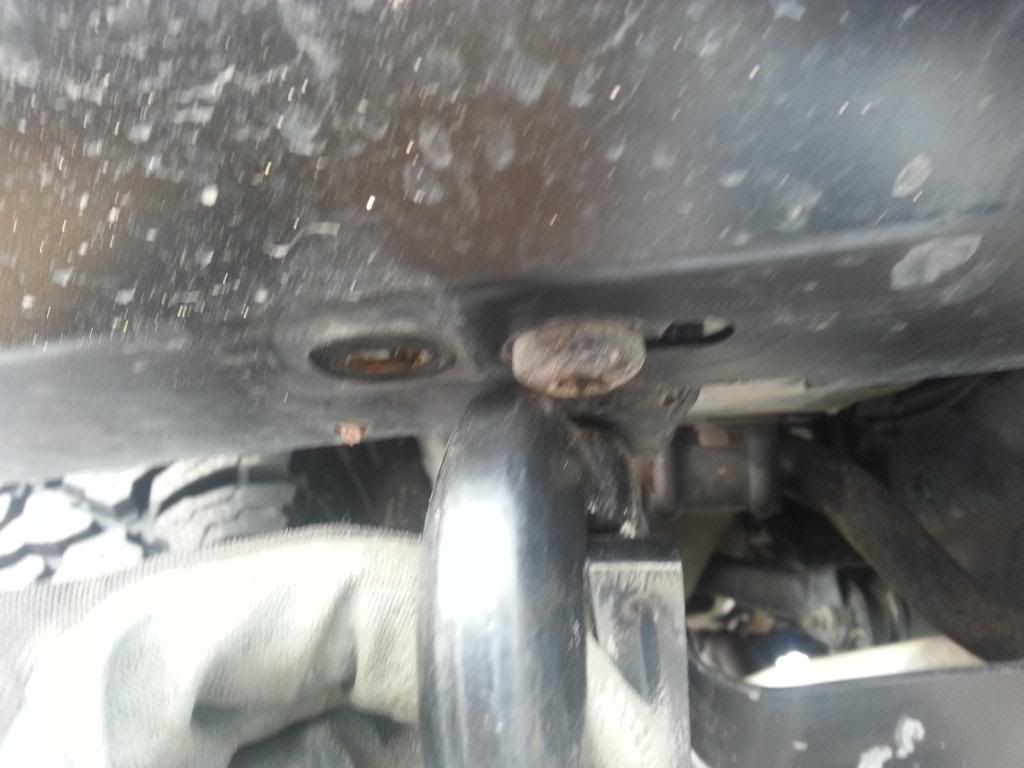 You have to remove one bolt completely and loosen the second and you can do this.
Once the tow hooks have been moved you can take out all 4 bolts holding the bumper to the brackets.
I knew that it would be easier to remove my skid plate so I took it off. There are 3 bolts holding it to the front cross member/bulk head, and then 2 bolts into the passenger side frame rail, and 1 on the driver side right next to the sway bar bracket mounts.
Most people do not link the front skid, so I didn't take to many pictures.
Installed: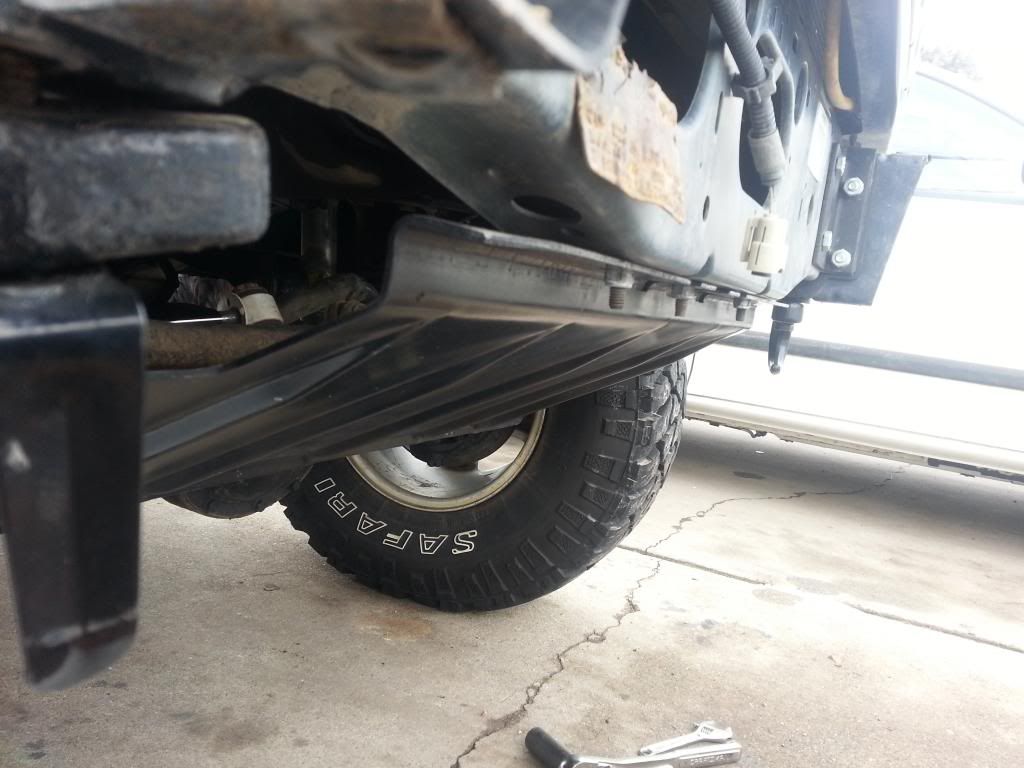 Removed:
The next step is to remove the C 4X4 brackets. Very straight forward to remove the 4 bolts on each side. The driver's side is a bit more difficult because of the power steering gear box right behind. So it took a little work, but still doable.
Now you are left with this:
This is stock so you may be starting from here.
Now this is important… I have a manual transmission and therefor do not have a trans cooler. Normally you will see the lines coming through on of the hole in the bulk head. You will have to disconnect and reconnect these if this is the case. I luckily did not have any such problems.
I did have to break the plastic clip holding the OEM fog lights in pace and tuck it up with my PutCo harness which is the yellow wire.
The bulk head comes in bare steel so I scratched it up and cleaned it with rubbing alcohol and painted it satin black.
I test fit it and there was some very slight fitment issues, but nothing you cannot work around. The overall length could have been about 1/8 inch longer as there was a very small gap on either side where it bolts on. Also, these bolt holes could have been placed a little better. I got them threaded through and with my tools they snugged right up into place.
I reused the C4X4 grade 8 hardware instead of the supplied grade 5 hardware for the corners, and then used 4 of the bolts and nylock nuts for the 4 center mounting holes.
Once it is all bolts up it looks like this: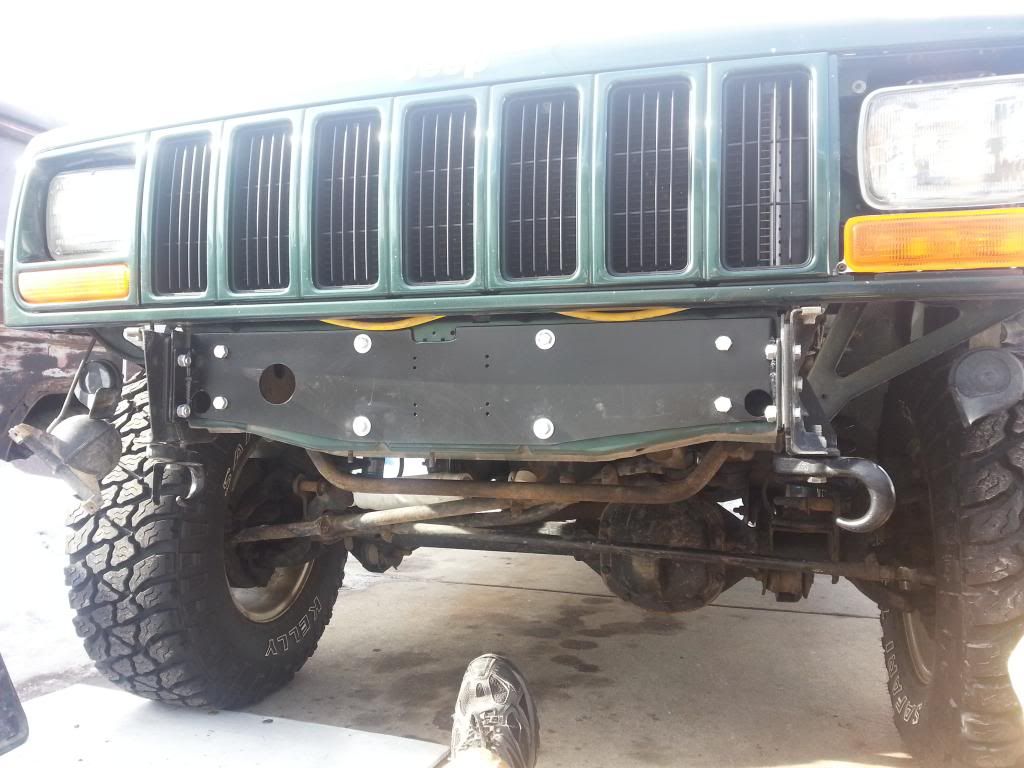 I did not put my bumper on immediately as I had something else that I needed to upgrade. 