8/01/2013
I knew that I needed to fix all of the problems caused by my lift. I did some thinking and was pretty sure that my new found sway was in part caused by my over extended shocks, poorly aligned sway bar links, super worn control arm bushings, and the double spacers I had going on. I knew almost immediately that I wanted to get rid of the double spacers, but I would need to make up for the loss in lift somehow.
I also needed to rid myself of the awful death wobble. This was pretty much caused by all of the things listed above in additional to my old Tie rod ends, old steering stabilizer and old worn tires.
I had done quite a bit of research before hand and decided to go with the V8 ZJ coils, WJ control arms , Bilstein 5100s, and a steering stabilizer.
V8 ZJ Coils: $50 a set.
They are physically the same as the stock XJ coils, but they have a higher spring rate. Stock XJ coils are about 150 and the V8 ZJ coils are about 190. I picked them up at a local Duane's which is a local pull a part(They pull it) for $50.
They installed just like any other coil and they added about 2 inches of lift or more in place of my original springs. I decided to remove the OEM spacer and just use the Teraflex coil spacer which put my at about 3.5 inches of lift over stock.
Review:
They do ride harder than the stock coils, but it gives me a sportier on road feel, and they are not too harsh for off road. This makes them excellent for the go fast stuff that I like since they soak it up with ease.
WJ Lower Control Arms: $50 a set.
These are from a 99-04 WJ. There are several reasons people run these. They are significantly stronger than stock since they are boxed steel instead of channel steel. They have a bend in the middle to allow a greater turning radius before rubber with over sized tires and stock backspacing. They have a bushing on one end designed to absorb bumps better and provide a smoother ride.
I wanted them because they were significantly cheaper than new wheels with less backspacing, and i felt better about that than using wheel spacers. Also got these at Duane's.
The install on these was much more labor intensive. The bushings are to wide for the stock XJ mounts on both the axle side and the body side. With a helper spraying water on the bushings the entire time to keep them cool, I ground them down to usable dimensions with a 4.5 disk grinder. Took some trial and error to get them to just the right size, but they went in nice and tight when I was done. Unfortunately I was not planning on a build thread at this time so I have no pictures or me machining them down.
You can see the bend below: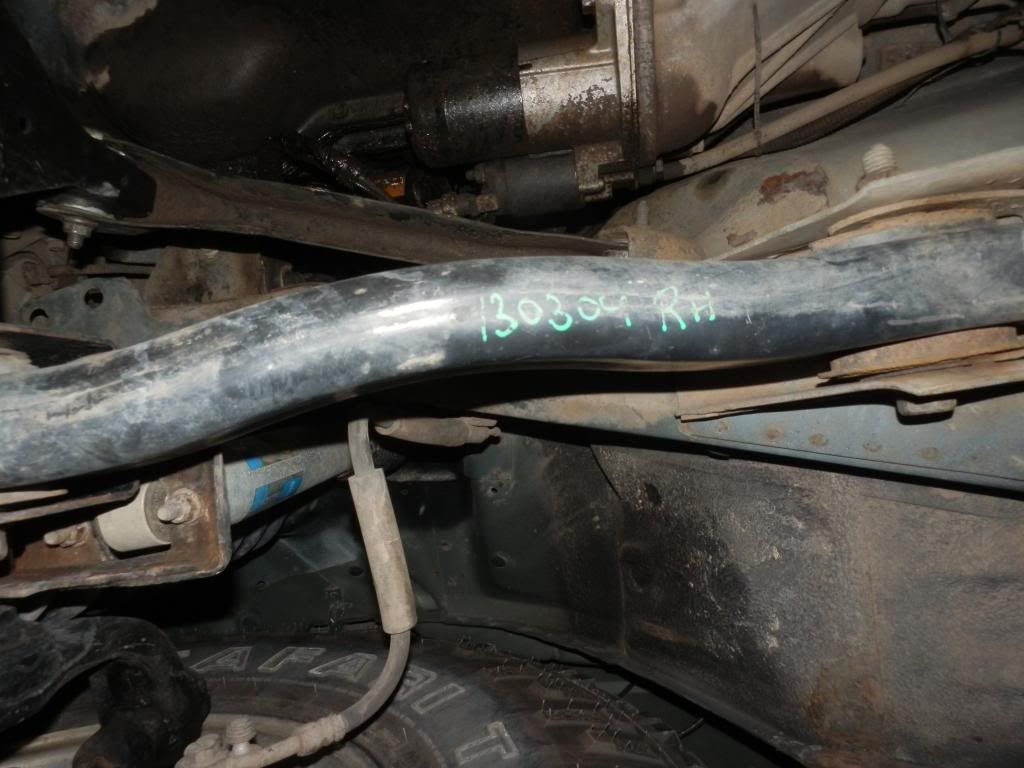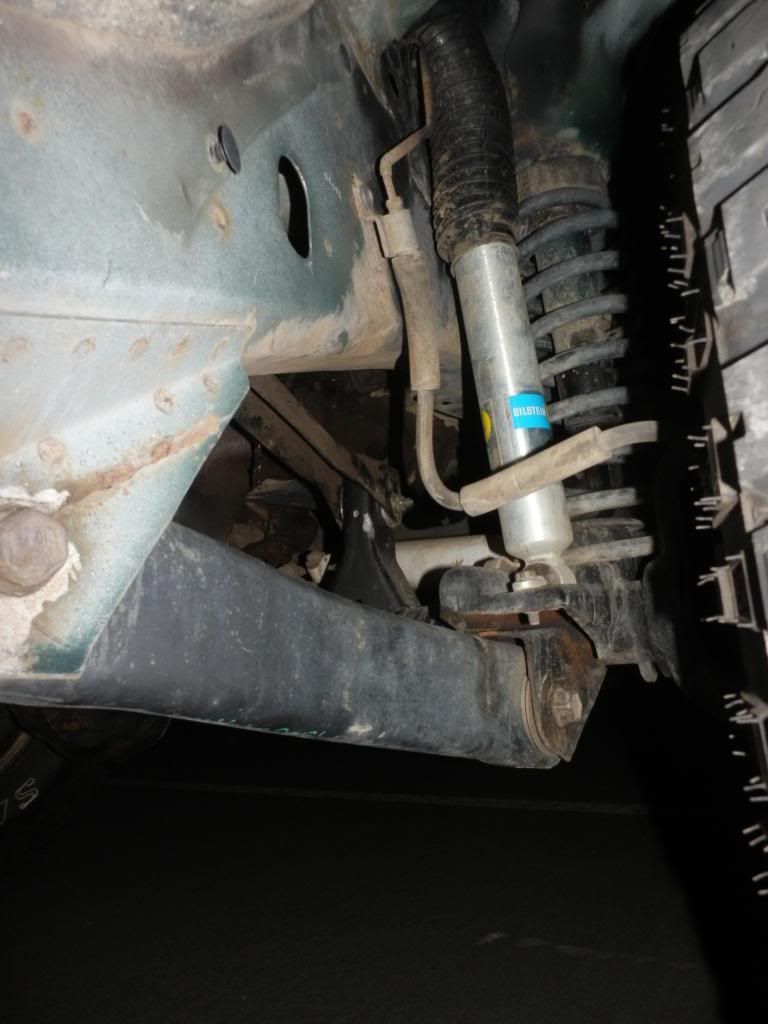 Review:
They were worth the install. The arm feels much more solid and stable in corners, the turning radius wasn't any different with my p235s(just wait a post of two) and the overall feel was great. The problem is that with my 3.5 inches of lift they bottom out quickly on the bottom of the shock/control arm mounts to the top of the arm. They only allow about 2 inches of droop. I did not feel comfortable cutting the mount since I wasn't sure if it would loose any structural integrity. Also, the bushings on the lower control arm are not replaceable. You have to buy the WJ arm with both bushings installed which is not cool.
Bilstein 5100s: $340 for all 4
First I wanted to say that these things are amazing. I could end it at that, but I will elaborate.
I was thinking of the OME shocks, but the superior monotube technology, lifetime warranty, the legend that is the 5100, and the non yellow color convinced me otherwise.
I found them cheapest on Newegg, but I have never purchased through them and I wanted someone that would be more familiar with the product. I decided to purchase through OffRoad Warehouse. They were really helpful and price matched the Newegg price which was great. I thought i was only going to be at about 2-3 inches of lift since I had purchased these around the same time as my other lift components.
Part Numbers from Bilstein's site.
Cherokee XJ 84-01 2-3" 2-3" 24-185622 5100 Series 2 24-185639 5100 Series
These things are beautiful. I was more excited about these than any other mod so far even just for the looks. I was only installing the fronts for now since I wasn't ready to tackle the upper mounts in the rear yet.
Install was super easy since I had already disconnected my front shocks a few times for the other mods.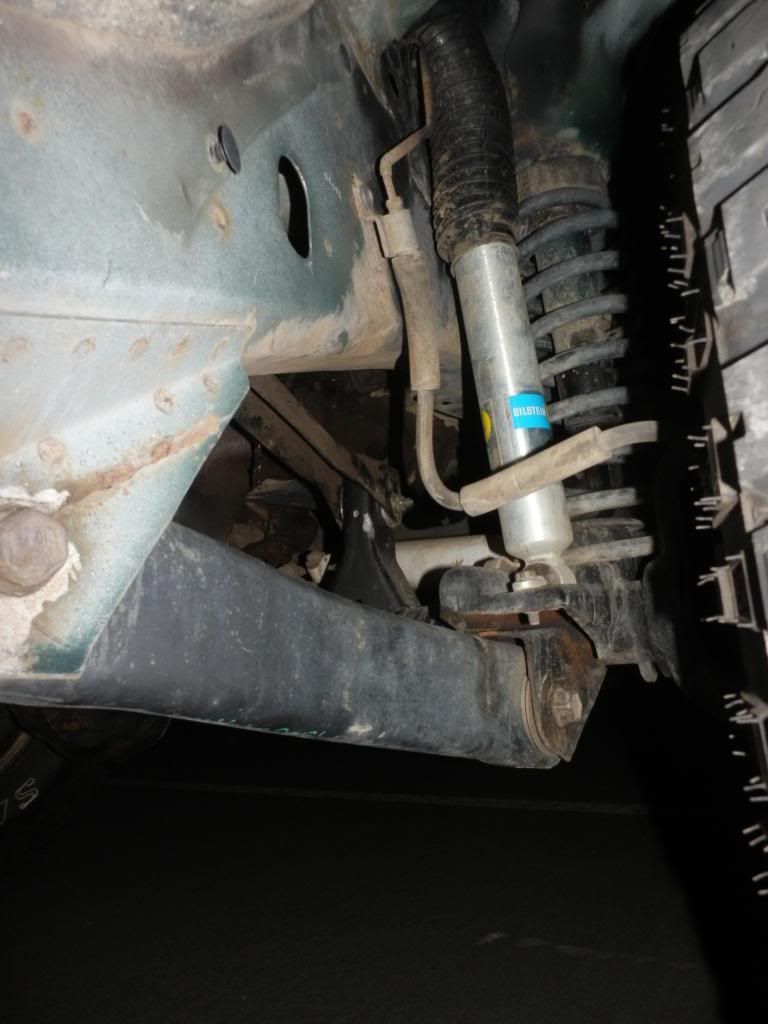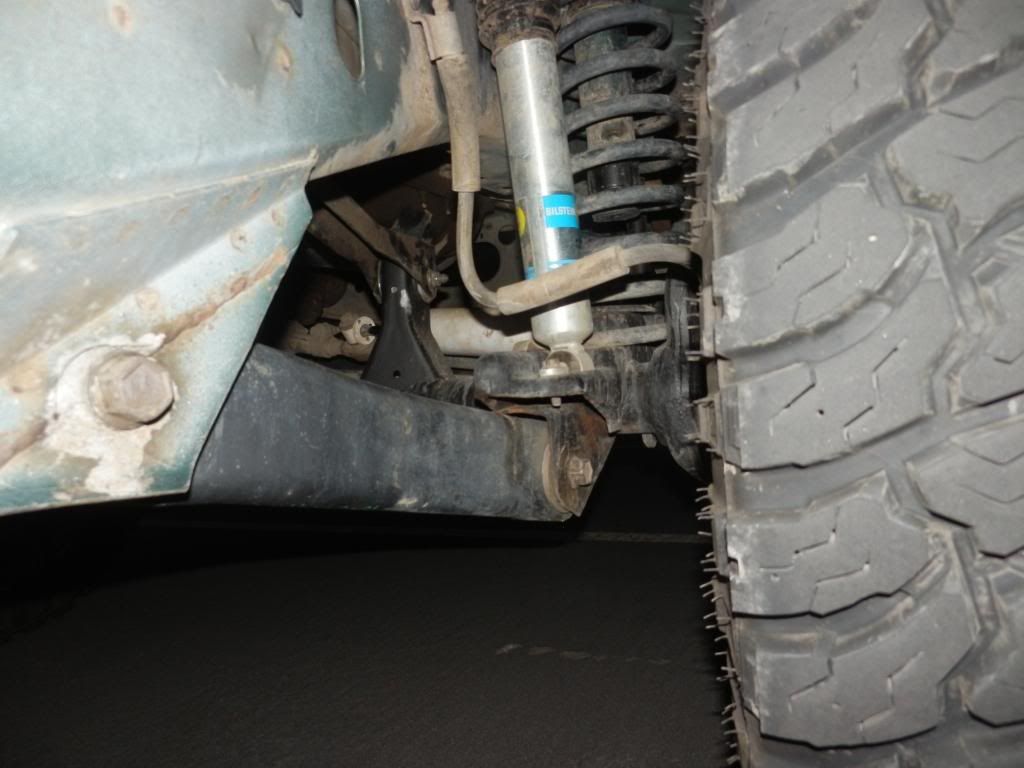 Review:
This immediately stiffened up the front and most of the sway I was experiencing in the front was gone. This may have been in part to the WJ control arms installed about the same time.
These shocks did stiffen up the ride, but it just made the Jeep feel more sporty which is great since it is my daily driver when I am not on a motorcycle.
I had plans for the rear that I have been working on for a while that would help the flex so i needed to install a longer rear brake line. I used Dakota Rear Softlines ('95-00) = 6" longer which would allow much more flex from the rear. It installed perfectly after I got the old line off which was kind of a pain since my Jeep was from the north west and had too much rust.