Recently I purchased a 92 Cherokee for a DD. I'm looking to improve upon it a little to get the most out of it. There will be no lifting yet so if that's all that matters, sorry to burst your bubble. Maybe in the far future I will add a small lift and some decently sized tires but for now it's going to remain stock. I have a dirt bike for my extreme off-road needs.
It's a 92 Cherokee, 4.0, 5 Speed, 4x4 with 145k on the OD. As it sits there are a few things it needs, to say the least. Motor mounts are GONE, Trans mount is in poor condition, distributor cap looks old, injectors are probably original, valve cover gasket is leaking, weather stripping is shot all around and so on and so on.
The list of things I plan to do! Kind of in order. . .
*Change ALL fluids! (Done)
*New motor Mounts (Done)
*New Transmission Mount (None)
*Cap, Rotor, Wires (Done)
*New fuel regulator (Cant find!)
*New belt (Done)
*New trackbar and bushings (Done)
*New tie rods
*New Tires (Done)
*New Shocks (Done)
*New control arm bushings
*A/C ? (Need to fine leak) (Done)
*99 or newer Intake with 703 Injector's
*New 2.5" exhaust from the header back, includes cat, and muffler (going for quiet).
*New O2 sensors (Dont need just yet. . . )
*Replacement Electric Fan (Done)
*New windshield weather stripping
*New door and side window weather stripping.
During the test drive the A/C would blow cold when you were moving. Got it home and added a can or 134A I had lying around and it started working better but the compressor shuts off at idle. I plan to have the father-in-law take a look at it and charge it up for me.
Here are a few pictures of how it currently sits. . .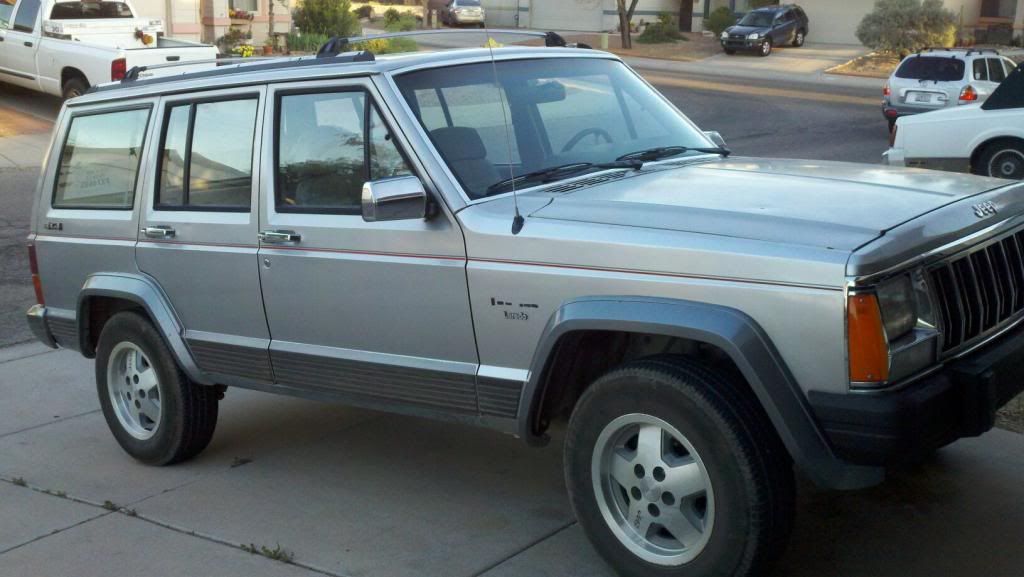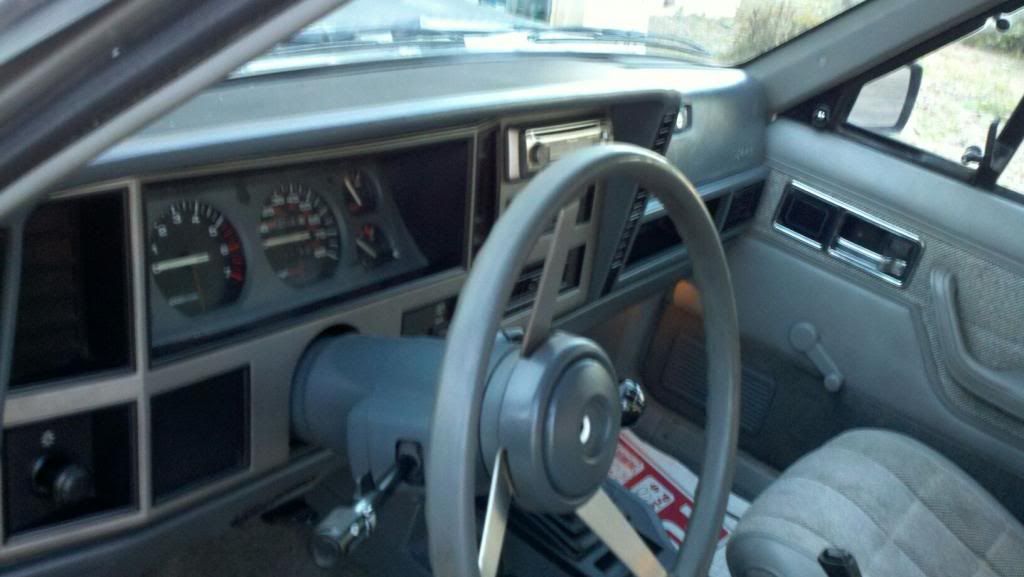 I love how the engine bay is not overly populated with electronics and crap!
There is also an excessive amount of engine noise in the cabin. The foam block where the heater and A/C pass through is crispy and frail. I'll probably cut a piece of rubber I can affix around the area the better seal it off.
There is also some aluminum tape behind the motor on the firewall, not sure what its covering up, maybe a few holes?
The windshield trim is no longer flat, it creates quite a bit of noise when on the freeway. . . I want to replace it with a newer style rubber seal, we will see.
The wheels I plan on putting on the Jeep, I don't care for the Jurassic Park wheels too much. . .
That's pretty much it for now, some parts are ordered and on the way!