Registered User
Join Date: Sep 2011
Location: Al Ain
Posts: 684
Quote:
What are you doing in Abu Dhabi?
As little as possible, of course! Actually I work as a flight simulator instructor at a flying school in Al Ain, in Abu Dhabi emirate. I'm an ex-Royal Air Force pilot
---
Richard Moss
'96 ZJ 4L auto, '95 XJ 4L manual, 2000 Nissan Patrol Y61
In the UK: 1969 MGC GT
Sept 17:
Next stage in the attempt to keep it cool:
On the last three or four trips out the XJ has cutout due to an overheated Powertrain Control Module (the engine management computer). Once it had cooled down it started and ran alright - but spending 15-20 minutes in the hot sun, melting icecubes on a scorching PCM is not really what it's all about.
One problem that causes this can be faulty electrical capacitors in the PCM (3 capacitors in total). One solutions is to spend about $500 buying and shipping in a new PCM but a search on the internet threw up guidance about replacing these capacitors at a total cost of under $10 including shipping. So guess which option I went for! Last night I replaced the capacitors with new, upgraded ones, a job which took about 2 hours whilst working at a "relaxed" pace. The Jeep runs OK and after I thrashed it up the local mountain (Jebel Hafeet) to get it nice and hot it still started on the first turn of the key. However, I need a proper desert run to see if can break it again
It's a really easy fix to do: remove PCM from Jeep, open it up, scrape waterproof sealant away from around the capacitors, desolder the old ones, solder in the new ones (make sure they're round the right way), seal with silicon sealant and refit PCM. These photos come from jeepforum .com
http://www.jeepforum.com/forum/f12/c...rs-ecu-492597/
---
Richard Moss
'96 ZJ 4L auto, '95 XJ 4L manual, 2000 Nissan Patrol Y61
In the UK: 1969 MGC GT
Sept 29:
Well, I did this capacitor and all seems well so far. I have tried to overheat the ECU on the trip on thursday afternoon and it didn't shut down on me - plus when I shut the engine off it restarted perfectly, which it didn't do before. Fingers crossed. It is said that the faulty capacitors also cause a loss of power and whilst the Cherokee seems to pull better from lower revs, my guess is that I am just experiencing a placebo effect.
I have done a couple of other jobs - no pictures yet.
One was to (finally) fit the polyurethane spring bushes to the rear leaf springs. This involved drilling out the old rubber bushes as well as removing the metal sleeves in which they sit. Lots of drilling, lots of noise, lots of chiseling out the sleeves but job now done. It was just as well really because the old rubber bushes were crumbling away and this was giving the rear end a wayward feel. It feels more taut now, but also more bouncy.
I had to have the steering box rebuilt last week because it was leaking quite badly - as was the pump, it transpired. I had the job done by a local garage and asked them to investigate a back end noise which turned out to be a knackered rear wheel bearing, so I had that replaced at the same time. These are some of the few jobs that I don't feel comfortable doing so I am happy to farm them out.
Something that I DID do for myself was fix the faulty electrically powered seat base on the front passenger seat. Actually, I didn't fix it, I just replaced it with a manual one
- I bought a pair of wrong coloured seats from a scrapyard (beige instead of my grey) and swapped the base over. Whilst at it, I took a look at the driver's seat and was glad I did because I found no fewer than 4 significant cracks in the frame, which we all know is a common problem on Jeeps of this era. A few minutes with my "stick" welder and all is well.
I still have the beige front seats and because they are a kind of heavy duty cotton weave material (which looks a bit like tweed) I am considering fitting them to my Grand Cherokee in place of the nylon covered ones in there at the moment. They'll need a damned good cleanup, though!
---
Richard Moss
'96 ZJ 4L auto, '95 XJ 4L manual, 2000 Nissan Patrol Y61
In the UK: 1969 MGC GT
Oct 4th:
I spoke too soon. I got part way through a desert trip today and ran into the stalling/refusing to start problem. I'm now faced with 4 options:

a) sell it
b) replace the Powertrain Control Module with a new one at $300+
c) relocate the PCM to the inside of the car to (hopefully) keep it cooler
d) a combination of b & c

Right now, I just want to set fire to it.................
---
Richard Moss
'96 ZJ 4L auto, '95 XJ 4L manual, 2000 Nissan Patrol Y61
In the UK: 1969 MGC GT
Oct 14:
Someone on another forum suggest that it could be the CPS (and the same has been suggested here). I was also asked if I'd checked the codes = and I'd forgotten that I could do this on older vehicles (doh!). It's too old to have OBDII and it DOES have a distributor. I had forgotten that the older system can store codes (thanks for the nudge). So, using the key ON-OFF-ON 5 times get the PCM to enter diagnostic mode and flash the CHECK ENGINE light and that gives me codes 11 and 62.
11 = Crank Position Sensor
62 = Service Indicator not working (not relevant to this)
So, the CPS is the new number one suspect! Good job I have one on the way - it should be here in a day or two.
As for moving the PCM inboard, looking at the loom it appears that unpicking the cable duct will give me enough flex to move it inside under the dash without cutting any wires. I'll just need to put a hole through the bulkhead to run the cable through. Great word "just"
---
Richard Moss
'96 ZJ 4L auto, '95 XJ 4L manual, 2000 Nissan Patrol Y61
In the UK: 1969 MGC GT
Oct 15:
Today's little moment of joy - a REALLY nasty vibration when under power. I think it's the universal joint(s) in the rear driveshaft/propshaft. There's always something.......but at least I have replacement joints on the shelf ready to be fitted.
---
Richard Moss
'96 ZJ 4L auto, '95 XJ 4L manual, 2000 Nissan Patrol Y61
In the UK: 1969 MGC GT
Oct 16:
I looked at the rear propshaft (driveshaft) and the forward universal joint was completely shot. Repairs had to wait until this evening but were pretty straightforward. The photos below show the extent of the wear - the bearings were dry and completely trashed. What is annoying is that when it was in the workshop having the steering done, I asked them to check out the vibration which I said was probably coming from the propshaft. I was assured that it was fine - yet 2 weeks later, here we are!
How it should be:
How it was: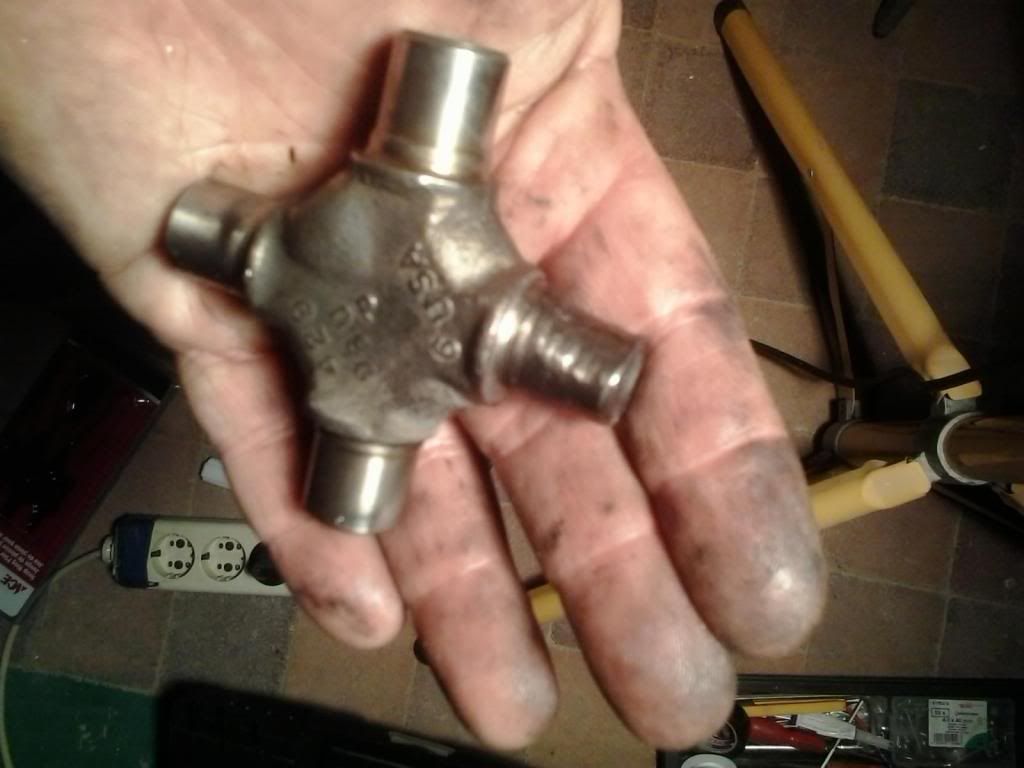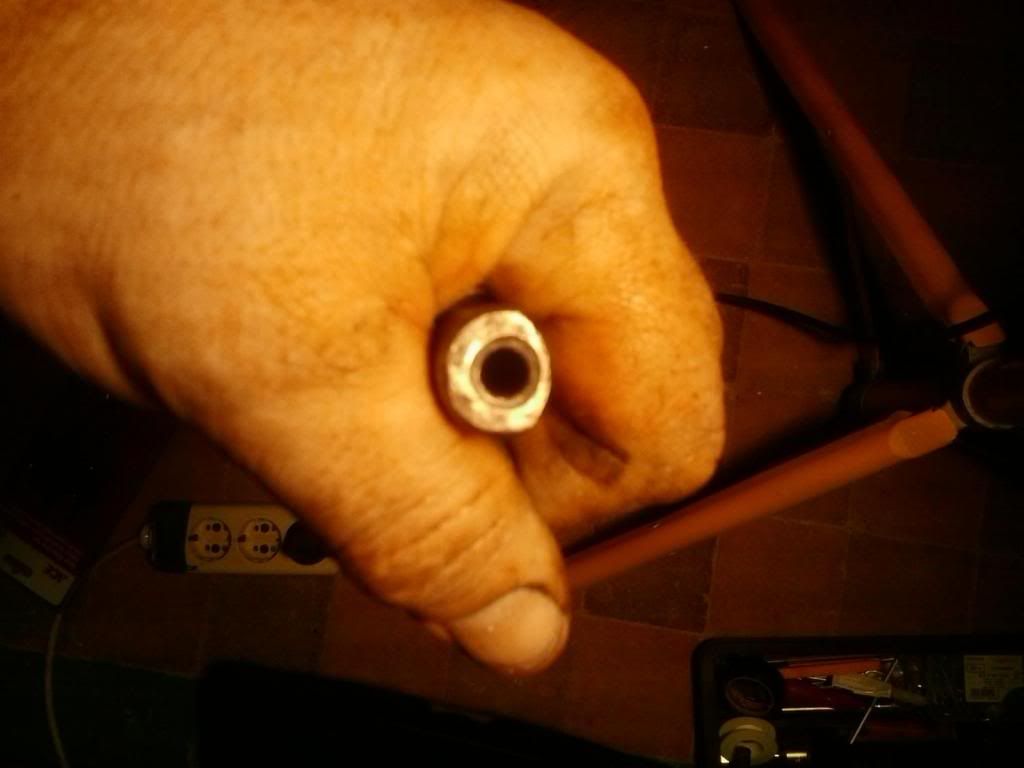 It's interesting to note that I have always experienced what I thought was clutch judder when pulling away from a standstill and just put that down to the usual XJ lack of refinement (Chrysler/Jeep please note: you can find "refinement" in the dictionary between "rattle" and "rubbish"). The judder is now gone and so it must have been caused by the prop UJ binding.
the couriers tell me that the new Crank Position Sensor is "in the system" so it should be with me in a day or two.
---
Richard Moss
'96 ZJ 4L auto, '95 XJ 4L manual, 2000 Nissan Patrol Y61
In the UK: 1969 MGC GT
Replacing the CPS seems to have done the trick - I gave it a good workout in the desert on friday and no cutting out. i even tried switching off and on again and it started first time each time.
---
Richard Moss
'96 ZJ 4L auto, '95 XJ 4L manual, 2000 Nissan Patrol Y61
In the UK: 1969 MGC GT
I got round to replacing all the front suspension bushes last week - and it's made quite an improvement to the handling and steering (the old ones were well and truly shot). I did all 8 on the control arms/axle and also fitted new anti-roll bar drop links at the same time - it was not worth leaving them for another day (they were knackered, too). Removal and refitting involved undoing the bolts and beating the crap out of the old bushes with a big hammer and a chisel and then beating the crap back in with the hammer and some big sockets
Here are some of the old ones: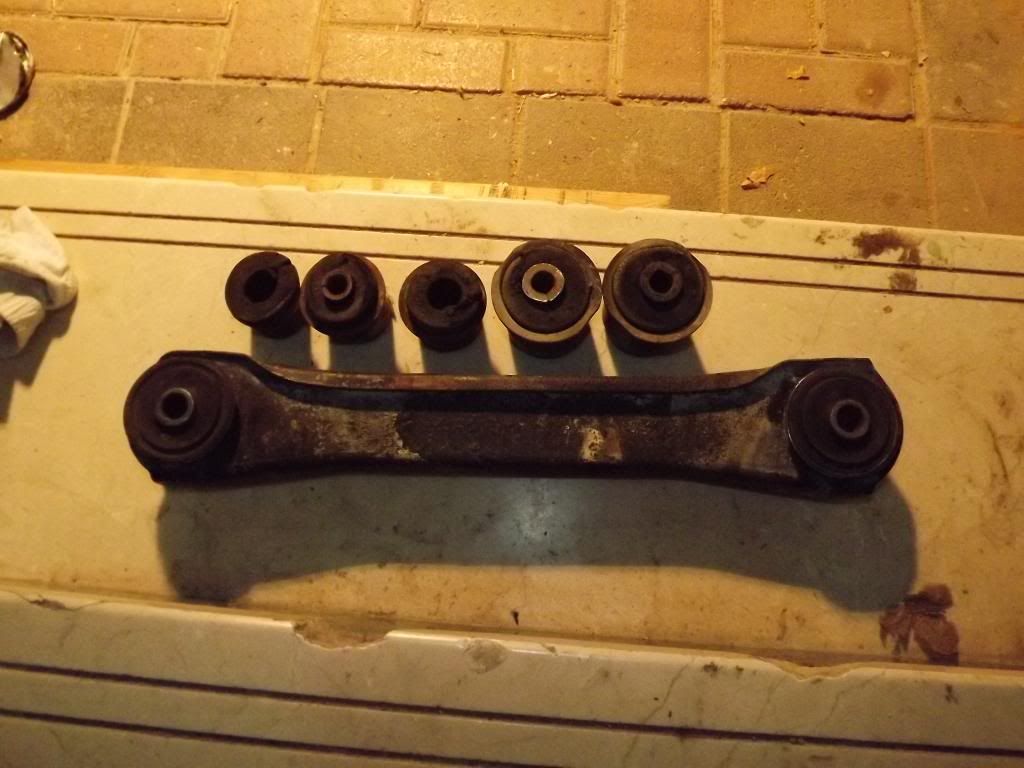 These are the shiny new ones in place.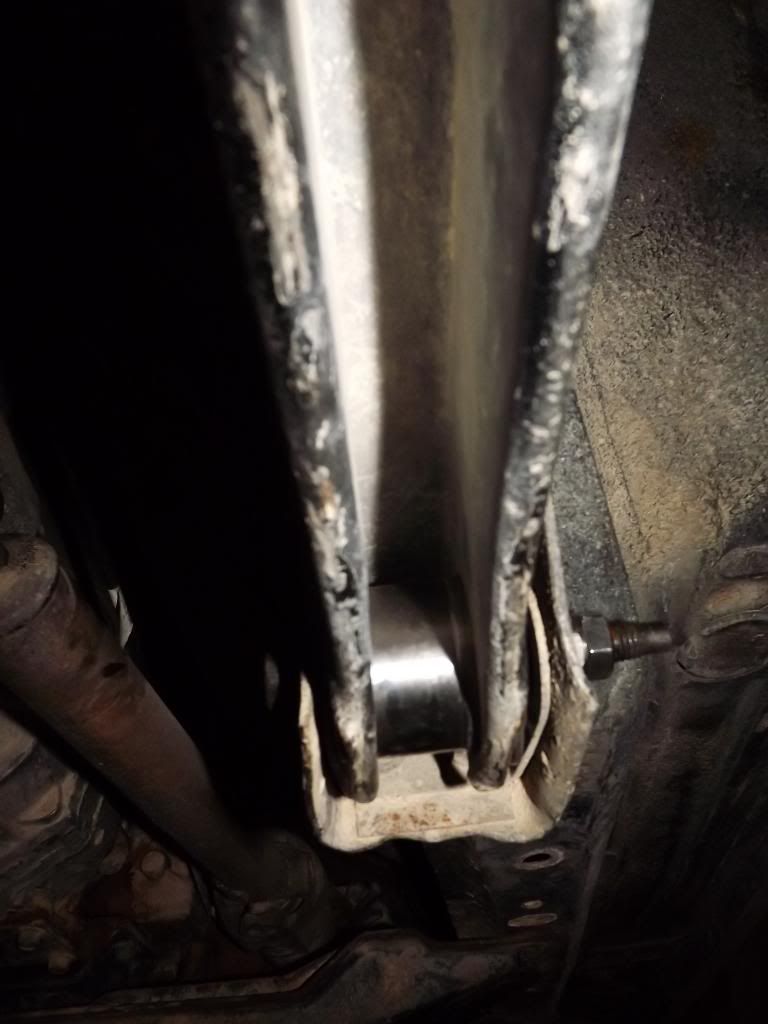 I also fitted some camber adjusting wedges to the rear axle (to straighten out the angle of the propshaft universal joints and reduce judder). I forgot to take photos but the modification has made it smoother to drive.
On Christmas Day afternoon I fitted a remote control central locking system bought from Amazon for about $18. It was dead easy to fit and uses the existing central locking system motors. It was so good, I'm going to fit one to my Grand Cherokee because the range of the fob is much greater than the .
Next up - cracked exhaust manifold, blown downpipe gasket and (it seems) a front wheelbearing
---
Richard Moss
'96 ZJ 4L auto, '95 XJ 4L manual, 2000 Nissan Patrol Y61
In the UK: 1969 MGC GT
Manifold (partly) welded, down pipe gasket and wheel bearing replaced. However, the crankshaft rear oil seal failed out in the desert the other day - now sorted thanks to a local garage - along with the (overdue) oil and filter change plus a new sump gasket (also overdue) thanks to the long-standing leaks.
I finally pulled the pictures of my rear spring bushes off my camera - you can see why the handling was a bit suspect: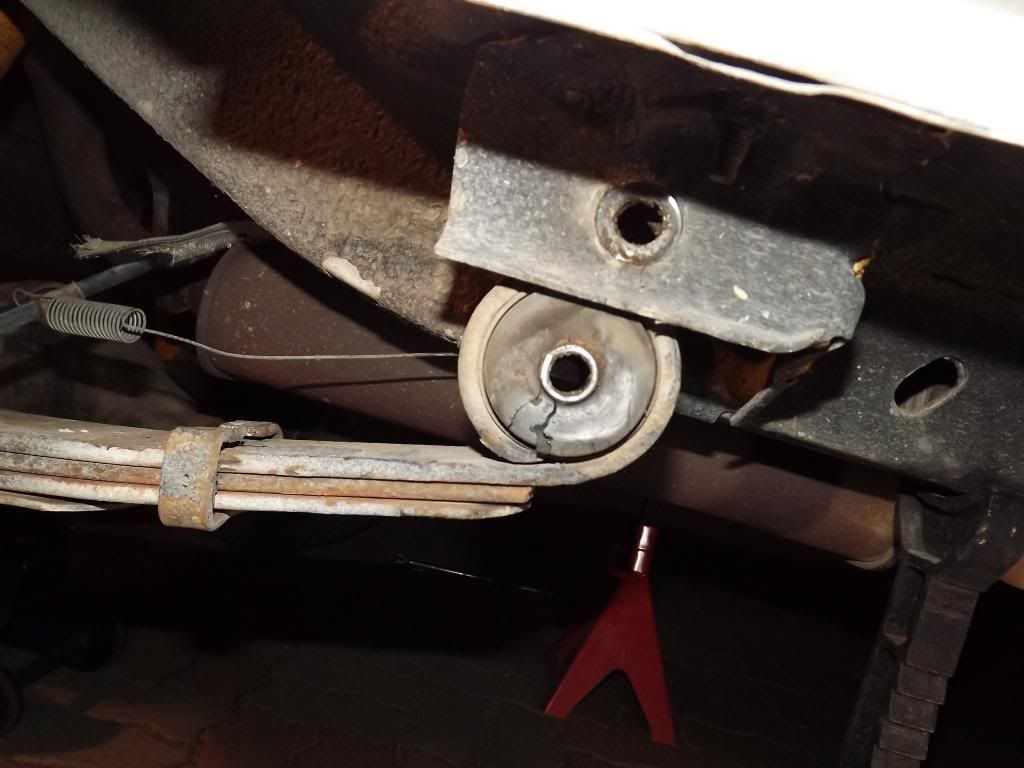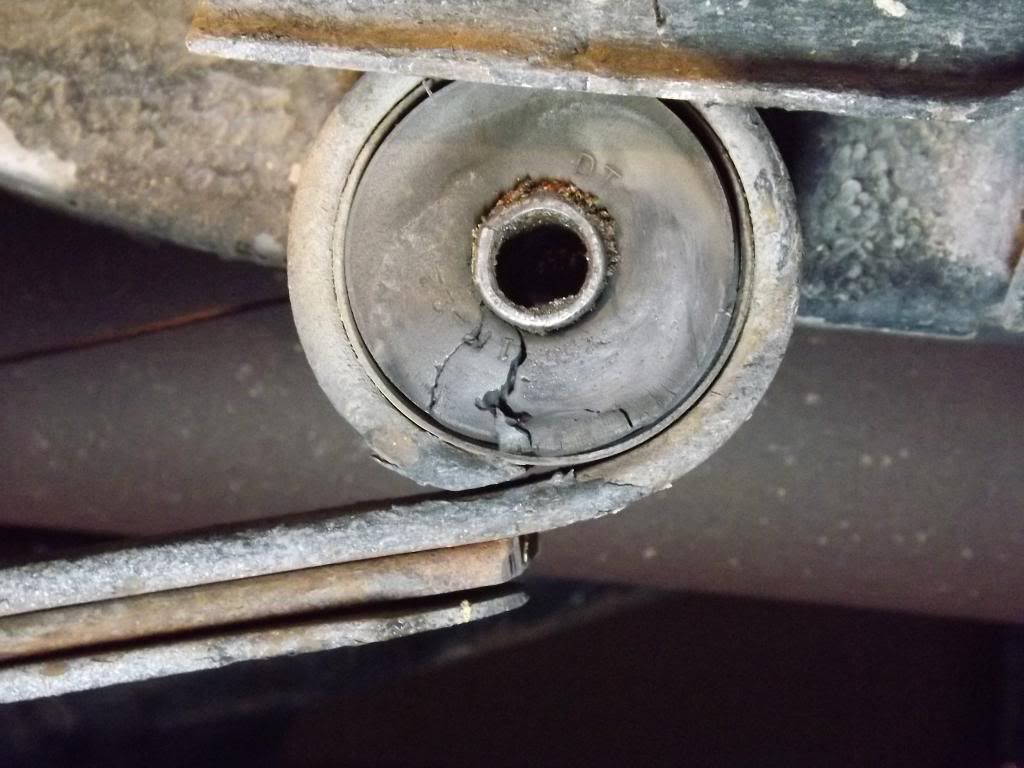 Some "action" shots: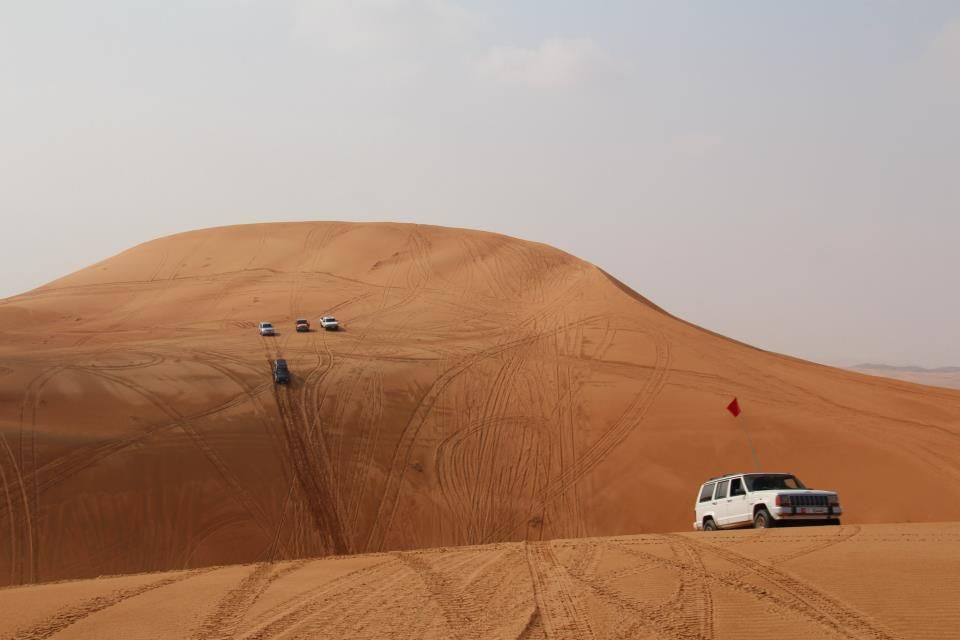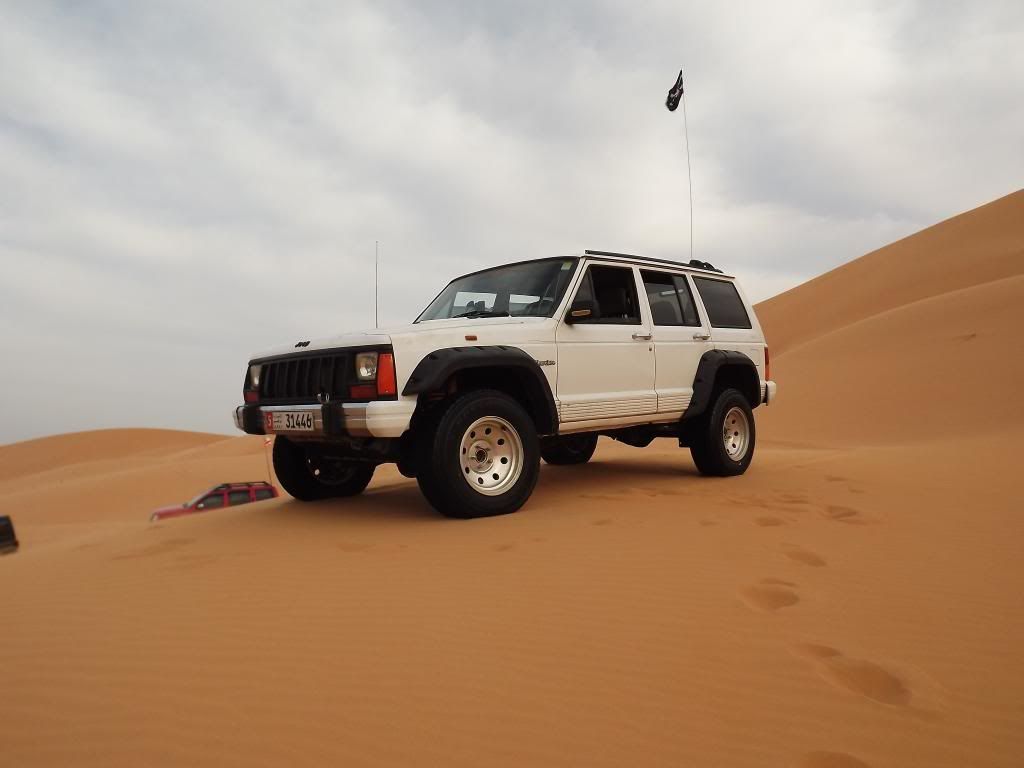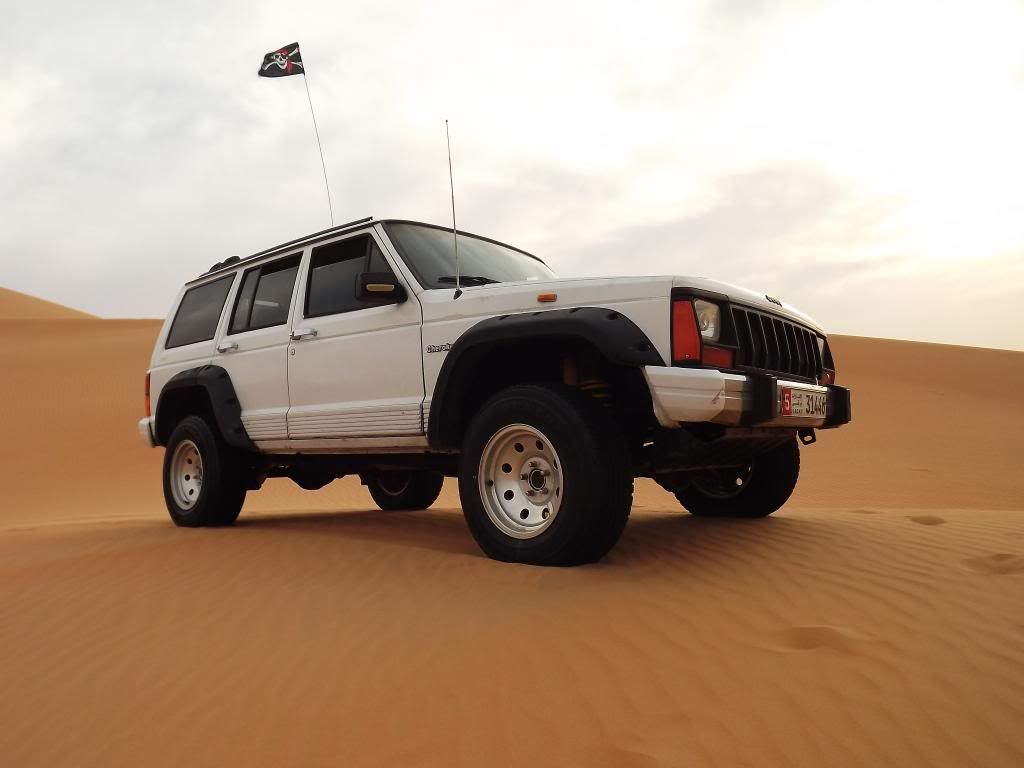 ---
Richard Moss
'96 ZJ 4L auto, '95 XJ 4L manual, 2000 Nissan Patrol Y61
In the UK: 1969 MGC GT
Currently Active Users Viewing This Thread: 1

(0 members and 1 guests)
Posting Rules

You may post new threads

You may post replies

You may not post attachments

You may not edit your posts

---

HTML code is Off

---