Well let me start off by saying thanks! I have learned a lot from this site, and as soon as I get my new rims and tires I'm finally going to buy that membership.
Also, this build is going to be slow since I'm a broke college kid working part time. However my goals are a reliable DD but also capable off road. As of right now I only wheel occasionally, usually by myself and only very light stuff. I need to join a jeep club or something lol. Anyway I dont want to do anything even semi serious with my rear suspension.. but anyway
It's a 1995 XJ sport, 4.0 auto with power locks/windows, has 160,000 miles currently and I had it for like a year and a half or so. Got it stock off my step-brother, original price was 1000 but only took $500 for it. Not bad
WARNING! PIC HEAVY!
Sorry, all pics was taken on my cell phone, but the more recent pics were at least taken by the the Ihone 4! lol
When I got it,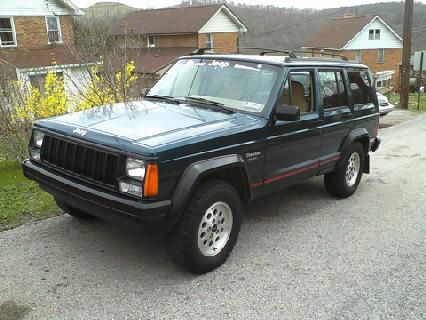 Then 2 inch spacers
Then after awhile I got some 30's Cooper Discoverer STT's, Awesome tire BTW! And put them of Crager D windows, which I hate. Got my tires balanced and the guy said one was bent, ok I buy a new one to replace. That one was bent to, so Im looking to buy some new rims here soon. Input appreciated! Also got the rough country winch bumper and winch (was a gift, I cant complain too much)
The front has RC 3 inch springs with there 9500? I think shocks and a new steering stabilizer. Pretty sure it was here someone suggested a mod to the track bar? I didnt think this was needed for a 3 inch? even though Im pretty sure I only actually got 2 inches of lift becease of the heavy bumper/winch. Which was the reason I went 3 inch instead of 2. The rear however, was done by my dad before I knew any better. The rear leafs are stock, and of coarse sagging. Instead of getting new ones he raised the back up with air shocks. I know know, replacing soon. Thats pretty much the only reason I never attepmted to do some real wheeling.
Other thing I do not have a pic of is the roof. Its really bad. Had to of parked under a tree or somehthing. Its pretty flexiable and the paint is chipping and rusting. I need to sandblast and paint soon, hopefully before winter.
Rockers are rusted, as usual. Living in the rust belt sucks. I almost want to sell this thing and buy a cleaner one or a newer wrangler.
Right after the tires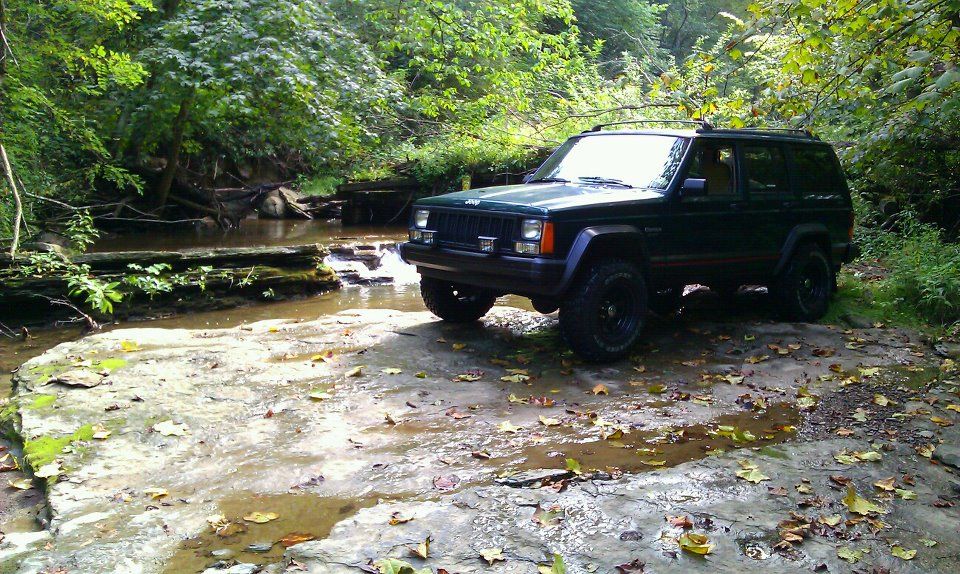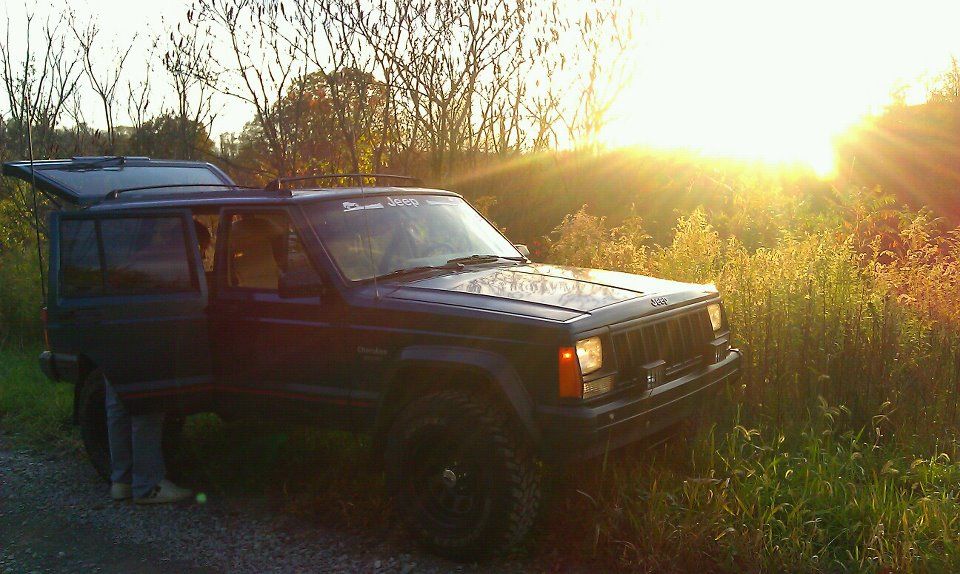 Here that is, taken this morning with my worn tires..and bugs all on the front
I really need to trim up the front! Been putting this off as well.
This one is on the rear left, its the worst one. I dont know why, maybe a heavy foot?
But the other ones look like this, not much better but..
Heres the interior, Only thing not stock is the Cobra 29 LX. Pretty clean, except the drivers seat
and the stains on the passenger side door should come out to. Im in need of some floor mats!
Also cant forget about the sagging headliner. Shoulda fixed it awhile ago.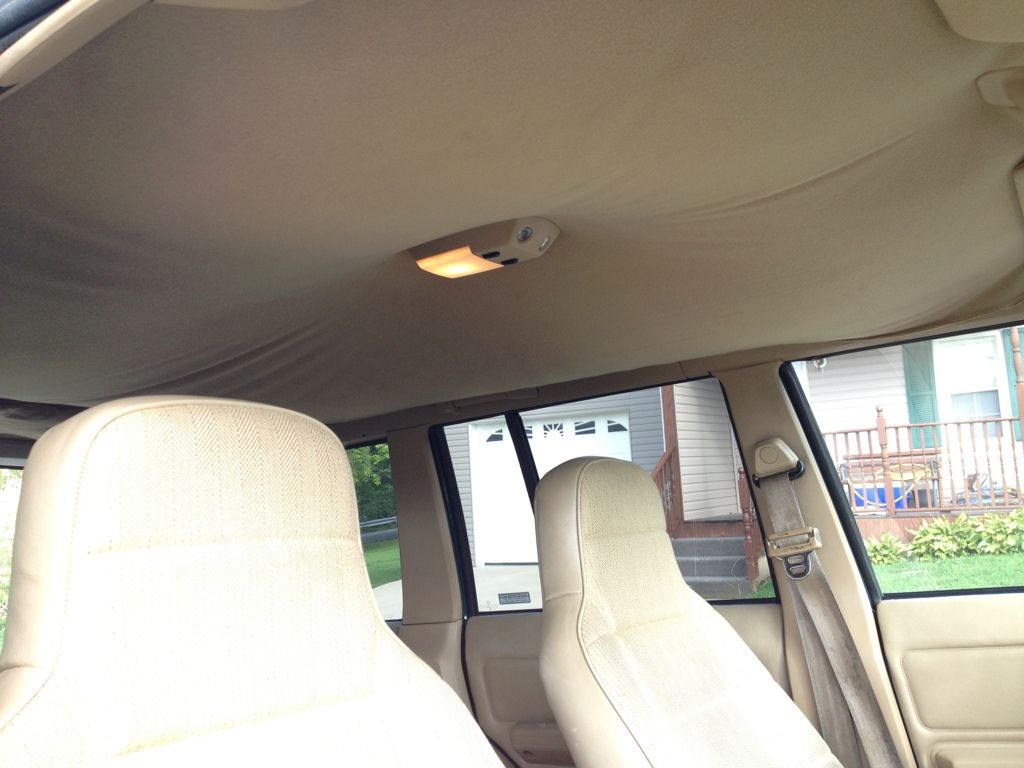 Then one day after driving it in the rain it smelled like mildew. In the cargo area, the Carpet was wet. I cut it out to find this.
I didnt see where it was coming from though, dried by the time I got the carpet out (had to wait a few days). The only hole I could see is under the bracket where the spare tire is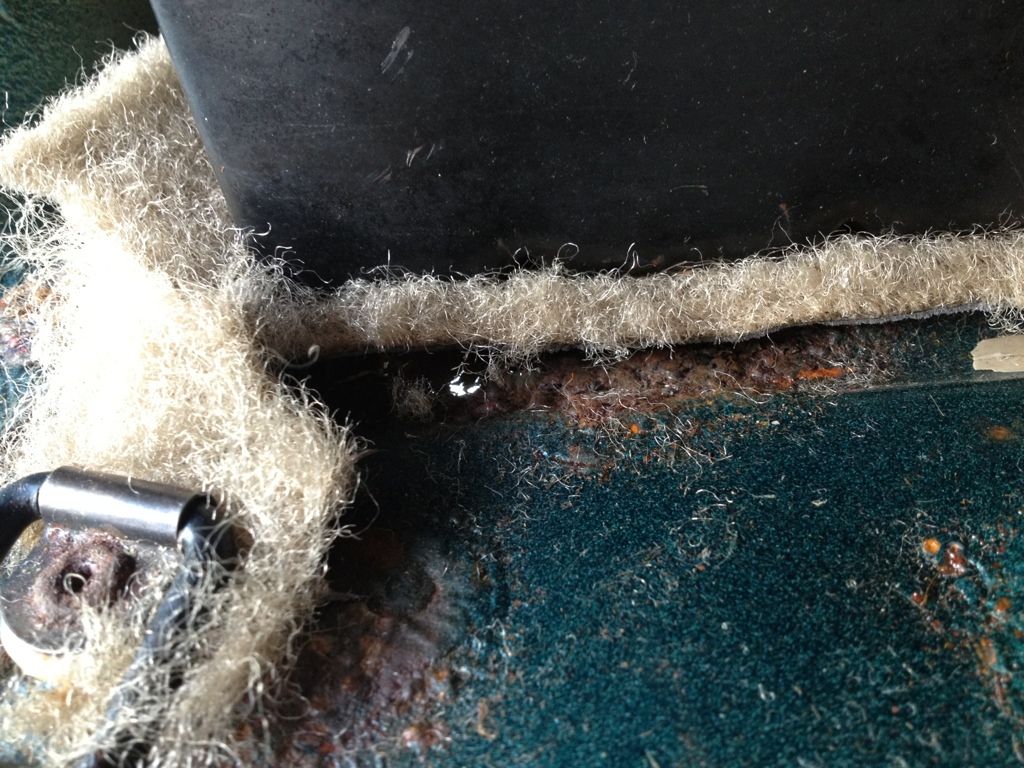 I think thats it for now. Also I hope these pics actually work. Not sure if I can post under 50 posts or what not. Not even sure I have that many....If not Im sorry. If they did work I think I may have added too many, so let me know if I should post less of the same thing essentially for future post.
Anyway, any input is appreciated and I hope I get to update this thing a lot!