Hey guys,
I was going through my stuff today and found all the receipts for the parts and whatnot that I got for my jeep so I figured Id start a build thread to let you guys know how it's coming along. So here I go:
On Thursday May 22, 2008 I bought my first jeep wrangler it's a 2003 Sahara
It came with:
Hard top
Soft top
Full doors
Danna 44 Rear
3.73 gears
Dana 30 up front
Tube bumper rear
I had the jeep for less than a day before I went upstate New York to my friend's house where he has 40 Acres and did a little wheeling.
This is what I started with: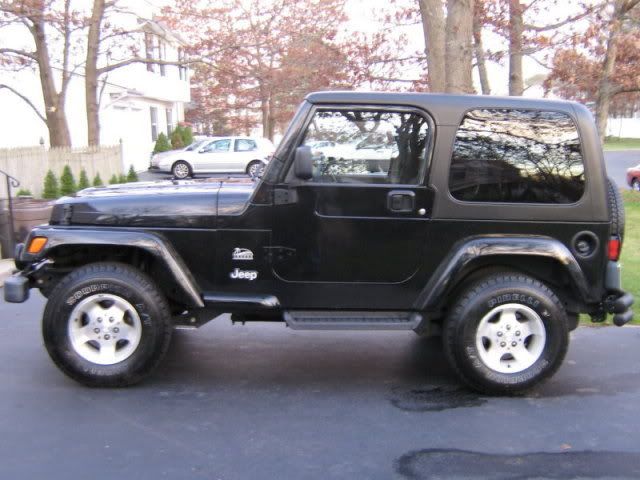 Maybe a month after I got the jeep I needed some fog lights because the PO took the stockers off and I guess lost them or something. So I just picked up some Hella 500's from Walmart for $60. I set them up and Put a new switch where the ash tray would be if I had it.
A couple weeks after I bought the lights I picked up a cobra 19 CB and mounted it on top of the dash next to the gauges I got a teraflex? Antenna mount, a 4' firestick, and a quick disconnect for the antenna with 18' of coax and set up the cb and I still can't get the antenna dialed in just right.
By October I was sick of those ****ty stock headlights so I decided to buy the delta xenon headlights (
Delta Tech 1-1199-50X - Delta 7" Round Quad Bar Xenon Headlamp Kit for 97-06 Jeep® Wrangler TJ & Unlimited - Quadratec
) as recommended by the security guard at work. They were a good upgrade from stock but are still inadequate so if anyone knows what bulbs I should get to replace them just let me know. When I bought the head lights I also picked up some euro light guards for the back and marker lights and I still cant figure out how to get the side marker guards on but I'm not worried about it.
My next step was a JKS 1.25" body lift and 1" brown dog motor mount lift. The body lift went in just fine the only snag I hit was the front passenger side radiator bump but we finally got it in. The brow dog lift was beast compared to the puny stock mounts I was very impressed.
In March of 2009 I found that one of my sway bar links had popped apart on me so I went onto quadratec and picked up some JKS discos. They get the job done there just a pain sometimes getting them back on but it's really no big deal.
After that I did a few more little things like driving lights (the Hella 500s again) on the windshield, brakes (EBC yellows and centric rotors in the front and greens in the back on cheap rotors) had to replace a cracked caliper).
Just last week I picked up some 33x12.5" general A/T tires for $260 these tires are like brand new I think I got an Awesome deal especially when you know that I intended to buy a set of warn down 31's from the guy for $200 and left with like new 33's for $60 more. Heres the tires:
Now my plan is to get a 2.5" OME lift to fit the tires that are going to go on my factory canyon rims with 1.25" spidertrax wheel spacers. Hopefully I'll have all this done by December.
The pics with the tires are the most recent pics I got of my jeep I hope you guys like it. If you guys have any suggestions for my build just let me know. I would really like my jeep to end up being an all purpose rig that can take anything you can throw at it.
So let me know what you think