Registered User
Join Date: Aug 2008
Location: Italy
Posts: 97
Weekend Jeep roll over
---
Took the jeep out to the Alps today to play around. The other jeeps were a JK 4 door with 3 inch lift, but stock tires (tires are on the way and cost $700 shipping lol), JK Rubicon stock and myself. We ended up doing alot of up hill climbs through some thicks woods so you can say, the ground floor was very sloppy. I'm obviously very impressed with my jeep and how it performs. I believe it's all in the tires (swampers) due to the fact that is has an open diff D30/D35.
Here is a video of one of the uphill climbs, this is after my buddies dug some ruts and made it interesting to get up.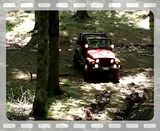 I didn't damage the vehicle at all during the harsh off roading parts of the trip but did manage to fall into a ditch when the ground gave way. I ended up flipping the jeep and the video is below with some commentary from myself and my buddy.
Keep in mind, we are 10 miles into some thick forests and hoped the jeep would start and drive out with out issues due to the fact that there are some bad spots that would need to be tackled to get to civilization.
Sure enough, the engine started, no fluids leaked. Damage is ...... two front quarter panels smashed but not hindering driving, just smashed, broke driver side light mount but still works, broke a piece of the soft top (can be replaced easily), and a small dent on the hood that can be popped out.
No damage to the roll bar, sides, tires, wheel..... nothing. I'm going to invest in tube fenders now
As far as the roll over, I'm fine. I kept myself inside the vehicle and the seat belt engaged so I was kept nice and tight. I didn't tire down all of the stuff in the vehicle because I obviously wasn't planning on rolling over. My adrenaline was a bit jacked after the fact but no issues.
New screen saver -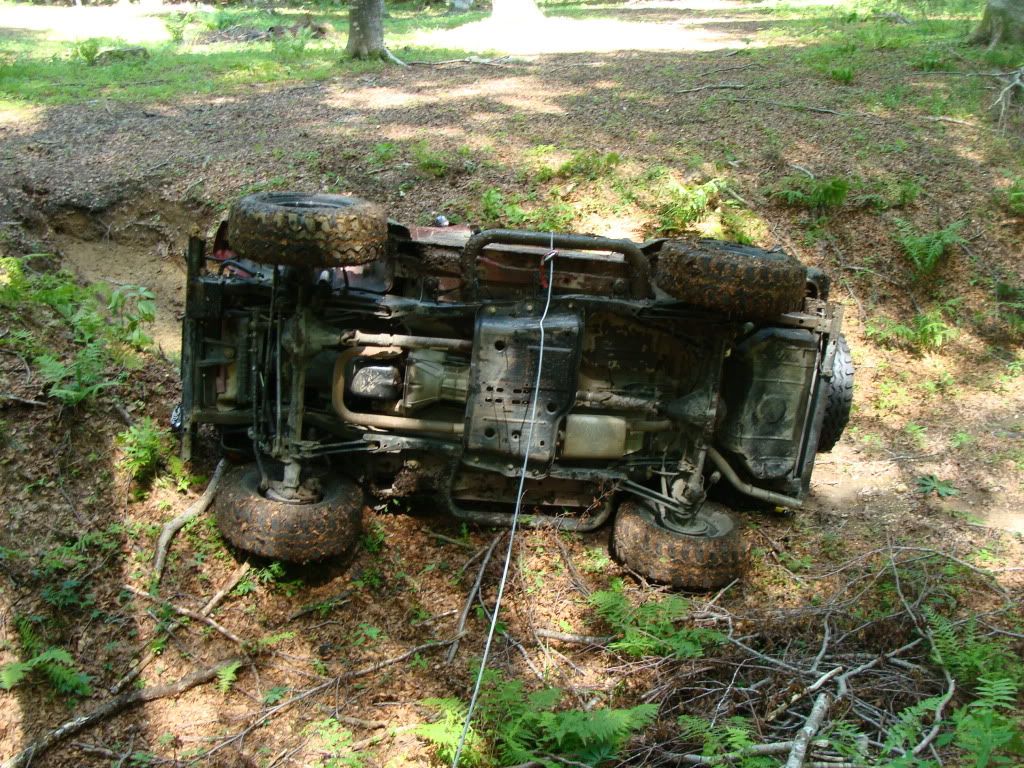 ---
1998 Wrangler Sport - 3" Full traction lift w/ quick discos, 1" front spacers, 33" TSL, dynomax exhaust/K&N filter, KC longrange bumper/windshield lights, Hi-lift, BestTop Sunrider soft top, Kicker speakers front/back, AMSOIL oil in all drivetrain.
Web Wheeler
Join Date: Aug 2007
Location: San Diego
Posts: 2,355
damn! At least its not too smashed up!
Registered User
Join Date: Mar 2009
Location: NJ
Posts: 200
Registered User
Join Date: Nov 2008
Location: Utah
Posts: 857
Now you got some Wicked trail damage to show the ladies
---
.,_______.o_o.
//_|__l__,\___\,___
l_--\__\__l----[]llllll[]
_(o)_)____(o)_)--o)_)
Daily Driver Jeep #16
Utah Jeep'n
Registered User
Join Date: Sep 2008
Location: Louisville Kentucky
Posts: 443
I realize there probably was not nearly as much force on that winch as there would be in a bad stuck situation, but still maybe not a good idea to stand that close to it.
Registered User
Join Date: May 2008
Location: Indiana
Posts: 1,357
Did you have to pull the plugs or anything?

Did the Jeep stall when it went over or did you snap-to and kill the motor on the way over.

When I worked for DOT we used to mow steep hillsides and were trained to mow on them. We usually rolled one or two tractors a month. The idea was to not panic and just kill the motor when we felt the roll start, that way we save the engine. Then we'd pull the tractor upright and put the deck back on and finish mowing.
---
**1997 Jeep Cherokee SE**
Former Police Car assigned to 54-26, RIP.
Registered User
Join Date: Dec 2006
Location: Chicago
Posts: 1,345
Did you at least do some preventive maintenance while you had the belly exposed?

Damn, i would at least change the oil or something.
---
My Jeep is a chick magnet with reverse polarity.


To view links or images in signatures your post count must be 10 or greater. You currently have 0 posts.

2000 WJ, 4.5l, AX15, 242 D60/14b, 5.5" lift front, 7.5" rear. Ford Expedition rear coils, Ram 350 shocks, JKS, IRO Long Arms, cool Badlands flag thingy.
1987 XJ - Gone but not forgotten
Registered User
Join Date: Jun 2007
Location: Arkansas
Posts: 1,875
Currently Active Users Viewing This Thread: 1

(0 members and 1 guests)
Posting Rules

You may post new threads

You may post replies

You may not post attachments

You may not edit your posts

---

HTML code is Off

---