Took the jeep out to the Alps today to play around. The other jeeps were a JK 4 door with 3 inch lift, but stock tires (tires are on the way and cost $700 shipping lol), JK Rubicon stock and myself. We ended up doing alot of up hill climbs through some thicks woods so you can say, the ground floor was very sloppy. I'm obviously very impressed with my jeep and how it performs. I believe it's all in the tires (swampers) due to the fact that is has an open diff D30/D35.
Here is a video of one of the uphill climbs, this is after my buddies dug some ruts and made it interesting to get up.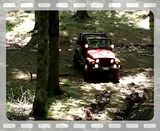 I didn't damage the vehicle at all during the harsh off roading parts of the trip but did manage to fall into a ditch when the ground gave way. I ended up flipping the jeep and the video is below with some commentary from myself and my buddy.
Keep in mind, we are 10 miles into some thick forests and hoped the jeep would start and drive out with out issues due to the fact that there are some bad spots that would need to be tackled to get to civilization.
Sure enough, the engine started, no fluids leaked. Damage is ...... two front quarter panels smashed but not hindering driving, just smashed, broke driver side light mount but still works, broke a piece of the soft top (can be replaced easily), and a small dent on the hood that can be popped out.
No damage to the roll bar, sides, tires, wheel..... nothing. I'm going to invest in tube fenders now
As far as the roll over, I'm fine. I kept myself inside the vehicle and the seat belt engaged so I was kept nice and tight. I didn't tire down all of the stuff in the vehicle because I obviously wasn't planning on rolling over. My adrenaline was a bit jacked after the fact but no issues.
New screen saver -