Registered User
Join Date: Jan 2013
Location: Cincinnati
Posts: 3,152
Here are a couple of pictures of a wreck I had in 2004. A UPS truck crossed the center line and hit me almost head-on. I was knocked out, but still talking, for four days. It broke both bones in my left forearm, and both bones were sticking out of the skin, I am told. The airbag broke the bone on the left side of my nose and shattered my left eye socket, too. I broke three ribs, broke my L1 and L2 vertebrae in my back, broke my left shoulder, broke my right thigh bone, shattered my right knee, and crushed my right ankle. I lost 4 units of blood. They told me that was about half of what a body has. They had to remove my spleen a week later, and I developed pneumonia the first 4 days. I am glad don't remember it. I don't remember the accident, they had to cut me out and air-care me to the hospital. I walk with a cane, now, and the way I walk caused me to tear a ligament in my left leg, so I have to wear braces on both ankles. I have arthritis in all the broken places and take Methadone and Percoset, but it doesn't seem to have any effect. I went through all the symptoms of PTSD, including anger. My trial took five years to commence and I eventually settled out, but never got what I should have gotten. UPS lawyers and management are real a$$holes. They tried to dis-credit me all they could, but Luckily, there was a man, who happened to be standing on the side of the road, who saw the whole thing. He says the UPS driver, who was temporarily driving for someone that day, was pulling out of a side road and reaching down for the electronic clip board, that had fallen while he was turning. As he was leaning down to get it, he was crossing the center-line. Even now, I do not remember any of it, but, sometimes have dreams of being trapped, or hitting another car. I get migraines from the sinus and brain damage. My memory is not what it used to be, and I lose balance when I close my eyes. You will have to click on my post to see the pictures. I am not used to how to upload in this forum, and it would not let me upload an image, but only a link. I used both iPad and a pc to do it and still only a link. Someone tell me how to upload an image/copy and paste the image to the post. I clicked on advanced, but like I said, it only wants links to the pictures. [IMG]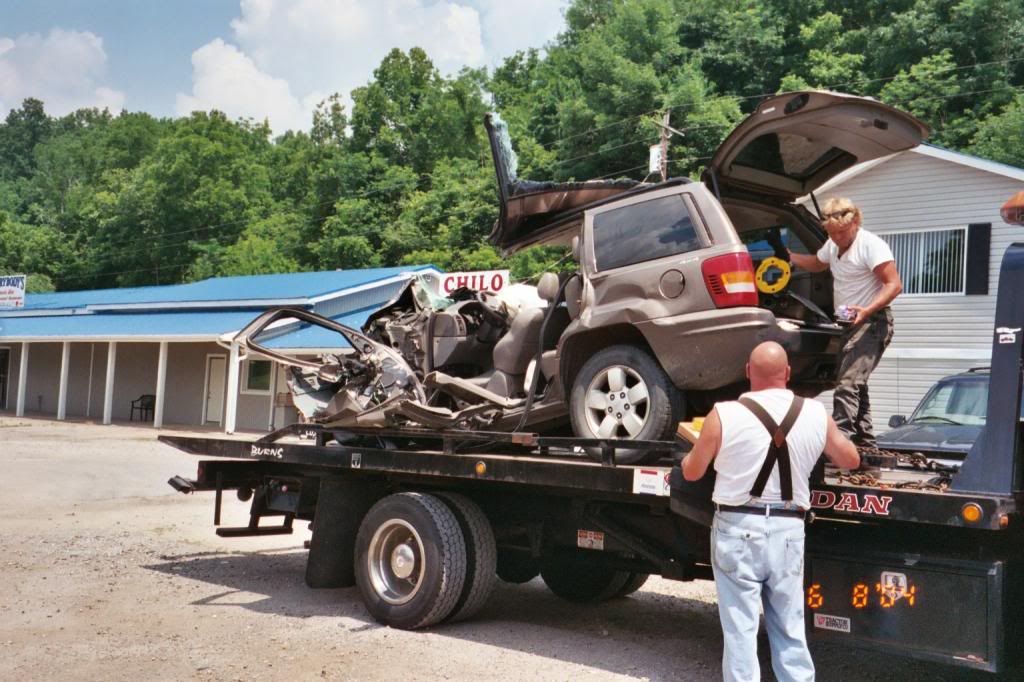 [/IMG]
Registered User
Join Date: Dec 2012
Location: Lillington
Posts: 994
I I dont know what to say, other than im surprised you survived that. What an accident.
---
99WJ Laredo I6-A 2wd
88XJ-Building on a budget.
95 E34 540i-DD
Registered User
Join Date: Nov 2012
Location: Biloxi
Posts: 281
It's amazing how fragile the human body is, and still survive something so devastating.
Registered User
Join Date: Aug 2008
Location: 40° 3'42.36"N 112° 2'16.73"W
Posts: 6,867
Holy Mother of God!!

Glad you are still with us, man. That really doesn't look survivable.
---
1997 ZJ 5.2 Orvis, Baby!
1953 Willys M100 trailer Tagalong
________________
[_][][][][][][][][_]


To view links or images in signatures your post count must be 10 or greater. You currently have 0 posts.
#4
Registered User
Join Date: May 2007
Location: Martha's Vineyard
Posts: 785
How on earth could they try to discredit you with carnage like that???
---
'08 Black 2door JK- DD

'99 Chilli Pepper XJ- Wheeler- BFG ATs, 2 " BB + bolt on stuff
Quote:
How on earth could they try to discredit you with carnage like that???
While I was in the hospital, the UPS guy, who got cited for going left of center, went to traffic with his sleazy lawyer, and somehow got out of the ticket. I didn't know about it for 6 months or so, later.
The UPS lawyers from Philly, were really big babies. They threw a tantrum when we told them what we wanted at a mediation. They made me, my wife, and my lawyers drive to Columbus, early in the morning. We talked to them for about 5 minutes and they walked out on us.
Without him being cited, it was going to be harder to hold him liable. Glad I had a witness, and DOUBLY glad I had a Grand Cherokee that saved my life. I bought a 2002 GC Overland later, in Sept. 2004. It got T-boned in 2007 (I will put up pictures later) and totaled by insurance. State Farm only paid me 8000 for it. I had to get a loan to buy my current 2003 Overland. I will keep buying Jeep for the rest of my life.
Sent from my iPad using Forum Runner
Registered User
Join Date: Feb 2013
Location: La Puente
Posts: 459
After all that and they get away with it? You should own UPS!!!
Registered User
Join Date: Sep 2011
Location: Monroe
Posts: 187
Holy heck. Im glad you're okay. Lawyers make me sick. I really really hope you never have to work a day in your life again because of your settlement. Im besides myself.
Registered User
Join Date: May 2008
Location: Redondo Beach
Posts: 2,277
Makes me ashamed to work for that company..
---
-Justin
Quote:
Makes me ashamed to work for that company..
I don't blame any of the workers, I blame UPS management. They put a desk jockey out driving a truck for that day and I'm not even sure he had much driving experience. The UPS lawyers were the worst. Bunch of childish weasels.
The Ohio Worker's Comp. system needs a lot of work, also. They argue EVERYTHING that I need to get added to my list of injuries. The airbag broke my nasal bone and left eye socket. I was knocked out, but talking for four days (called retrograde amnesia) and I wanted to see if there was brain damage, as I get migraines when the weather changes, have memory problems, among other things. Since no neurologists in my area accept Worker's Comp, I made an appointment to see an ENT, but Worker's Comp says I have no condition that allows me o see an Ear, Nose, and Throat specialist. WTF?? It broke my nasal bone, they are saying I don't have a condition that warrants seeing an ENT? That's the OHIO Bureau of Worker's Compensation for you.
Just another day in this tangle of frustration.
Sent from my iPad using Forum Runner
Here are a couple of pictures of a wreck I had in 2004. A UPS truck crossed the center line and hit me almost head-on. I was knocked out, but still talking, for four days. It broke both bones in my left forearm, and both bones were sticking out of the skin, I am told. The airbag broke the bone on the left side of my nose and shattered my left eye socket, too. I broke three ribs, broke my L1 and L2 vertebrae in my back, broke my left shoulder, broke my right thigh bone, shattered my right knee, and crushed my right ankle. I lost 4 units of blood. They told me that was about half of what a body has. They had to remove my spleen a week later, and I developed pneumonia the first 4 days. I am glad don't remember it. I don't remember the accident, they had to cut me out and air-care me to the hospital. I walk with a cane, now, and the way I walk caused me to tear a ligament in my left leg, so I have to wear braces on both ankles. I have arthritis in all the broken places and take Methadone and Percoset, but it doesn't seem to have any effect. I went through all the symptoms of PTSD, including anger. My trial took five years to commence and I eventually settled out, but never got what I should have gotten. UPS lawyers and management are real a$$holes. They tried to dis-credit me all they could, but Luckily, there was a man, who happened to be standing on the side of the road, who saw the whole thing. He says the UPS driver, who was temporarily driving for someone that day, was pulling out of a side road and reaching down for the electronic clip board, that had fallen while he was turning. As he was leaning down to get it, he was crossing the center-line. Even now, I do not remember any of it, but, sometimes have dreams of being trapped, or hitting another car. I get migraines from the sinus and brain damage. My memory is not what it used to be, and I lose balance when I close my eyes. You will have to click on my post to see the pictures. I am not used to how to upload in this forum, and it would not let me upload an image, but only a link. I used both iPad and a pc to do it and still only a link. Someone tell me how to upload an image/copy and paste the image to the post. I clicked on advanced, but like I said, it only wants links to the pictures.
Not sure what happened, I saw a spelling mistake. Went to edit it, and it disappeared.
[IMG]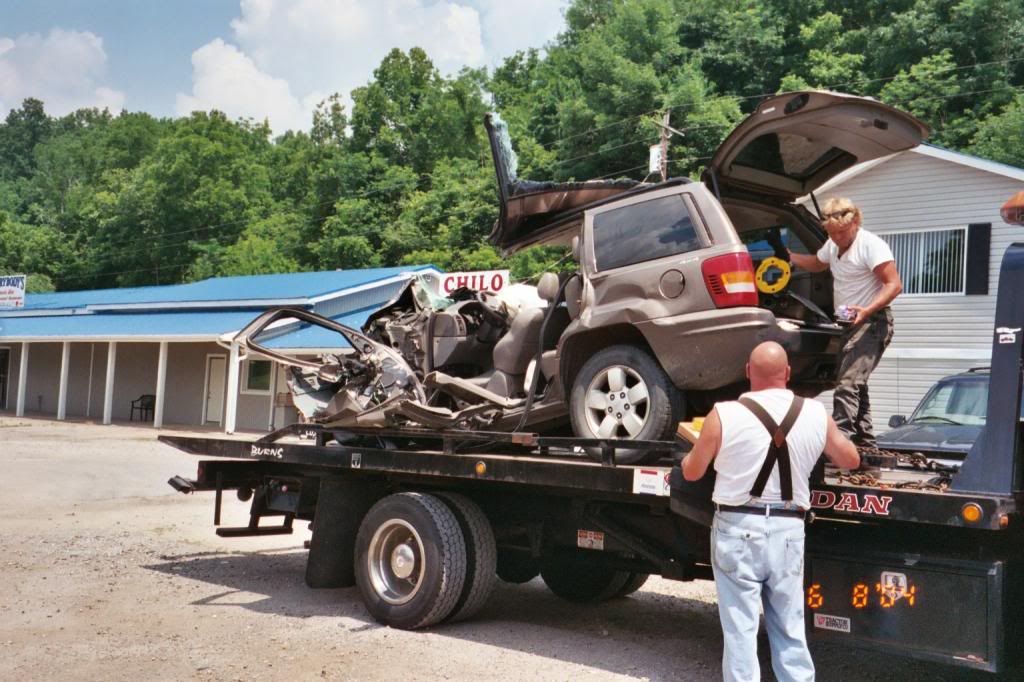 [/IMG]
Sent from my iPad using electrons
Registered User
Join Date: Apr 2012
Location: orangville
Posts: 2,841
Brutal for sure. I feel bad what you've had to go through. I rolled my XJ and was very lucky to walk away if it were not for the sunroof I put in. I'm the same school of though. Small cars scare me. A jeep with all it's weight etc, I feel much more safer in. My ZJ hit a dump truck when I was going 70km/hr when he lost controlled. Jeep died right there. I walked away again. I love my jeeps and is why I'm on my third.

As for UPS, ****ing bloody typical. These large companies get their lawyers etc so they can say "wasn't our fault and we have no responsibility" and because they have deep pockets they many times get away with it. Go after them like a pitbull is what I say! and can't believe the driver got off on it.

Many times here drivers that cause really brutal accidents will be charged with dangerous, but end up pleading down to something like "incorrect lane change" or such crap. Was a witness for one. Poor woman and her mother, lucky the weren't killed as they almost went into oncoming traffic (100km/hr highway) 6months later she had trouble walking and couldn't pick up her 2yr old son still. Last I heard she was suing him and his insurance company.

Bottom line though, I know it really blows what you deal with and have dealt with, but someone was watching over you, and your family still has you in their lives which is what is most important.
---
The beatings will continue until attitudes improve!

HID Quad bi-xenon + foglight retrofit
http://www.hidplanet.com/forums/showthread.php?44572-Jeep-2000-Grand-Cherokee-WJ
Currently Active Users Viewing This Thread: 1

(0 members and 1 guests)
Posting Rules

You may post new threads

You may post replies

You may not post attachments

You may not edit your posts

---

HTML code is Off

---