Before and after Rollover... Work in progress
---
Before: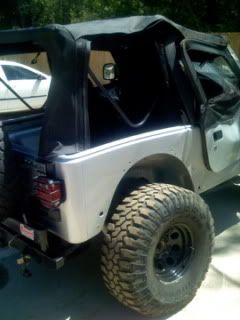 Now
Im real excited about the progress shes making after the roll.
Long story short, rolled her last year at gilmer, quite a bit of damage... she was totaled. Frame was bent along with just about every other body panel. Its a work in progress, I took out the 2" BL bringing her back down to three inches of suspension lift and 35s. I still need to trim out the back some around the high clearance genrights. I also need to build some new control arms, since its running stockers right now and its sucking in the wheelbase.
---
2014 JKU Sport - Wife's Mall Crawler on 35s. Badlands Winch, 2" Coil Spacers, 1" PA BL
1999 F250 7.3 - 290K Miles and Counting
"I am not going to censor myself to comfort your ignorance."