Registered User
Join Date: Nov 2009
Location: West Point, VA
Posts: 6
Superlift 4xAdventure Terlingua, TX Apr. 30-May2
---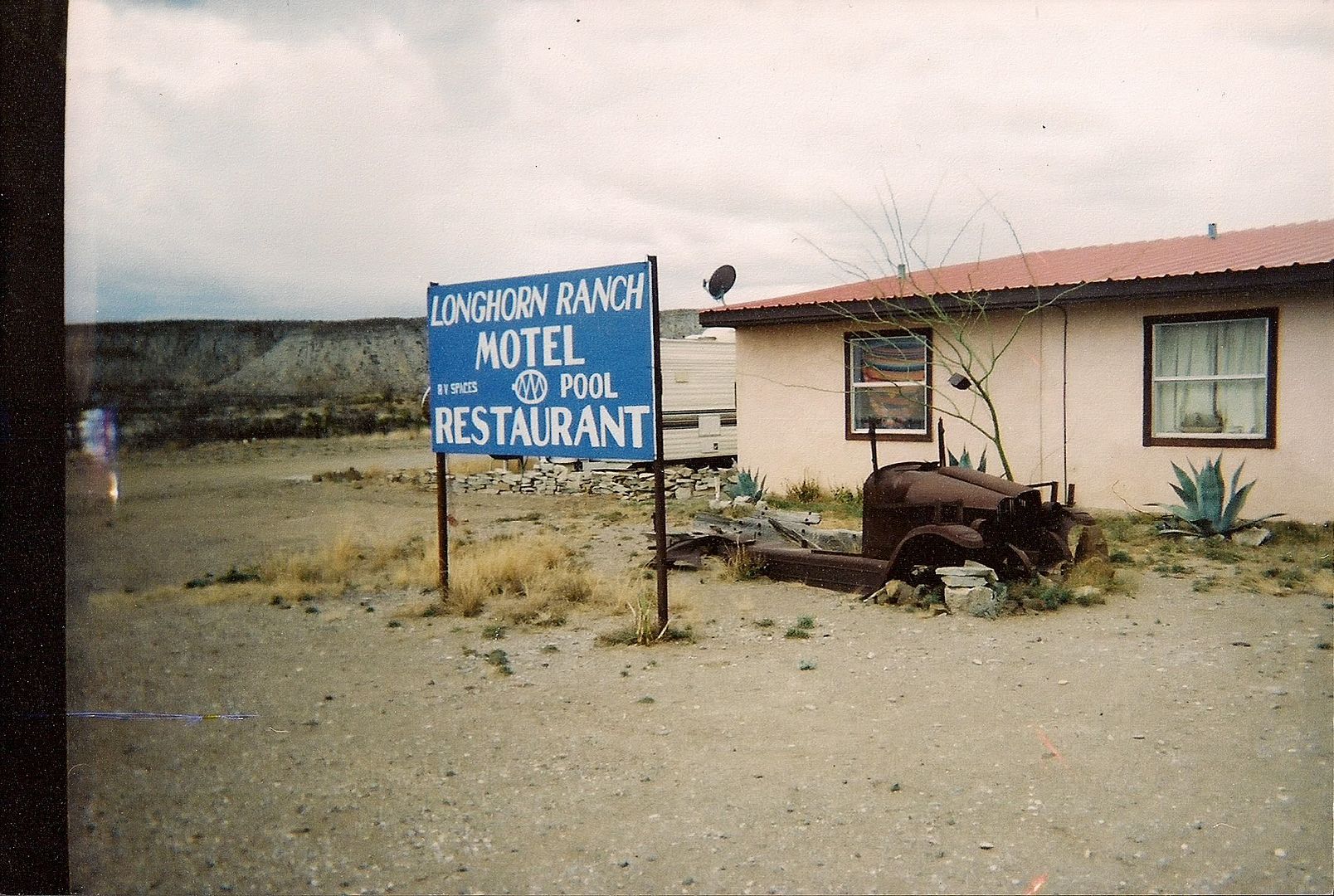 The
Longhorn Ranch
is a Privately Owned Development located just a few miles from the former mining towns of Study Butte and Historic Terlingua (often called the Ghost town). Just off of the junction of Texas State Highways 170 and 118 (sometimes referred to as Terlingua Junction)
John Marshall
, owner of Coyote Land Tours in Moab, Utah will be the "Training Trail Ride" Guide! He is a Certified Trainer with the International 4 Wheel Drive Trainers Association and also operates the Moab Offroad Driving Academy and is proficient in all levels backcountry and desert off-road driving skills. Vehicle maintenance, trail preparedness, GPS mapping, navigation, vehicle recovery skills. Corporate team-building. Off-road course design and building. Advanced level EMT, First Aid/CPR instructor.
This area offers an array of excitement from exploring Big Bend National Park, paddling the Rio Grande or exploring the ruins of the ghost town located nearby! Terlingua is the most spectacular ghost town in the American West. It once housed 3500 people, most of them men here for the Cinnabar mine.Lacking trees, they built the town in classic adobe style. It occupies a whole hillside. Today, most of the buildings are in various stages of decay, but a few have been preserved or restored, and a hundred or so are The most spectacular is the Main Street complex which includes the Trading Post and Starlight Theatre. If you wander around the streets, you'll recognize scenes from various Western movies, especially those supposedly set down in Mexico. The Trails in this majestic and remote part of Texas are primarily located on and around Packsaddle Mountain.undergoing restoration right now. The property is Privately Owned by more than 70 different people and the Trails here are off limits to the Public without specific Permission from each Owner who's land you traverse! We have gained access to most of the original Trails however, that were used in the very FIRST Superlift 4xAdventure held here in 1998 with the help of the members of the San Antonio Jeep Exclusive Club! So come on out to this once in a lifetime Event and see where it all started with Majestic views and Challenging Trails, this Event has it ALL! The Event will be staged out of the Longhorn Ranch Motel located on Highway 118 about 15 miles north of the Terlingua Junction (Hwy 118/170). On-site Registration will open on Friday at 11 am. There will be a Drivers Meeting Saturday morning at 9 am prior to groups departing for their scheduled Trail Rides. A Raffle will be held on Saturday evening at 6 pm and there will be Live music to begin shortly thereafter. There is a Border Check Station to pass through when coming to this Event so pack "light" to avoid any complications when passing the Station. The Trail Rides are relatively short so most will be returning to the Longhorn Motel for a late lunch (or Siesta!)then heading back out for an afternoon ride before returning to the Motel for the evening Festivities. The more difficult Trails like Stairway to Heaven and Packsaddle, depending on the number of rigs in the group may take an entire day so be prepared to pack a lunch for those Trails! Difficulty Ratings rate on a scale of 1-10, 10 being the most difficult.
EVENT ITINERARY
Friday, April 30th, 2010:
•11:00 am: Registration Opens and Trail Sign-up Sheets posted.,
•1:00 pm half-day Trail Ride departs for the early birds.
•10:00 pm Registration closes for the evening.
Saturday, May 1st, 2010
•8:00 am Registration opens
•9:00 am Drivers Meeting
•9-10:00 am Trail Rides depart from the Longhorn Motel.
•1-2:00 pm Trail Rides return to the Longhorn Motel for lunch then return to the Trails for an afternoon Ride.
•6:00 pm Raffle and Awards at the Longhorn Motel
Live Music provided by Locals from the area to follow the Raffle
Sunday, May 2nd, 2010
•9:00 am Drivers Meeting
•9-10:00 am Trail Rides depart for those that remain. (Rides will be based on Participants interest)
Hotels/Motels/Camping and RV Facilities:
Longhorn Ranch Motel and RV Park:
is located on TX 118 approximately 15 miles north of the junction of TX 118 and TX 170. The Longhorn is next to the highway, but is out of sight distance from any other sign of civilization. It has a nice swimming pool, and Tivo's Restaurant has been serving some of the best Mexican border cuisine in the region for over 20 years.
PH: 432 371-2541
*Dead River Ranch:
Steve and Deborah Calvert have offered to make some space available on their Ranch for primitive camping at $10/person. Located 60 miles south of Alpine and just 5 miles north of the Longhorn on Hwy 118, this spot has convenient access to the Event as well as the Towns. 432-371-3292
Terlingua Trading Company & Book Store
- The Trading Company boasts
an extraordinary inventory of southwestern U. S. and Mexican influenced gifts and collectibles, including an outstanding book and map section. Open 10:00am-9:00pm almost always. 432 371-2234
Holiday Hotel
was a guest accommodation during the boom days of the Chisos Mine and Terlingua Quicksilver District. today it is a lovingly restored, comfortable historic accommodation in the heart of downtown Terlingua, behind the Trading Company. 888-371-2234
Casa Terlingua
is located right on TX170 with an unobstructed view of Big Bend National Park and the Chisos Mountains. It is a fully equipped 1800 square foot adobe house that sleeps 4 comfortably.
La Posada Milagro
is a cluster of artfully restored rock homes that have been fixed up with modern conveniences, comfortable furniture, southwestern art and high speed internet. These one-of - a kind accommodations are with easy walking distance of restaurants and galleries. 432 371-3044
Starlight Theater
- This unique restaurant/watering hole is installed in the remains of the local movie theater constructed about 1930. Good steaks, wild game, and nightly special entrees fill the colorful regional menu. Live music frequently accompanies dinner hour. Open 5:00pm-midnight (until 1:00am on Saturday). Dinner served from 5:30 -9:30pm depending on the season. Deluxe brunch Sunday 10:00am until 2:00pm. 432 371-2326
TRAIL DESCRIPTIONS
360/Mines (4-6):
This Trail has some beautiful vistas and panoramic views which lead to an area locally known as the 360 Playground. portion of This the Trail has ledges and loose rocks and boulder fields with several lines to choose from depending on your interest in difficulty.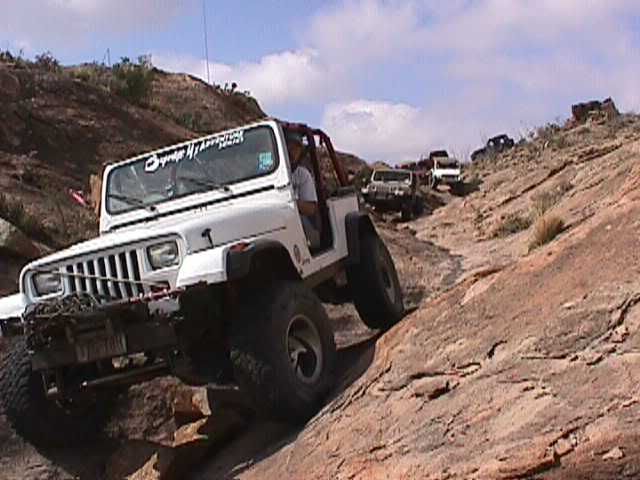 Red Rock (4-6):
Red Rock is as it implies a more solid rock formation that meanders through the valley. Again, this Trail also offers panoramic views with steep climbs and descends but without all the loose rocks moving beneath you!
Upper Creek (4-6):
This Trail has a few small watering holes with small waterfalls (ledges) to hop up and can be a challenging climb after a good rain!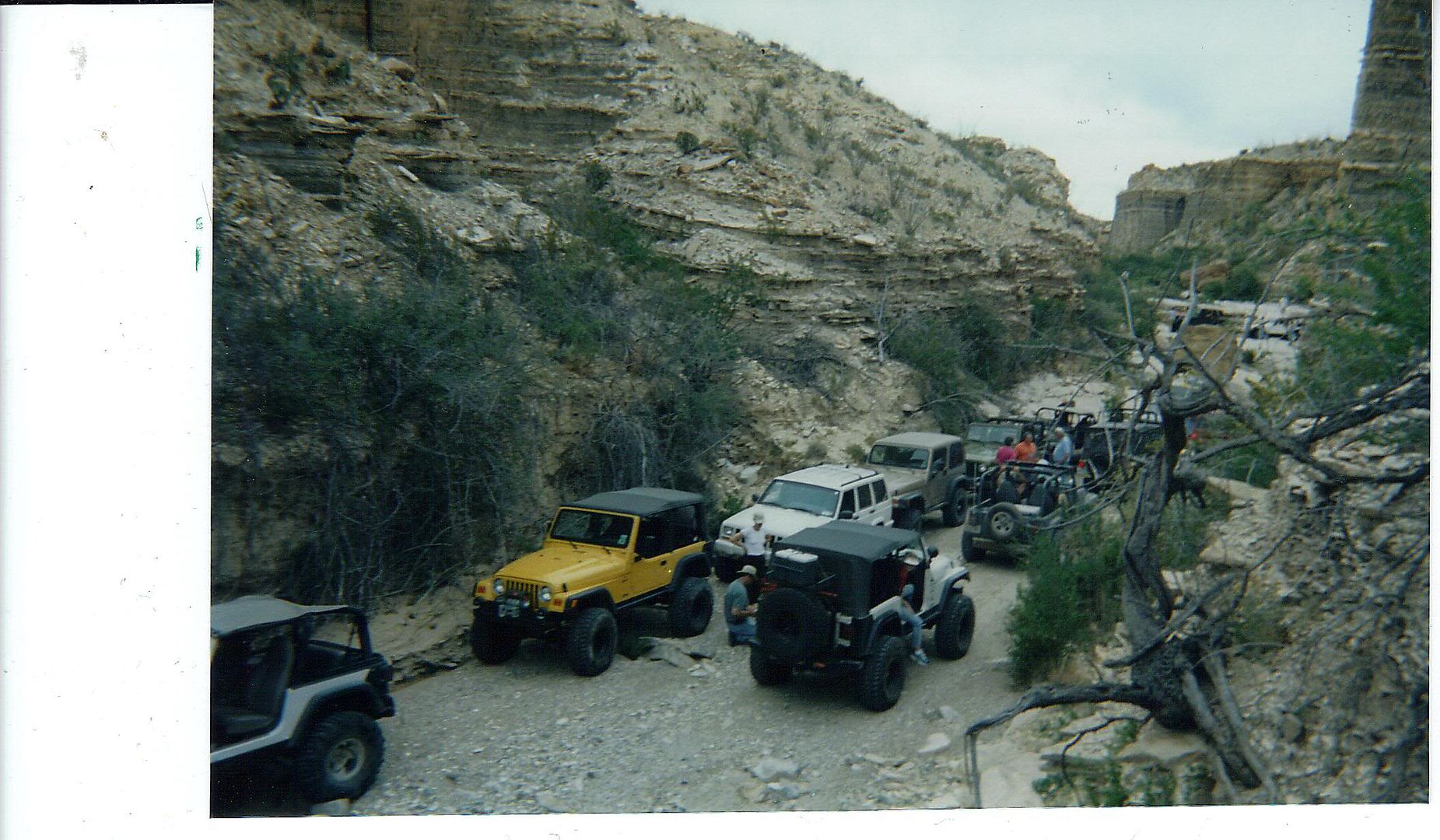 Lower Creek (4-6):
Lower Creek has shallow pools and sand bars and draws up a small canyon as you ascend the washout ledges.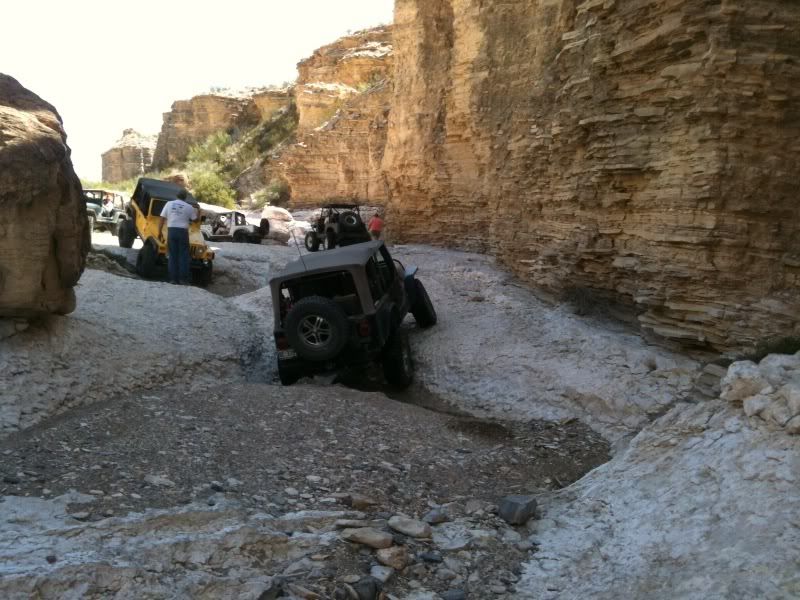 Badlands Overlook (4):
A scenic Trail leading to a beautiful view over the valley towards Big Bend!
Motel Overlook (4):
Another scenic Trail offering views overlooking the Longhorn Ranch Motel.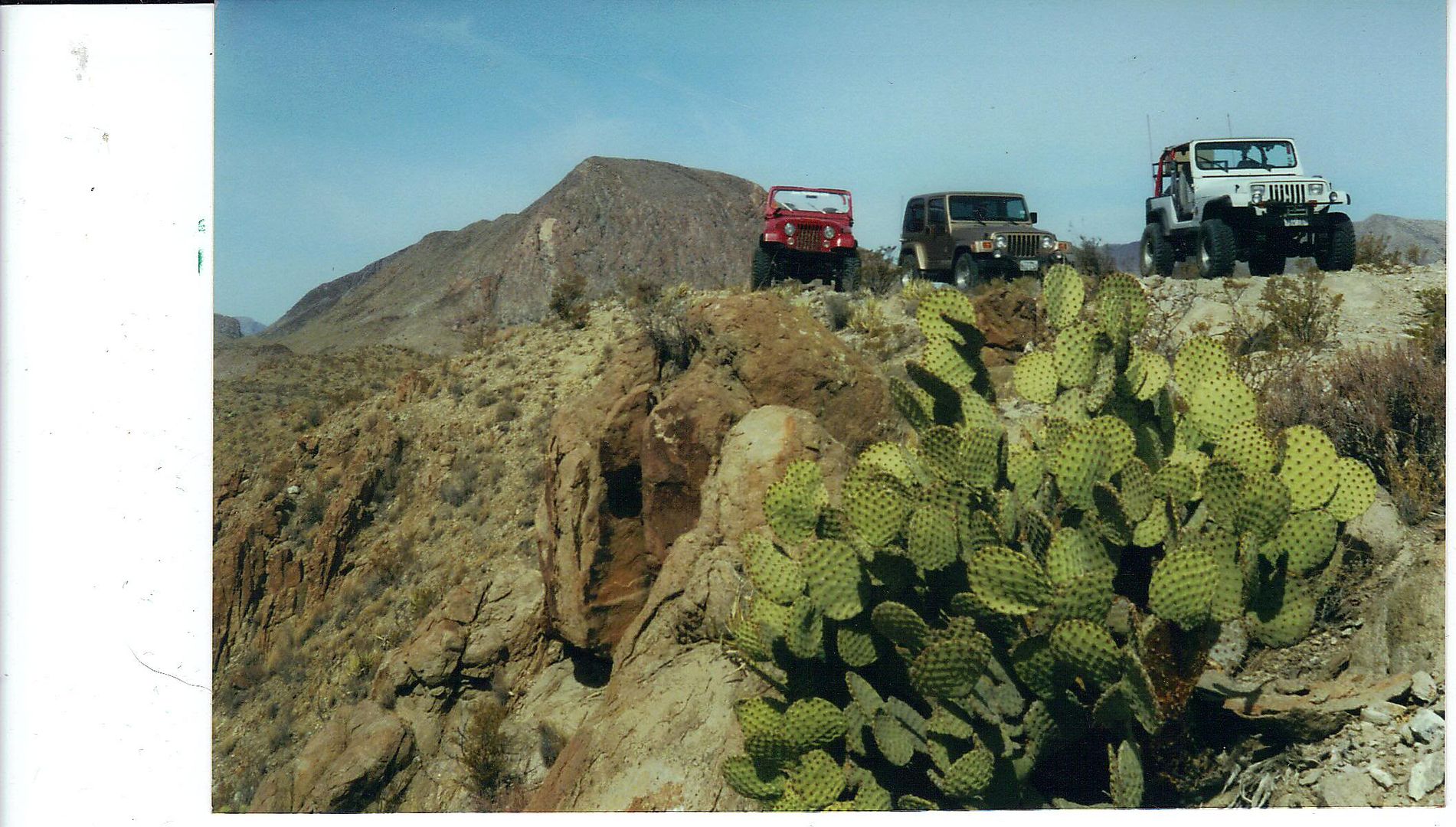 Tiger Tale (4-6):
Tiger Balls (4-6):
Tiger Bed (4-6):

Packsaddle (8):
A steep and challenging Trail, this one has it all!(Packsaddle.jpg) From Large boulder strewn sections to small loose rocks and ledges to boot! Finish it all off with an awesome view of the Big Bend National Park and the Chisos Mountain Range!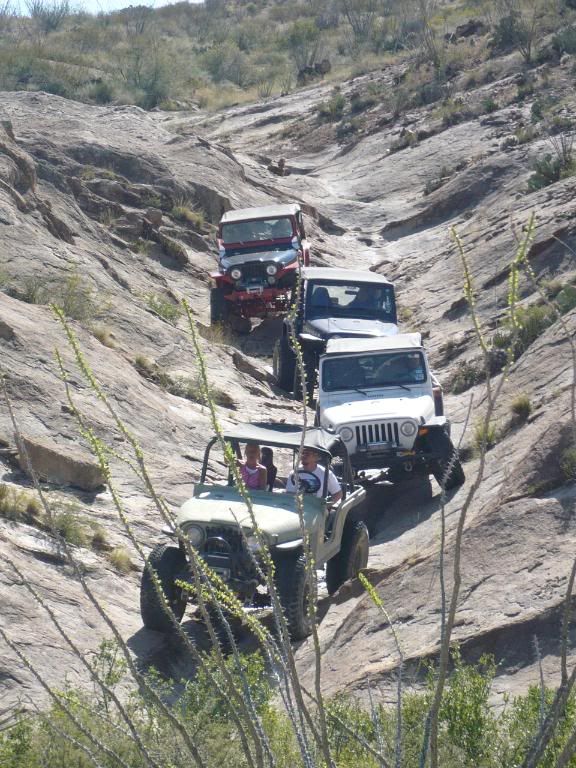 Stairway to Heaven (10):
A VERY rocky and sometimes steep climb to the top of Packsaddle Mountain!
This Trail can sometimes take ALL day depending on the Participants skill level and rig capabilities. Lockers definitely required and larger tires HIGHLY recommended!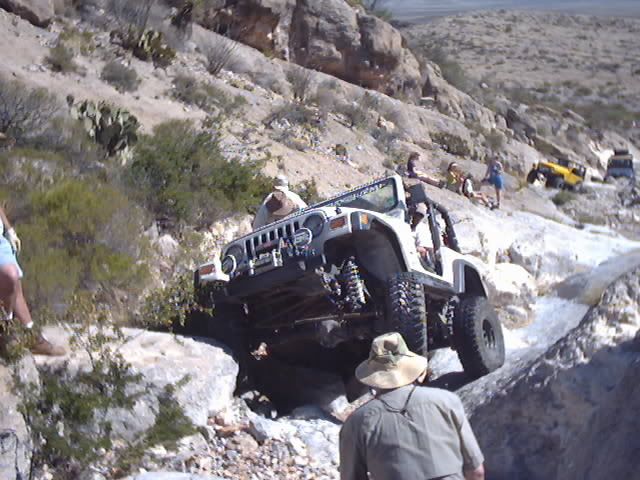 Clevage (Extreme):
A tight short but very steep climb at the top of Stairway to Heaven on Packsaddle Mountain. There is a 1000' drop if you fail to stay on the obstacle!
Accomodations and Services in the area:
Leapin' Lizard Studio and Gallery
The watercolor studio for owner Bryn Moore, also features fine and folk art, photography and jewelry of many other local artists and craftspeople. Summer hours Thursday-Monday 3:00-7:00 pm. 432-371-2775
Ghostown Cafe
Country home cooking from scratch, all day breakfast, reasonable prices, indoor and outdoor seating, great view of the Chisos. Open 7 days per week 6am till 8:30 or 9:00pm 432 371-3000
El Dorado Hotel
, comfortable rooms with a great view of the Chisos, and close proximity to all the local amenities. 432 371-2111
* High Sierra Bar and Grill
at El Dorado Hotel, featuring Tex-Mex favorites, grilled specialties and hand-cut steaks. Open 1:00pm - 11:00pm daily. Bar open noon till midnight, Saturday till 1:00am. Beer, Wine, credit cards. 432 371-3282
The Boathouse Sports Bar and Grill
is open from 4 pm until midnight with simple bar food offerings a respectable variety of domestic and imported beers and wines. Big screen TV for sports. The boathouse patio has the best view of the Chisos in town. 432 371-2219
Las Ruinas Camping Hostal
next to Boathouse. Tents only, bring your own or use one of theirs. Showers, kitchen area and lounge. Walking distance to restaurants, bars. Reservation 432-372-2219
Desert Sports
- One stop location for river equipment rentals, shuttles, guided rafting and canoeing. Desert Sports is adventure central for the local mountain bike scene; specializing in organizing back road bike trips in the twin park area. Retail shop carries important last minute necessities. Hours 9:00am-6:00pm daily. 888-989-6900
Terlingua Store
- The Terlingua Store carries all the convenience items you'd expect and then some, ice, milk, bread, snacks, drinks, film, etc., including locally competitive prices on domestic beer. Site of the Francis X. Tolbert Chili-Cook Off during the first weekend of November each year. Open 8:00am-9:00pm 7 days a week. 432 371-2487
BJ's RV Park
- Full hook-ups, showers, laundry. FM 170, 5 miles west of junction TX 118 and FM 170, just east of Terlingua Ghostown. 432-371-2259
Longdraw Saloon and Pizza
- Pizza, cold beer, television. The pizzas are made fresh with a large assortment of extra ingredients available to choose from. Hours 5:00pm-9:00pm daily, abbreviated schedule in July and September. 432 371-2608
Terlingua House
A well-appointed modern adobe structure with several bedrooms and a complete kitchen, near Longdraw Pizza. It is ideal for families and small groups, and sleeps up to eight comfortably. It is very private, but convenient to local activities and services. 325-473-4400
Chili Pepper Cafe
, Owners have been dishing out border favorites for many years. Specializing in Tex-Mex and Northern Chihuahuan fare. Immediately adjacent US Post Office to the north off TX118 Open 8:00am - 8:30pm. Closed Wednesdays. 432 371-2233
U.S. Post Office
, Terlingua, TX 79852.
West Texas National Bank
, Quicksilver Branch. Open 8:30am - 11:00am, and 2:00pm - 4:30pm, Monday - Wednesday and Friday, open until 6:30pm on Thursdays. 24 hour ATM. 432 371-2211
An extension of the
Big Bend Resort
across TX118 from the main office. 800-848-2363 (BEND), local 432 371-2218
Big Bend Resort and Adventures
, located at the junction of State Highway 118 and F.M. 170 Terlingua- Study Butte is AAA rated, full service establishment with Rooms, duplexes. Trailer Court with full hook up R V sites. Tent Camping. Located 3 miles from the western entrance to Big Bend National Park. General Store, Fuel, Cafť, Gift Shop. Laundry and Showers. Convenient to Horseback trips, Rafting and Jeep Trips 432-371-2632
Big Bend Resort Restaurant
. Open 6:00am - 10:00pm, 7 days per week, closes earlier midsummer. Specializes in traditional Tex Mex and West Texas fare. Convenient hours for folks hitting the trail early, or returning late from a long day. Beer and wine, convenience store, gasoline station. 432-371-2483
Big Bend Resort Store and Gasoline Station
. Open 6am - 10pm, 7 days per week, closes earlier midsummer gasoline, diesel, ice, drinks, beer, batteries, film, limited groceries. Full service restaurant. Next to Big Bend Motor Inn. 432-371-2483
Big Bend Stables
. A partner to the long time area horse outfitter, Lajitas Stables. Guided horse trips from one hour to several days, accommodating the tenderfoot, top hand, and everybody in between. 432 371-2212
Hotels/Motels/Camping and RV Facilities Con't...
Bee Mountain Plaza
, Located on TX 118 north of the junction of highways TX 118 and FM 170. This collection of small businesses include: Quicksilver Trading Company - 432-371-2636, offering an eclectic collection of local and regional arts and crafts. Notary Public, copies and fax service also available. Quilts and Collectibles, Etc. 432-371-2292, featuring homemade quilts in a variety of styles and fabrics. Bee Mountain Hardware - 432 371-3113, with all the basics and then some. Hats Off Hair Care. 432 371-2815, call for appointment.
Brewster County Community Center
serves multiple civic functions as a place to hold public meetings and events of all descriptions. The building is available to rent for most purposes at a nominal fee.
Cycle Tek , expert providers for all motorcycle needs 432 371-2560
Desert Lotus Massage. Licensed massage therapists.
Many Stones
. Fine jewelry hand crafted by the proprietor, stained glass, precious and semi-precious stones, mineral specimens and nice variety of cacti, bromeliads, and desert plants. 432 371-2994
El Centro Enterprizes H2O To Go
. and Carolyn's second hand store. Offering USDA approved water in various sizes, returnable and throw away available. Open Tuesday through Saturday, 10:00am - 4:00pm. Call for other hours. 432 371-2499 or 432 371-2506
Study Butte RV Park
. Offers economical spaces for self contained units. It is relatively quiet, close to the National Park Entrance, and a minutes walk from Study Butte Store. 432 371-2404
Study Butte Store
. Offers gasoline, propane, groceries, beer, wine, liquor, microwave fast food, as well as fresh and frozen foods. It is on the list of endangered historical hangouts. Open 7:00am - 9:00pm daily except Christmas. 432 371-2231
Roadrunner Deli
Highway 118, next to Study Butte Store. Excellent sandwiches and breakfast items. Specializing in to-go picnic lunches. Open 8:00am-3:00 pm Tuesday through Saturday. 432 371-2364
Maverick Mountain Rock Shop
. The oldest mineral marketplace in Brewster County. Proprietors live on site, just drop in reasonable daylight hours. Stone building and surrounding scenic property for sale.
Terlingua Automotive. Complete automotive and RV repair center, open 8:00am-4:00pm, Monday- Friday, and some Saturdays during busy seasons. 432 371-2223
Big Bend River Tours.
River tours in rafts and canoes on the Rio Grande, from half day, to multiple day expeditions and special music and gourmet, trips through several awe inspiring canyons in and adjacent to Big Bend National Park. Backcountry van tours also available, as well as equipment rental and shuttles. 800-545-4240 local 432 371-3033
Rio Bravo Restaurant
Another Northern Chihuahaun dining experience.
Chisos Mining Company Motel
. No-frills lodging for active vacationers who need a place to sleep and shower up between adventures. Convenient to restaurants and other visitor services. 432 371-2254
Brer' Rabbit Curios
. Is in the Chisos Mining Company office. It is a souvenir shop, with neat stuff for not much money. They feature a selection of rocks and fossils, along with kitschy memorabilia. Do not look here for pretentious, Santa Fe styled art, or for pricey cowboy chic. Located in Chisos Mining Company Motel. 432 371-2430
Kathy's Kosmic Kowgirl Kafe
FM170, next to Easter Egg Valley/Chisos Mining Co. Motel. Drive by cuisine and local al fresco hangout. Specializing in burgers, barbecue and burritos. Open Thursday through Monday, 6:30am - 5:00pm. 432 371-2164
Terlingua Springs Market and Coffee shop
. A selection of natural foods, grains, cereals, fresh fruit and vegetables, dairy and soy products, organic coffees, teas, etc. A good place to outfit a backpacking trip with wholesome food that is not otherwise locally available. The coffee shop serves fresh ground coffee and a variety of pastries and other good things to eat on the spot. Open every day 10:00am - 7:00pm, except Wednesdays. 432 371-2332
La Kiva Bar and Grill
. Unique architecture of massive sandstone blocks, sunken into the banks of Terlingua Creek. Great Barbecue, Tex-Mex , and full bar. Open daily 5:00pm until midnight, Saturday until 1:00am. Open mic night every Wednesday. 432 371-2250
Shot Time Liquorz-n-Artz
offers a selection of local artwork along with liquor, wine and barware. Open Monday thru Saturday 10am-9pm. 432 371-3155.
Speedy Garcia's Drive-Thru
offers carside service selling beer, wine, ice, cigarettes and snacks. Open Monday thru Friday 10am-12am; Saturday 10am - 1am ; Sunday 1pm - 12am. 432 371-3204
Far Flung Outdoor Center
. River tours in rafts and canoes on the Rio Grande, from half day, to multiple day expeditions through awe inspiring canyons in and adjacent to Big Bend National Park. Guided Jeep and ATV tours from 3 hours up are available to remote National Park locations, as well as sites on otherwise inaccessible private property. Emphasis on spectacular views and natural/historical interpretation. 800-839-7238 local 371-2633
Roadrunner Deli
. Offers breakfast burritos, coffee, cold drinks and big homemade sandwiches, to eat on site or on the go. Great place to outfit a no-pain picnic. Call ahead, and grab it as you go buy. 8:00am - 3:00pm daily except in the summer call ahead to order out at 432 371-2364
---
www.4xadventures.com
---
Last edited by Slipscomb; 04-22-2010 at

09:29 AM

.
Currently Active Users Viewing This Thread: 1

(0 members and 1 guests)
Posting Rules

You may not post new threads

You may not post replies

You may not post attachments

You may not edit your posts

---

HTML code is Off

---